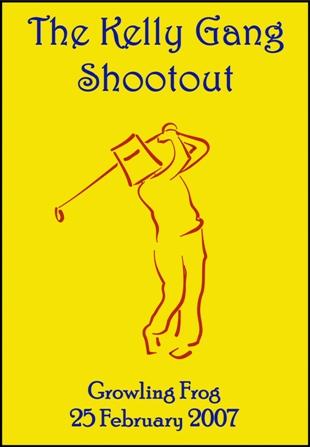 Greetings & welcome to the 2nd Kelly Gang Shootout.
Growling Frog Golf Course, Yan Yean,
25 February 2007.
The teams and tee times are:
The Frosty Beveridges: 2:08 pm
Sam Saltis
Campbell Wilson
The Jerilderie Gents: 2:08 pm
Richard Steers
Daniel Rhodes
The Stringybark Creek Freaks: 2:16 pm
Johnny Pitt
Matthew Pitt
The Glenrowan Hacks: 2:16 pm
Roger Brown
Michael David
The Beechworth Boys: 2:24 pm
Michael Mileo
Mick Van Raay
The Euroa Removalists: 2:24 pm
Richard Fellner
Scott Wilson
The organisers of The Kelly Gang Shootout, Bushranger Golf, would like to take this opportunity to thank:
Sam, Jason and all the team at The Golf Clearance Outlet for their generous sponsorship of the KGS and contribution to the prize pool;
All the team at bwired for their expertise and support in developing the Bushranger Golf website. Without their technology and commitment, the site would not exist;
Sally Pitt from Pitt-Bull Media for her patience and effort assisting with the management of this event;
Roger Brown from Focal Point Garden Design for helping us with the trophies;
Wayne Rogers and the team at Growling Frog Golf Course;
All the Members of Bushranger Golf; past, present and future.
Giddy-up!
The Kelly Gang Shootout, February 2007
The Format: Two-ball ambrose best-ball.
The Rules: Since slow play is a potential problem for our gangs, these rules are designed to encourage play in the right spirit and at the right pace. Teams play their chosen best ball on each shot and may place their ball half a club length (about 50cms) from where the chosen ball lay, no nearer the hole. Balls must be placed in the same cut as the chosen ball. In the interests of fast play from tee to green, teams are NOT required to mark with a tee and precisely measure from the chosen ball as they play each shot. Team members can play in any order on a shot. Putting: Once on the green, Bushrangers should mark near the chosen best ball so both team members play from near enough to the exact same position.
Handicapping: Each team will be assigned a handicap by the organisers based on official AGU handicaps and information supplied by the Bushrangers. The handicapper will be governed by a commitment to rewarding good play according to a player's ability.
Playoffs: In the event of a tie, a sudden-death playoff will be conducted. Teams play together as a twosome (taking alternate strokes playing one ball). The order is continuous and carries over from one hole to the next until the playoff is decided.
Nearest-the-Pin: The nearest-the-pin will be held at the 5th hole.
Longest Drive: The longest drive competitions are on the 8th and 15th holes.
The Rodeo Rule: This is minimum drives for each team member and will be enforced. Each team's rodeo requirements will appear on their scorecard.
The Frosty Beveridges
Ned Kelly was born in Beveridge, at the foot of Fraser's Hill, some 40 kms north of Melbourne and just a short horse ride from Growling Frog. It was his first home town and is well known for being at its best when the temperatures are a little on the chilly side.
Sam Saltis (Sammy the Duck): Is known as the Duck because every time he lands on a golf course he goes to water. Has a massive reputation for being a great strategic analyst from tee to green, just lacks some of the shots required in his bag to implement his brilliant ideas. Came into this event last year with no form whatsoever to recommend him and shocked everyone by taking home the bikkies so certainly knows his way to the winner's post. Always looks sharp in the mounting yard and, as defending champion, has to be considered among the favourites this year.
Form: Is easy on the eye in the mounting yard and has winning form so is definitely one to watch. Performs at his best after a spell and with limited preparation. Given his huge non-practice regime coming in to this event, he looks an absolute certainty to go back-to-back.

Campbell Wilson (The Big C): This imposing and gifted golfer is one of the purest ball strikers here and one of the flightiest stallions in this handsome field. Can talk underwater and may need to use that skill with the local frogs if his radar fails him and he starting plonking balls in the many billabongs on this layout. Doesn't care to bother much with the subtleties of the game, such as course management, and isn't concerned in the slightest that he stands on the wrong side of the ball. Monstered his pill all around the 'Frog' last year as part of the winning combination and could figure in the finish if he settles early. May need blinkers.
Form: Being a leftie, obviously starts at a huge disadvantage, but that doesn't seem to bother him. Is a feel player, capable of anything if he is on his game. His chances here depend almost entirely on which side of the bed he exited this morning.
The Jerilderie Gents
The Kelly Gang popped by Jerilderie in 1879, held up the local bank, jagged a couple of thousand pounds, penned a feisty letter and wandered over to the Telegraph Office to chop down a few telegraph poles.
Richard Steers (Macro Dick): A Bushranger new to Kelly country who has a big reputation for golfing his ball all over the place with considerable gusto. Is rumoured to possess a hearty appetite for the odd snifter and the ability to never let the truth get near any of his tall stories. Although a relative unknown in these parts, he does come into this event very well credentialed and is known to consort with rogues. Has a reputation as a solid heckler and is understood to be looking forward to exploiting every opportunity to get inside the head of The Big C. It is clearly a tactic to deflect attention from his own shabby game, which is sure to fail dismally.
Form: This is his first-up run in a field of this quality and will probably struggle when the pace comes on at the turn.
Daniel Rhodes (The Scholar): This charming and erudite gent is a very mysterious Bushranger who has appeared as if from nowhere, like Ned rising from the magoombah on a frosty morn in Glenrowan before getting the living daylights belted out of him by a couple of battalions of troopers. After putting up a ferocious battle, at the end of the day look for him to be taking a nice lie down when the dust has settled. Will probably be sorely in need of a drink or two to calm his nerves. May need a couple after the round as well. Is currently in the middle of complete overhaul of his game. Is in the Jekyll and Hyde stage where nobody knows whether it will be the suave scholarly doctor or the ravenous twitching monster who turns up on the first tee.
Form: A complete wild-card who appears well out of his class in this company and may need to resort to prayer, bribery and/or blackmail to have any chance.
The Stringybark Creek Freaks
The infamous shootout between police and the Kelly Gang at Stringybark Creek took place on October 26, 1878. The Gang surprised the police at their camp and the ensuing gun battle was the spark that ignited the Kelly outbreak.
Johnny Pitt (Granny): Has been known as 'Granny' ever since he put his hand up to be the grandma in a school play in grade four. After a very promising start, his acting career went down the tubes and he turned his hand to golf. His first coach, the great Australian pro Bill Cussell, described his swing as like a bloke trying to kill snakes in a phone box. His compact and distinctive action has served him well for more than 50 years and, at the dawn of the 21st century, he looks to be entering his prime just in time to qualify for the Veteran-Seniors-Crapulent Tour.
Form: May be a rough chance on a slow track but if the pace is on, the trip looks beyond him at this distance. At different times, he has fancied himself with the fillies so it could be time for him to be permanently retired to stud.

Matthew Pitt (Pw Jones): Recently made the move from grommet country on the Surf Coast to Kelly Country and seems to be settling in nicely. With a training base/hide-out over near the McIvor ranges, this dashing, hirsute, fertile rogue will stop at nothing to add to his trophy cabinet. On the surface, he has some stellar recent form with wins in Jack the Hack and The Bushranger Cup, however both were due largely to Bradbury like assistance from the rest of the field. Comes in here very rusty and will be looking for a huge collapse from more than a few competitors to figure in the finish. Given the quality of his opposition here, will probably be hauling the silverwares back up the McIvor highway at the end of the day.
Form: Always produces his best under pressure and at one time would have eaten this field for breakfast but those days now seem long gone. Looks well short of a gallop and may do better with a few more runs up the bush before testing himself against a field accustomed to the cut and thrust of big city meetings.
The Glenrowan Hacks
Steve Hart, Joe Byrne and Dan Kelly all lost their lives at the siege in Glenrowan (June 26–28, 1880) that Ned had hoped would be the catalyst for a new republic. The myth of Ned grew as he somehow survived the ordeal having sustained enough gunshot wounds to bring down a horse.
Roger Brown (Arbeige): This dapper gent of the fairways never fails to please every time he golfs his ball. A prodigious hitter, he should be a monty to jag a longest drive here and on his day can shoot some low, low scores. After a long love affair, he has recently become completely addicted to the game and is starting to show signs of an unhealthy infatuation. Eats his brekky with a lob wedge and has had a fax machine installed in his golf bag so he can run his business from the course. Is probably best known for his illustrious package and the way he fills out his chinos, but as one of the reigning Bushranger Cup champions, he knows his way to the winner's post, although usually as a result of his team-mates carrying him over the line.
Form: Loves a wet track. If the winning post is anywhere near the bar, he's a fair bet to be right in the mix at the finish.
Michael David (Micky Dee): This quiet, unassuming, small-town golfer is a shy, retiring type who keeps to himself and shouldn't make much of an impression here. Is very conservative on the course, never showing much shot-making flair as he just tries to keep his ball in play. May be completely out of his depth in such a cosmopolitan field and will probably just fade quietly into the background while the big names battle out the championship down the stretch. Will be happiest just staying in the shadows and, like his hero Moe Norman, will probably 'accidentally' four-putt the last if he is in contention to ensure he doesn't have to face the glaring spotlight of the winner's circle.
Form: A no-fuss competitor without all the frills, his erratic form has attracted attention from the stewards in the past but he always seems to talk his way out of any trouble.
The Beechworth Boys
While still a teenager, Ned was gaoled for receiving a stolen horse. In January 1873, he was transferred from Pentridge to Beechworth prison where he spent the next year of his youth learning from hardened criminals how he might become an upstanding member of the community.
Michael Mileo (Seve): Known as Seve for his similarity in comportment and suave style to the great Ballesteros, he rolls across the fairways like silk and is a real crowd pleaser with his dry wit and steamy, continental good looks. These days he is scoring just about as well as his namesake, which doesn't help him at all. He is the reigning William Buckley Classic champion, a title he won under a massive injury cloud, so must be among the favourites here with that glistening recent form under his belt. Unfortunately he comes in to this event as fit as a fiddle so will probably fall away pretty quickly without the help of some special 'juice' from his trainer.
Form: The real Seve Ballesteros once said, "It doesn't matter if you look like a beast before or after the hit, as long as you look like a beauty at the moment of impact." Let's just say our own Seve can look a little like Miss Universe in the follow-through but that is about as pretty as it gets. Consider for trifectas.

Mick Van Raay (Da King): This swinging cat has really made a name for himself in recent years. After a pathetic amateur career, he chose to turn pro with disastrous results. He couldn't resist the temptations on offer to a young, large, hip dude on tour and quickly succumbed to a range of lusty pleasures, which saw his ranking tumble. Forced to turn amateur again, he currently sits outside the top 500,000 golfers in Australia as he starts the long climb back to the top. Had a strong year in 2006 and may be looking at this event as a springboard to a big 2007. If his putter warms up, he could rip this field apart.
Form: Won the William Buckley Classic at his last start and may be unstoppable here.
The Euroa Removalists
Euroa was the scene of the Kelly Gang's first bank hold-up in 1878. They were gentlemanly and polite throughout, as they calmly made off with £2000 in cash and gold.
Richard Fellner (Quigley): A regular in these parts, if not actually from around these parts. This Yank has done for Australian golf what Tom Selleck did for our movie industry in his wonderful rendition of that great Australian hero, Quigley. Sometimes we throw around platitudes like 'ornament to the game' and 'dead-set champion' a little too easily. And sometimes we don't mention these things at all. This is one of those times. Was a teen golf prodigy but fell away when he began running with a bad crowd. Still has a flawless looking golf swing and is one of the reigning champions here after a super win in 2006, so he should be thereabouts at the finish again.
Form: Has the soundest swing mechanics of any player here and looks a million dollars right up until the ball leaves the club face. If his radar is working, will be very difficult to beat.
Scott Wilson (Junk Mail Willo): A large, fertile competitor, he has been in stellar form recently since finding out his guys can swim and celebrating the arrival of his first born. Has the uncanny knack of parting company with team-mates only to watch them go on to win at their next start but may be in line to finally break his drought. After parting with Crocko and watching him go on to win the 2005 Bushranger Cup, he played with Da King here last year and not Quigley, his usual partner in crime. Quigley won. Later in the year, Da King went on to win the William Buckley Classic playing with Seve. Has earned the moniker 'Junk Mail' for his wonderful practice round form where he delivers the most when it matters the least.
Form: Fails to show up for the big occasions. With one of the biggest swings here and the power to unleash massive drives, is easily the best player never to win a major and if he can't reverse the trend soon, will go down as one of the great unfulfilled talents of Australian golf.