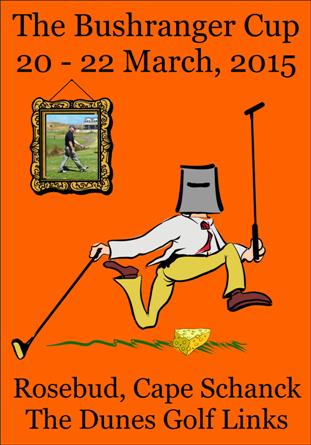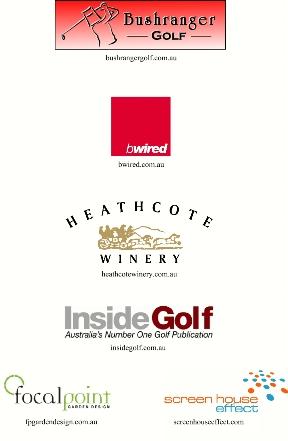 Greetings all and welcome to the 12th Annual Bushranger Cup!
The Round One solo 9 holes commence at 3:30pm on
Friday afternoon at Rosebud Country Club.
A team meeting will be held at our accommodation
at The Moonah links Golf Academy on Friday evening.
Breakfast options are to cook at home at
MLGA or to go to Moonah Links for tucker.
Round Two & Three 2-ball ambrose rounds will commence
at12:00pm Saturday at Cape Schanck Golf Course.
Details of the pairings and tee times appear below.
The Round Four 18 holes of 4-ball ambrose will commence
at 8:00am Sunday at The Dunes.
The presentation ceremony will be at the Moonah
Links Golf Academy after golf on Sunday.

Giddy-up & Enjoy!

The organisers of The Bushranger Cup would like to take this opportunity to thank:
All Bushranger Cup golfers past and present who have helped make
this event the glorious festival of joyous indulgence it has become.
Sam, Campbell and the team at bwired online solutions for their partnership
and support with the Bushranger Golf website.
Denise, Steve, Alex, Mandy and all the team at Heathcote Winery for their support
of Bushranger Golf to produce the very popular Bushranger Shiraz.
All the team at Moonah Links for putting up with us.
Richard Fellner from Inside Golf for his help with this program and the promotion, publicity
and marketing of Bushranger Golf and the events operated by Social Golf Australia.
Padge and Debbie from Murray River Horse Trails for The Bushranger Cup, the bullets and the inspiration.
Roger Brown from Focal Point Garden Design for his meticulous efforts in preparing the Bushranger Cup trophies.
Steve Foxwell and Grant Jones from Screenhouse Effect printing for their
assistance with the Bushranger Cup stubby holders.
Mrs Pitt, the Tournament Director's Director for all her efforts with the Tournament program
and her patience putting up with an excited Bushranger prior to the Cup each year.

The Golf
Round One: Friday afternoon solo nine holes at Rosebud Country Club Green Course. Competitors need to be at the course by 3:15pm.
Rounds Two & Three: 2-ball ambrose starting at 12:04am on Saturday. Competitors need to be at the course at least 30 minutes prior to their tee time for pre-round preparations. We will have a one-tee start off the first tee of the Cape Schanck Golf Course. All players will ride in luxurious golf carts provided for maximum relaxation, enjoyment and protection of our physical, mental and emotional assets.
The final round of four-ball ambrose on Sunday at The Duneswill be a seeded draw starting at 8:04am with the leaders teeing off last.

The Event
The Format: Teams of four playing single stroke Friday, two-ball ambrose strokeplay on Saturday and four-ball ambrose strokeplay on Sunday.
The Rules: Since slow play is a potential problem for our gangs, these rules are designed to encourage play in the right spirit and at the right pace. Teams play their chosen best ball on each shot and play preferred lies – you may place your ball half a club length (about 50cms) from where the chosen ball lies, no nearer the hole. Balls must be placed in the same cut as the chosen ball.
In the interests of fast play from tee to green, teams are NOT required to mark balls and precisely measure from the chosen ball as they play each shot. Pace of play is important so do not waste time unnecessarily. Team members can play in any order on a shot. Once on the putting green, Bushrangers should mark near the chosen best ball so each team member putts from near enough to the exact same position.
No Gimmes: Some nutter once gave someone a short putt in a Cup. This is not on under any circumstances. We are here for fun, but the golf is (slightly) serious. The Bushranger Cup is a strokeplay event (not match-play) and every ball must be holed out. You can concede putts in one-on-one matchplay, but strokeplay is the field vs the field so no gimmes.
Handicapping: Each person is assigned a handicap by the handicapper based on official handicaps and/or info supplied by the Bushrangers. The handicapper will be governed by a commitment to rewarding good play according to a player's ability. Team handicaps for the ambrose groupings are calculated from the individual handicaps.
Playoffs: In the event of a tie, a sudden-death playoff will be conducted. Teams play together as a foursome (taking alternate strokes playing one ball). Once established on the first hole, the order is continuous and carries over from one hole to the next until the playoff is decided.
Nearest-the-Pin & Longest Drive: Will be contested on all days and, in the interests of team gloating and solidarity, any player who wins a LD or NTP wins prizes and glory for his entire team.
The Rodeo Rule: This is minimum drives for each team member and will be enforced. Each team's individual rodeo requirements will appear on their scorecard.

A Brief History of The Bushranger Cup
The Bushranger Cup was founded in 2004 with intention of bringing a group of pals together for a weekend of golf and fun. Gents who had accumulated other commitments in their lives, were playing less golf and mates were not getting together so often. The intention of the Cup was to address this work/life/golf imbalance by establishing an event so chock full of fun and drama that it could fulfil a fellows golfing, emotional and spiritual needs for a full 12 months if necessary.
The four-man team format is intended to be a vehicle for mates to enjoy the camaraderie and fun of teaming together. Since most of the original participants did not have official handicaps, the perennial challenge of managing Bushrangers became the guiding principle for the development of the handicapping system and format of the event.
Although it has been the catalyst for the formation of Bushranger Golf and Social Golf Australia, the Bushranger Cup remains a private invitational event. The Cup has forged a reputation for remarkable moments, great drama and hilarious fun and is now, some people say, arguably the most sought after prize in the golfing universe.

The Kelly Gang - The last and most infamous of all the Bushrangers, Ned's crusade to secede from the colony and start his own republic fell slightly short of the mark. An expert self-promoter, he always knew the importance of snappy dressing for a photo opportunity.
Dave Warwick (Diesel) – This deluxe unit is as likeable as any man here and makes everyone else appear shabbier by comparison. With the rig of a man 20 years his junior and a golf game as solid as rock, he can do no wrong and is a huge chance to go back-to-back. Again.
Tom Tomlin (Sergeant Steele) – Picked up his maiden BRG win in last year's Cup and will put his superb dry sense of humour to good use again over the weekend. Will be a huge asset to his team as long as he remembers to take the plastic off his clubs. Do not underestimate.
Phil Peacock (Phillo) – A man known for possessing a game that runs the spectrum from unbeatable to unconscionable. At his best on the golf course he is an unstoppable juggernaut and the worst he has to offer verges on a crime against humanity. The first tee will tell all.
Fraser Gough (Malcolm Whitlam) – This international statesman and erudite raconteur is making his Cup debut with the defending champs standing in for the legendary Pollock of Africa. Loves the big stage and the opportunity to leave his mark on history. Had better brush up on his Toto if he wants to make any sort of impression here.

The Ben Hall Gang - Originally the Frank Gardiner Gang, it became the Gilbert Gang when Gardiner was captured in Queensland in 1861. Then it morphed into the Gilbert & Hall Gang and later, the Ben Hall Gang. Their revolving-door policy remains strong to this day.
Matthew Pitt (PW Jones) – Some serious class here with four Cups but his 2014 putting woes were a worry. Will be hindered by a sleep deprived preparation but will more than make up for that with his supreme confidence and brilliant, yet humble, sledging ability.
Nick Honey (Ho) – The Festival of the Ho rolls around for another year and what a treat it should be once again. Another four time winner here, he has nothing left to prove at this event and focuses his attention here on his anthropological observations of 'men in repose on the cans'. May indulge in a bit of this himself. A cracking fellow.
Corey Kelly (Gruyere) – If there is a man who knows cheese and golfing a ball better than this classy specimen, he ain't worth knowing. Makes the game look like a brie-ze with his effortless swing, and can hit it further than any man (camem)bert to watch. Melts in the heat.
Ivan Jones (Moondyne Jones) – Making his 5th Cup appearance, this card-carrying golf nut has barely missed a BRG/SGA event in years. Brings a touch of much needed class here and will be battle hardened after performing admirably in Thailand recently. Is the key to this team's success and knows what it takes to compete at this level.

The Canvas Town Mob - A rare city-based mob of Bushrangers who operated in South Melbourne in the 1850s. They would knock off ships at port and then frivolously drink and gamble away their booty.
Gavan Doran (The Rose of Doran) – Will be one of the star performers between rounds with an array of aperitifs, hors-d'oeuvres, cheese-platters, appetisers & canapés on offer. Throw in a few bottles of plonk to wash it down and everyone will get to jump on his fun train.
Roger Brown (Arbeige) – This chino-packing wonder of the golfing universe has enjoyed somewhat of a revival this year with the recent increased interest in the lost art of Glute Activation™. He will be conducting seminars this week that include practical demonstrations.
Adrian Bond (Bondy) – Will attempt to lull the field into a false sense of security with daggy clobber, a dodgy swing, flimsy short game and unreliable putter. But don't be hoodwinked by this crafty schemer as his clothes aren't that bad. First up start in a Cup and may struggle.
Pete Russell (Rusty) – This quality unit brings a much-needed touch of class to this otherwise shabby field. His bullet-proof swing, regal bloodlines, wealth of experience, sterling liver, sparkling wit, rugged profile and dashing charm and make him a serious threat here.

The Captain Melvilles - Captain Melville was a shabby small-time thief who was apprehended by police on Christmas Eve 1852 when, in a drunken stupor, he fell off his horse outside a Geelong brothel. He had aroused suspicion (and little else) among the local sex-workers by boasting to them about his illegal exploits. A real class act.
Ian Crotty (Crock Diddy) – This dry-witted BRG legend is primed for a big one after a string of lacklustre performances since his lone win in 2010. A wizard in the kitchen, his culinary delights and effortless swing will be required to carry his team of reprobates to the podium.
Mick Van Raay (Da King) – This big man epitomises everything that is awesome about this event – a ripping cat with a deep seated love of a good time and a natural ability that can be devastating on his day. Has tasted victory here in 2011 and has a gift for selecting team-mates.
Richard Fellner (Quigley) – Another BRG legend in a very select group of 10-year players. Owns one BRC title and will be seen strutting again in his trademark plus-fours and heavily bandaged as he nurses his obligatory pre-Cup injury through the weekend. One to watch.
Sebastian Shand (Bastros) – His 10 years' of Cup experience and winning performance in 2010 make him an invaluable asset to his team. An unquenchable raconteur with a thirst for wisdom, he always leaves an indelible mark on the Cup and is sure to do so once again.

The Stringybark Creek Freaks - At Stringybark Creek in the Wombat Ranges in October 1878, the brooding confrontation between the Kelly Gang and the police exploded into all-out war. Three police officers lost their lives and the Kelly outbreak had begun.
Michael David (Mikey-D) –This freaks among freaks is equally at home entertaining the masses with his outrageous anecdotes and smashing balls on the fairways. A two-time winner here, this human-highlight-film will be signing autographs in the lobby after the show.
Greg Cousins (Geesh) – This loveable rogue is fronting up for his 4th Cup and has quickly established a reputation as a brilliant entertainer and big game player. The cry of 'Unleash the Geesh' will again be heard this week as his status elevates from champ to legend.
Brett Simpson (Simmo) – This crazy freak turns every Bushranger Cup on its head with his unpredictable antics and outlandish exploits. It will be business as usual this year as he performs a disappearing act on Saturday before magically reappearing on the podium on Sunday.
Tim Holroyd (Hatman) – This laid-back mathematical genius is a thinly disguised hardcore, tough as teak, mind-bending, concrete-block munching, rusty-nail eating, grizzly bear-fighting ferocious competitor.

The Aaron Sherritt Gang - Aaron Sherritt was Joe Byrne's great mate and a trusted lieutenant to the Kelly Gang. Folklore has marked him as a traitor, but he played a delicate game of espionage pretending to be a police informant. He came undone when the cops got wise and spread rumours he had betrayed the gang. In the end, he was murdered by Joe Byrne for his apparent, but unproven, treachery.
Pete Solomou (Solo) – This quality unit is a golfing tragic of the highest order. If he loved golf any more he may well be divorced. Has improved his game out of sight but he still struggles with consistency. If 'Good Pete' turns up then he could easily tear this field to shreds.
Paul Himarios (Himma) – Another desperate soul who has been bitten hard by the golf bug of late. This quietly spoken, small-town boy may struggle in the white-hot spotlight of the Cup and the bright lights of Sorrento after golf could be his undoing. May require blinkers.
Nick Mouhtaropoulos (Moota) – This big-hitting leftie broke the shackles with a stellar performance at the 2014 WBC to register his breakthrough BRG Major Championship win with his pal Himma. Struggles at times with the leave-pass issue and may be pre-occupied.
Rob Lugton (Luggo) – The only member of this team to have held the BR Cup aloft so big things are needed from this computer genius if this rabble is to triumph. A classy gent, he appreciates fine wines although his ambitions as a drinker can sometimes exceed his ability.

The Harry Power Gang - Harry Power was the wily old lawbreaker who mentored the young Ned Kelly in the refined bush arts of horse stealing and bravely hiding from the law in the scrub.
Mark Henderson (Debbie) – If birdies were awarded for sledging effort, this unit would be teeing it at Augusta next month. Very quick on the lip and rarely displaying any trace of mercy, he takes no prisoners and is especially harsh on the meek and the defenceless. A c#%t.
Shane Lawlor (Jacques Costeau) – This robust, big-hitting unit proved his mettle at the KGS and will be one of the star performers in the après-golf activities. A BRC debutant, will be feeling the effects by Sunday and may struggle to complete the journey here. A roughie.
Tomm Cassidy (Gnome) – He might look like a balding, chubby, trailer-park, unkempt, loudmouth, uncivilised, self-medicating, former Navy chick, and he does. Notwithstanding all that, he is a top bloke. When he's asleep. Watch out for his legendary pool comp antics.
Wayne Ball (Ballo) – This ball-striking machine is here mostly for the festivities on offer between rounds and may find time for a little golf as well. A top bloke, he will be central to his team's chances but does have the tendency to over-medicate himself at times. Could surprise.

The Captain Moonlite Gang - The devious Andrew George Scott, a man with three first names, became the infamous Captain Moonlite when he began robbing banks in the 1870s after throwing in a promising career as a preacher.
Robbie O'Donnell (Roo / The Anchor) – Has been in woeful form of late, partly due to the horrendous workload dumped on him on a daily basis by Dubs, and a little too much liquid inspiration in Thailand earlier this month, but has shown enough in the big events to suggest he has the mettle to drag his team to among the contenders on Sunday afternoon. Produced some incredible golf when leading his NSW team to victory in The SGA Tour Trans-Murray Matchplay in Canberra earlier this year. A troublesome back of late may inconvenience him, but rumour has it he has been feverishly activating his glutes since late January so should be able to inspire himself and his plumber's crack to a butt-clenching performance of the highest order.
Mark Eagleston (Eagle) – Will be at his eye-catching best on the course, not for his stroke play, but for his outrageous wardrobe selection. Has spent the past 6 weeks scripting his outfits for this event so his game will be a little underdone. Despite the fact that he has a swing like Charles Barkley, recently he has had a happy knack of knocking shots in from 100 metres so will certainly contribute to his team. A near certainty to pull a disappearing act from the MLGA at some point in favour of a few hours at the Sorrento Hotel where he will no doubt entertain the locals with his outrageous antics.
Matthew Thomas (T-Bag) – A legend of the Kelly Gang Shootout, with more wins than Tiger Woods and Jack Nicklaus combined at that event, but the step up in class here has been a bridge too far in the past. Will benefit from being surrounded by quality golfers in this team of champions, but his teammates' penchant for paying more attention to the post-golf activities might prove a stumbling block to his ambitions. Will struggle to carry the load for his entire team for all three days but will give it his best shot and will not die wondering.
Joel Matthews (Giorgio Armani) – A quality unit, will be right at home in a team of slick-dressing gents. Has made many an appearance at the other BRG and SGA events, but this will be his first time teeing up in the big one. As the custodian and impresario of his own event (The Montclaire Classic), he will not be overawed at his Bushranger Cup debut. Will no doubt indulge his love of a good red to numb any nerves he may encounter and a solid golf game under pressure will be an asset to this team of golfing Lotharios and demi-gods.