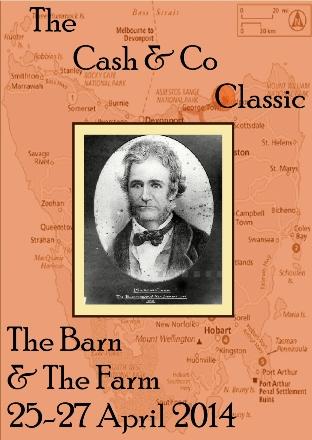 Greetings all and welcome to the 4th annual Cash & Co Classic!
The CCC is a golfing odyssey that honours three golfers for their daring, wits, fortitude, courage, endurance and skill. The CCC is structured with an individual format and we will have a pairs and a singles category to determine the three CCC Champions.
We play a different format each day (Par, Stableford & Stroke) and run an Order of Merit type points format. Each day, player's scores will be ranked from first to last and points will be allocated according to the player's rank. Players tied on the same score will receive the same points. The points for the three rounds are totalled and the player(s) with the greatest points will be declared the winners.
To establish the three winners, we have a singles and a pairs division. For the pairs, all players are paired with a mate and their combined total points over three days is the pairs result. The singles winner is the highest-placed individual player outside the pairs division winners.

Special Rules for the CCC
The Irish Drop Rule - Barnbougle has a local rule that a ball lost in the deep rough can be regarded as lost in a hazard and the player takes a stroke penalty but not distance, so a ball can be dropped at the point of entry into the rough (as per a lateral water hazard).
The 10 Shot Mercy Rule - For the stroke round we will have a 10 shot mercy rule. This means 10 is the maximum score for any hole, so when a player has had nine shots and they have not holed out, they can pick up and record the score as 10.
The Farmer Mulligan Rule - The Lost Farm Course has 20 holes. We will play all 20 holes and at the end of the round, players eliminate their two worst holes and tally their score for their best 18 holes.

The Boobyalla Break - Barnbougle Dunes has four sets of tees and each of the tees is recommended for players of a particular handicap range. Most of us will play off the Boobyalla tees but to maximise the fun and help the higher handicappers make the journey, players will have the option of choosing to play some or all of the holes from the tees that match their handicap. Note this is optional - players can take The Boobyalla Break or not at their own discretion and a player may choose to play any given hole off longer tees as they see fit.

The Golfers
Matthew Pitt – His shabby anti-heroics of 2011 when he was shamelessly carried to this title by a brilliant partner are a distant memory. A Sunday collapse that cost his team a certain win at the 2014 Bushranger Cup may be fresher in his mind. Knows the courses, but laying 200 square meters of turf in the last two days is not the perfect preparation
Craig O'Donnell – After a win and a couple of podium finishes on the NSW SGA Tour early in the season, his form has dropped off dramatically of late, but has the ability to turn it on at any given moment. Will be found at the bar on Friday night watching his beloved Rabbitohs and engaged in some liquid self-inspiration. May surprise.
Ian Crotty – A golfing and culinary wizard, this former child prodigy has done it all in Bushranger Golf but is yet to taste victory at the CCC....or has he? A vice-like mind and the dryest of wits, the man affectionately known as Crocko, Crock Diddy, Crockaliscious and now The Crocken is a red hot chance to do the business here once again.
Sebastian Shand – Teed up in the inaugural CCC here so has played both these tracks and will have blokes buying him drinks and bending his ear all Friday night looking for a few tips. Is in better nick than he has been for yonks but may still a little under-golfed to be a serious contender. More than makes up for his lack of golfing integrity with his flamboyant wit and couture on and off the course. Loves the big occasion and is a massive chance.
Leo Ryan – Fronted for this event last year and made a massive impression on the golf courses. They both belted him all over the joint and he hit the canvas hard at the end of every round. Has lowered his sights a little this year and is just trying to stay upright for three days.
Stefan Diekmann – One of the finest gents teeing it up here, he will raise the tone of the entire proceedings at the CCC. A good, honest toiler from the northern hemisphere, he is in fine form after a couple of recent solid hit-outs on The SGA Tour so should deliver super value to his backers.
Ivan Jones – There is no bigger golf nut on the planet than this journeyman from the west, having travelled to the Bushranger Cup in Victoria, The SGA International in Thailand and now the CCC in Tassie already in 2014. Does not measure success in trophies won but in laughter and enjoyment shared, which is lucky for him as he has had a lot fun winning nada of late. A nicer gentleman you will not meet, but definitely not to be underestimated. Has won his grade in the ASGCC on the Gold Coast, so can golf his ball when conditions are right. Certainly one to watch.
Mark O'Donoghue – Has joined Ivan the not so terrible in making the long peregrination from the west to try and hijack this title back across the continent. Has tied the CCC in with a holiday in Tassie so is clearly more savvy than most and may have leveraged a critical advantage having acclimatised himself to the local conditions. A big chance.
Corey Kelly – His name suggests an Irish heritage that could indicate he may have a genetic advantage when it comes to playing links golf in a Bushranger Golf event. Has proven himself a robust golfer on The SGA Tour in recent times and, given his pedigree, should have the capacity to step up between rounds for the après-golf activities also.
Steven Jurisic – First start in a field of this quality as he makes his debut in a BRG event. Comes of some dazzling form when he teed up recently on the SGA Tour at St. Andrews Beach and comfortably gobbled up all that Tom Doak laid out for him. Can golf his ball and may have a penchant for the links that could hold him in good stead.
Glen McGowan – This club-twirling Shire local knows how to golf his ball and well he should after recently retiring to a life of golf eight days a week. Must be a fan of golf marketing because he appears to have over-invested in new gear of late. Was it not Gary Player who didn't say, "The more I spend on new golf equipment the luckier I get"? Unlike the Black Knight, his mental hardness is up for debate with several recent capitulations. A wild card.
Mark Eagleston – This sporting larrikin from the west of Sydney is a BRG debutant with dreams of a first up win. Has successfully parlayed his cricketing skills onto the golf course and is looking to transpose his punting and heckling skills into BRG glory. Is rumoured to possess a prodigious liver that can absorb all manner of punishment such that he can play great golf with a ferocious hangover. Will go hard and deep and long all weekend and will be lucky to remember anything whatsoever. Worth a look.
Mark Henderson – The fastest tongue in Bushranger Golf comes in here with an empty BRG trophy cabinet, but a mind full of fond memories and an insatiable thirst for fun on the golf course. Is quick to get on the sledge and no one is safe, especially those closest to him. Has the temperament to shake up the competition, but his priority for having fun may compromise his chances of success. A true champ and one to watch for all the right reasons.
Robbie O'Donnell – This wild-swinging golf nut from the clifftops of Sydney's eastern suburbs will be at home on the exposed coastline of Bass Strait, having plenty of experience scoffing his brekky in the wild winds of the Pacific. A lack of golfing ability may offset any pseudo-home-ground-advantage here. Will be looking to atone for a most lacklustre BRG debut at the 2014 Bushranger Cup when he was completely overwhelmed by the demands on his character, stamina, skill, wits, courage and liver.
Athol Marks – One of the finest gents teeing it up in the CCC this year, he will no doubt raise the whole tone of the proceedings here. Is rumoured to have an affinity for links golf so will be backing himself to safely navigate his way round these two demanding and treacherous layouts. Is in good form after a recent hit-out on The SGA Tour so should give a very good account. Worth a nibble each way.
Mark O'Dwyer – This Queenslander has migrated south of the border and is as excited as anyone here. Making his first start in a BRG Major Championship and may follow in the footsteps of so many debutantes who underestimated the demands required to go the distance over this journey.
Gary Lavagna-Slater – Is champing at the bit to tackle these courses and has shown a bit of recent form but this banana-bender may be in for a rude shock when steps out onto the frosty tees of The Barn and the Farm and has to brace himself against the icy Antarctic winds swirling in off Bass Strait. Expect to see him swathed in blankets by the fire after the first round and too busy staving off hypothermia to do much damage on the leaderboard.
Bill Riddle – Is as keen as mustard and is rumoured to have been practicing for months in preparation for this event. Has a tendency to over-think his golf which may see all his well-laid plans backfire. Is inclined to over-golf himself and could fall victim to using up all his good shots on the practice range. If you see him on the blower to his coach on Friday night, you will know he is in early trouble.
Benn Pola – One of the few actual gentlemen here, which is fitting as Martin Cash was known as The Gentleman Bushranger. This quality unit been setting himself for this event for some time and has shown some superb touch on the SGA Tour. A jocular nature and dry wit make him a natural for the CCC so he may surprise come Sunday arvo.
Travis Gray – Makes his BRG Major Championship debut here and may have no idea what to expect at this level, especially from these bodacious golf courses. Is rumoured to be less inspired to hit the practice range than some of the more certified golf nuts here. May simply be planning on lollygagging his way around The Barn and The Farm in an inspired three-day frenzy of heckling.
Bruce Haynes – First start in a BRG weekend Major but has years of experience on his own Tour back west. Has the form, the pedigree, the liver-power and the experience to suggest he can probably produce the goods. Although big questions marks hang over his maiden start in a event of this stature, should deliver his backers value this week.
Joel Matthews – This relaxed unit likes to keep a low profile and has demonstrated a rapacious appetite for the big tournament atmosphere of BRG golf weekends. Made his debut at the 2013 WBC and has delivered some quality results on the SGA Tour that suggest he will crack his first BRG Major very soon which could open the floodgates on a tsunami of titles and glory. Will certainly impress.
Jason Hagen – This relaxed unit displays a level of golfing equanimity that is the envy of his rivals and clearly earmarks him as one very finest temperaments teeing it up here. Anyone who can hit such a vast array of utterly depraved shots and remain steadfastly determined to enjoy his time on the golf course is a genuine golfing genius.
John Walkington – Has just about burst his boiler in anticipation of this event. Exploded onto the SGA Tour in 2013 with a brilliant first up win in atrocious conditions and came within a whisker of snaring a WBC last October at his first attempt. Can golf his ball and is more than handy at the après golf activities. Is the complete package and is rightfully one of the top favourites here.
Nick Mouhtaropoulos – Has been on a hair trigger for weeks leading in here. Is so excited he has spilt three pairs of plaid pants this week and has not slept a wink. He has played every hole 10 times in his imagination even though he has never seen the courses. Will be quivering with expectation on the first tee but may be so emotionally, mentally and physically drained by the sheer scale of his anticipation that he forgets which end of the stick to hold.
Pete Solomou – First start in a BRG event but has recently made a few starts on The SGA Tour and has the form to suggest he can probably out-golf, out-drink and out-punt everyone in the field here. A massive chance.
The Social Players
Paul Himarios – This out and out golf tragic has nearly worn out the Barnbougle website going over the courses in recent weeks. Can't wait for this and is in real danger of exploding in happiness the moment he steps off the plane.
Nicholas Tofaris – This certified golf nut has never played The Barn before and is quivering with excitement. Can't ever get too much golf so is guaranteed a good time.
Christos Savva – Has superhuman mental powers on the golf course but comes in here with some serious doubts on the power of his liver. May struggle to stay the distance.
Dimitris Lantides – Has recently been bitten by the golf bug in a big way & can't wait to throw himself to the wolves here. May need to be heavily medicated to see it out.
Lenos Loizou – Is rumoured to be less inspired by the practice tee than most of the golf nuts here. Prefers to save his best for the fairways rather than waste his talent on the range. Is a passenger on the Barn train to good times.
Day One – 11:00am
Barnbougle Dunes
Par


Day Two – 10:10am
The Lost Farm
Stableford

Day Three – 7:20am
Barnbougle Dunes
Stroke

11:00am
Ian Crotty
Sebastian Shand
Leo Ryan
Stefan Diekmann

10:10am
Mark Eagleston
Mark Henderson
Sebastian Shand
Corey Kelly

7:20am
Athol Marks
Mark O'Dwyer
Gary Lavagna-Slater
Travis Gray

11:30am
Corey Kelly
Steven Jurisic
Ivan Jones
Mark O'Donoghue

10:20am
Robbie O'Donnell
Glen McGowan
Joel Matthews
Steven Jurisic

7:30am
Stefan Diekmann
Jason Hagen
Bruce Haynes
Bill Riddle

11:40am
Nick Mouhtaropoulos
Pete Solomou
Paul Himarios
Lenos Loizou
10:30am
Travis Gray
Ivan Jones
Leo Ryan
Jason Hagen

8:00am
Benn Pola
Glen McGowan
Craig O'Donnell
Corey Kelly

11:50am
Nicholas Tofaris
Christos Savva
Dimitris Lantides
10:40am
Athol Marks
Mark O'Dwyer
Gary Lavagna-Slater
Bruce Haynes
8:10am
Robbie O'Donnell
Mark Eagleston
Mark O'Donoghue
Joel Matthews
12:20pm
Matthew Pitt
Craig O'Donnell
Mark Henderson
Robbie O'Donnell
10:50am
Craig O'Donnell
Nick Mouhtaropoulos
Stefan Diekmann
John Walkington

8:30am
Mark Henderson
Ian Crotty
John Walkington
Steven Jurisic
12:30pm
Glen McGowan
Mark Eagleston
Jason Hagen
John Walkington
11:00am
Matthew Pitt
Ian Crotty
Benn Pola
Mark O'Donoghue
8:40am
Matthew Pitt
Sebastian Shand
Nick Mouhtaropoulos
Ivan Jones

12:40pm
Athol Marks
Mark O'Dwyer
Gary Lavagna-Slater
Bill Riddle

11:10am
Pete Solomou
Nicholas Tofaris
Paul Himarios
Bill Riddle

8:50am
Leo Ryan
Paul Himarios
Lenos Loizou

12:50pm
Benn Pola
Travis Gray
Bruce Haynes
Joel Matthews
11:20am
Christos Savva
Dimitris Lantides
Lenos Loizou
9:10am
Pete Solomou
Christos Savva
Dimitris Lantides
Nicholas Tofaris