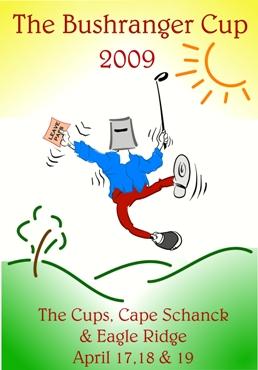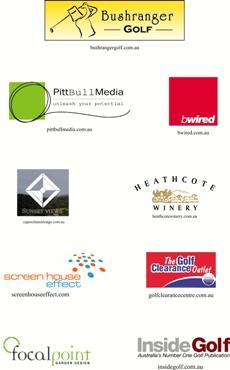 The organisers of The Bushranger Cup would like to take this opportunity to thank:

Sam, Campbell and the team at bwired online solutions for their partnership and support with the Bushranger Golf website.

Sam, Jason and all the team from The Golf Clearance Outlet for their help.

Denise, Steve, Bridget, Bec and all the team at Heathcote Winery for their support of Bushranger Golf to produce the very popular Bushranger Shiraz.

John and Glenys from the Sunset Views Lodge for putting up with us.

Richard Fellner from Inside Golf for his help with promotion, publicity and marketing Bushranger Golf and the Social Golf Club Championships.

Padge and Debbie from Murray River Horse Trails for The Bushranger Cup, the bullets and the inspiration.

Roger Brown from Focal Point Garden Design for his meticulous efforts in preparing the Bushranger Cup trophies.

Steve Foxwell from Screenhouse Effect printing for his assistance with the Bushranger Cup stubby holders.

Sally Pitt of Pitt-Bull Media for her time and skill in creating this program and for her consideration in putting up with a very excited tournament director.


Greetings all and welcome to the 6th Annual Bushranger Cup!

The Round One solo 9 holes commence at 2:48 pm on
Friday afternoon on the Cups Course at The Dunes Golf Links.

A gourmet BBQ Champions Dinner will be held at
Sunset Views from 7:00 pm for 730pm on Friday evening.

A team meeting will be held in the Sunset Views lounge after dinner.

The Round Two & Three 2-ball ambrose rounds will commence at 11:40 am Saturday
at Cape Schanck. Details of the pairings and tee times appear below.

A second gourmet BBQ Champions Dinner will be held at
Sunset Views from 7:00 pm for 730pm on Saturday evening.

The Round Four 18 holes of 4-ball ambrose will commence
at 9:22am Sunday at Eagle Ridge Golf Course.

The presentation ceremony will be at Sunset Views after golf on Sunday.

Giddy-up & Enjoy!




The Kelly Gang - The last and most infamous of all the Bushrangers, Ned's crusade to secede from the colony and start his own republic fell slightly short of the mark. An expert self-promoter, he always knew the importance of snappy dressing for a photo opportunity.

Roger Brown (Arbeige) - This great chino-packing, bourbon-swilling, smoke-billowing, ball-thumping, dry-humping champion of everything, loves this event more than any other. He relishes the challenge of rising to the big occasion as he has proved time and again with his wins in two Bushranger Cups, back-to-back William Buckley Classics, a Kelly Gang Shootout and a Duzzo World Invitational Two-Ball Ambrose Championship. Excels at every aspect of the Bushranger Cup weekend and was approached by a few head-hunters this year to poach his services. Fortunately, he knows where his bread is buttered and is smart enough to stay on the team that contains the tournament director and the handicapper.

Form: Was a raging favourite as always but an interrupted preparation has thrown massive doubt on his chances here this week. If he is going to figure in the finish, will need an armchair ride from his team mates.

Adam Finlay (Larry) - Looks like the journey here will test him after such a long spell and will surprise if he is anywhere near it at the finish. Hasn't touched a club since winning last year, but then hadn't touched a club in the two years since his previous win before that…except the unsuccessful defence in between which didn't really count, especially if you calibrate into the equation all the time not spent not not touching clubs before he took up the game in the first place. Which was quite a lot. Since his previous preparations have involved no club touching (or even looking at a golf course) and he has followed that strict regime again this year, he may well be cherry ripe for another victory.

Form: Has finished 1st, 2nd and 1st in his last three starts at this or any event, so offers excellent value for factoring into your trifectas.

Nick Honey (The Hominator) - Has returned from the future to do some Hominating to save the world. Is a much-loved man of the people for the discriminating nature of his Hominations; does not simply minate willy-nilly. Famously minated the bejeezus out of the Cup by holing a seven iron for eagle at the 2005 event in Tocumwal before famously minating his way to wins in 2006 and 2008. Is great and benevolent and humble and he knows it. Will be the first to remind you that you can't take the mountain to the Hominator, and you can't necessarily take the Hominator to the mountain, but if you did, he will probably chop it down with the edge of his hand.

Form: Has played in every Bushranger Cup and has never finished worst than second. Virtually owns this event and will almost certainly win. Again.

Matthew Pitt (Pw Jones) - A professional handicapper, he knows how to get the job done. Either picks really good team mates or is simply a dead-set champion. Probably a bit of both. A charming cad who is a devious and competitive scoundrel, he loves nothing more than inviting all his mates on a golf weekend so at the end of it they can watch him present himself with the trophy. Again. Has also won a Duzzo World Invitational 2-ball Championship and a Jack the Hack, so has some form outside his own backyard. Comes in here brandishing a new set of weapons courtesy of his foolish mates who splurged on a monster gift voucher for new clubs and bag. Will be the best-equipped golfer here this week and will certainly parlay that advantage into another outstanding performance.

Form: In reality, is grossly under-golfed coming in here and will require some sort of perfect Bradbury to have any chance of being in front at the finish.


The Captain Melvilles - Captain Melville was a small-time thief who narrowly escaped capture several times. He was finally apprehended by police on Christmas eve 1852 in a drunken stupor at a Geelong brothel after arousing suspicion among the local sex-workers by boasting to them about his illegal exploits. A real class act.

Ian Crotty (Crock Diddy) - This metrosexual lad adds a real touch of urbane class to a field already oozing with quality. Known for his pioneering work among the latte set in Melbourne, he is renowned for his ability to leaf through The Age while supping on his organic free-range breakfast at an inner-city café. His left-wing, neo-counter-revolutionary, namby-pamby, espresso-swilling, chardonnay-sniffing, save-the-gay-lesbian-whale, pinko, poofo, gaybo, lesbo, greeno, hippo lifestyle, belies the fact that, on his day, he is a very handy ball striker and not too bad at getting his balls in the hole and making a good score.

Form: In between some sharp remarks, rapier-like observations and listing the virtues of being able to Rock out with your Crock out, he will get the job done golfing his ball. Won this in 2005 and wants his Cup back. A massive threat.

Richard Mitchell (Saddam) - This fauna-lover and campaigner for animal rights never fails make a big impression. At his debut Cup in 2005, he delighted all from near and far with his tales of dancing bears, Pavlov's dogs and electro-shock therapy. Then he danced his way to the Championship and never looked back. A Tournament Director in his own right, he co-hosts the world-famous Jack the Hack annually and, like some other tournament directors playing here this week, has the happy habit of winning his own event on a semi-regular basis.

Form: A three-time winner of his own event and the reigning Jack the Hack Champion, he clearly knows his way to the post. Is worth noting that his form is always better when he is waiting for himself at the finish to present himself with the silverware.

Sebastian Shand (Bastros Bastros Ghali) - A larrikin and a wit, the man with the diamond-coated liver is always a feature of the Bushranger Cup and is an outstanding connoisseur of good times. He has played in every Bushranger Cup and even managed to win one in 2005, although he does carry the dubious tag of having one of the worst stroke averages of any Cup-winner, which would suggest he might be somewhat of a passenger on the golf course. He may be but a dilettante with a mashie niblick in his claw, but as long as there is a goblet of the Beaujolais in his other mitt, everything seems to turn out ok.

Form: If he hits his straps and has a sniff of the lead on the run to the post, may be very difficult to get past. A flighty stallion, will certainly need the blinkers on to stay focused.

Warwick Stonehouse (Boo) - This one-time party boy has reduced his playing schedule in recent years and seen his results suffer dramatically. It appears there is a directly proportional inverse relationship between his partying excitement quotient and his ability to get the ball in the hole. Alas, in his dotage, as his social calendar has been wound back, so have his results. Won the inaugural Bushranger Cup and can boast a swag of other prestigious tournaments all over the world. Is considered a heckler and competitor without peer and is very difficult to dislodge once he finds his rhythm. Is usually gets quieter when he is slipping out of contention, so if you can hear him on Sunday arvo, you will know he will be thereabouts at the finish.

Form: This unit can never be discounted and will surprise no one if he is to be seen by the 18th green on Sunday, tumbler in hand, laughing his way to the presentation ceremony.



The Stringybark Creek Freaks - It was at Stringybark Creek in the Wombat Ranges in October 1878 that the brooding confrontation between the Kelly Gang and the police exploded into all-out war. Three police officers lost their lives and the Kelly outbreak lasted for the next 20 months.

Michael David (Mikey Dee) - This human highlight film brings a lot of joy to every Bushranger Cup. Is one of only nine to have played every Cup, and relishes the big stage. Made headlines at the early Cups with his marvellous displays of showmanship and bravado at the gaming tables and may have something in store again this year. Will sing, dance, joke, laugh, hoot and holler his way through the whole shebang and will certainly be smiling all the way to the podium on Sunday afternoon. Look away at your own peril as you may miss the highlight of the entire weekend.

Form: 2nd, 2nd, 2nd, 3rd and 2nd. Came second in his debut cup. Backed that up with two more. Surprised all with a shabby third in 2007 and then a couple of wins in the William Buckley Classic but he returned to form with a 2nd place by a solitary shot in the BC last year. A perennial bridesmaid at this event, has finished on the podium every year, so knows his way to the line, but seems to have a habit of letting someone else cross it first. Will certainly salute in the trifecta.

Brett Simpson (Simmo) - In the words of Salt-N-Pepa with En Vogue, "What a man, what a man, what a man, what a mighty good man!" This Champion of the leave pass has left an indelible impression on the Cup with his love of good times and his ability to extract them from any situation. From his remarkable debut in 2005, to his smoking epiphany in Corowa in '06, his laugh-a-minute routines of 2007 and his golfing brilliance in 2008, he never fails to deliver massive value to his backers. An advocate of the punt, he will be seen scanning the form guide, cheering at the plasma, assembling a syndicate, running for the phone and riding home winners all weekend.

Form: Always offers his backers tremendous value for their entertainment dollar and is certain to keep battling away but may find this step up in class too much to handle.

Steve Foxwell (Foxy) - This laconic character is a massive smoky in the field here this week. Beneath his easy-going exterior lurks a competitive monster and he loves wringing the best from himself on any sporting arena. Great company both on and off the course, he impressed few with his extremely shabby golf in his Bushranger Cup debut in 2006. After taking a break from the game, he was back at the BC in 2008 and almost single-handedly dragged his team to 2nd place in Heathcote. Since then, he has taken his golfing addiction to a whole new level and is rumoured to have put in a very impressive and detailed preparation for this event.

Form: Comes in here this year as emotionally prepared as any player in this field to have a massive weekend. Has been set for this for ages and will make the trip comfortably.

Terry Robinson (Terrance Trent) - This all-round athlete and good bloke is making his first start in a field of this quality and, despite his outstanding pedigree, is certain to struggle with this step-up in class. He is renowned for being so laid back that he's almost horizontal. Does have the small advantage of being the lowest marker here this week, but this shouldn't have any bearing on the results. Has a reputation for being a great all-round athlete and a dab-hand at any sport he takes up. However, it may be his undoing being the Jack of all trades but master of none. Having spread himself too thinly across too many disciplines, his technique may not stand up to the heat when the blowtorch is turned up on Sunday afternoon.

Form: Will do well if the Bushranger Cup is ever transformed into some sort of multi-disciplined decathlon, quadathlon, septathlon or, dare we say it, sextathlon, but in its current biathletic format of golf interspersed with drinking sports, he has very little chance.




The Harry Power Gang - Harry Power was the wily old lawbreaker who mentored the young Ned Kelly in the refined bush arts of horse stealing and hiding from the law in the scrub.

Scott Wilson (Willo) - One of the original Cuppers who has maintained his unblemished record of never missing a Cup, but then never winning one either. Rumours that he is setting the playing cards to one side this year to focus on the golfing activities seem to be without foundation. Has played every Cup and wants the greatest prize in golf so badly it hurts. Sadly has not come up trumps and now has a firm grasp on the title of the greatest golfer never to win a major tag…or anything else for that matter.

Form: If you see him lugging in a gaming table on Friday afternoon, you know he will be at pretty long odds to be lugging out the Bushranger Cup on Sunday afternoon.

Michael Mileo (Seve) - This dapper stallion always comes up a treat in the mounting yard with his smooth continental style and suave comportment on and off the course. Has a virtual lock on the best-dressed award with his snappy ensembles and delightfully accessorised outfits that raise the tone of the entire weekend. One of the great pleasures of the Bushranger Cup is to see Seve cruise past at the practice green then to ease into his slipstream and surf in his charismatic wake for a few steps in the hope that some of his style might transmute to yourself by virtue of simply breathing the same air as he for a few short moments.

Form: Is in full control on the golf course and has all the hallmarks of a Bushranger Cup champion. Knows his way to the post as he proved when he won the 2006 William Buckley Classic and the 2008 Victorian Social Golf Club Championships. A massive contender.

Richard Fellner (Quigley) - Reads, writes, knows, speaks, listens, talks, sees, breathes, eats and sleeps just about more golf than the entire field here put together. This award-winning golf photographer is the newly appointed editor of Inside Golf magazine and yet it doesn't seem to have helped his game in the slightest. A gun as a junior, he has been on a long slippery slope ever since. Won the Kelly Gang Shootout in 2006 and then has failed to contend in just about every event ever since. Has a great swing and has played to a very handy standard in the past, so is certainly a chance if he can put it all together here this week.

Form: Some would argue this svelte ball-striker is overdue to salute but he will probably end up doing his best work at the typewriter after the event, writing up an award-winning story on the new Champions.

Mick Van Raay (Da King) - Big man, big heart, big smile, big talent, big entertainer, big form slump. Came from nowhere to win the 2001 Duzzo World Invitational in his maiden start on the Shabby Dot Com Tour, and then backed that up with a huge win at the inaugural William Buckley Classic in 2006. In 2008, his game took huge leaps forward and he dropped his handicap by nine shots on the way to contending all year for the BRG Player of the Year title and finishing on the podium in that contest, but narrowly missing out on the title. Alas, he has lost a little touch over the summer and struggled to recapture his form of last year. Is a world famous DJ, so expect to see him with the ghetto blaster on his shoulder, revving himself up with some motivational tunes before each round.

Form: This stylish paradigm of charisma will charm the pants off all the fillies in the mounting yard, but once the field jumps he will be looking to make everyone his bitch.


The Canvas Town Mob - A rare city-based mob of Bushrangers who operated in South Melbourne in the 1850s. They would knock off ships at port and then frivolously drink and gamble away their booty.

Gavan Doran (The Rose of Doran) - What a feature of the Bushranger Cup this raconteur has become. Since announcing himself by arriving in a Roller in Corowa in 2006, he brings something special to the party every year. Although very fond of a big gallery during the après golf activities, he is rumoured to be not so keen about spectators on the course. Is believed to have been working hard on his game and will do well if he gets out of the blocks early. Created a storm of uncontrollable amusement last year when he produced from his bag of tricks a delightful array of air swings on the first tee on the Friday.

Form: It has long been said in golf that you cannot win the tournament in the first round, but you sure can lose it. Having lost it last year before he even moved his pill off the first tee in the first round, he is sure to do better this year.

Neil Hocking (Plonk) - One of the true gentlemen of the field here and really shouldn't be permitted to keep coming back as he makes the rest of us look very ordinary by comparison. An even temperament and leisurely dry wit makes him a delightful character to enjoy a round of golf with. Has been working on his game of late but was once famous for the Hocking Stomp, a kind of crazy involuntary chicken dance he would launch into just after impact when he went from broke with his driver off the tee. Is striking the ball with far more balance these days and has shown enough early season form to suggest he can contend here this week.

Form: If you are in his group and spy any chickens dancing around the tee, you can be pretty sure you have him beat. If he can keep both feet on the ground long enough to launch his ball in a traditional fashion, he will be a big threat come Sunday.

Paul Lambe (Lambo) - This golfing dichotomy is equally capable of amazing feats of brilliance on the golf course and abject mediocrity. Unfortunately, he is either red hot or stone cold with very little in between. When he is good, he is unstoppable as he proved in 2008 with a massive Handicap Day win at Eynesbury. However, there is a big question mark over his capacity to stay the distance at The Bushranger Cup, a format that has proved too gruelling for this hearty competitor. Always acquits himself beautifully between rounds and can be relied on to flex his discerning palette whilst sharing a fine bottle of red or two, which may account for some of his problems rising to the task on the golf course the following day.

Form: Given his consistently inconsistent performances over a long period, is a safe bet to be bringing up the rear of the field on Sunday arvo and quite possibly heading in the wrong direction altogether.

Andrew Smith (Leonardo de Maffra) - First start in a mighty Bushranger Cup but should fit right in given the character of the outlaws he is known to consort with. Is the renaissance man of the field who boasts many strings to his bow and even more arrows to his quiver. Hailing from Maffra, he is the secretary at the glorious golf club there, is a bit of a gardener, a sometime-scientist, a philosopher, teacher, mentor, writer, golfer and a damn fine Bushranger to boot. The crowning glory in his list of achievements is his recent good work as a fire spotter atop an observation tower in Gippsland. Whenever he sees a fire, he is required to hop down and take a leak on the flames ASAP for the good of the community. Bushrangers are warned to refrain from smoking in bed this weekend to avoid any unpleasant incidents.

Form: Will get a rude shock when the field settles into a rhythm and he discovers how long and turgid the journey is here. Will be better for the run but will certainly need a spell after this.


The Aaron Sherritt Gang

- Aaron Sherritt was the Kelly sympathiser-turned-double agent who was later murdered by his old mate Joe Byrne for his apparent, but unproven, treachery.

Dave Warwick (Diesel Dave) - An ornament to the game, he is famous for the bonnets he puts on his block and the block he puts on his balls. He is a purveyor of fine beverages: ales, beers, pilsners, ciders, lagers, stouts and bitters, and is known to imbibe on the golf course. Is also somewhat of a traditionalist with his hardware who eschews today's titanium technology, happily teeing it up with his classical persimmon driver. This bloke can ride a horse, golf a ball, hold up a bank, dress sharp, drink beers, smoke, laugh, smile, shoot, root (as in dig one out), drive, putt, chip, bunk, sleep, screw (as in with a driver), gamble, talk, joke, poke (as in with a stick), sing, dance, play guitar, make merry and take the piss as well as, or better than, any many in this field. Really is the complete package in a field of great packages.

Form: Scrubs up a treat in the mounting yard and can back it up in the heat of battle. Is capable of blowing this field apart if he finds his range. Definitely one to watch.

Travis Hicks (Trav) - This power-hitter has always preferred playing irons off the tee and is rumoured to have made a special trip to his club maker in preparation for this event for a new custom-made driving cleek or jigger. At his debut Cup in 2006, he played one of the most memorable shots in Bushranger history when he struck a tee shot with such force that he separated the head of his mid-mashie (a 3-iron in the modern parlance) from the shaft (possibly hickory) at impact. The club head made headlines by travelling further than the ball. Trav doesn't golf much these days as indicated by the fact that it has taken him three years to get around to replacing his driving iron.

Form: Is coming off another massive spell and has had another very limited preparation so looks short of a gallop to trouble some of the more fancied starters this week.

Russell Gruen (Rusty Groin) - This one-time connoisseur of humanity had a glittering junior football career as a would-be goal kicker until he realised his team's strategy was to deploy him as a decoy-full-forward. Broken by this early setback, things started going rapidly down hill and his personal, athletic and professional life all went into meltdown. He tuned out, dropped out of the modern world, and wound up in the territory giving stunt motorcycle riding exhibitions, wrestling buffalos, taming gators and mesmerising the vulnerable lasses of northern Australia with his rugged charm. Recently returned to Melbourne and took up golf. His Bushranger Cup preparation has been limited to the purchase of a 21st-century, square-headed, titanium driver that looks like a piece of space garbage from Battlestar Galactica. Problems.

Form: Allegedly knows a lot about ethics and therefore, how to get around them, so will certainly attract the attention of the stewards here this week. One to watch for all the wrong reasons.

Warren Birchall (Wokka or Wazza) - Originally from across the Nullarbor, this globe-trotting Bushranger has plied his trade all over the world. Like Greg Norman, he took up the game in his teens and quickly progressed winning a club-grade championship and later made the transition to the European Tour to sharpen his game in different golfing conditions. From that point on, however, the comparison starts to look a bit thin. He made the mistake of setting up his international golfing headquarters in North Yorkshire, a district well-known for its lack of golf courses. Returned to Australia with his game a shambles and has made the move east to try and resurrect his career with one eye on the Seniors tour in a few years time.

Form: Given the massive long-term vacancies in his trophy cabinet, is probably making a purely ceremonial appearance here this week and does not realistically expect to contend.


The Ben Hall Gang - Originally The Frank Gardiner Gang, it became known as The Gilbert Gang when Gardiner was captured in QLD in 1861. It then morphed into the Gilbert & Hall Gang and later again the Ben Hall Gang. Their revolving door policy remains strong to this day.

Wade Jones (Mr Odds & Ends) - This all-round sportsman joined the Bushranger Fraternity early in 2008 and made a big first impression with a win in his maiden start in a Handicap Day, then backed that up with two more wins later in the year. Alas, his form on tour is less encouraging. His only start was at the 2008 Kelly gang Shootout where his team imploded and stumbled their way into a distant last place. A very keen competitor who loves the challenge of trying to winkle the best from himself on the golf course, he will certainly be aiming to redeem that effort here. Given his strong footy background, don't be surprised to see him calling himself into a huddle at three-quarter time and giving himself a red hot bake.

Form: Could perform if he settles early but may be overwhelmed by this step up in class. Will certainly need blinkers on at the very least, and probably a straightjacket too, or even a little sedation between rounds if he is going to stay in any sort of condition to contend.

Matthew Thomas (Thommo) - Joined Bushranger Golf early in 2008 after taking a 15-year sabbatical from the game. Took a little while to find his feet, then started dominating events all over the place and finished the year being the Kelly Gang Shootout Champion, the inaugural Bushranger Golf Player of the Year and a member of the winning team in the Victorian Social Golf Club Championships. He also managed to jag second place at the 2008 William Buckley Classic so he clearly knows his way to the finishing post. Will certainly be a target here and may struggle with the extra attention of the week-in-week-out hard tag that comes with being number one.

Form: Had some difficulties during the après golf activities at the WBC at this venue last year, which suggests he may struggle staying on the pace between rounds. If he is still at the party near the end, he may need to rely on his team mates to carry him to the post on Sunday.

John Martine (The Narooman) - It may be his first start in a Bushranger Cup, but this man from Narooma has massive form in the annual VB Cup. He will tell you it is a huge and prestigious event contested at the picturesque Narooma Golf Club on the NSW south coast, and he has won it several times. With his background in telecommunications, he is able (and willing) to tell all who will listen about his mighty VB Cup victories although he conveniently omits that the event is contested by two teams of two. At least one of his VB wins was a walkover when the other pair didn't show. Is also a member of the Burns Social Golf Club, named after the famous Scottish poet Robert Burns, and founded to foster the culture, whisky, golf, heritage and drinking habits of Scotland.

Form: With his tenuous connections to a Scottish heritage and even more dubious claims on winning form, he will need to settle well early to be given a chance here this week.

Rob Lugton (The Don or Luggo) - Joined the Bushranger fraternity in 2008 as a newcomer to the game and has been bitten hard by the golf bug. Has been having regular lessons and is playing more than most to improve his game and bring down his handicap. Picked up the moniker The Don for the effortless way in which he racked up the centuries early in his career. Made his BRG Tour debut last year in the Kelly Gang Shootout in Tocumwal and stormed home for a 2nd place finish. Did not fare so well in the 2008 WBC but has been working hard on his game over summer and may surprise a few here with some low scores over the weekend.

Form: In the end, will be overwhelmed by the occasion and shouldn't threaten this field but will be better for the run and will be a more serious contender at the Kelly Gang Shootout in July.