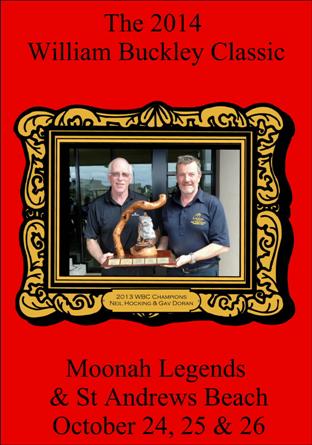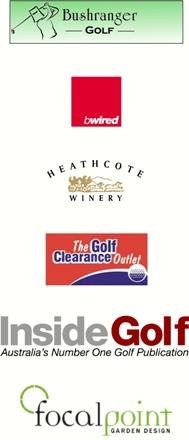 Greetings all and welcome to the 2014 William Buckley Classic
October 24, 25 & 26
An event briefing will be held on Friday Evening.
The Saturday rounds commence from 12:10 am at Moonah Legends.
The Sunday rounds commence from 9:18 am at St Andrews Beach.
The presentation will be held at Moonah Links Golf Academy.
Longest Drive and Nearest the Pin will be contested each day.

The organisers of The WBC would like to take this opportunity to thank:
Roger Brown from Focal Point Garden Design for the magnificent Murrangurk Perpetual Trophy;
Sally Pitt of Pitt-Bull Media because she rocks the Kazbah;
Sam, Campbell and the team at bwired for their help with the Bushranger Golf website;
Denise, Steve and all the team at Heathcote Winery;
Richard Fellner from Inside Golf magazine for for his help with the promotion, publicity
and marketing of Bushranger Golf and the events operated by Social Golf Australia.
All the Members of Bushranger Golf; past, present and future.
Giddy-up and enjoy!


The Golf
The Format: 36 holes of 2-ball ambrose over two days for stableford points. Longest Drive and Nearest the Pin will be contested each day.
The Rules: Since slow play is a potential problem for us, these rules are designed to encourage play in the right spirit and at the right pace. Teams play their chosen best ball on each shot and may place their ball half a club length (about 50cm) from where the chosen ball lies, no nearer the hole. Balls must be placed in the same cut as the chosen ball. In the interests of fast play from tee to green, teams are NOT required to mark with a tee and precisely measure from the chosen ball as they play each shot. Team members can play in any order on a shot. Please have fun, move quickly between shots, keep up with the group in front and pick up your ball when you have scratched on the hole.
Putting: Once on the green, Bushrangers should mark near the chosen best ball so all team members play from near enough to the exact same position.
Handicapping: Each team will be assigned a handicap based on official Australian handicaps and information supplied by the Bushrangers. The handicapper will be governed by a commitment to rewarding good play according to a player's ability.
Playoffs: In the event of a tie, a sudden-death playoff will be held. Teams play together as a twosome (taking alternate strokes playing one ball). Teams can determine the order as each member takes their first shot. This order is then continuous and carries over from one hole to the next until the playoff is decided.
The Rodeo Rule: This is minimum drives for each team member and will be enforced. Each team's rodeo requirements will appear on their scorecard.

Who was William Buckley?
Born in Cheshire, England in 1780, William Buckley fought as one of the King's Own Regiment against Napoleon's forces in the Netherlands. He was convicted of receiving stolen cloth in 1802 and was sentenced to transportation to Australia for 14 years. He was among 300 prisoners sent out in 1803 to establish the first settlement on Victoria's Port Phillip near what is now Sorrento.
Buckley and two others escaped in December 1803 with the aim of getting to Sydney. Alas, they went the wrong way and circled Port Phillip Bay. Due to the harsh terrain and lack of food, Buckley's companions decided to return to the settlement and give themselves up. But not the determined Buckley. It was the last time any white man would see of him for 32 years.
A powerful man standing over 6'6", Buckley pressed on along the coast to Breamlea, Torquay, Anglesea, Aireys Inlet and beyond. His first permanent resting place was near Mount Defiance where he found an abundance of shellfish, edible vegetation and natural cover. In the winter, Buckley was close to death but was rescued by an Aboriginal tribe.
Fortunately for Buckley, the locals believed that white people were Aborigines who had come back from the dead. They named him Murrangurk and took him in as one of their own. For the next three decades, Buckley travelled extensively throughout the region, mostly around Geelong, Barwon Heads, and the Otway Ranges. On July 7 1835, Buckley wandered into a camp of John Batman's party and reacquainted himself with European society.
He was the first European to walk the bush on both sides of Port Phillip Bay, living off the land and on the run from the law. Given that our determined Bushrangers regularly ingratiate themselves with the locals on our trips and that this tournament is played on courses on both sides of the bay, we think it is fitting that this event is known as The William Buckley Classic.

Neil Hocking
It would not be overstating things to say Neil Hocking was one of the most popular, respected and well-liked people we have ever had playing in the Bushranger Golf and SGA events. Always good humoured and approaching his golf with exemplary sportsmanship, he loved the game and always took great delight in the good company he shared with his playing partners and the challenge of the game.
If golf is a test of skill, strength, courage, character and integrity then Neil Hocking was one of the finest golfers to ever hold a club. It a testament to his good character that he made many friends through his love of golf. Everyone who met Neil and played golf with him will fondly recall his great sense of humour, superb dry wit and relaxed, easygoing nature that made him the best of company. As honest as the day is long, he was a loyal, true and trusted friend to many people.
Neil returned to golf later in life after a long layoff and developed a passion for the game that was inspiring. He loved the challenge golf presented him and worked very hard to improve his game and he is remembered for the sheer brilliance of his exquisite short game. More than the game itself, he took great enjoyment from meeting people and the experiencing the fun, friendship, camaraderie and community that playing golf offered.
Neil absolutely loved the Bushranger Golf weekends and in the five years of the SGA Tour he rarely missed an event. He always had fun competing and enjoying the company of his fellow golfers. Neil was a paragon of sportsmanship and represented all the very best values and qualities that are so important in our game. He won the WBC in 2013 and this week we are without one of our reigning champions. Needles to say, this event and many others will never feel the same again. Neil will be sadly missed and fondly remembered as we draw inspiration from him and honour the example he set in his approach to golf, life, friends and family.

The Form Guide
The Murrangurk Masters – Early in his travels, William Buckley found a spear by a grave near Torquay. It belonged to the respected warrior Murrangurk. The locals believed Buckley to be Murrangurk returned from the dead as a giant white man. The two-player team format and the name of WBC perpetual trophy reflect the lives of these two men combining under one name and each year the reigning champions will play as The Murrangurk Masters.
Gavan Doran (The Rose) & Robert Hocking (Hocko) – The WBC may never have seen a more sentimental favourite than this pairing as the team of Doran & Hocking come in here to defend the title that Doran & Hocking won so gloriously in 2013. No doubt their impoverished lack of golfing skill will be supplemented by an aura of golfing grace, class and short game brilliance that will attend to them and hold their wobbling shambles of a bandwagon together throughout the weekend. With a commitment to good times that is second to none and a pedigree that is beyond compare at this event, they will be close to unstoppable and will certainly take this event by the scruff of the neck and give it a massive shake. Expect to see them in the thick of everything here making the most of every minute on and off the golf as they defend their legacy in style.

The Sullivan Bay Ginger Bread Men – Buckley and two other convicts escaped from the camp at Sullivan Bay near Sorrento on December 27, 1803. The others turned back after a few days, but Buckley pressed ahead and stayed on the run for the next 32 years.
Ian Crotty (Crocko) & Mick Van Raay (Da King) – One the most formidable pairings here this week, these two doyens of BRG Major Championships s will be considered among the favoured few teams to hold the Murrangurk Trophy aloft on Sunday arvo. With a combined 8 BRG Major titles between them including two WBC titles, they know what it takes to perform under the searing pressure of this event. Will be undaunted by the fact that Crocko has never saluted here and Da King received a regal armchair ride both times he won his WBC titles. Expect to see them rocking and crocking their way to good times all weekend.

The Corio Bay Fugitives – Buckley and his two fellow escapees reached the waterfront on Corio Bay at what is now Geelong a few days after escaping. He came to know this area very well over the next 32 years.
Mark Henderson (Hendo) & Mark Eagleston (Eagle) – This pair come with complimentary ear plugs for their playing partners as they never shut up. Renowned as two of the boldest masters of the heckle to ever grace a golf course, they may not be able to resist the temptation to start going each other which may be their undoing. But don't let the sledging fool you, on their day they have the weaponry to take out this event. Alas when they are off target, anybody within four fairways may well require protective equipment. One hasn't come close to winning the local pub chook raffle, the other has recently won his first ever SGA event in Sydney and as a result will have trouble fitting his head into his bright pink cap. They can certainly talk the talk but can they walk the walk?

The Mount Defiance Alliance – At Mount Defiance just past Lorne, Buckley found a cave with fresh water and food nearby and made it his first permanent home, living there for several months through the autumn of 1804. As winter set in, he began to struggle and decided to make the long trek back to Sorrento.
Tomm Cassidy (Young Tom) & Robbie O'Donnell (Roo) – The Odd Couple join forces for the first time in this format in what is sure to be an interesting pairing to say the least. One is a true gentleman on and off the course and someone that you should ensure that you share a yarn with over the weekend, the other, a dribbling mess whose golf game has deserted him in the past 8 weeks, leaving him flattened and rudderless like his beloved Bombers. Word around the bar of the Sorrento Hotel is that one is not only getting paid (triple time) to take care of his partner on the course but will also be receiving a complimentary massage to relieve the pain of his aching shoulders from carrying the burden of his playing partner around the fairways of the mornington peninsula.

The Barwon Heads Sir Robins – On his first day marching alone, Buckley happened upon a group of Wathaurong people camped peacefully by the Barwon river. Fearing for his life, he silently crossed the river at the heads and bravely ran away.
Steven Jurisic (J-Boog) & Corey Kelly (K-Dog) – These two golf nuts have been chomping at the bit in anticipation of this event given their horrific BRG Majo Championship debut at the CCC in Tasmania in April. A huge surprise to even be in attendance here given their proven inability to perform in events where a trophy is awarded to the winner. Unfortunately for them, it this is a tradition for every sporting event in the history of sporting events. Notwithstanding their inability to locate the winning post, these two dapper gents certainly both possess considerable knowledge and skill when it comes to golfing a ball, so could surprise here and be there and thereabouts come Sunday afternoon.

The Indented Heads – It was at Indented Head in 1835 that Buckley, after 32 years in the wilderness, decided to return to European society when he walked into the camp of John Batman's exploration party. Standing 6' 6", dressed in possum skins and carrying a spear, a driver, 5-iron, wedge and putter, he made quite a first impression.
Joel Matthews (Senior) & Jonny Matthews (Junior) – In the words of Forrest Gump this team is the "Box of Chocolates" team of the event. You never know what you are from this father and son team combining for their first time in a Bushranger Major Championship and they are early favorites for fashions on the field with one working for a leading sports brand and the elder attempting to forge a reputation as the Jean Paul Gaultier of the Australian Fashion Industry. Dad is fresh off his first AGCC appearance where he has left the greenkeepers of various Gold Coast Courses with more work to do than Bill Murray in Caddyshack. His partner, fresh off his first marathon, has been "spelled" by his trainers and is renewing his love of a guzzle, which may be a hindrance to this gifted sportsman but novice golfer.

The Swan Island Hackers – Buckley and his two fellow escapees reached Swan Island at Queenscliff on New Year's Day 1804. It was here that the other two chose to return to Sorrento but Buckley refused to give up and made the momentous decision to press on alone.
Richard Fellner (Quigley) & Stefan Diekmann (Steve-O) – This international pairing will be fascinating to watch, with one hailing from the USA and the other from Germany. Whether these two golfing tragics can get past the recent Ryder Cup result and focus their efforts on the task at hand remains to be seen, but if recent golfing exploits of both players is anything to go by, a good result is on the cards. Quigley recent tore golf courses to pieces on a visit to his homeland, but it appers he is a northern hemishpere specialist as his form deserted him as soon as he crossed the equator. If this event was being played in Scottsdale, Arizona or Bremen, Germany, where both have impeccable form, the result would be a foregone conclusion, but the Mornington Peninsula may well have its way with this motley pair.

The Point Lonsdale Cavemen – After parting ways with his companions, Buckley moved on to Pt. Lonsdale where he is thought to have sheltered in a cave for a short time. Buckley's Cave is still a popular destination for local history buffs and Bushrangers on the lamb.
Adam McCaw (Macca) & Steven Humphries (The Bear) – This robust and uncompromising pairing come in here as a complete mystery and may well have all the attributes required to vault into contention here this week. History is against them, however, as they are making their BRG Major Championship debut and most before them have struggled first up with this step up in class. Have been fizzing with anticipation for weeks and will have a big challenge on their hands managing the excitement and distractions that come with a house full of golfers on the cans, not to mention the inevitable shakes on the first tee with all and sundry watching. Will be backing themselves to get the job done and will be better for the run but will certainly struggle to go the distance here first up.

The Coonewarre Revivors – It was near the banks of LakeCoonewarre, a short walk north of the 13th Beach Golf Links, that two local women found the weak and starving Buckley. They thought he was the 'white ghost' of Murrangurk and nursed him back to health.
Pete Solomou (Thirst Crusher) & Dimitris Lantides (Jimmy) – These Greek Gods team up with contrasting backgrounds but similar goals, to follow in the footsteps of some of the great champions to come out of Athens including Euro Cup 2004 Champions, 1995 Melbourne Cup winner Doriemus and Con the Fruiter. One is a quiet golf addict who is besotted with BRG Events, the other Greece's rock star version of Christopher Skase who is taking place in his first event of this nature. Coming off a brilliant debut in the ASGCC on the Gold Coast in August where they both made many friends, they will be looking to back that up here. They are such an unknown quantity that even thwey don't know what to expect. Will their weekend finish with a celebratory Yeeros or will Video Kill the Radio Stars?

The Bream Creek Freaks – Buckley cruised past 13th Beach and crossed Bream Creek the next day. Later he returned and it was here he built a substantial hut and lived for many years on the abundant supplies of food, including the fish he trapped in the creek.
Paul Himarios (Himma) & Nick Mouhtaropoulos (Moota) – Another pairing who originate from the crystal waters of the Mediterranean Sea looking to become as iconic as Mykonos for a 24 year old Contiki Tourist. One is a quiet and humble tradie, the other a man of passion for his beloved Western Bulldogs and having salacious affairs with Melbourne's finest Golf Courses. Both these stooges are complete golf addicts and will have been bursting with anticipation coming in to this event. With a passion for fast cars and adrenalin pumping activities, don't be surprised to see this pair tinkering with the restrictor on their cart at the 1st to gain extra speed along the fairways. Rumored to be looking for a new sponsorship after both Schick and Gillette reneged on partnership deals as they were going through too many free razors on these hirsute units.

The Aireys Inlet Slicers – As his situation became more wretched as he trekked alone, Buckley found clear water at Aireys Inlet and much needed food. He built his first dwelling near here, a primitive hut of which Maslow would have been proud.
Matthew Pitt (PW Jones) & Sebastian Shand (Bastros) – This sophisticated combo appear to have the pedigree, skill, looks, style, class, ticker, confidence, experience, power, touch, perspicacity, wardrobe, humility, nous, teamwork, all-around game, background, schooling, and contacts to do perhaps consider having the potential to possibly do something not altogether unexpected (or expected as they case may be) on and off the golf course here this week. Maybe. Have both played a lot of BRG Championships and jagged a few wins, but they are rumoured to have never partnered on a team together which may or may not work in their favour or against it within a predetermined set of parameters and expectations. Despite this conflict of paradigms within the team, they remain a massive chance here this week. With more raw intelligence, movie-star looks and equanimity then the rest of the field combined, they have the capacity to produce the goods when required. A huge contender.

The Torquay Hookers – Buckley camped on the banks of Spring Creek at Torquay during his solitary march through the district in 1804. It was here he picked up the spear from the grave of Murrangurk that later would be his saviour.
Pete Russell (Rusty) & Shane Woiwod (Wo-wo-wo-what-is-he-good-for?) – Given the company Rusty consorts with on a regular basis, you would expect him to be a rogue, however, the opposite certainly rings true. A nicer gent you are not likely to meet, he will charm your pants off you, then promptly beat you at golf. His partner is an extremely gifted athlete, a Brownlow Medal winner and Grand Finalist who enjoyed a 200 game career with the Demons and Pies and kicked 94 goals. He also represented Australia in the Intern….er, hang on…wrong guy. He is making his debut here though and might be overawed by the experience.