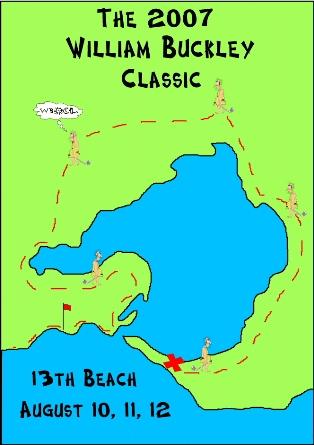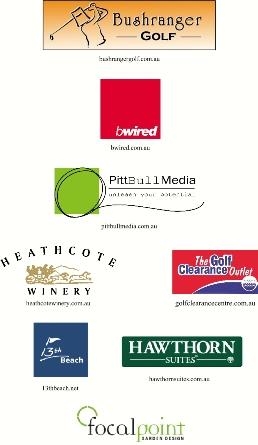 Greetings all and welcome to the 2007 William Buckley Classic at The 3th Beach Golf Links
Dinner is booked under Bushranger Golf for 7:30pm at The Barwon Heads Hotel on both Friday and Saturday evenings.
A team meeting will be held after dinner back at The Hawthorn Suites in our games room.
Round one on The Beach Course on Saturday commences at 11:40 am.
The Sunday rounds commence from 9:16 am on The Creek Course.
Longest Drive and Nearest the Pin will be contested each day.

Bushranger Golf would like to take this opportunity to thank:
Sam, Campbell and the team at bwired online solutions fortheir partnership and support with the Bushranger Golf website.
Sam, Jason and all the team from The Golf Clearance Outlet for their generous sponsorship of The Bushranger Cup and contribution to the prize pool.
Roger Brown from Focal Point Garden Design for creating The Murrangurk Perpetual Trophy.
John and the team at the 13th Beach Golf Links.
Michael, Tricia and the team at the Hawthorn Suites Apartments for all their help.
Denise, Steve and all the team at Heathcote Winery for their help with the wine prizes for the Bushranger Cup and the soon-to-be-released Bushranger Shiraz.
Sally Pitt of Pitt-Bull Media for her time and skill in creating this program and for her consideration, as always, in putting up with a very excited tournament director.

The Murrangurk Masters – Early in his travels, Buckley found a spear by a grave near Torquay that belonged to the respected warrior Murrangurk. Locals believed Buckley to be Murrangurk returned from the dead as a giant white man. The two-player format and the name of WBC perpetual trophy reflect the lives of these two men combining under one name and each year the reigning champions will play as The Murrangurk Masters.
Michael Mileo (Seve) – As the defending champion, Seve comes in here chock full of confidence after masticating the field last year to run away with the inaugural WBC championship. He followed this up by setting the low round record in the singles at the Bushranger Cup earlier this year, but otherwise has little to recommend his chances of a successful defence. With last year's WBC victory being his only podium finish in all his starts in this class, he has the wafting aroma of a one-time major winner swirling around him. Will be most determined to dispel that notion, but if he cannot, he may be forced to follow the recent trend set by his namesake and retire himself out to stud.
Form: Will start at long odds to go back-to-back here but don't be surprised to see him scything through the field on Sunday afternoon as he makes at late charge from behind.
Mick Van Raay (Da King) – A deserving winner at the inaugural WBC last year – not because he played the best, but because he most closely resembles the impressive stature of William Buckley himself. It is often said that no individual is bigger than the game, which in the case of Da King, may well not be true. It is also less often said that no individual is more proportional than the game and this may be equally, if not more so, untrue for this massive ornament to the game. Rumours persist that were he proportional, he would be even taller. Is totally committed to the BRG tour, having teed it up in every BRG teams event and has recently doubled his efforts to take his game to a new level.
Form: Also won the 2001 Duzzo playing 2-ball ambrose, so has form in this format and over this distance. Definitely a very large contender.

The Sullivan Bay Ginger Bread Men – Buckley and two other convicts escaped from the camp at Sullivan Bay near Sorrento on December 27, 1803. The others turned back after a few days, but Buckley pressed ahead and stayed on the run for the next 32 years.
Richard Fellner (Quigley) – With a host of podium finishes in BRG events and one of the most elegant swings in this field, he comes in here with an excellent chance this week. Had an up-and-down 2006 opening with a win in the Kelly Gang shootout, then second to last in the Bushranger Cup, but backed this up with a powerful second place in the inaugural WBC. These massive swings in form contribute to his reputation as the Dr Jekyll and Mr Hyde of the field, reinforced by his capacity to switch from chocolates to boiled lollies virtually mid-swing. Can give the aggot a decent caning one minute and then destroy his good work with an entirely fiendish effort at his next attempt.
Form: A child prodigy who lost his way and has been battling his game ever since. Is most certainly due for a win and may even be on the cusp of greatness, except for his choice of partner here.
Scott Wilson (Willo) – The man some people have dubbed 'Hungry Hungry Willo', though not for his appetite for victory, is one of the true stalwarts of the Shabby Dot Com Tour. A regular at the Duzzo and the Surf Coast Cup, he is always the first entry and has played in every BRG team event. Alas, he is fast becoming known as the biggest bridesmaid on tour with the massive vacancy sign in his trophy cabinet. Besides an appalling seventh in the 2006 Bushranger Cup, he is always in contention with two fourths, two thirds and two seconds, including being runner up here last year. Is best known for his win in the 2005 Victorian Texas Hold 'Em Championships and will be looking to parlay that form into another strong showing at the tables between rounds here.
Form: Brings more poker gear than golf gear to these events and probably can't be considered a realistic contender until he sorts out his priorities. Consider for trifectas.

The Corio Bay Fugitives – Buckley and his two fellow escapees reached the waterfront on Corio Bay at what is now Geelong a few days after escaping. He came to know this area very well over the next 32 years and formed a close friendship with a young Bobby Davis.
Ian Crotty (Crocko) – This articulate man about town brings a touch of urbane and old-fashioned class to what is a predominantly metro-sexually cosmopolitan 21st century field of competitors. His witty asides, astute observations, detailed character portraits and erudite ruminations raise the tone of the entire tournament and bring an air of dignity and decorum to the après thwack activities that can so easily degenerate into a farrago of masculine self-aggrandisement. Can also golf his ball a bit. Won the 2005 Surf Coast Cup, the 2005 Bushranger Cup and recently belted the field with a stately showing in the first BRG Handicap Day in May this year.
Form: Had his worst ever finish here last year when he came in second last. Don't expect to see a repeat of that effort. Will certainly be in the mix on the back nine on Sunday.
Sebastian Shand (Bastros) – Could have half a chance here if he took a few moments away from his rutting and focussed on his golf. Alas, this family man has taken to his nuptial responsibilities with gusto and seems to want to keep practicing what should have been mastered a long time ago. Meanwhile, his game continues to languish and he is showing none of the pre-paternal form that had made him one of the rising stars of the Shabby Dot Com Tour. Won the 2004 Murray River Golf Challenge and the 2005 Bushranger Cup and looked capable of anything back then. Unfortunately for his backers, the arrival of his first born in 2006 seems to have usurped all his attention and completely derailed his golfing ambitions.
Form: From being a perennial contender, he has quickly become an also-ran. Will require a mighty effort from his partner here to drag his sorry, hump-weary carcass over the line.

The Swan Island Hackers – Buckley and his two fellow escapees reached Swan Island at Queenscliff on New Year's Day 1804. It was here that the other two chose to return to Sorrento but Buckley refused to give up and made the momentous decision to press on alone.
Campbell Wilson (Big C) – This big hitting leftie absolutely loves teeing it up in the Kelly Gang Shootout but totally hacks in just about every other event. Won the KGS in 2006 and put up a sturdy defence this year to be a fast-finishing runner-up. Alas, he has failed to make an impression in any of his other starts and was comprehensively trounced in the WBC last year. Is a delightful companion on the course and can smash the ball a mile but often suffers due to his Greg Norman approach to course management. Is rumoured to have been working on this aspect of his game so may move into contention here if he can get his brains functioning in sync with his brawn around the links.
Form: Starts at a huge disadvantage standing on the wrong side of the ball but seems unconcerned by this massive handicap. Is a confidence player so may be thereabouts if he settles into a nice rhythm early.
Ross Mitchell (Rossco) – A classy and inspiring gent who never fails to impress when he makes his appearances on tour, this strategic and thoughtful competitor adds a touch of polish to what is an already stylish field. Enjoys the challenge of tweaking the most out of his modest abilities and raises the tone of the entire affair with his avant-garde approach to the game. Has recent winning form and comes in here looking sharper than at any time in his career with a magnificent victory in very tough conditions at the second BRG Handicap Day just last month. With a ground game well suited to blustery conditions and links style golf, expect to see him do well here, especially if the weather gets up and lets the 13th Beach courses show their teeth over the weekend.
Form: Will be hoping for a slow track to bring the rest of the field back to his standard but, if the pace is on, the trip looks well beyond him at this distance.

The Point Lonsdale Cavemen – After parting ways with his companions, Buckley moved on to Pt. Lonsdale where he is thought to have sheltered in a cave for a short time. Buckley's Cave is still a popular destination for local history buffs and Bushrangers on the lamb.
John Lazzara (Funky J) – This dashing stallion is one of the most amiable contenders here and never fails to create a stir in the mounting yard before a big race. Is regularly one of the most handsomely presented and has turned the heads of a few fillies in his time. Has genuine claims here as he possesses what is arguably the hippest moniker in the field but may require blinkers to stay focussed on the job at hand. Loves leading from the front and went wire-to-wire in both of his most famous wins: in the 2002 Duzzo World Invitational 2-ball Ambrose Championship and the 2004 Bushranger Cup. Although he has a superb stance and set up, things tend to go rapidly haywire as he starts the takeaway. May do a lot of damage on the practice fairway and even more out on the course.
Form: Has no real chance here so expect to see the stewards all over him if he is anywhere near the podium at the finish.
Andy MacFeate (Macca) – Largely unknown in these parts and while making his debut in a field of this quality, is rumoured to be more at home on a motorbike than in a golf cart. Is coming back to big time tournament golf after a long spell and may struggle to cover the ground, although does have a smear of winning form with a victory in an ambrose corporate day earlier this century. Has the ability to finesse the ball and shape his shots at will when recovering from the rough after an errant drive. Alas, his approach game is far less effective from the fairway so will be praying his driver is stinking up the joint all weekend in the hope that he will be able to exploit his Walter Hagen-ish skill for hitting greens from deep in the magoombah.
Form: Acquitted himself better than most at the recent BRG Handicap Day so may be a chance to cause an upset here.

The Barwon Heads Sir Robins – On his first day marching alone, Buckley happened upon a group of Wathaurong people camped peacefully by the Barwon river. Fearing for his life, he silently crossed the river at the heads and bravely ran away.
Steve Noa (Zark or Nugget) – Has really set himself for this event and looks cherry ripe to storm away with the prize. Created a lot of hype preceding his much-anticipated Bushranger Cup debut this year and did not fail to disappoint with a dismal first up showing. Has responded to that with an intense preparation for his inaugural WBC campaign. Was the first entered here (well before acceptances) and has fitted himself out with a partner who knows his way to the finish post. Besides an aggressive golf game, this flighty stallion with the powerful loins is rumoured to possess one of the most indomitable and versatile livers in the field. This will stand him in good stead and he should comfortably see out the journey here.
Form: Besides his commanding physical attributes and keen sense of fun, his greatest asset here is his partner. If he can tweak out some game and start holing a few putts, he could be very difficult to front.
Warwick Stonehouse (Boo) – After a spell from big time tournament golf, this magician of the moss comes in here looking sharper than he has for a long time. Has had a glittering career with wins all over the planet including the 1996 Shiraz Classic, the 2002 Surf Coast Cup and the 2004 Bushranger Cup, however victories have been harder to come by of late. After his clubs were flogged in 2006, he has struggled with his game and even racked the cue for a spell. Has recently come back and the signs are ominous for the competition here. Can drink, eat, drive, putt, talk, laugh and party with the very best in this field, and has a mountain of experience in competitive golf to draw on.
Form: Can never be discounted to perform a few of his party tricks when the pace comes on and will definitely be in the mix on Sunday arvo.


The Bream Creek Freaks – Buckley cruised past 13th Beach and crossed Bream Creek the next day. Later he returned and it was here he built a substantial hut and lived for many years on the abundant supplies of food, including the fish he trapped in the creek.
Roger Brown (Arbeige) – Not only is he as keen as mustard, but he cuts the mustard too. That's right. Expect to see pieces of mustard lying all around the place after the Arbeige whirlwind has swept through town. He has played in every BRG event and is fast becoming known as the king of the leave pass. What's more, not only does he turn up, he also turns up to play as proven by his stellar wins in the 2000 Duzzo, the 2006 Bushranger Cup and the 2007 Kelly Gang Shootout. Will certainly dazzle his fans once again between rounds with another of his famous bourbon swilling, joke telling, ambulance calling, cigar smoking, laughter packed performances.
Form: A huge hitter and always a huge hit, especially in the chino-packing department. Will certainly be thereabouts at the finish.
Michael David (Mikey Dee) – A colossal win for the tournament getting this massive drawcard here to tee it up this week. With a packed playing schedule and huge demands on his time from the world's media and his legions of adoring fans, he is the type of marquee player that can make or break a tournament. An inspiring raconteur and one time party animal, has settled down of late and, like Tiger, is bringing a far more paternal bearing to his performances these days. With a win at the 2007 Kelly Gang Shootout and another podium finish at the Bushranger Cup this year, he has strong current form to back up his superb pedigree. Look for a bolder showing this time in the games room after a couple of uncharacteristically low profile efforts in recent years.
Form: If you ask him, he'll be only too happy to tell you who is going to win, why and by what margin. Certainly not lacking in confidence.

The Torquay Hookers – Buckley camped on the banks of Spring Creek at Torquay during his solitary march through the district in 1804. It was here he picked up the spear from the grave of Murrangurk that later would be his saviour.
Matthew Pitt (Pw Jones) – This cagey competitor shuffles through the shadows and shuns the attention his enormous talent demands. Known as a piss weak hitter off the tee, his short game wizardry has landed him glorious titles across two millennia and in two states. Had his worst ever finish in a BRG event here last year and will certainly be looking for atonement this time with a return to the podium and possibly another win. Comes in here this week with appalling recent form but with an abundance of outrageous confidence, mostly due to his faith in the prodigious powers and firm buttocks of his fertile and worldly playing partner.
Form: Is hoping to pinch a win here just so he can do a 'Badds' and thank the Lord for choosing him to win over all the other, less worthy and ungodly, competitors in the field.
Nick Honey (The Hominator) – As previously stated, there is great deal to like about The Hominator, not least of which is his worldliness, fertility and firm, proud, dack-packing buttocks. This champion-of-the-chinos plays only a limited schedule these days and maintains a well cultivated visage of elder statesman of the tour. However, don't be fooled by his stately appearance and regal bearing; he is very much in his golfing prime and will probably rip the field apart here. In his four Bushranger Cups, has never finished lower than second place and clearly enjoys the view from the podium, looking down upon his vanquished opponents as the dust settles on another winning performance.
Form: The 2006 Bushranger Cup Champion looks sharp coming in here and should be able to carry his playing partner comfortably over the line and all the way to the top of the dais.

The Aireys Inlet Slicers – As his situation became more wretched as he trekked alone, Buckley found clear water at Aireys Inlet and much needed food. He built his first dwelling near here, a primitive hut of which Maslow would have been proud.
Ian Pritchard (The Baker) – Like Greg Norman, The Baker has attracted his fair share of criticism for being distracted by his off-course business interests and letting this affect his preparation for big events. He has a passion for fine-tuning his game and will certainly have tried to customise his preparation for the links assault this week. Between them, he and Norman have jagged two British Opens, one Brumby's Spikes Tournament, six Australian Masters, a fifth place in the Bushranger Cup, five Australian Opens and 56 tournament victories around the globe, and yet Pritch still looks a little short of a gallop here to trouble the best this field has to offer.
Form: Is still winless on the Shabby Dot Com Tour and will need a dramatic turnaround in form to take home the bikkies here this week.
Paul Lambe (Lambo) – A very confident and outgoing competitor who was once a well-known pants-man about town, this stylish chap is rumoured to have opted for a more retiring lifestyle of late. Has to rate as one of the keenest in the field here, having been bitten hard by the golf bug in the last few years. Gets out on the course whenever he can but consistency is a massive issue as he is capable of mustering both moments of sheer brilliance and long stretches of abject mediocrity. Managed a podium finish in the 2006 KGS but both his Bushranger Cups have seen him straggle home mid-field. Alas, his golf will certainly be the weakest part of his effort here this week so if his form holds he shouldn't really bother any of the more serious contenders when things start to hot up on the back nine.
Form: Rumoured to be coming in here injured so must now be considered a whopping favourite. Ring your bookie and back him to the hilt.

The Mount Defiance Alliance – At Mount Defiance, just past Lorne, Buckley found a cave with fresh water and food nearby and made it his first permanent home, living there for several months through the autumn of 1804. As winter set in, he began to struggle and decided to make the long trek back to Sorrento.
Ash Brown (Casha) – Once in every few generations, an individual happens along who redefines the very essence of what golf is. A player who is so in touch with the intangibles of the game that it appears he is interacting with the ball, the clubs and the course in ways beyond the perception of mere mortal hackers. A player who is able to hear nature's secrets whispered on the wind and sense meaning in the way the dew refracts the early morning light as it rests on the blades of fresh cut grass in the tee-box. A player who can feel the nuances of the slopes and rolls of Mother Earth, as if he could see the touch of gravity itself falling to the ground like snow. Alas, our Casha is not this golfer and has shown a remarkable capacity to pull a Chuck Norris and go Missing in Action at the business end of tournaments.
Form: Battled home midfield in each of his Bushranger Cups and should be at long odds to trouble the more fancied chances here this week.
David Elliott (Davo) – This enigmatic playboy is a largely unknown quantity in these parts but is rumoured to be a master tactician around the links and a wily competitor. Has had a tumultuous on-again-off-again affair with the game for many years, often interrupted by his waterskiing and other maritime activities. On his day, is capable of putting on an absolute exhibition of ball striking and a glistening display with the flat stick. Is looking sharper on the course now than he has for yonks and certainly adds another dimension of class to this already handsome field. Unfortunately, in all his starts in big time golf, he has never looked like coming even close to bothering the engraver on Sunday afternoon.
Form: He has very strong form on wet tracks, which means he must be treated with respect, if only for the ability of his powerful liver.

The Coonewarre Revivors – It was near the banks of Lake Coonewarre, a short walk north of the 13th Beach Golf Links, that two local women found the weak and starving Buckley. They thought he was the 'white ghost' of Murrangurk and nursed him back to health.
Gav Doran (The Rose) – This charming paradigm of erudition makes a delightful companion on any golf course. Made a massive impression in his debut at the 2006 Bushranger Cup and backed that up with a podium finish at the inaugural WBC. Is reasonably partial to a drop of Shiraz and is widely tipped to be bringing his own cellar this week. Has a profound respect for the traditions of the game and the test of character it applies to all who pull on a soft spike and take to the fairways. Although rumoured to be a superb strategist on the course, capable of planning the most efficient route from tee to green, his problems generally start on the backswing and don't get any better from there. If he can make it into the barrier, get out of the gates, settle into a rhythm and position himself perfectly at the home turn, he might be half a chance to be there or thereabouts. Maybe.
Form: If the winning post is anywhere near the bar, expect him to figure prominently in the finish.
Mark Keeble (Keebs) – The closest thing here to a real golfer and a massive threat to barnstorm his way to victory. Arguably possesses more golfing nous, experience and ability than just about the rest of the field put together. A genuine ornament to the game, he scrubs up a treat in the mounting yard and can back it up in the heat of battle with the ability to monster the ball massive distances. Is the low marker here, competing at a level well below his mighty standards and should win by the length of the straight and going away from the field. Has winning form under his belt with a mighty victory in the famous Christmas Holiday Tournament at Merimbula in 2005 and two monthly medals at the Box Hill GC.
Form: With no wins for a few years, it seems his best is behind him. He won't want to admit it, but deep down he knows he is just making up the numbers here.

The Point Addis Bashers – During his life among the Wathaurong tribes, Buckley travelled and lived along much of the Surf Coast. They moved with the seasons for meetings and ceremonies with other tribes and Point Addis was a regular haunt for some ripping corroborees.
Neil Hocking (Plonk) – Came in here last year with little to recommend him except the roguish company he is known to consort with and a sackful of wily golfing experience in his bag of tricks. Surprised a few by turning up on the podium with a third place finish, although there was a touch of the Bradbury about it with some of the competition dropping their bundles, their guts, and just about everything else on the run to the finish line. Has unceremoniously dumped his 2006 partner in crime and, at the risk of accusations of nepotism, has brought in a family member this year in an effort to boost his chances. Has set himself for this event and looks cherry ripe for an impressive performance.
Form: A real dark horse in a field of black stallions. Very hard to dislodge when he gets into a rhythm and could figure in the finish.
Robert Hocking (Hocko) – This all-round sportsman comes in here as a father-son selection in the pre-season draft and is hoping to make a big impact in his Bushranger Golf debut. Is preceded by a reputation as a peerless mixed netball player, something that surely will strike fear into the hearts of all the tough guys in the field here this week. On the golf course, he likes to let his clubs do the talking, which is unfortunate, as they never have much to say for themselves. Loves the cut and thrust of serious competition and will have no problems transferring all his dirty netball tricks to the Scottish game. Is a consummate professional in the ancient Australian art of sledging and will stop at nothing to get a little needle in where it can do some damage.
Form: Given the quality of the company he is known to keep, he must be considered a genuine threat in this field.

The Indented Heads – It was at Indented Head in 1835 that Buckley, after 32 years in the wilderness, walked into the camp of John Batman's exploration party. Standing 6' 6", dressed in possum skins and carrying a spear, a driver, 5-iron, wedge and putter, he made quite an impression.
Michael Nolan (The Gasometer) – This easygoing gentleman brings a touch of sophistication to what is already a glittering field of golfing mega-stars. A distinguished man about town and a dapper fellow on and off the course, he is famous for his jocular disposition and has a massive reputation as a trendsetter. Can be relied on to whip together a snappy ensemble to wow his many adoring fans and has been spending a deal of quality time with his milliner in preparation for his fashion offering at this event. This erudite raconteur can charm his way around a golf course and gives the pill decent a nudge when on song. Is no stranger to the big time having appeared from nowhere to win the 2007 Bushranger Cup in style.
Form: This fashion plate of the circuit always makes a splash in the mounting yard but may be short of a gallop to make this step up in class.
Richard Thurkle (Lt. Dicko) – The great Bobby Jones once said, "I had held a notion that I could make a pretty fair appraisal of the worth of an opponent simply by speaking to him on the first tee and taking a good measuring look into his eyes." It is probably a blessing that Jones never played a match against The Shabby Lieutenant. The great man may well have done himself a mischief trying to make an appraisal, fair or otherwise, of the worth of Dicko by peering into those freaky peepers and maintaining any sort of intelligible conversation. Our man inhabits his own golfing universe and is capable of both brilliance, as evidenced by his stirring win this year in the Bushranger Cup, and creating an utter shambles, as well documented by his performance in just about every other tournament he has entered.
Form: Which Dick will show up to the party this time? Who knows, and really, who cares? It is always an adventure watching the circus come to town and raise the big top, so just kick back, relax and enjoy the show.

Who was William Buckley?
Born in Cheshire, England in 1780, William Buckley fought as one of the King's Own Regiment against Napoleon's forces in the Netherlands. He was convicted of receiving stolen cloth in 1802 and was sentenced to transportation to Australia for 14 years. He was among 300 prisoners sent out in 1803 to establish the first settlement on Victoria's Port Phillip near what is now Sorrento.
Buckley and two others escaped in December 1803 with the aim of getting to Sydney. Alas, they went the wrong way and circled Port Phillip Bay. Due to the harsh terrain and lack of food, Buckley's companions decided to return to the settlement and give themselves up. But not the determined Buckley. It was the last time any white man would see of him for 32 years.
A powerful man standing over 6'6", Buckley pressed on along the coast to Breamlea, Torquay, Anglesea, Aireys Inlet and beyond. His first permanent resting place was near Mount Defiance where he found an abundance of shellfish, edible vegetation and natural cover. In the winter, Buckley was close to death but was rescued by an Aboriginal tribe.
Fortunately for Buckley, the locals believed that white people were Aborigines who had come back from the dead. They named him Murrangurk and took him in as one of their own. For the next three decades, Buckley travelled extensively throughout the region, mostly around Geelong, Barwon Heads, and the Otway Ranges. On July 7 1835, Buckley wandered into a camp of John Batman's party and reacquainted himself with European society.
He was the first European to walk the bush on both sides of Port Phillip Bay, living off the land and on the run from the law. Given that our determined Bushrangers regularly ingratiate themselves with the locals on our trips and that this tournament is played on courses on both sides of the bay, we think it is fitting that this event is known as The William Buckley Classic.