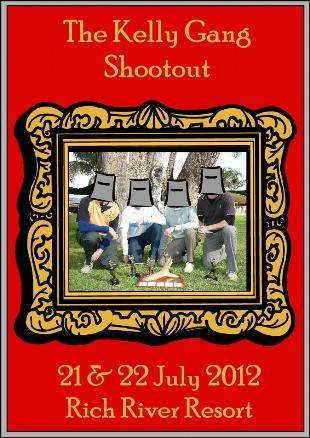 Greetings all and welcome to the 7th Annual Kelly Gang Shootout

Rich River 21 & 22 July 2012


A Champions Dinner will be held in the clubhouse bistro of the
Rich River Golf Club on Friday evening.

The 2-ball ambrose rounds will commence at 11:30am Saturday on The West Course (the Old Course). Details of the pairings and tee times will be announced at the team meeting.

The 4-ball ambrose round will commence at 9:00am Sunday on The East Course (the New Course). Details of the pairings and tee times will be announced on Saturday evening.

Acknowledgements

The organisers of The Kelly Gang Shootout, Bushranger Golf, would like to take this opportunity to thank:

Denise, Steve, Bridget, Bec and all the team at Heathcote Winery
for their support of Bushranger Golf in producing the very popular Bushranger Shiraz.

All the team at bwired for their expertise and support in developing and maintaining the Bushranger Golf website.

Sally Pitt from Social Golf Australia. She knows why.

Richard Fellner from Inside Golf for his help with promotion, publicity and marketing of Bushranger Golf.

Jeremy and the team at Wilson Staff for their help with prizes.

Roger Brown from Focal Point Garden Design for creating the mighty Glenrowan Perpetual Trophy and for all his ongoing assistance with the annual champion's trophies.

Tracy and all the team at Rich River Golf Club.

All the Members of Bushranger Golf; past, present and future.

The Golf

The Format: Teams of four playing two-ball ambrose best-ball on Saturday and four-ball ambrose best-ball on Sunday.

The Rules: Since slow play is a potential problem for our gangs, these rules are designed to encourage play in the right spirit and at the right pace. Teams play their chosen best ball on each shot and may place their ball half a club length (about 50cms) from where the chosen ball lies, no nearer the hole. Balls must be placed in the same cut as the chosen ball. In the interests of fast play from tee to green, teams are NOT required to mark with a tee and precisely measure from the chosen ball as they play each shot. Team members can play in any order on a shot. Putting: Once on the green, Bushrangers should mark near the chosen best ball so each team member plays from near enough to the exact same position.

Handicapping: Each person will be assigned a handicap by the handicapper based on official handicaps and information supplied by the Bushrangers. The handicapper will be governed by a commitment to rewarding good play according to a player's ability. Team handicaps for the ambrose groupings are calculated from the individual marks.

Playoffs: In the event of a tie, a sudden-death playoff will be conducted. Teams play together as a foursome (taking alternate strokes playing one ball). The order is continuous and carries over from one hole to the next until the playoff is decided.

Nearest-the-Pin & Longest Drive: Will be contested on both days and, in the interests of team gloating and solidarity, any player who wins a LD or NTP wins prizes and glory for his entire team.

The Rodeo Rule: This is minimum drives for each team member and will be enforced. Each team's individual rodeo requirements will appear on their scorecard.


Additional Info

Rounds One & Two: 2-ball ambrose starting at 11:30am on Saturday. Competitors need to be at the course at least half an hour before hit off. All competitors have golf carts on both days.

Round Three: 4-ball ambrose from 9:00am on Sunday. Competitors need to be at the course by 8:00am.

The Presentation: After golf on Sunday, we will collate the scores and have the presentation as quickly as possible. The venue for the presentation will be back in the comfort of the motel.

The Package includes:
• A cooked breakfast in the clubhouse bistro both days.
• A $15 clubhouse voucher per person per day that can be used for meals or for drinks.

The History of The Kelly Gang Shootout at Glenrowan

The Kelly Gang arrived in Glenrowan on 27 June 1880 and took about 70 hostages at the Glenrowan Inn. They planned to derail a train of police coming for them and while they waited for the train, they kept the hostages entertained by breaking out the turps and firing up a party that was a rollicking good time. The party lasted for two days. Meanwhile the police avoided the derailment and laid siege to the pub.

The gang members, Ned Kelly, Dan Kelly, Steve Hart and Joe Byrne, donned their now-famous helmets and armour (weighing about 44 kg), and fought a gun battle with the police. Before dawn on Monday June 28, Ned Kelly left the rear of the inn in his armour and circled behind the police. As the dawn broke, Ned cast an eerie figure marching out of the morning fog in his armour and overcoat, firing his revolvers. Police bullets bounced off his armour and it was not until the police shot at his legs that he slowed. He eventually collapsed and was captured beside a large fallen gum tree. He was near death and not expected to survive.

The rest of the gang died in the pub, probably from gun shot wounds, although the police bravely made sure by torching the building and burning Anne Jones' pub to the ground. The police suffered only one minor injury: the senior officer, Superintendent Francis Hare, copped a scratch to his wrist, then fled the battle and was later suspended for his cowardice. Police bullets struck several of the hostages during the siege, at least two fatally. Ned lived and left on the train they tried to derail.

The Form Guide

The Glenrowan Hacks – Steve Hart, Joe Byrne and Dan Kelly all lost their lives at the siege in Glenrowan (June 26–28, 1880) that Ned had hoped would be the catalyst for a new republic. The myth of Ned grew as he somehow survived the ordeal having sustained enough gunshot wounds to bring down a horse. It was the first and last time they wore their iconic armour. In honour of this, the defending champions will play the KGS every year as The Glenrowan Hacks.

Matthew Thomas (Matt Caviar) – Just about owns this event now having saluted three times out of four attempts and has won the last two years in a row. Has won with a different line-up every year, so enjoys taking his pals along for the ride to KGS glory. Is heading up a new crew of KGS debutantes here, so will be labouring under the weight of expectations from both inside and outside the team. Has never won this event at this venue, so will be keen to add the scalp of another Murray River course to his belt. Looks a treat. Again. Bet the farm.

Jeremy Dray (Jezza) – This hirsute and relaxed competitor comes in here chock full of confidence after a strong first up showing at the 2012 Cash & Co. Classic at Barnbougle. Came bursting out of the gates there and left the field in his wake early but the length of the journey got the better of him and by Sunday arvo he was really struggling. Expect a much better second-up effort here and is in sparkling form coming off a win in his last SGA Tour event. Has plenty to recommend his chances.

John Smith (007) – This international man of mystery is rumoured to be playing under an assumed name and is almost certainly working undercover here. Is making his first start in a field of this quality but will not be looking to make a big impression first up, lest he blows his cover. Expect to see him working the roulette tables of Moama is his tuxedo and tuning some of the local talent as he discretely uncovers an international crime ring while brazenly pretending to be on a leisurely golf weekend. Is in a class of his own in a field bursting with class.

Andrew Berry (AB) – First start in a BRG Major Championship and comes in with some significant questions marks over his ability, his fitness, his endurance, his putting stroke, his character, the company he keeps and the power of his liver. Very little is known about this mystery man, but is rumoured to consort with the most unscrupulous of rogues, so will certainly attract the attention of the stewards over the weekend.

Form: A virile, potent and masculine outfit that has the bloodlines, form, team balance and competitive drive to take this event by the horns and give it a massive shake. Should be right in it at the finish.


The Frosty Beveridges – Ned Kelly was born in Beveridge, at the foot of Fraser's Hill, 40 kms north of Melbourne. It was his first home town and is well known for being at its best when the temperatures are a little on the chilly side.

Shane Morris (The Fridge) – This flighty stallion is a party machine and will be up to his usual antics again this year: drinking, baking, eating, talking, gambling, laughing and leading the fun on and off the golf course. Won this event at his first attempt in 2008 and comes back every year and treats this trip as another lap of honour with a lot of celebrating and not much golfing. Has not appeared on the podium again since his maiden win and his recent preparation suggests little has changed this year with his focus diverted from tuning his golf game and riveted on how to get his poker table up to the Murray. A long shot .

Brian Davis (The Postman) – The leisurely, dry wit on this relaxed dilettante of the fairways does little to suggest there is a tough and uncompromising competitor lurking beneath the surface. And perhaps there isn't, but he did win this event at his first start in 2008 and has enjoyed returning every year since to have another crack at it. Is hampered by the fact that he stands on the wrong side of his ball, but as his nickname suggests, he can deliver the goods. Certainly one to watch.

Bob Spicer (BS) – This relaxed competitor is making his Bushranger Golf Major Championship debut and has the pedigree and the form to suggest he will comfortably make this step up in class. Came to our attention at The SGA International in Thailand in March this year where he acquitted himself admirably and demonstrated his class across all disciplines. Comes in here as one of the co-founders and current CEO of the UFA and has the will, the ticker, the skill and the liver to be a contender here this week. A massive chance.

Joe Bugeja (Smuggler) – Along with his co-conspirator BS, is the other founding member of the UFA. Has acquired the nom de plume Joe Budgie Smuggler since developing a fondness for a streamlined approach to displacing water in the spa. Is in daily training for the world short-course spa championships and is rumoured to conduct most of his business dealings in budgie mode. Was in superb form at the 2012 SGA International and will be hoping the good people at the Rich River Resort have the infrastructure in place to suit his lifestyle.

Form: The UFA crew are both united and associated so they will be giving themselves every chance of a very good showing. Not short of confidence, they will be backing themselves in even if nobody else is.


The Beechworth Boys – Ned was gaoled as a teenager for receiving a stolen horse. In January 1873, he was transferred from Pentridge to Beechworth Prison where he spent the next year of his youth learning from hardened criminals how he might become an upstanding member of the community.

Gavan Doran (The Rose) – Returns to the scene of his glorious 2009 triumph when he led an irresistible charge on Sunday to swoop through the field a claim a famous KGS victory. It was a win of such power, vigour, beauty and grace that the fans were left stunned and the world's media could only marvel as The Rose and his comrades artfully and graciously accepted their destiny. Still enjoys celebrating that famous win with the odd nip of rouge vino and it is a fair bet that The Rose of Doran will make an appearance in all its glory this weekend.

Neil Hocking (Hocks) – This dry-witted gentleman has become a total golf addict in the last few years and has swept all before him on the SGA Tour winning titles in 2010 (4BBB) and 2011 (OOM). Alas he has struggled to translate that form into wins at the Bushranger Golf Major Championships. Has jagged one KGS title and a BRG Player of the Year title, but has let a few slip as well. Was in contention here last year but failed to fire on the Sunday as he did at the Bushranger Cup in 2011 and 2012. Is developing an unwanted reputation as a Saturday specialist.

Nick Mouhtaropoulos (Moota) – Arguably more excited about his golf than any carbon-based life form on the planet. He freakin' loves the game and, for the most part, it loves him too. Has worked hard over the last year and is reaping the rewards by slashing shots from his handicap as his game has come on in leaps & bounds. Has had some great results on The SGA Tour, but like some of the more experienced campaigners on his team, has yet to translate that form into Bushranger Golf glory. Will be very keen to break his Major Championship drought here.

Nick Sutherland (Meckiff) – Made his BRG Major Championship debut with a stunning performance at the Bushranger Cup this year and backed that up with a memorable and classy display at the Cash & Co Classic. Had a few hiccoughs along the way and revealed the yawning gulf between the best and the worst he has to offer. Works very hard on his performance and has turned his insides out trying to generate some consistent output. Will be chucking all he's got at this weekend.

Form: This crew were in contention on the final nine holes at The 2012 Bushranger Cup but fell away badly. A motivational dinner turned piss-up on Saturday night may have been the problem. A big chance here.


The Stringybark Creek Freaks – The infamous shootout between police and the Kelly Gang at Stringybark Creek took place on October 26, 1878. The Gang surprised the police at their camp and the ensuing gun battle was the spark that ignited the Kelly outbreak.

Rob Lugton (Luggo) – Has won this event when he swept all before him in his blistering 2010 campaign when he completed The Luggo Slam. Fell away badly in 2011 but has regained some of the magic in 2012 with some very consistent high quality performances on the SGA Tour that see him leading the Order of Merit. Works very hard on his game and will no doubt be a very unpopular winner if he manages to salute again here. Loves a good red and may be lacking the necessary focus as his mind will be on his pending fly-fishing trip to Montana.

Matthew Pitt (Pw Jones) – Is arguably coming off some stellar form with a brilliant win in the 2012 Bushranger Cup. Alas, that was an aberration with his form before and since that event rather diabolical. In spite of the fact that he founded this event, is the handicapper and has played it every year, he has hardly ever been in contention, let alone taken home the chocolates. Will always have a red hot go but comes in here with an interrupted preparation due to over-procreation and will be at long odds to be feeling Sunday elation – more likely devastation.

Andrew Yates (Yatesy) – This big-hitting, free-wheeling, fun-loving golf nut has virtually none of the attributes required to win the KGS. Woody Allen says that 80% of success is turning up and Yatesy is here, so he has that going for him. But that is about it. He lacks the big tournament experience of most of his rivals, there are question marks over his killer instinct, he has no local course knowledge and he comes up a little short in the putting department. In fact, the whole short game needs an overhaul. Other than that, he looks in reasonable shape.

Eddie Mascitti (The Eagle) – It was the great Carl Spackler who said that the Dalai Lama said, "Gunga ga lunga goong goonga lunga long goong ga loonge goo goo alongo goonga". It is this type of athletic cerebral gymnastics that sums up this relaxed competitors approach to the game. His laissez-faire and easy-going style suggests he is not in danger of over-thinking his golf. Is more likely to under-think things which makes him the brains trust of this intellectually challenged outfit.

Form: Although this mob are not the sharpest tools in the shed, the KGS is a big shed with plenty of tools. They are not looking too flash as their main strategy is simply hoping that the sum of their parts is greater than their individual components. Will not fail to disappoint.




The Jerilderie Gents – The Kelly Gang popped by Jerilderie in 1879, held up the local bank, jagged a couple of thousand pounds, penned a feisty letter and wandered over to the Telegraph Office to chop down a few telegraph poles.

Peter Rowe (Peeto) – This gentleman of the fairways is as close to a Greg Norman as we have at the KGS this year – a dashing, charismatic big-hitting golfer who thrills his legions of adoring fans, has tonnes of experience around the world and would be a very popular winner. Alas, he has very little winning form in major championships. Has slightly more chance of jagging a win here than The Shark has of taking home his third Open title this weekend. But not much more. Recently put in a superb showing at The SGA International which only enhanced his reputation for being podium-averse. Consider for value in trifectas.

Philip Smith (Phillo) – Had a stellar 2011 with wins in the VSGCC and the SGA Tour 4BBB Championship and second place in his maiden BRG Major Championship at the 2011 WBC. Has struggled to regain that touch in 2012 and he battled away manfully at the Bushranger Cup this year as his team crumbled around him. Doesn't do himself any favours by standing on the wrong side of the ball, but appears unfazed by this technical malfunction. Is a keen competitor and sets himself high standards. Has drawn the attention of the stewards at times when things have not gone his way. May require blinkers to calm him down.

Paul Gray (Paulo) – This big-hitting, fast-talking, beer-drinking, record-breaking, ball-smashing loose cannon is right in his element at the KGS. Put in a superb showing at his debut Bushranger Cup in 2011 where he finished second by a single shot. Backed that up with a quality showing at the KGS in Tocumwal last year and another outstanding Bushranger Cup in 2012. Very keen on the between rounds socialising and can get easily distracted by the smorgasbord of activities on offer.

Wayne Ball (Ballo) – Appears that he might be on the cusp of greatness as he tees up in his fifth BRG Major Championship. Played this event in 2010 & 2011 and has played the 2010 WBC and 2012 Bushranger Cup. Has never finished lower than fourth and appeared as though he had paid his dues and has the form and experience under his belt to be a regular contender. Alas, he recently invested in an expensive new set of bats and his game has gone to pot. Making up the numbers.

Form: This patchwork quilt of golfing skill and temperament might not attract much attention in the betting ring, but they may just have the perfect combination of complimentary assets to pull off a highway robbery here and steal the title from some of the more fancied gangs.


The Benalla Burglars – As the major town closest to Ned Kelly's home, Benalla was the epicentre of Kelly's bushranging days and was the police headquarters for the Kelly Gang manhunt. As a lad, Ned famously gave three troopers a hiding one day in the main street.

Mark Henderson (Hendo) – This raucous sledgaholic comes in here under an injury cloud but is determined to climb to great heights this weekend. It could be perilous for him as he suffers the odd bout of vertigo. Is not particularly fond of ladders and tends to avoid them even when simply climbing a few rungs might be the best option. Has also developed a bit of a dislike for chairs and for gravity. His shot making can reach great heights but his decision-making can let him down. Wants to ascend the podium but may be heading for a fall from grace.

Leo Ryan (The Lone Wolf) – A freewheeling agent provocateur who is suspected of being a double agent provocateur as a consequence of his unhinged duality balancing between presenting an identity of rampant metrosexual individualism and being a paradigm of universal collectivism. A cosmopolitan trend-setter both on an off the golf course, this creative genius dances to the beat of his own drum and is willing to take everyone along for the ride with him who is interested in being a passenger on his freedom trip of perspicacity and existential glory.

Chris Hall (The Don) – A passionate Essendon supporter, was totally stoked to have acquired The Don as his Bushranger moniker. Was slightly less enthusiastic when he learned the name was given not for his questionable footy preferences but for his capacity to rack up Bradman-like numbers on the golf course. Like his namesake, he is an accumulator of scores – he simply accepts the scores that the games has to offer with consummate ease. Once he is set and gets his eye in, he is not satisfied with a small tally and is capable of compiling huge totals.

Micheal McCombe (Cocktail) – This fertile procreator is making his first start in a BRG Major Championship and is rumoured to have some professional experience that will hold him in good stead over the weekend that may make him very popular with his team mates and some of the other competitors looking to pick up a few tips from a pro. Yes, he is a professional bar manager, so should know a fair bit about the booze. Can't golf to save his life and will need to mix a few stiff drinks for his team mates to calm their nerves after each days play.

Form: With an interrupted (nonexistent) preparation and an injured nag in the team, they are short of a gallop and will be lucky to make it out of the gates, let alone cross the finish line. Making up the numbers.


The Euroa Removalists – Euroa was the scene of the Kelly Gang's first bank hold-up in 1878. They were most gentlemanly and polite throughout, as they calmly made off with £2000 in cash and gold.

Damian Lovell (Blood) – This easy-going smooth talker is leading the charge for this mob of KGS debutantes. Won't be hard to spot as he fancies a bit of golf couture and enjoys frocking-up in some dapper gear and making a colourful splash on the fairways. Is a massive Saints supporter and has inherited the handle Saint Bill as he answers to Bill as well as Blood and Damian. Clearly he is vulnerable to suffering from multiple personality and identity issues. Won't want to be lugging any of that baggage in here this week as it is hard enough going the distance at the KGS when you do know who you are. Expect to see him dressed in rags and yabbering incoherently to himself by Sunday arvo.

Tony Floro (Yob) – This relaxed character is making his first start in a field of this quality and has a few question marks over his ability to stay the distance. Is not much of a golfer which does not bode well, but he is a long-suffering and passionate Tigerland supporter, so clearly has the mental and emotional fortitude to handle great adversity. The biggest concern is the versatility of his selective and pernickety liver. Loves a beer and can handle a few, but is rumoured to get a bit messy on the bourbons. May need blinkers to settle him down.

Daniel Hanly (Dan) – This articulate raconteur and man about town is a huge dark horse here. Possesses what is arguably the finest swing in the field this week and has played off a lower mark than any of the other competitors teeing it up in Echuca. Is rumoured to be on a quest to try and perfect his swing but his greatest strength may also prove to be his weakness. His technical and theoretical approach to the game may make him vulnerable to selective, targeted heckles on swing mechanics. Expect some well-intentioned advice to be heading his way all weekend.

Trevor Clinnick (Trev) – This huge Footscray member and supporter is a very experienced cricketer and utilises his armoury of cricketing tricks when on the golf course. Unfortunately that means he carves quite a few cover drives and pulls and hooks into the cabbage. His saving grace is he is a super putter and he will, no doubt, look to live up to his name and put on a flat-stick clinic over the weekend. Will be a huge threat if his putter hots up on the slick mosses of Rich River.

Form: This comely bunch of novice Bushrangers want to make a big impression in their first appearance at a BRG Major Championship. Could be in for a shock at the sheer scale of the demands of this event.