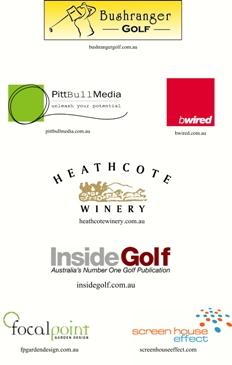 The organisers of The Bushranger Cup would like to take this opportunity to thank:

Sam, Campbell and the team at bwired online solutions for their partnership and support with the Bushranger Golf website.

Denise, Steve, Bridget, Bec and all the team at Heathcote Winery for their support of Bushranger Golf to produce the very popular Bushranger Shiraz.

Steele and Yu Jing from The Views Resort for putting up with us.

Richard Fellner from Inside Golf for his help with promotion, publicity and marketing Bushranger Golf and the Social Golf Club Championships.

Padge and Debbie from Murray River Horse Trails for The Bushranger Cup, the bullets and the inspiration.

Roger Brown from Focal Point Garden Design for his meticulous efforts in preparing the Bushranger Cup trophies.

Steve Foxwell from Screenhouse Effect printing for his assistance with the Bushranger Cup stubby holders.

Sally Pitt of Pitt-Bull Media for her time and skill in creating this program and for her consideration in putting up with a very excited tournament director.


Greetings all and welcome to the 7th Annual Bushranger Cup!

The Round One solo 9 holes commence at 3:44 pm on
Friday afternoon on the Cups Course at The Dunes Golf Links.

A gourmet BBQ Champions Dinner will be held at
Sunset Views from 7:30pm on Friday evening.

A team meeting will be held in the Sunset Views lounge after dinner.

The Round Two & Three 2-ball ambrose rounds will commence at 10:40 am Saturday
at Moonah Links (Legends Course). Details of the pairings and tee times appear below.

A second gourmet BBQ Champions Dinner will be held at
Sunset Views from 6:30pm on Saturday evening.

The Round Four 18 holes of 4-ball ambrose will commence
at 11:00am Sunday at Cape Schanck Golf Course.

The presentation ceremony will be at The Views Resort after golf on Sunday.

Giddy-up & Enjoy!




The Kelly Gang - The last and most infamous of all the Bushrangers, Ned's crusade to secede from the colony and start his own republic fell slightly short of the mark. An expert self-promoter, he always knew the importance of snappy dressing for a photo opportunity.

Michael David (Mikey Dee) - This golfing superstar and self-proclaimed Greatest Ambrose Player in the Universe, finally fulfilled his lifetime ambition last year by winning the Bushranger Cup. An event virtually invented for him, it seemed his destiny (at least to Mike) that he would win the event every year it was contested. Nothing much has changed this year, with his confidence at yet another all-time high coming in as defending champion and expecting to win again.

Steve Foxwell (Foxy) - This easy-going golf tragic has become totally addicted to the game since taking home the Bushranger Cup last year. His handicap has plummeted and he is rumoured to have done so much preparation for this event that his kids need to book a tee time in his group to see him. Saddling up for his fourth Cup, he may find the going a bit more treacherous this year as he attempts to do what no player has ever achieved and successfully defend the Bushranger Cup.

Terry Robinson (Terrance Trent) - Set his team off to a flying start last year with a brilliant eagle on a par four at the Cups on Friday and led from the front with a display of ball-striking unlike any ever seen at the Cup. The low-marker here, this unflappable character can expect his flappability to cop a stern test this week with every player in the field sure to be heckling him with a constant barrage of banter designed to knock this human gyroscope off his equilibrium.

Roger Brown (Arbeige) - As the band was tuning up on the first night Bob Dylan went electric, a lone voice in the crowd called out, "Judas!" Bob's response was, "I don't believe you." With Arbeige having abandoned his traditional teammates to join The Kelly Gang this year, expect to hear this episode reprised this week with the cry of "Judas!" regularly ringing out across the fairways of the Peninsula.

Form: The words back-to-back have been heard bandied around the bookies ring, the mounting yard, the jockey's locker room, the starter's gate, the steward's room, the dunnies and the grandstands of the Bushranger Cup for the past year by this precocious crew. With the lowest handicaps ever assembled in a BC team and character by the truckload, they should contend. They are desperate to prove they are genuine Champions and not just some jokers that got lucky one time.




The Aaron Sherritt Gang - Aaron Sherritt was the Kelly sympathiser-turned-double agent who was later murdered by his old mate Joe Byrne for his apparent, but unproven, treachery.

Matthew Pitt (Pw Jones) - This two-time Bushranger Cup Champion has recently emerged from a couple of years in the golfing doldrums and looks set to tear this tournament apart. Has past form with victories in the Duzzo Invitational, Jack the Hack and numerous tour events. If he finds his range with his famous short game and exquisite putting stroke, he may obliterate this field this week and create a major embarrassment for the Bushranger Cup handicapper by presenting himself with his own trophy. Again.

Nick Honey (The Hominator) - This famous man of the people and humble cult figure will grace the Bushranger Cup once again with his profound wisdom, 20x20 perspicacity and outrageous insights on golf, life, poker, the universe, fine wine and everything. Comes here after a spell, having chosen not to desecrate his form with any unholy diversion on the practice range. Will draw faith from his two previous Bushranger Cup wins and, being devoutly pious, will only exercise his powers of divine intervention when absolutely necessary.

Matthew Thomas (T-Bag) - This committed golf nut is an exquisite ball-striker and has proven he knows how to win with triumphs in the Kelly Gang Shootout, the BRG Player of the Year and the inaugural VSGCC. Making his second start in a Bushranger Cup, he has set his sights on this title and has tapered his preparation perfectly. The ideal stable foil for his three precocious teammates, he looks set to add the greatest prize in golf to his already impressive résumé.

Mick Van Raay (Da King) - Speaking of imposing résumés, this big love machine has tasted victory at the William Buckley Classic (twice) and at the Duzzo Invitational – both 2-ball ambrose events, a format where he really comes into his own. A man of quiet confidence, he enjoys rooting for himself to get up every time he tees off, which can place a heavy load on the hamstrings and sometimes gets quite messy. An aficionado of couture, is also favourite for Best Dressed at the Cup.

Form: Not favoured by the bookies this week in a field glittering with class, but capable of springing a big surprise. Definitely one to watch.



The Captain Melvilles - Captain Melville was a shabby small-time thief who narrowly escaped capture several times. He was finally apprehended by police on Christmas eve 1852 in a drunken stupor at a Geelong brothel after arousing suspicion among the local sex-workers by boasting to them about his illegal exploits. A real class act.

Ian Crotty (Crock Diddy) - Promised so much to so many for so long and delivered so little to so few for…er…so long as well. Stormed to victory in the 2005 BC with one of the great Sunday rounds in the history of the game and has hardly raised a whimper since. May have completely lost his golfing mojo and mutterings about ambrose is a high handicappers game clearly demonstrate he has lost focus. If he gets the blinkers on and finds his groove, he will be unbeatable here.

Sebastian Shand (Bastros) - This engaging raconteur is an absolute fruitloop in a field of eccentric characters and will spice up the après golf leisure time with his most excellent conversation. His observations on a variety of subjects usually sends this correspondent in search of an intellectual ashram to reflect on the unorthodox intersection of a set of unusually juxtapositioned but mutually agreeable concepts, constants and arbitrary variables. Can also really smash a golf ball on his day as he proved at the 2005 Bushranger Cup.

Richard Fellner (Quigley) - Has won the Kelly Gang Shootout and is the reigning Bushranger Golf Player of the Year. Desperately wants to win this iconic Championship, which will leave him just a William Buckley Classic away from being the first man to complete the career Bushranger Slam. He artfully combines in perfect unison the golfing equanimity of Flight of the Conchords with the comic brilliance of Ben Hogan. Has the rather unfortunate knack of stumbling into injury problems on the eve of major championships.

Rob Lugton (The Don or Luggo) - Offers perhaps the best value to punters here this week. Relatively new to the game, he has set about constructing a solid swing and power game and is now in the process of winkling together a fine short game to match. Is still a little inconsistent, but his best shots can be outstanding. If his shabby play is covered by his team mates, he could be the wildcard in a deck of jokers that vaults this madcap combination from contenders to champions.

Form: Since this team was assembled to carry the winless Willo to his maiden Championship and then he withdrew due to injury, they are as close to an absolute certainty as you can get. Bet the whole farm.



Friends of Mad Dog Morgan - Mad Dog Morgan was an entirely unpleasant, undignified, bloodthirsty and unconscionable character who gave Bushrangers rather a bad reputation. On April 11th, 1865, he was shot dead near Wangaratta after which his head was cut off and tobacco pouches were made from his scrotum.

Warwick Stonehouse (Boo) - This outrageous individual with a penchant for the bizarre is a feisty competitor and won the first Bushranger Cup in brilliant style. Is a big occasion player with the golfing skill, experience, wisdom, gamesmanship and match-hardened toughness required to win Major Championships. Has the lowest stroke average in the history of the Bushranger Cup and will certainly be in the thick of the action again this week.

Stve Noa (Zark) - This feisty nugget has all the characteristics of a great Bushranger Cup Champion except perhaps the ability to golf his ball with any consistency. Loves the argy-bargy between rounds and can be relied on for excellent conversation and some excitement at the gaming tables. Always looks a treat in the mounting yard and is long overdue for a big showing at a major tournament. A real wildcard, he may struggle staying the journey but could surprise if he settles into a rhythm early and finds some touch and confidence on the course.

John Lazzara (Funky J) - Never fails to impress with his easygoing style, funky grooves and unflappable temperament. Is a star on and off the course with his witty asides, charismatic style and movie star good looks that make the stallions want to be him and the fillies want to be with him. Don't be fooled by his unconventional swing – he looks his worst at address, is slightly less impressive at impact and can finish downright ugly in the follow through, but is a big game player who knows his way to the line. Won the inaugural Cup by a mile and came within a whisker of winning the WBC. Definitely one to watch.


Greg Nash (Gnashy) - A newcomer to the Bushranger Cup with plenty to recommend his chances. Given the company he keeps, is certainly an unscrupulous rogue and is a wily and very experienced campaigner on the golf course with a reputation for knowing how to manufacture a good time. May be overwhelmed by the occasion at his first Cup but he has a secret weapon: a weird antique putter he's had forever that is rumoured to have holed more than a million putts.

Form: No doubting the pedigree here. They have the weapons. The only question mark is form. If they all fire, they will certainly contend.


The Canvas Town Mob - A rare city-based mob of Bushrangers who operated in South Melbourne in the 1850s. They would knock off ships at port and then frivolously drink and gamble away their booty.

Gavan Doran (The Rose of Doran) - Comes in here with winning form having saluted at his last start with a brilliant victory at the Kelly Gang Shootout. Has tailored his preparation to ensure that, unlike some of his rivals, he is not over-golfed himself before the Cup. In fact, there are whispers in the bookies ring that he has not touched a club since dropping his putter in July to accept the Glenrowan Trophy. If he makes contact with the pill on the first tee on Friday, he may find his rhythm. Once he gets on a roll, he can be very difficult to dislodge.

Neil Hocking (Hocks) - This unflappable character and delightful dry wit is a pleasure to enjoy a round of golf with followed by a glass of Beaujolais at the 19th hole. An experienced campaigner, he has applied himself to his game of late and removed the dreaded Hocks Hop from his repertoire. Had his breakthrough win last year with a mighty triumph at the Kelly Gang Shootout and destroyed the field at his last start in an SGA Tour event a few weeks ago at the nearby St. Andrews Beach. Has come into form at just the right time and will be a major threat to take home his first Bushranger Cup this week.

Paul Lambe (Lambo) - A complete Jekyll and Hyde with the potential for feats of golfing greatness and abject depravity at any given moment. Has racked up some impressive wins in BRG Handicap Days but has rarely parlayed that form into consistent performances at the longer weekend events where he can get right out of whack between rounds with premature celebrations. Found his range for a great win in the 2009 KGS but followed that up with a massive blow out at the WBC. May require blinkers to stay focused on the job at hand.

Ian Pritchard (The Baker) - Making a welcome return to the Bushranger Cup after a hiatus last year. Loves the cut and thrust of competition and the challenge of winkling the best from himself on the golf course. With loads of experience on links courses, he is sure to have some insights on how to manage the layouts here this week. Is the bedrock in a team of bubbling volcanos that could erupt at any moment. Unfortunately, just like real bedrock and volcanos, if they go off, there will be nothing he can do to change anything whatsoever.

Form: Impossible to rate. Just as likely to bolt and win from wire-to-wire as they are to get stuck in the gates and not get off the first tee.


The Ben Hall Gang - Originally The Frank Gardiner Gang, it became known as The Gilbert Gang when Gardiner was captured in QLD in 1861. It then morphed into the Gilbert & Hall Gang and later again the Ben Hall Gang. Their revolving door policy remains strong to this day.

Sam Saltis (The Duck) - This cool character made his Cup debut in 2005 and has one of the best individual records at this event, sitting third on the all time stroke averages. Has had more success with the reverse pivot than just about any golfer in history, no doubt helped by his exquisite touch around the greens. A big game player, his calm temperament, easygoing nature and one-shot-at-a-time approach lay the foundations for his consistent performances. With a win under his belt in the Kelly Gang Shootout, he is sure to be in contention here.

Ross Mitchell (Rossco) - Like so many here, this gregarious character is a terrific competitor and thrives on the personal challenge of getting the best from his game on the course. A great team player, he is back for his biennial tilt at this title having teed up in the 2006 and 2008 Cups. Finished fourth both times and would love to take a step up onto the podium this year for his breakthrough win. Has been playing a lot more golf lately and is match hardened with regular comp rounds so will certainly be in the mix if he finds his tempo early.

Ashley Hunt (Asher) - A newcomer to Bushranger Golf, he is certainly in good form on the course where his relaxed nature serves him well. He has been a sensation on the 2010 SGA Tour with a win and a couple of high placings in his three starts so far. Whether he can sustain this level of play in the maelstrom of golfing madness for three long days at the Bushranger Cup will have a major bearing on his team's chances here. Although golfing his ball well right now, this is a huge step up in class that will test all aspect of his game.

Gerry Milani (Gezza) - Making his first appearance in the Bushranger Cup, he may have absolutely no idea of the demands this event places on the character, fortitude, skill, temperament and liver of the competitors. Like so many of the good men here, he is rumoured to be a very keen Carlton supporter, but very little else is known about this mysterious character except that he loves his golf and can't wait to get among the thick of the action this week. Consider for trifectas.

Form: With multiple line-up changes leading into the tournament, they have had an interrupted preparation which may be their undoing.


The Captain Moonlite Gang - The devious Andrew George Scott, a man with three first names, became the infamous Captain Moonlite when he began robbing banks in the 1870s after throwing in a promising career as a preacher.

John Martine (The Narooman) - Has travelled further than any other to be here. Made the trek down from Narooma last year for his maiden Cup and struggled a little early but saw out the journey. Has good bloodlines and is a member of the Burns Social Golf Club, named for Scottish poet Robert Burns and founded to promote the holy Scottish trinity of whisky, golf and drinking. Also has some form with numerous wins in the annual VB Cup held on the NSW south coast. Was short of a gallop last year but will do better second up.

Grant Jones (Jonesie) - Joined the ranks of Bushrangers when he teed up in the mighty William Buckley Classic last October and proved himself to be a noble custodian of the bush arts of drinking, punting and golfing. Has an easygoing nature and is a pleasure to enjoy a thwack of golf with, but don't let that fool you – he has a reputation as a big-game performer with an appetite for the spotlight. Managed the WBC journey ok but may get a shock here with the sheer volume of golf, gambling, grog, googy eggs (at breakfast), girls (well not really, but it is an alliteration) and other things, like him, that start with G.

David Xu (The uncanny X-man) - Debuted at the 2008 Cup and was caught like a rabbit in the headlights as all manner of Cup madness was simultaneously unleashed in all directions around him. This quiet man struggled to get his balance on the course early and never quite regained a firm grip on things. He has been working hard on his game and has posted some respectable results on the SGA Tour. Returns as a far more formidable prospect and much better equipped to navigate his way through 40 hours of chaotic mayhem and fun.

Dean Craig (Deano) - Made his Bushranger Cup debut in 2007 and returned in 2008. Has the dubious distinction of never having finished higher than last place. Will be looking to improve on that effort here. Appearing not to be a threat on the leader board has made him a very popular competitor among his rivals, but all that may change if he hits his straps and makes a charge this year. Can certainly golf his ball on his day and knows the region well so must be a chance.

Form: On the surface, this ragtag collection of golfing misfits looks to be making up the numbers here but if they click, they could contend.