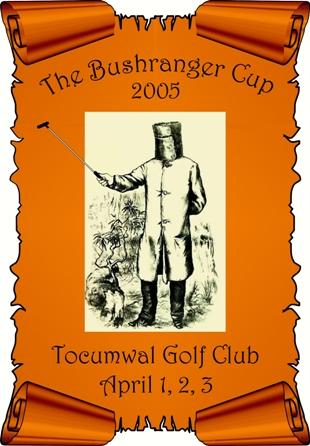 The Kelly Gang: The last and most infamous of all the Bushrangers, Ned's crusade to secede from the colony and start his own republic fell slightly short of the mark. An expert self promoter, he always knew the importance of snappy dressing for a photo opp.
John Lazzara (Funky J) - After his stunning upset victory in the 2002 Surf Coast Cup, many pundits predicted this stylish young man about town could not go on to fulfil his massive potential. In the post match aftermath, a lot of things were said and a lot of names were called: one hit wonder, flash in the pan, one trick pony, very lucky NAGA; things that may have really stung a more attentive competitor. His revenge however, was swift, cunning, unscrupulous and served so very cold: he surrounded himself with a brilliant team and coasted to victory in the inaugural Bushranger Cup in 2004. We can't say he didn't contribute to the win, but his partners were so powerful, the question marks are still lingering around 'Funky' like a rank and putrid stench that may never be removed.
Form: A cool temperament in the mounting yard and a winning demeanour make him one to watch. His problems start on the backswing.
Sam Saltis (Sam) - This gregarious chap must rate highly as a potential Bushranger given the questionable company he is known to keep. He has a huge reputation as a trash talker both on and off the course and has winning form with his barnstorming victory on the NAGA Dot Com Tour in the prestigious Parthenon Golf Club Ambrose Pairs Championship. Having never broken 90 and having been restricted in his preparation to boozy corporate golfs days, he may struggle with this significant jump up in class in his first start in a field of this quality. Is in desperate need of a more significant nickname and will be lucky to escape the weekend without a more appropriate moniker being surgically attached.
Form: Has some claims but they're not much. May need to do some serious bushranging but with the authorities after him will probably struggle.
Warwick Stonehouse (Boo) - Has massive bushranging form which has seen him win tournaments all over the place including the '96 Shiraz Classic and the '01 Surf Coast Cup. A one-time party animal who loved nothing more than seeing his mates have a good time all the time, this mysterious character did a "Chuck Norris" at last year's tournament when he went "missing in action" everywhere except on the course. He was completely unsighted between rounds with word reaching the handicapper that he was in bed with a potentially life-threatening illness. Strangely, he had no trouble escaping the infirmary to accept the trophy after an 8-stroke victory. He may find it difficult pulling the same stunt this year with more than a few gentlemen keen to see him make up for his appalling off-course performance in 2004.
Form: A smiling assassin, this ferocious competitor is always in contention.
Joel Thorsen (Strasbourg) - This unpretentious lad from the western districts comes into this field as a complete wild card. His only claims are two career eagles and a host of top five finishes in The Digby Cup. An unashamedly 'social' golfer, his likeable nature places him at the very top of the smiling assassin list of potential Bushrangers. Mostly unknown in these parts, he clearly studied at the Walter Hagen school of tournament preparation as he spent his Easter not on the practice fairway but sunning himself amongst the aspiring concubines of the surf coast in Victoria. He clearly believes his own publicity that his optimism is his greatest asset but the confidence he displays may be exposed as misplaced arrogance and quite possibly simple self-delusion once he joins the ferocious battle for The Bushranger Cup.
Form: An unknown quantity on the course, he does possess arguably the finest nickname in the field and so must be rated a fair chance to salute on the strength of this alone.

The Aaron Sherritt Gang: Aaron Sherritt was the Kelly-sympathizer turned double-agent who was later murdered by his old mate Joe Byrne for his apparent, but unproven, treachery.
James McCusker (Jay-Mo) - Fronted last year as a virtual unknown with very little to recommend his game then proceeded to show his worth as a cunning and resourceful Bushranger of the highest calibre. After an appalling start in the singles, he blitzed the field in the ambrose rounds of the event to lead his team to a stunning runaway victory. Was a worthy winner as he claimed to have played the round(s) of his life to take the championship. This bodes poorly for his chances this year as his best is clearly behind him and the likelihood of a repeat performance must be considered slim given he has virtually come out of retirement to defend his title. As a defector from the reigning Kelly Gang, he has earned for his gang the title of Aaron Sherritt.
Form: Can't see him backing up last year's performance. Looks to be making up the numbers here.
Richard White (Big Red) - As a sixteen year old amateur, this erudite lad set the world on fire with a single hole of perfect golf to score a brilliant Eagle and, for a few minutes at least, looked set for a massive professional career. Unfortunately, he ran into a couple of significant obstacles which he has not yet overcome: he's never entered a tournament and he's never broken 90. Having burst onto the public stage so lavishly, this retiring gent chose to take refuge for many years behind a big red beard. This earned him the dubious moniker of "Big Red Dick", a title which happened to stay with him for longer than the offending plumage. After engaging a public relations firm he eventually managed to shake the "Dick" out of his name and hence, these days, is most likely to answer to "Big Red" despite his current lack of carrotish hirsutosity.
Form: This striking chestnut looks a treat in the mounting yard but given his current form, should probably turn his attention to fashions in the field.
Andrew Collins (Ace) - There is a great deal of mystery surrounding this enigmatic entrant: where has he come from? Who does his hair? Is it his antennae? Why is he really here? What is behind his special bond with Arbeige? Is he really who he says he is? Who does he think we think he wants to tell us he is? In the jungle, the quiet jungle? The Lion sleeps tonight? What has happened to his short game? Is there a god? Why does he lose so many balls? Where have all his balls gone? Has he checked behind the washing machine for his balls? How many balls does he need? Where does he keep the ones he hasn't lost yet? Does his guitar gently weep? What's going on? Just who do you think you are mister? Hey, didn't you kill my bruvva? Does he really believe that we don't know what a rhetorical question is? How does he hit it? Can he win this thing? What are you asking me for?
Form: A focussed competitor capable of big things if he's switched on. May require blinkers.
Michael Mileo (Seve) - Is reputedly capable of giving the ball a decent nudge, however, his golf may be his second priority if the rumours are correct that he is one of the many entrants eagerly anticipating the celebrations to be held over the green felt between rounds. Is shaping up as one of the big contenders amongst the multi-talented entrants this year with his eyes firmly set on attempting what many have tried and none have achieved: unifying the holy trinity of simultaneous awards for Biggest Drinker, Biggest Gambler and Bushranger Cup Champion. He has a great poker face on the golf course and a wicked handicap at the card table so he may end up being be a very popular performer with everyone (except his team-mates) by the close of the weekend's festivities.
Form: Couldn't not be considered being at least a fair chance of probably getting completely hammered in all three of his chosen disciplines.

Cash & Company: Martin Cash was known as the polite, gentleman Bushranger. His gang ranged in the 1840's and allegedly escaped Port Arthur in Tasmania by swimming naked to the mainland.
Ian Crotty (Crotman) - One of the only real golfers in the field, unlike most of you, this enigmatic journeyman possesses a complete game. As a youngster, he looked like he could be anything but in the end was only something. Has re-stoked his competitive fires in the past year, most probably as a reaction to the "killer instinct of a Koala" tag he inherited here last year which he appeared none too pleased with. Well known for his unique head-wear on the course, he is rumoured to have spent a great deal of time with his milliner in preparation for this tournament. If you need him he'll be easy to spot as he'll be near the bar, tumbler in hand, hugging Arbeige, leading the Acey-Deucey chorus, corrupting the Shabby Lieutenant and looking like Hef in his dressing gown monogrammed with his personal catch-phrase: "Golf is almost always about accessorising".
Form: Unceremoniously dumped his 2004 team-mates after a disastrous effort so may not be emotionally prepared to accept responsibility for his performance.
Richard Mitchell (Saddam) - Given his nickname, we can feel duly privileged to have him out of his hidey-hole and joining us for a couple of days of well earned R&R. Has demonstrated a fine touch around the greens, honed on the crusty courses of the Afghan highlands, and has shown he knows the way to the post with two sparkling "Jack the Hack" victories. His eccentric ambition, however, may prove to be his undoing. He is now most famous for his recent appearance at the U.S. Women's Open which he entered in drag. At the conclusion on the second round, after being out-driven all day by 13 year old Korean sensation Michelle Wie, he was last heard screaming "Sluts on the course!" as he was escorted out by security, having missed the cut by a record margin.
Form: Looks completely out of his class in this company and may need to resort to prayer, bribery &/or blackmail to have any chance.
Sebastian Shand (Bass) - Sometimes known as "Bastros Bastros Ghali", this remarkably well liked member of the local tour is widely known for his individual style, gregarious character and powerful liver. With regular appearances at The Surf Coast Cup and Jack the Hack, he broke through for his maiden Shabby Dot Com tour win with a barnstorming final 9 which included a birdie, birdie finish at the 2004 Murray River Challenge. Was in grave doubt as a starter here after a horrific drinking injury late in the season in which he dismantled the shoulder of his skiing arm. Reports that his drinking arm was also injured are unsubstantiated and irrelevant as he is widely known to be ambidextrous. With only one good shoulder to rely on he may need to go to the well here and his team-mates will be hoping it is dry when he gets there.
Form: Already known to struggle keeping his elbows straight, so may be hopelessly lopsided here with a shoulder problem to boot. Will be hoping the Brisbane Lions haven't entered a team.
Dominic Wall (Dom) - This prodigious hitter is the closest thing we have in this field to a professional as he possesses an intimate knowledge of, and passion for, the Rules of Golf. Perhaps the best travelled hacker here with experience all over the world; he boasts starts at both Jack the Hack and St. Andrews. He has super form this century with his come-from- behind win in the 2003 Surf Coast Cup, ranking as one of the great Bushranging efforts of our time. Alas, his golf has been known to take second preference to his off-course antics and his weakness for partying may account for his ordinary showing here last year. That he is coming back from life threatening foot surgery early in the season puts him at the very top of the Bushranger suspects list. Don't be surprised to see a warrant out for his arrest before the weekend is out.
Form: An absolute gun before his operation but may not perform at his best here if he re-injures his ankle and the veterinarians come looking for him with the green screen.

The Captain Moonlite Gang: The devious Andrew George Scott, a man with 3 first names, became the infamous Captain Moonlite when he began robbing banks in the 1870's after throwing in a promising career as a preacher.
Roger Brown (Arbeige) - Made massive headlines last year on the Friday with his unprovoked attack on a concrete wall which did for Frisbees what Jack Newton did for light aircraft. His haughty efforts to continue drinking and smoking in the ambulance en route to Shepparton have passed into Bushranger Cup legend. Displayed enormous courage and no common sense whatsoever to miraculously comeback the next day and play on one leg. Having narrowly escaped an appointment for a bum to shin skin graft, he still possesses the finest hindquarters in the field and packs a pair of chinos like no bushranger who ever lived. His team-mates are hoping his stunning victory at this venue in the 2000 Duzzo will hold him in good stead and compensate their own generally shabby contribution.
Form: Expect him to extract his pound of flesh, or at least a few square inches. May require shin guards.
Michael David (Mikey Dee) - An enigma, wrapped in a riddle, shrouded by mystery, marinated in charm and slow roasted over a hotbed of likeable self-assurance. This glittering entertainer has already secured his place in Bushranger Cup history with his gregarious performance over the green felt at the 2004 championship. He is credited with lighting the fire under the "Acey-Deucey" table that was one of the great highlights of the season on tour. At the 2005 Championship, he has assumed the position of Bushranger Cup Gaming & Casino Operations Manager. A brilliant drinker, gambler, storyteller and smoker-without-peer, his only one problem is that he has raised expectations through the roof. Fortunately, he thrives in these circumstances as he will back himself to deliver every time, with style to spare, when it matters most.
Form: Tocumwal will never be the same.
Nick Honey (Ho) - Coming off a blazing win in the 2-Ball Ambrose State Athletics Golf Championship last month, there is a lot to like about this robust competitor, discreet public benefactor and man of the people. He has a reputation as a huge gambler when the conditions are right and a philanthropist with a keen eye for opportunities to put something back into the game. After a litany of near misses at the Shiraz Classic and the Duzzo, he was as delighted as anybody when he broke through for his maiden victory this year. Hasn't picked up a club since which simultaneously reflects his unwavering self-belief, his brash confidence in his team-mates, his unmitigated arrogance and his complete disrespect for the rest of the field. Still possesses a sparkling stutter step, deft eyebrow fake and lightening cross-over dribble which are of little use to him these days on course.
Form: Performs at his best after a spell and with limited preparation. Given his form coming in here, he looks an absolute certainty.
Matthew Pitt (Pw "Bobby" Jones) - Had worked for years to model his game on his famous namesake with no success whatsoever. His recent discovery that the great amateur was, at one time, a very heavy drinker has been a godsend. Since taking to the bottle, "PW" has found his delusional self-comparison with Bob has become a comfortable fit. His brilliant victories in the '98 Shiraz Classic and the 2000 Duzzo demonstrate that, when sober, he is virtually unbeatable; however those heady salad days now seem long gone. In recent times, this sad case has become a shadow of his formerly imposing presence on the course. These days, this aspiring fashion plate is more David Jones than Bobby and loves nothing more than creating a stir in the mounting yard with his stylish ensembles and shabby attempts at witty repartee.
Form: Has been spotted of late getting friendly with the handicapper over a tumbler of scotch & dry so must be rated a fair chance. Will be lucky not to be swabbed.

The Wild Colonial Boys: Emerging in the turbulent 1850's, these were a new breed of Bushrangers. They were not escaped convicts but the sons of immigrants or colonial born youths with contempt for authority and a desire for quick riches and adventure.
Richard Thurkle (Lt. Dick) - This cheerful character never fails to make an impression at every tournament he eventually arrives at. In spite of the fact that he can occasionally appear just as motivated to prevail as any man in attendance, he can be easily distracted with the high spirited off-course antics that are a staple of the Shabby Dot Com tour. His golf is not altogether poorly but he regularly falls down by forgetting to fall over and get a nap in at any time during the tournament. As a red hot favourite, he took out the prestigious "Most Shabby" award at the 2000 and 2001 Duzzo. He did the same at the very competitive Surf Coast Cup in both 2002 and 2003 and he has retrospectively received the same award for the 2004 Bushranger Cup. Not surprisingly, he looks a huge chance to take out another one this year.
Form: Flighty but can definitely play. His chances depend entirely on how much sleep he's had between rounds. May perform better as a gelding.
Scott Wilson (Willo) - Is most often compared to John Daly, not because of his familiar comportment or his ability to monster the ball enormous distances, but because of his ferocious desire to "hit the tables" between rounds. Was possibly the biggest winner at last year's event in spite of the fact that his golf was mostly appalling for the entire weekend. A proud holder of the "Biggest Cohunas" award for craziest punt in 2004 when he went 'the guts' on a $500 pot in a monster game of Acey-Deucey. A genial character and a regular at The Surf Coast Cup and Duzzo, he looks unlikely to trouble the engraver on Sunday here as his preparation this year has been almost completely limited to arranging for a big game of Texas Hold'Em to be introduced to the Bushranger Cup extra-curricular activities.
Form: If he's not dealing hands at 4am he's probably done his nuts. If he is still in the game, he's got all your money and will have forgotten about golf. Either way, don't expect too much from him on the course the next day.
Richard Fellner (The 4th Dick) - Has played more competitive golf than any bloke in the field and is shaping up as a classic Bushranger. He claims to have played very little since moving to Ned Kelly's homeland in the last twelve months, however back in his old country he featured in many social quadathalon weekends which require mastery of the four major sporting disciplines: drinking, fishing, gambling and puking. Despite 6 consecutive victories in the Lake Tahoe junior golf championship, being on the varsity team and representing the University of California for three years (campus not mentioned so it was probably Davis) and having played with Bob Hope and a host of robotic US college amateurs now on the US pro tour, he has very little to recommend him in this championship except his claim to being a world class golf cart pilot when drunk.
Form: Loves a wet track. If the winning post is by the bar, he's a fair chance to be thereabouts at the finish.
Mick Van Raay (Da King) - A marvellous surprise as a late entrant into an already illustrious field, this easy-going gent is a commanding presence on every fairway he graces. His game has taken great strides forward in recent times as his love affair with golf has grown, helped along in no small part by his stunning victory in the 2001 Duzzo World Invitational 2-ball Ambrose Championship. He failed to make any impression on the leader board here last year, which can be attributed to his fine efforts between rounds, particularly on the gaming tables. Having recently celebrated the arrival of his second born, this large, fertile man with a strong patriarchal bearing perfectly compliments what is already a very masculine, if occasionally shabby, field of competitors.
Form: Claims if he was proportional, he'd be taller so has a huge edge over most of the field.

The Ben Hall Gang: Originally The Frank Gardiner Gang, it became known as The Gilbert Gang when Gardiner was captured in Queensland in 1861. Then it became known as the Gilbert & Hall Gang and later again the Ben Hall Gang. Their revolving door policy remains strong to this day.
Michael Lane (Frankie) - This erudite and well travelled gentleman won the 1998 Shiraz Classic with a putting performance of supreme majesty. A generally unremarkable golfer, he got on a hot streak that was one of the best flat stick efforts since Jack's back 9 at the '86 US Masters. Known for his unflappable perspicacity, easy-going manner and dry wit, he can be relied on for sound counsel off the course on a wide range of subjects. He is rumoured to be well read on alien abductions, excel spreadsheets, magic bullets, liquorice bullets, Noam Chomsky, the religion of branding in the 21st century, cross media ownership and world affairs. Is also well known to be an expert tipster and punters may be well advised to garner his opinion before laying their footy bets for the weekend.
Form: Can struggle from tee to green but with a putting stroke that has been classified by the National Trust, is capable of blowing this field apart if he finds his range.
Graeme Uhd (Charlie) - Charles Darwin revealed the marvellous process by which nature mutates itself to create an exquisite variety of new and better adaptations amongst the glorious life forms in the universe. Unfortunately, some of these mutations are so hideous in their incarnation that they are usually naturally selected out of the schematic for being so comprehensively at odds with the normal functions and structures of survival. Sadly, a mutant will sometimes cling to life in a hopeless and pathetic fashion before nature mercifully intervenes and wipes it out of existence altogether to restore some semblance of order to this random, chaotic and most exquisite paradigm. Despite a likeable nature, a reputation as a keen student of beer and a strong competitive spirit which has seen him contend regularly in many corporate golf events (he even won the KFC Ambrose Challenge), Graeme is, unfortunately, a left-handed golfer.
Form: With the entire momentum of the cosmos opposed to his very existence, there seems very little to recommend his chances in this event.
Dave Kidd (Diamond) - This well groomed and rugged Australian adventurer hails from the High country around Beechworth, the town where Ned Kelly was jailed as a teenager for his time spent as an apprentice to the wily highwayman, Harry Power. A true outdoors type and as learned as any man at the Bushranger Cup with regard to the exploits of the notorious Kelly gang, the man they call Diamond can handle any conditions and whip up a beaut damper and a cup of billy tea at the drop of a hat that will sate the appetite of the heartiest bushman after a long ride over the Wombat Ranges. A kind-hearted and non-violent soul, he certainly would never have beaten Ned in a shoot-out. Unfortunately, he probably wouldn't have beaten Ned at golf either, however he has not yet committed any murders nor been hanged, so he's ahead in that regard.
Form: First start in a field of this quality. Looks completely outclassed and will require a perfect 'Bradbury' to figure in the finish at all.
Brett Simpson (Simmo) - A cunning and artful competitor capable of brilliance in all the Bushranging disciplines. He can golf his ball when conditions are right, he can handle his liquor in a truly professional manner and he can show a marvellous disregard for any hint of the truth when a jocular anecdote is required. However, it is when he is engaged in the time honoured art of 'the punt' that this wily stager can find another gear. It is more than an encyclopaedic knowledge of form, it is the uncanny ability to weigh the odds, to assess the risk, to calculate and calibrate an infinite range of manifold variables and a sense of purpose to always, and we do mean always, back his judgement when he recognises the going is firm and a good thing is over the odds. Golf may not be his game, but take care and choose wisely if he casually offers a side wager on the outcome of any event. There are many mysterious forces at work in the universe and he is surely one.
Form: Has done for punting what JFK did for magic bullets, so if he's backing himself, watch out.