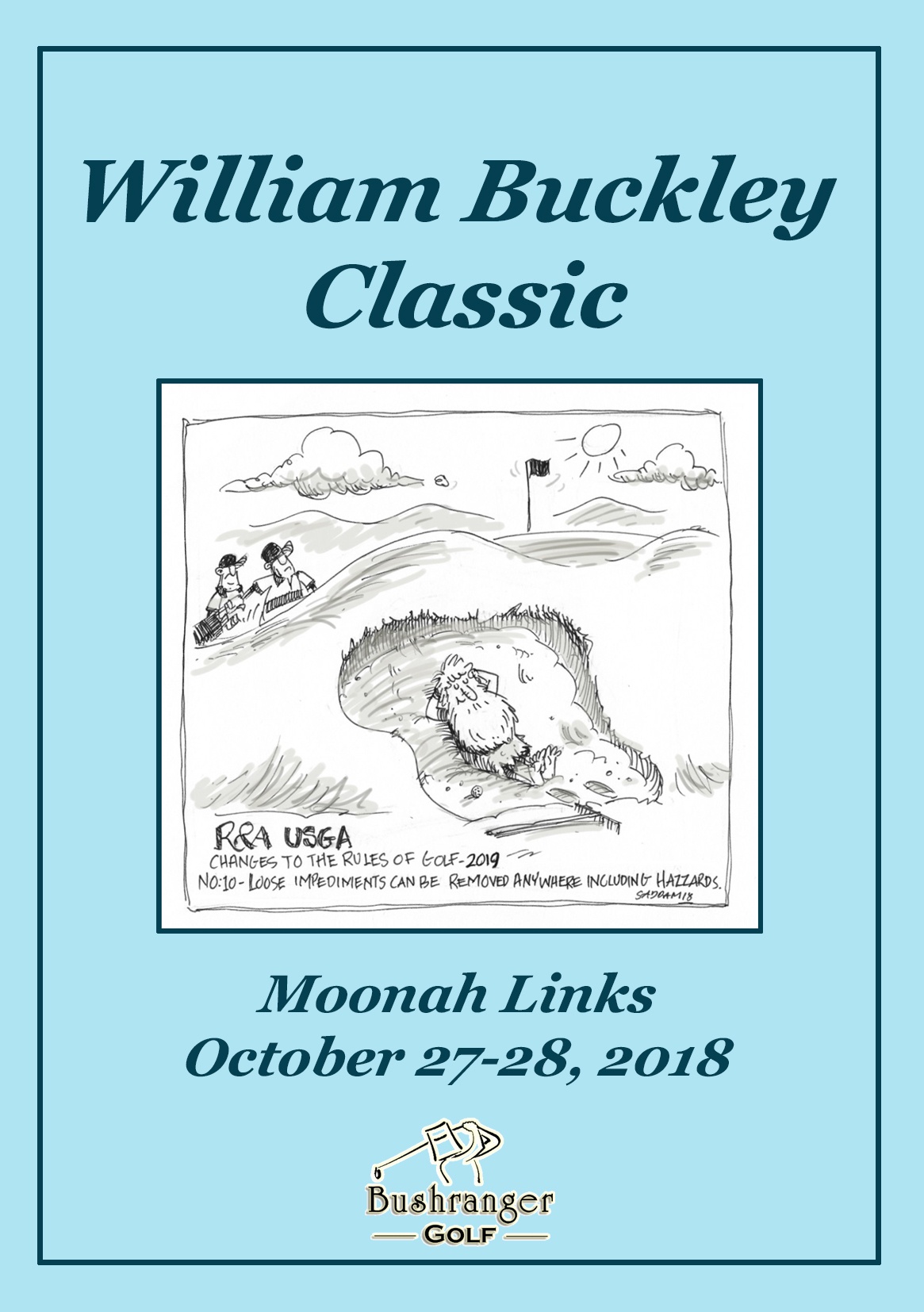 Greetings all and welcome to the 2018 William Buckley Classic
October 26, 27 & 28
An event briefing will be held on Friday Evening.
The Saturday rounds commence from 11:00 am at Moonah Open.
The Sunday rounds commence from 9:00 am at Moonah Legends
The presentation will be held at Moonah Links Golf Academy.
Longest Drive and Nearest the Pin will be contested each day.

The organisers of The WBC would like to take this opportunity to thank:
Roger Brown from Focal Point Garden Design for the magnificent Murrangurk Perpetual Trophy;
Richard Mitchell for his superb cartoon of William Buckley for the cover art;
Sally Pitt of Pitt-Bull Media because she rocks the Kazbah;
Denise, Steve and all the team at Heathcote Winery;
Richard Fellner for for his help with the promotion, publicity and marketing
of Bushranger Golf and the events operated by Social Golf Australia.
All the Members of Bushranger Golf; past, present and future.
Giddy-up and enjoy!


The Golf
The Format: 36 holes of 2-ball ambrose over two days for stableford points. Longest Drive and Nearest the Pin will be contested each day.
The Rules: Since slow play is a potential problem for us, these rules are designed to encourage play in the right spirit and at the right pace. Teams play their chosen best ball on each shot and may place their ball half a club length (about 50cm) from where the chosen ball lies, no nearer the hole. Balls must be placed in the same cut as the chosen ball. In the interests of fast play from tee to green, teams are NOT required to mark with a tee and precisely measure from the chosen ball as they play each shot. Team members can play in any order on a shot. Please have fun, move quickly between shots, keep up with the group in front and pick up your ball when you have scratched on the hole.
Putting: Once on the green, Bushrangers should mark near the chosen best ball so all team members play from near enough to the exact same position.
Handicapping: Each team will be assigned a handicap based on official Australian handicaps and information supplied by the Bushrangers. The handicapper will be governed by a commitment to rewarding good play according to a player's ability.
Playoffs: In the event of a tie, a sudden-death playoff will be held. Teams play together as a twosome (taking alternate strokes playing one ball). Teams can determine the order as each member takes their first shot. This order is then continuous and carries over from one hole to the next until the playoff is decided.
The Rodeo Rule: This is minimum drives for each team member and will be enforced. Each team's rodeo requirements will appear on their scorecard.

Who was William Buckley?
Born in Cheshire, England in 1780, William Buckley fought as one of the King's Own Regiment against Napoleon's forces in the Netherlands. He was convicted of receiving stolen cloth in 1802 and was sentenced to transportation to Australia for 14 years. He was among 300 prisoners sent out in 1803 to establish the first settlement on Victoria's Port Phillip near what is now Sorrento.
Buckley and two others escaped in December 1803 with the aim of getting to Sydney. Alas, they went the wrong way and circled Port Phillip Bay. Due to the harsh terrain and lack of food, Buckley's companions decided to return to the settlement and give themselves up. But not the determined Buckley. It was the last time any white man would see of him for 32 years.
A powerful man standing over 6'6", Buckley pressed on along the coast to Breamlea, Torquay, Anglesea, Aireys Inlet and beyond. His first permanent resting place was near Mount Defiance where he found an abundance of shellfish, edible vegetation and natural cover. In the winter, Buckley was close to death but was rescued by an Aboriginal tribe.
Fortunately for Buckley, the locals believed that white people were Aborigines who had come back from the dead. They named him Murrangurk and took him in as one of their own. For the next three decades, Buckley travelled extensively throughout the region, mostly around Geelong, Barwon Heads, and the Otway Ranges. On July 7 1835, Buckley wandered into a camp of John Batman's party and reacquainted himself with European society.
He was the first European to walk the bush on both sides of Port Phillip Bay, living off the land and on the run from the law. Given that our determined Bushrangers regularly ingratiate themselves with the locals on our trips and that this tournament is played on courses on both sides of the bay, we think it is fitting that this event is known as The William Buckley Classic.

The Form Guide
The Murrangurk Masters – Early in his travels, William Buckley found a spear by a grave near Torquay. It belonged to the respected warrior Murrangurk. The locals believed Buckley to be Murrangurk returned from the dead as a giant white man. The two-player team format and the name of WBC perpetual trophy reflect the lives of these two men combining under one name and each year the reigning champions will play as The Murrangurk Masters.
Gavan Doran (The Rose) & Ian Steer (Steery) – The bottle shops of the Mornington Peninsula have been put on notice as these two BRG legends and golfing reprobates make their way south on Friday. Lovers of good times & good wines, they are already guaranteed to have a truckload of fun here this weekend. They have played in more BRG events than most here and The Rose won this event in glittering style in 2013. They may need the right conditions, humidity, cellar temperature, wind direction, green speeds and blood alcohol levels to prevail here, but if Steery can keep his mind off the Cox Plate for long enough on Saturday and focus on the golf, this super competitive pair could be right in the mix.

The Sullivan Bay Ginger Bread Men – Buckley and two other convicts escaped from the camp at Sullivan Bay near Sorrento on December 27, 1803. The others turned back after a few days, but Buckley pressed ahead and stayed on the run for the next 32 years.
Richard Fellner (Quigley) & Richard Mitchell (Saddam) – With 7 BRG titles between them, these two stalwarts of Bushranger Golf have very little left to prove. Saddam has won the mighty Bushranger Cup twice and Quigley is the only person to have captured every BRG major title there is to win making him the proud owner of the Quigley Slam! Although he has won them all, he has only won each of them once, so he may be allergic to multiplying his victories. He has taken out a mortgage on the best-dressed in recent years with his magnificent plumage, plus-fours, neckties, bonnets, brogues & braces. Saddam is a feisty raconteur par excellence and between the two of them they are a brilliant combination.

The Corio Bay Fugitives – Buckley and his two fellow escapees reached the waterfront on Corio Bay at what is now Geelong a few days after escaping. He came to know this area very well over the next 32 years.
Mark Henderson (Hendo) & Aaron Henderson (A-Aron) – Given their pedigree, expect this pair of champions to be in the thick of everything this weekend, both on the course and off. They add a touch of class to a field that is already glittering with golfing superstars and will be looking to make a big showing here. Will need to pace themselves to ensure that they have enough in the tank at the business end of the weekend to stay with their more fancied rivals. A wildcard in the deck and not the biggest roughies here this week, they will certainly be backing themselves, even if no one else does. Could surprise.

The Mount Defiance Alliance – At Mount Defiance just past Lorne, Buckley found a cave with fresh water and food nearby and made it his first permanent home, living there for several months through the autumn of 1804. As winter set in, he began to struggle and decided to make the long trek back to Sorrento.
Peter Calverley (Cuddles) & Corey Kelly (Big Cheese) – The Wallace and Gromit of the BRG Major Championships, one is a cheese-loving raconteur and creator of culinary masterpieces, the other is a wise but low-key type who has a finger on the pulse and does a bit of eyeball-rolling at his mate's shenanigans. Behind closed doors they will be thinking that they are sure things here. Both are more than capable golfers on their day, but it remains to be seen how the immense pressure of the WBC will be handled. Have been spotted numerous times consuming a mystery ale prior to rounds of golf which may be investigated by WADA, but suspicions are that it is simply craft beer that goes well with a nice Brie. Will need to get off to a good start, as 3 days of gastronomic festivities can tend to retard their abilities on the golf course. Perform well in all conditions.

The Barwon Heads Sir Robins – On his first day marching alone, Buckley happened upon a group of Wathaurong people camped peacefully by the Barwon river. Fearing for his life, he silently crossed the river at the heads and bravely ran away.
Steven Jurisic (Stevie J) & Kirk Haywood (Captain) – These two veterans of the SGA Tour in Victoria and all-round nice guys team up here to make what will be one of the most jovial and courteous pairings ever to grace the fairways in a BRG Major Championship. In a field of glittering golfing mega-stars, these two take the tone of the weekend up another notch altogether. But don't be fooled by these smiling assassins, they have winning form on their side and they are a lethal combination on the fairways despite their excruciatingly pleasant exteriors. These two cunning rogues will pick apart the golf courses with surgical precision and ruthlessly grind their opponents into the turf of the Mornington Peninsula and be laughing all the way to the presentation ceremony on Sunday afternoon.

The Indented Heads – It was at Indented Head in 1835 that Buckley, after 32 years in the wilderness, decided to return to European society when he walked into the camp of John Batman's exploration party. Standing 6' 6", dressed in possum skins and carrying a spear, a driver, 5-iron, wedge and putter, he made quite a first impression.
Darren Nelson (Dazzler) & Dean Connell (Deano) – This odd couple will have been setting themselves for a tilt at the trophy for weeks now, and with a mix of good-natured jocularity and ball striking ability, they should be the life of the party on and off the course. Dazza is a multiple trophy winner on the SGA Tour and Deano is looking odds-on to join that club as he is a virtual lock to win the 2018 Vic SGA Tour OOM title. Moreover, his heckling prowess and wild-swinging ways have the potential to blow things wide open. With plenty of experience between them, they know how to get the job done here. This pairing could be like Nitro & Glycerin colliding with Jekyll & Hyde with a touch of Abbot & Costello to spice things up so just sit back and enjoy the ride.

The Swan Island Hackers – Buckley and his two fellow escapees reached Swan Island at Queenscliff on New Year's Day 1804. It was here that the other two chose to return to Sorrento but Buckley refused to give up and made the momentous decision to press on alone.
Yvonne Grant (Vonnie) & Andrew Grant (Bro) – The big show will be rolling into Moonah Links on Saturday and at the reigns will be our old mate Vonnie, who loves jumping on any passing bandwagon if she sees it is bound for glory. Yoked up out in front will be her reliable work-horse and Bro in arms, Andrew, single-handedly dragging the carnival into town with his powerful driving, crisp iron play and wonky putting stroke. They carried all before them to nearly steal a win in the KGS at Cobram-Barooga this year and they might have gotten away with it were it not for the eternal vigilance and attention to detail of the Bushranger with the abacus who was hosting the event and double-checking all the scores.

The Point Lonsdale Cavemen – After parting ways with his companions, Buckley moved on to Pt. Lonsdale where he is thought to have sheltered in a cave for a short time. Buckley's Cave is still a popular destination for local history buffs and Bushrangers on the lamb.
Mark Cavill (Cavs) & Pete Jensen (Pyjamas) – The chances of this team prospering is highly debatable considering they have never met let alone played golf together. One is an SGA heavyweight with a formidable track record including past attempts at BRG Major Championships and the other is an itinerant golfer making his big tournament debut. Considering Pyjamas is severely under-golfed and rather jet-lagged of late from his globe-trotting, the team's chances may rest entirely on Cavs' ability to carry his partner for most of the 36 holes. The bookies already have them at very long odds before tee off and don't expect their price to shorten as punters look for value among the more fancied prospects. They certainly have the character, ticker, intellect, wits & humility to win here but may be lacking the necessary recent form to salute on the big stage.

The Coonewarre Revivors – It was near the banks of LakeCoonewarre, a short walk north of the 13th Beach Golf Links, that two local women found the weak and starving Buckley. They thought he was the 'white ghost' of Murrangurk and nursed him back to health.
Jason Pratt (JP) & Sal Amenta (Salada) – Rumour has it that these two certified, card-carrying, A-grade golf nuts have played 36 holes a day for the past month in preparation for this great event. JP has saddled up for various BRG events and Salada made his BRG debut at this event last year where they managed a very respectable top-5 finish. They can't get enough golf and were recently escorted off a golf course for setting up flood lights around the place, so they could keep on golfing after dark this weekend. A year ago, they came storming home with the 2nd best round on the final day after a shabby opening on Saturday. If they can curb their enthusiasm a little on Friday evening, they might be right in the mix on Sunday afternoon when the real business starts.

The Bream Creek Freaks – Buckley cruised past 13th Beach and crossed Bream Creek the next day. Later he returned and it was here he built a substantial hut and lived for many years on the abundant supplies of food, including the fish he trapped in the creek.
Joe Amenta (Joey) & Charlie Amenta (Charly) – It is the first start for this pair in a field of this quality, but they come in here with a reputation as big-game players with a thirst for the spotlight. A very easy-going combo, they know how to handle themselves at the between-round festivities and will make a strong impression around the WBC campfire. Although relative unknowns here, their connections are hugely confident that they will comfortably see out the journey. If that mail is correct, then this pair is as close to a sure thing as ever there was. They are not just the Best Bet - go and pick out the bookie you most want to take to the cleaners, take whatever odds are on offer and then just sit back & relax & wait for the riches to start rolling in. A lay-down misere – bet the farm!

The Aireys Inlet Slicers – As his situation became more wretched as he trekked alone, Buckley found clear water at Aireys Inlet and much needed food. He built his first dwelling near here, a primitive hut of which Maslow would have been proud.
Shane Russell (Rusty) & Jamie Phillips (JP) – Certainly among the favourites here this weekend, this big-hitting, beer-swilling, knee-slapping, gut-wrenching, rib-tickling, side-splitting pairing with a devil-may-care attitude believe they can carry all before them. One is as unflappable and relaxed as they come and the other is a party animal who will need all his powers of persuasion firing to keep his partner bubbling along through the après-golf festivities. They been working up to this one for months in an effort to make history by cracking a win in their BRG Major Championship debut. They seem to have the pedigree and the experience necessary so if they find some form, they will be in the thick of the action

The Torquay Hookers – Buckley camped on the banks of Spring Creek at Torquay during his solitary march through the district in 1804. It was here he picked up the spear from the grave of Murrangurk that later would be his saviour.
Jack Francis (Frank) & Tate Baillie (Bails) – First start for this combination in a field of this quality and there are huge question marks over whether they will handle the step up in class. Can they handle the long days toiling on the golf course and the even longer nights around the campfire singing songs, spinning yarns, making merry, telling gags and goofing off? Getting involved in general, common or garden-style Bushranger shenanigans can take their toll on even the most battle-weary competitor. They will back themselves and come out swinging early on, but expect them to find them gasping for air by Sunday arvo and requiring some serious medical attention after having been completely overwhelmed by the intoxicating adventure of the William Buckley Classic!