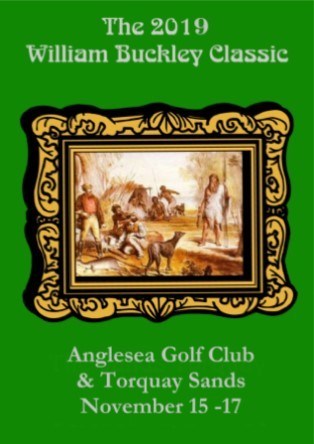 Greetings all and welcome to the 2019 William Buckley Classic
Bellarine Peninsula, November 15, 16 & 17
We have a booking at 8pm Friday at Hanners Restaurant at Peppers Resort.
An event briefing will be held after dinner on Friday evening.
Golf on Saturday is at Anglesea GC and commences from 12:48pm
The Sunday rounds commence from 9:00am at The Sands Torquay.
Longest Drive and Nearest the Pin will be contested each day.

The organisers of The WBC would like to take this opportunity to thank:
Sally Pitt, without whom there would be no Bushranger Golf.
Roger Brown for the magnificent Murrangurk Perpetual Trophy;
Frank & all the team at Peppers Resort & Sands Torquay;

Steve and the team at The Anglesea Golf Club;

Dean Miller & Mick David from SGA for all their support;
Denise, Steve and all the team at Heathcote Winery;
All the Members of Bushranger Golf; past, present and future.
Giddy-up and enjoy!
The Golf
The Format: Teams playing 36 holes of 2-ball ambrose for stableford points.
The Rules: Since slow play is a potential problem for us, the rules are designed to encourage play in the right spirit and at the right pace. Teams play their chosen best ball on each shot and may place their ball half a club length (about 50cm) from where the chosen ball lies, no nearer the hole. Balls must be placed in the same cut as the chosen ball. In the interests of fast play from tee to green, teams are NOT required to mark with a tee and precisely measure from the chosen ball as they play each shot. Team members can play in any order on a shot. Please have fun, move quickly between shots and keep up with the group in front.
Putting: Once on the green, Bushrangers should mark near the chosen best ball so all team members play from near enough to the exact same position.
Handicapping: Each team will be assigned a handicap based on official Australian handicaps and information supplied by the Bushrangers. The handicapper will be governed by a commitment to rewarding good play according to a player's ability.
Playoffs: In the event of a tie, a sudden-death playoff will be held. Teams play together as a twosome (taking alternate strokes playing one ball). Teams can determine the order as each member takes their first shot. This order is then continuous and carries over from one hole to the next until the playoff is decided.
The Rodeo Rule: This is minimum drives for each team member and will be enforced. Each team's rodeo requirements will appear on their scorecard.

Who was William Buckley?
Born in Cheshire, England in 1780, William Buckley fought as one of the King's Own Regiment against Napoleon's forces in the Netherlands. He was convicted of receiving stolen cloth in 1802 and was sentenced to transportation to Australia for 14 years. He was among 300 prisoners sent out in 1803 to establish the first settlement on Victoria's Port Phillip near what is now Sorrento.
Buckley and two others escaped in December 1803 with the aim of getting to Sydney. Alas, they went the wrong way and circled Port Phillip Bay. Due to the harsh terrain and lack of food, Buckley's companions decided to return to the settlement and give themselves up. But not the determined Buckley. It was the last time any white man would see of him for 32 years.
A powerful man standing over 6'6", Buckley pressed on along the coast to Breamlea, Torquay, Anglesea, Aireys Inlet and beyond. His first permanent resting place was near Mount Defiance where he found an abundance of shellfish, edible vegetation and natural cover. In the winter, Buckley was close to death but was rescued by an Aboriginal tribe.
Fortunately for Buckley, the locals believed that white people were Aborigines who had come back from the dead. They named him Murrangurk and took him in as one of their own. For the next three decades, Buckley travelled extensively throughout the region, mostly around Geelong, Barwon Heads, and the Otway Ranges. On July 7 1835, Buckley wandered into a camp of John Batman's party and reacquainted himself with European society.
He was the first European to walk the bush on both sides of Port Phillip Bay, living off the land and on the run from the law. Given that our determined Bushrangers regularly ingratiate themselves with the locals on our trips and that this tournament is played on courses on both sides of the bay, we think it is fitting that this event is known as The William Buckley Classic.

The Form Guide
The Sullivan Bay Ginger Bread Men – Buckley and two other convicts escaped from the camp at Sullivan Bay near Sorrento on December 27, 1803. The others turned back after a few days, but Buckley pressed ahead and stayed on the run for the next 32 years.
Dave Warwick (Diesal) & Ian Crotty (Crocko) – These two veterans of Bushranger Golf and all-round nice guys team up here to make what will be one of the most jovial and courteous pairings ever to grace the fairways of the WBC. In a field of glittering golfing mega-stars, these two take the tone of the weekend to another level altogether. Although one is almost completely retired from competition, they both have winning form on their side and they are a lethal combination on the fairways despite their excruciatingly pleasant exteriors. These two cunning rogues will pick apart the golf courses with surgical precision and then ruthlessly grind their opponents into the turf of the Bellarine Peninsula and be laughing all the way to the presentation ceremony on Sunday afternoon. A huge chance.

The Corio Bay Fugitives – Buckley and his two fellow escapees reached the waterfront on Corio Bay at what is now Geelong a few days after escaping. He came to know this area very well over the next 32 years and formed a close friendship with a young Bobby Davis.
Dean Miller (Deano) & Pete Jensen (PJ) – This Jekyll and Hyde combo are capable of serving up anything worthy of Palmer and Nicklaus right through to something resembling Laurel and Hardy. It seems their golfing ability is not in question as they have the character, skill, nous and good humour to match it in this company and they can whale the pill all over the park. This hard-hitting combo is known to talk a big game and be able to back it up but a complete lack of experience at the highest level of BRG Championships may find them wanting. They will need the right conditions, humidity, cellar temperature, wind direction, green speeds, kidney pressure and blood alcohol levels to prevail here. A super-competitive pair could be right in the mix if everything goes their way.

The Barwon Heads Sir Robins – On his first day marching alone, Buckley happened upon a group of Wathaurong people camped peacefully by the Barwon river. Fearing for his life, he silently crossed the river at the heads and bravely ran away.
Gav Doran (The Rose) & Ian Steer (Steery) – The bottle shops of the Bellarine have been put on high-alert as these two BRG legends make their way south on Friday. Lovers of good times & good wines, they are already guaranteed to have a truckload of fun this weekend. The betting public, however, aren't sure what to make of them, which is a little odd as Steery is the most qualified bookie here. The Rose will be very keen to repeat the success he tasted with Hocks here in 2013 and he will be at his brilliant cheese-munching, platter-serving, wine-cork-popping, story-telling, goblet-filling, sonnet-composing, toast-delivering, rap-dancing best once again. He has played this event more than anyone and, in his record-shattering 14th appearance at the WBC, it would be a bona-fide fairy-tale performance if these two reprobates could pull another win out of the hat.

The Swan Island Hackers – Buckley and his two fellow escapees reached Swan Island at Queenscliff on New Year's Day 1804. It was here that the other two chose to return to Sorrento but Buckley refused to give up and made the momentous decision to press on alone.
David Parisi (Shafter) & Darren Nelson (Dazza) – This combo has a great deal to recommend their chances and must be regarded as one of the red-hot favourites here this week. Both are ferocious competitors who are driven to get the best out of themselves on the golf course, so they should put in a strong showing if they settle into a good rhythm early. They have never teamed up before, so they may have some challenges sorting out their strategy, but as two of the low-markers here, they will find some complimentary yin and yang in their games. With mountains of combined experience, they will be right in their element here. They are sure to see out the journey and will deliver great value to their backers.

The Bream Creek Freaks – Buckley cruised past 13th Beach and crossed Bream Creek the next day. Later he returned and it was here he built a substantial hut and lived for many years on the abundant supplies of food, including the fish he trapped in the creek.
Matthew Pitt (Pw Jones) & Pete Calverley (Cuddles) – This sophisticated combo appear to have the pedigree, skill, looks, style, class, ticker, confidence, experience, power, touch, nous, perspicacity, wardrobe, humility, teamwork, all-around game, background, schooling, and contacts to perhaps have the potential to possibly do something not altogether unexpected here this week. Maybe. Are both very experienced and have jagged a few wins, but they are rumoured to have never partnered on a team which may or may not work in their favour within a predetermined set of parameters and expectations. Despite this conflict of paradigms within the team, they have more raw intelligence, movie-star good looks and equanimity then the rest of the field combined. A huge contender.

The Torquay Hookers – Buckley camped on the banks of Spring Creek at Torquay during his solitary march through the district in 1804. It was here that he picked up the spear from the grave of the warrior Murrangurk that later would be his saviour.
Dean Connell (Honeymoon) & Kirk Hayward (Wayward) – This pair come with complimentary ear plugs for their playing partners as they never shut up. Renowned as two of the boldest masters of the heckle to ever grace a golf course, they may not be able to resist the temptation to start going at each other which may be their undoing here. But don't let the sledging fool you, on their day they have the weaponry to take out this event. Alas when they are off target, anybody within four fairways may well require protective equipment. One hasn't come close to winning the local pub chook raffle, the other has a BRG POY title under his wing and rebuilt the trophy so he will roll into Torquay this week with all sorts of confidence. They can certainly talk the talk, but can they walk the walk?

The Aireys Inlet Slicers – As his situation became more wretched as he trekked alone, Buckley found clear water at Aireys Inlet and much needed food. He built his first dwelling near here, a primitive hut of which Maslow would have been proud.
Joel Matthews (Montclaire) & Roger Templer (The Knight) – This pair of iconic golfing superstars are right in their element here and must be regarded as a massive chance here if they can briefly curb their inter-round activities and stay away from any large sheets of glass. Famous for their majestic, sartorial splendour and deluxe metrosexual refinement, they possess magnificent bloodlines. It may be that their heinous commitment to jocularity and a bi-partisan appreciation of the good times on offer at the BRG weekend festivals de ambrose means their competitive juices have all but flowed downstream by Sunday afternoon. If they don't burst a few valves on Sunday morning, then expect to see them come flying home at the finish. These big-game performers will deliver value to their backers.

The Mount Defiance Alliance – At Mount Defiance, just past Lorne, Buckley found a cave with fresh water and food nearby and made it his first permanent home, living there for several months through the autumn of 1804. As winter set in, he began to struggle and decided to make the long trek back to Sorrento.
Cam Thompson (Thommo) & Mark Dillon (Spillin') – One of the dark horses in the field this week, they come in with a reputation as big-game players with a thirst for the spotlight. One is an SGA Tour regular and the other is local to these parts and has an intimate knowledge not only of the golf courses, but of the best eateries, night spots, snack bars, ice cream parlours, convenience stores, shoe shiners, saddlers, gunsmiths, blacksmiths, sports psychologists, club repairers, golf coaches, swing doctors, driving ranges, surfing spots, fishing holes, playgrounds, bike paths, nude beaches and tourist attractions that the Surf Coast has to offer. This pair is as close to a sure thing as ever there was. Bet the farm.

The Coonewarre Revivors – It was near the banks of Lake Coonewarre, a short walk north of the 13th Beach Golf Links, that two local women found the weak and starving Buckley. They thought he was the 'white ghost' of Murrangurk and nursed him back to health.
Jason Pratt (JP) & Sal Amenta (As a mental) – This unlikely combo of golfing superstars may be the surprise packet of the WBC with their uncompromising good humour, insatiable appetite for destruction, unstable character flaws, dry wit and cavalier approach to good times on and off the golf course. One is a wily old stager and the other is a relative newcomer looking to make a big impression first-up. Can this veteran and rookie combo find the perfect balance of youthful enthusiasm and sage experience to prevail here this week? Perhaps not, but it will sure be a lot of fun watching their bandwagon come steaming round the home turn with wheel nuts loose, nostrils flaring, flanks sweating and eyes popping out their heads as they come crashing towards the finishing post.

The Indented Heads – It was at Indented Head in 1835 that Buckley, after 32 years in the wilderness, walked into the camp of John Batman's exploration party. Standing 6' 6", dressed in possum skins and carrying a spear, a driver, 5-iron, wedge and a putter, he made quite an impression.
Rob Darcangelo (R & D) & Andre Georgeio (The Giant) – This robust and uncompromising pairing come in here as a complete mystery to the bookies. A couple of new Bushrangers who have no idea of the demands that will be placed on them at this level of golf. They may well have the attributes required to vault into contention here, but history is against them. They are making their BRG Major Championship debut and most before them have struggled first-up with the huge step up in class. Will be backing themselves to get the job done and will be better for the run but will certainly struggle to go the distance here first up. A long shot here and really just making up the numbers in their maiden run.