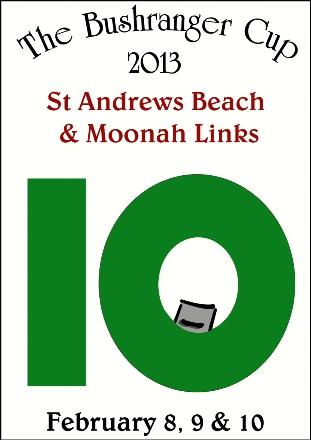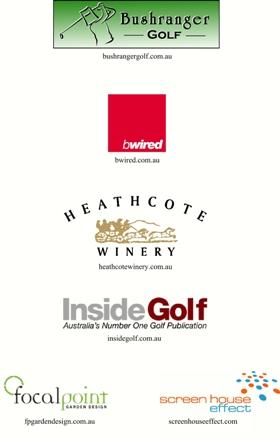 Greetings all and welcome to the 10th Annual Bushranger Cup!
The Round One solo 9 holes commence at 3:15pm on
Friday afternoon at The Dunes Golf Links.
A gourmet Champions BBQ Dinner will be held at
The Moonah links Golf Academy on Friday evening.
A team meeting will be held during dinner.
Breakfast options are to cook at home at
MLGA or to go to Moonah Links for tucker.
Round Two & Three 2-ball ambrose rounds will commence
at 11:00 am Saturday at St. Andrews Beach Golf Links.
Details of the pairings and tee times appear below.
The Round Four 18 holes of 4-ball ambrose will commence
at 9:10am Sunday at Moonah Links Legends Course.
The presentation ceremony will be at the Moonah
Links Golf Academy after golf on Sunday.

Giddy-up & Enjoy!

The organisers of The Bushranger Cup would like to take this opportunity to thank:
Sam, Campbell and the team at bwired online solutions for their partnership
and support with the Bushranger Golf website.
Denise, Steve, Bridget and all the team at Heathcote Winery for their support
of Bushranger Golf to produce the very popular Bushranger Shiraz.
Kai and all the team at Moonah Links for putting up with us.
Richard Fellner from Inside Golf for his help with this program and the promotion, publicity
and marketing of Bushranger Golf and the events operated by Social Golf Australia.
Padge and Debbie from Murray River Horse Trails for The Bushranger Cup, the bullets and the inspiration.
Roger Brown from Focal Point Garden Design for his meticulous efforts in preparing the Bushranger Cup trophies.
Steve Foxwell and Grant Jones from Screenhouse Effect printing for their
assistance with the Bushranger Cup stubby holders.
Sally Pitt of Pitt-Bull Media for being 37 weeks pregnant and not once complaining that I've just been to Thailand for a week and now I'm off having a blast with the Bushrangers. How's how lucky I am!

The Kelly Gang - The last and most infamous of all the Bushrangers, Ned's crusade to secede from the colony and start his own republic fell slightly short of the mark. An expert self-promoter, he always knew the importance of snappy dressing for a photo opportunity.
Matthew Pitt (Pw Jones) - An unstoppable freak who looks virtually unbeatable every time he fronts up here. He created this event and knows it inside out. A behemoth of the Cup who knows all too well that history is written by the victors. Expect a fifth title here this week.
Nick Honey (The Hominator) - This prince among men is the most humble of champions. Has won here four times and is attempting an unprecedented three-peat of Cups. He will always deflect praise to his team-mates and modestly protest when accolades come his way.
Jason Layton (Jay Lay) – This dry wit and ball-crunching monster of the fairways is making his Cup debut. Adopting a low-key approach and a minimalist demeanour, he is a quality unit and always enjoyable company for a round of golf. Adds a touch of class to this team.
Ivan Jones (Moondyne Jones) – Has travelled from Perth for the third year running to play in this event so is a certified golf nut. A former ASGCC National Champion, he can golf his ball and maintains a cheery disposition at all times. A real class act in a team of legends.

The Ben Hall Gang - Originally the Frank Gardiner Gang, it became the Gilbert Gang when Gardiner was captured in Queensland in 1861. Then it morphed into the Gilbert & Hall Gang and later, the Ben Hall Gang. Their revolving-door policy remains strong to this day.
Ian Crotty (Crock Diddy) – This fast-talking, wise-cracking, bal-smacking pants man and two-time champion is one of only five Bushrangers to have played all 10 Cups. Has ditched all of his shabby 2012 team-mates for a brand new combo this year. A huge chance.
Richard Mitchell (Saddam) – He weeps diamonds in rivers of oil. He yearns to return the greatest of all holy treasures to the Promised Land. The virgin bears are on the hot plates dancing and Saddam is excited and ready to entertain the troops. Saddam! Saddam! Saddam!!!
Mick Van Raay (Da King) – This legend of the Cup has taken a break from his international touring commitments to return to defend the title he so gloriously won in 2011. Adds a whole lot of booty-shakin, finger-lickin, razzle-dazzle with a side order of fun to this event.
Matthew Thomas (T-bag) – Comes in here fresh off his 4th win in the Cup's sister event, the Kelly Gang Shootout. Alas one mans shish-kebab pie is another man's half-baked alaska. Whereas he owns the KGS, he has not been able to parlay that into a Bushranger Cup victory.

The Aaron Sherritt Gang - Aaron Sherritt was Joe Byrne's great mate and a trusted lieutenant to the Kelly Gang. Folklore has marked him as a traitor, but he played a delicate game of espionage pretending to be a police informant. He came undone when the cops got wise and spread rumours he had betrayed the gang. In the end, he was murdered by Joe Byrne for his apparent, but unproven, treachery.
Dave Warwick (Diesal) – The nicest, toughest, leanest, hungriest, happiest golfer you will ever meet. A cracker of a bloke to have on your team, especially when you are a tad weary and would rather relax and let someone else to do all the work. The tougher it is, the better he gets.
Phil Peacock (Phillo) – If you look up random-golf-shot-generator in any encyclopaedia you will find picture of Phil. What he lacks in consistency he makes up for in team-mates, good humour and booze.
Tom Tomlin (Sergeant Steele) – This ranting, lunatic Englishman comes in here with guns blazing and mouth flailing as he tries to lead his team to certain defeat by scuppering their chances with parochial in-fighting and internal bickering. Should be quite a spectacle.
Dave Pollock (Jackson) – His golfing philosophy and strategy is inspired by the brilliant, rampant, innovative, expressive, colourful, multi-dimensional canvasses of his namesake. Alas, he hits a golf ball in much the same way that JP paints – chaotic, arbitrary and pointless.

The Stringybark Creek Freaks - At Stringybark Creek in the Wombat Ranges in October 1878, the brooding confrontation between the Kelly Gang and the police exploded into all-out war. Three police officers lost their lives and the Kelly outbreak had begun.

Michael David (Mikey Dee) – A Cup legend making his 10th start and looking to match his dazzling 2009 performance. A mountain of fun on and off the course, this entertainment machine rampages his way to a good time and takes everyone along for the ride. Is bulk ace.
Brett Simpson (Simmo) – Loves this event more than any man ever loved any thing. Ever. Gets so excited in the weeks and months leading in that he often requires sedation. Expect to see him exploding with joy for three days solid as he punts and laughs his way to heaven.
Greg Cousins (The Geesh) – Made his Cup debut last year and smothered himself in glory. His story is a gut-wrenching, tear-jerking, heart-rendering, gherkin-pumping, salami-belting, knee-slapping tale of love, treachery and glory that we don't have space to go into here.
Tim Holroyd (Holy Guacamole) – This god-fearing lover of guacamole can sometimes get confused when playing Devil's Avocado. If he does, place avocados in a large bowl with lime juice and mash until smooth. Add other ingredients to taste and mix well to combine.

Friends of Mad Dog Morgan - Mad Dog Morgan was an entirely unpleasant, undignified, bloodthirsty and unconscionable character who gave Bushrangers rather a bad reputation. On April 11th, 1865, he was shot dead near Wangaratta after which his head was cut off and tobacco pouches were made from his scrotum.
Warwick Stonehouse (Boo) – Another of the great champions who has gloriously strung 10 consecutive Cups together. Somehow gets a leave-pass every year from whichever asylum he calls home so he can entertain us with his antics. Can play golf but is not fit to self-medicate.
Martin Gray (The Martinator) – This laid-back partisan of the fairways is making his Cup debut and appears to have all the qualities of a future champion. A dry wit and an accommodating liver have been fine companions to him and will be put to good use again this week.
Richard Fellner (Quigley) – This accident-prone golf nut comes in here bursting with excitement once again. Loves this event and has a great time every year that he leaves with fewer bandages than when he arrived. Is playing his 9th consecutive Cup and would be playing his 10th if only he had been on the right side of the planet in March 2004.
Nick Sutherland (Nicko) – This big-hitting, free-wheeling magician of the fairways can hypnotise his opposition with a bag of tricks that is bigger than Santa's sack. If you see a bunch of Bushrangers flapping around like chickens you will know he has been up to no good.

The Harry Power Gang - Harry Power was the wily old lawbreaker who mentored the young Ned Kelly in the refined bush arts of horse stealing and bravely hiding from the law in the scrub.
Mark Henderson (Hendo) – Is known for his outstanding skill on the heckle and precocious self-deprecating banter. Would love to jag a win at the Cup but the cobwebs in his trophy case suggest he gets a little too distracted with having fun to perform at his best on the course.
Leo Ryan (Rhino) – This ticking time-bomb is a hilarious mishap waiting to happen. Whether it is walking backwards into a bunker or hitting his ball in the wrong direction, he can be relied on as the source of good humour at some time over the weekend. Will surprise!
Paul Gray (Paulo) – This very easy-going unit oscillates between exceptionally ordinary golf at times and complete and utter brilliance on the course. Whichever way he swings, he does it all with a smile on his face and is a keen contributor to the fun of the Cup. A huge chance.
Wayne Ball (Ballo) – A low-key golf nut who steadily goes about his business of smashing balls down the guts and ramming Jim Beams down his gullet. He knows what he wants, how to get it, how much he wants and when he wants it. Golf, Beams, Fridge, a lot and now.

The Canvas Town Mob - A rare city-based mob of Bushrangers who operated in South Melbourne in the 1850s. They would knock off ships at port and then frivolously drink and gamble away their booty.
Gav Doran (The Rose) – Playing his seventh Cup this year, the Rose has become an institution at this event and similar Bushranger Golf peregrinations. Comes in here as the wily veteran leading a new combination of rogues and reprobates. Always gives a super account of himself and completes each day with a showing of The Rose of Doran.
Shane Morris (The Fridge) – Has a long association with the KGS but is only making his second appearance at a Bushranger Cup. He has become rather preoccupied in recent years with the golfing delights of Thailand, but still knows his way around these parts and can play.
Bob Spicer (The Spice Rack) – Making his Bushranger Cup debut and appears to be packing all the necessary assets to make a name for himself here – a handy golf game, free-flowing competitive juices, a great sense of fun and an iron-clad liver. Could make a big impact.
Joe Bugeja (The Smuggler) – Does as little work on his golf game as any mug here and prefers a leisurely approach to his tournament preparation. May be underestimating the rigours of the Cup by treating it as a training run for his upcoming golfing sojourn in Thailand. Does not claim to be the sharpest golfer in the field and will not disappoint.

The Captain Moonlite Gang - The devious Andrew George Scott, a man with three first names, became the infamous Captain Moonlite when he began robbing banks in the 1870s after throwing in a promising career as a preacher.
Paul White (Whitey) – This certified golf nut will travel to the ends of the earth to squeeze in a game. Has brought a band of vagabonds with him from the northern reaches of the State to attempt to heist the Bushranger Cup and return it to its spiritual home on the Murray.
Dennis Williams (Dizzy) – This likeable and easy-going gent brings a much needed touch of class to an otherwise shabby ensemble. Can crush the golf ball and could monster his team into contention if his dodgy radar is tuned in and gets the ball going in the right direction.
Shane Wilmore (Willy) – Knows how to golf his ball and keeps the sort of company that guarantees his pedigree as a Bushranger but has a major question mark hanging over his capacity to handle the après golf activities. May be overwhelmed by the occasion at his first Cup.
Jason Hartley (Knackers) – This pants man about town has a big reputation for stepping up to the plate and getting the job done when there is a sniff of romance in the air. Alas has an even bigger reputation for gagging under pressure on the golf course. May not last the trip.