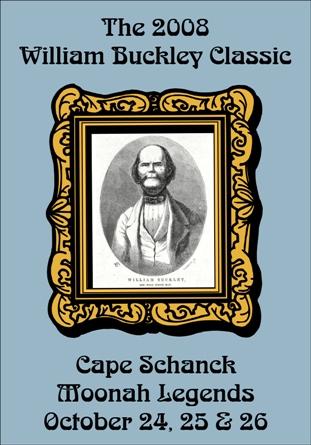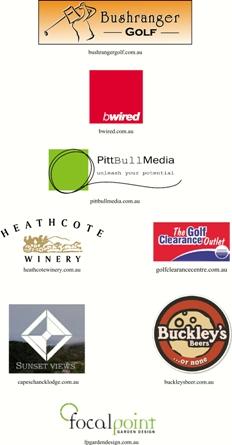 Greetings all and welcome to the 2008 William Buckley Classic
Cape Schanck & Moonah Links Legends Course – October 24, 25 & 26
Dinner will be served at Sunset Views at 7:30pm both evenings.
Friday is a Thai banquet in the dining room.
Saturday is a BBQ prepared by our hosts John & Glenys.
Breakfast will be served from 9:30am on Saturday
and from 7:30am on Sunday
The tee times are:
Saturday from 12:00 Midday at Cape Schanck
Sunday from 10:00am at Moonah Links Legends Course
Longest Drive and Nearest the Pin will be contested each day.

The organisers of The WBC would like to take this opportunity to thank:
Special thanks to Scott Wilson of Replicat for developing and hosting the first ever Bushranger Hold-Em-Up Poker Championship. Willo also provided the superbly crafted Poker Player Form Guide that appears below.
Roger Brown from Focal Point Garden Design for the magnificent Murrangurk Perpetual Trophy,
Denise, Steve, Bridget, Bec and all the team at Heathcote Winery for their support of Bushranger Golf in producing the very popular Bushranger Shiraz.
Sally Pitt from Pitt-Bull Media for creating this program & putting up with Dubs.
John & the team at our beer sponsor Buckley's Beers.
The team at The Golf Clearance Outlet for their ongoing support of Bushranger Golf.
Liam Anderson from Wild Duck Creek for his help with the trophies and printing,
YoYo and the Gang at Thai Rosy for dinner and
John and Glenys at Sunset Views Lodge for all their consideration and assistance.
All the team at bwired for their expertise and support in developing and maintaining the Bushranger Golf website.
Richard Fellner from Inside Travel & Inside Social Golf for his help with promotion, publicity and marketing of Bushranger Golf.
All the Members of Bushranger Golf; past, present and future.
Giddy-up and enjoy!

The Golf
The Format: Teams playing 36 holes of 2-ball ambrose for stableford points.
The Rules: Since slow play is a potential problem for us, the rules are designed to encourage play in the right spirit and at the right pace. Teams play their chosen best ball on each shot and may place their ball half a club length (about 50cm) from where the chosen ball lies, no nearer the hole. Balls must be placed in the same cut as the chosen ball. In the interests of fast play from tee to green, teams are NOT required to mark with a tee and precisely measure from the chosen ball as they play each shot. Team members can play in any order on a shot. Please have fun, move quickly between shots and keep up with the group in front.
Putting: Once on the green, Bushrangers should mark near the chosen best ball so all team members play from near enough to the exact same position.
Handicapping: Each team will be assigned a handicap based on official Australian handicaps and information supplied by the Bushrangers. The handicapper will be governed by a commitment to rewarding good play according to a player's ability.
Playoffs: In the event of a tie, a sudden-death playoff will be held. Teams play together as a twosome (taking alternate strokes playing one ball). Teams can determine the order as each member takes their first shot. This order is then continuous and carries over from one hole to the next until the playoff is decided.
The Rodeo Rule: This is minimum drives for each team member and will be enforced. Each team's rodeo requirements will appear on their scorecard.

Who was William Buckley?
Born in Cheshire, England in 1780, William Buckley fought as one of the King's Own Regiment against Napoleon's forces in the Netherlands. He was convicted of receiving stolen cloth in 1802 and was sentenced to transportation to Australia for 14 years. He was among 300 prisoners sent out in 1803 to establish the first settlement on Victoria's Port Phillip near what is now Sorrento.
Buckley and two others escaped in December 1803 with the aim of getting to Sydney. Alas, they went the wrong way and circled Port Phillip Bay. Due to the harsh terrain and lack of food, Buckley's companions decided to return to the settlement and give themselves up. But not the determined Buckley. It was the last time any white man would see of him for 32 years.
A powerful man standing over 6'6", Buckley pressed on along the coast to Breamlea, Torquay, Anglesea, Aireys Inlet and beyond. His first permanent resting place was near Mount Defiance where he found an abundance of shellfish, edible vegetation and natural cover. In the winter, Buckley was close to death but was rescued by an Aboriginal tribe.
Fortunately for Buckley, the locals believed that white people were Aborigines who had come back from the dead. They named him Murrangurk and took him in as one of their own. For the next three decades, Buckley travelled extensively throughout the region, mostly around Geelong, Barwon Heads, and the Otway Ranges. On July 7 1835, Buckley wandered into a camp of John Batman's party and reacquainted himself with European society.
He was the first European to walk the bush on both sides of Port Phillip Bay, living off the land and on the run from the law. Given that our determined Bushrangers regularly ingratiate themselves with the locals on our trips and that this tournament is played on courses on both sides of the bay, we think it is fitting that this event is known as The William Buckley Classic.

The Form Guide
The Murrangurk Masters – Early in his travels, William Buckley found a spear by a grave near Torquay. It belonged to the respected warrior Murrangurk. The locals believed Buckley to be Murrangurk returned from the dead as a giant white man. The two-player team format and the name of WBC perpetual trophy reflect the lives of these two men combining under one name and each year the reigning champions will play as The Murrangurk Masters.
Roger Brown (Arbeige) – The 2007 Champion, comes in here with chinos bulging, esky overflowing and cheeks hurting from laughing (or clenching) as much as ever. Drank, sang, danced, joked, smoked, stumbled, guzzled and laughed his way to the title last year and has no intention of doing anything differently as he saddles up for his defence. His greatest asset on the course is his ability to completely empty his mind when playing his shot. He may carry on like a pork chop all day, but in the 10 seconds between address and impact, his mind is a vault.
Golf Form: After a brilliant 2007 where he won his first Kelly Gang Shootout and first WBC, he started on fire in '08 by winning his second Bushranger Cup but has fallen away as the year wore on. Clearly knows his way to the post so must be respected but looks weary after a long season and should battle home midfield.
Poker Form: You'd give Arbeige absolutely no chance here except for one undeniable fact: there is a trophy at stake and this man knows how to win them. In fact, trophies fly from nowhere and attach themselves to Roger for no apparent reason. This tournament may be no different. His devastating combination of ruthlessness, fearlessness and cluelessness at the poker table means he is sure to figure late in a Bushranger event of any description.
Michael David (Mikey Dee) – Arguably crammed the most fun that any human ever has into 60 hours last year when he won this title at 13th Beach. Played 72 holes of remarkable golf, sang a hundred songs, told a thousand jokes, got a million laughs and drank about a billion cans. Has decided that to go back-to-back here, he has to do exactly what he did last year, but more.
Golf Form: This charming, enigmatic raconteur always delivers wonderful value to his backers and will not disappoint here. May struggle with his rhythm as he is rumoured to have been surgically conjoined to Arbeige especially for this event.
Poker Form: was a Crown dealer for many years, but retired just before the Texas Hold'em revolution. Still, this man's uncanny card sense, perfect reads and impeccable banter might well have you laughing all the way to the ATM. If he starts dealing blackjack half way through the game just kick back, smile and enjoy the ride.

The Indented Heads – It was at Indented Head in 1835 that Buckley, after 32 years in the wilderness, decided to return to European society when he walked into the camp of John Batman's exploration party. Standing 6' 6", dressed in possum skins and carrying a spear, a driver, 5-iron, wedge and putter, he made quite a first impression.
Michael Mileo (Seve) – Won the inaugural WBC in 2006 with a breathtaking performance, lighting up the fairways of Moonah Links and Eagle Ridge with the sort of style and flair not often seen on the Shabby.Com Tour. Expect him to delight his fortunate playing partners with his subtle wit and easygoing demeanour that may have him effortlessly quoting anyone from Plato to the Marlboro Man. Come to where the flavour is. Come to Seve country.
Golf Form: So, so, so smooth. Went very close to going back-to-back last year and definitely wants his title back. A massive chance here.
Poker Form: I've studied Seve's form at the poker table for many a year now and have come to the conclusion that this man is completely unreadable. Moves from tight-aggressive to loose-weak to rock to freaking homicidal at will, and often all in the same hand. Unbeatable if the cards fall his way.
Mick Van Raay (Da King) – A former Duzzo Champion, this big man has massive form at the WBC with a win in 2006 and a second place last year by a solitary shot. Has been going through somewhat of a pants crisis this week as his preparations have been interrupted by a series of massive woodies as he has struggled to contain his excitement leading into this event.
Golf Form: If you can still spot a bulge in his dacks from two fairways over as he makes the turn for home on Sunday arvo, call your bookie as he will be absolutely unstoppable and will certainly blow this field apart.
Poker Form: If the naked aggression we saw on a volleyball court many years ago ever makes its way onto the poker table, this guy will win the whole shebang. Did bluff once in 2003, but didn't enjoy it and has never tried it again. Never call this man on the river.

The Barwon Heads Sir Robins – On his first day marching alone, Buckley happened upon a group of Wathaurong people camped peacefully by the Barwon river. Fearing for his life, he silently crossed the river at the heads and bravely ran away.
Richard Fellner (Quigley) – After winning the inaugural Kelly Gang Shootout in fine style, this stylish swinger has been on steady downhill spiral. A former golfing prodigy, he jagged second in the first WBC in 2006 but fell away badly last year. Is rapidly getting a reputation as the guy who brings his coffee machine to golf weekends and sells lattes in the mornings at wildly inflated prices to recoup his gambling losses from the night before.
Golf Form: Has no winning form this year to recommend his chances, but is sitting sixth in the BRG Player of the Year as he keeps getting in contention and not quite saluting. Is definitely a chance if things go his way.
Poker Form: Quigley's first job was as a dealer in a casino, either on an Indian reservation or a Mississippi steamboat – we're not sure which. Like all dealers, he has watched the game patiently for many a year, learning it's intricacies, spotting tells and weakness, taking tips and shagging the bar girls. Never bluffs, but expect him to call yours. A huge chance if he chips up early.
Scott Wilson (Willo - aka 007) – Has picked up his new moniker as he hangs around with Q and fancies himself as a dapper gent who has the measure of any super villain at any poker table in any casino the world over. Has made a career of coming second in golf events and is way, way, WAY overdue. Either that or he is destined to rack up more 2nd places than Greg Norman and Tom Weiskopf put together. After years of treating Bushranger Golf events as a life support system for social poker games, he has turned the poker world on its head by creating the BRG Hold-Em-Up Poker Championship that will be played for the first time this week.
Golf Form: With his focus on poker (again), his golf will suffer (again). Only back him if your bookie is a very close mate who can't make his margin calls this month and you in the mood to make a donation.
Poker Form: 2005 Victorian Pot Limit No Limit Texas Hold'em Champion. 2010 WSOP main event champion. Regular player at state and national titles for the past 4 years. Seems to have a problem with the words 'check' and 'fold' though, and a BOUNTY on his head here may not suit his manic crazy-arsed bluffing nature. I'd call him all the way to the river every time if I were you. Easy money.

The Corio Bay Fugitives – Buckley and his two fellow escapees reached the waterfront on Corio Bay at what is now Geelong a few days after escaping. He came to know this area very well over the next 32 years.
Liam Anderson (The Duck) – As far and away the best golfer ever to saddle up in a BRG event, is completely out of his depth in a field of this quality. Attended the AIS as a junior and has had a sparkling amateur career that includes multiple course records, club championships and international tours. Typical of all the golfers from Heathcote here this week, is an absolute gun as he proved earlier this year while shooting a 63 to clinch the Bendigo District Championship.
Golf Form: Stumbled into fourth place at his BRG debut in the Bushranger Cup on his home course earlier this year so is clearly intimidated by the sheer virility and athleticism of his opponents on the Shabby.Com Tour. Will not be short on platitudes when chatting golf theory between rounds but when the heat comes on will probably struggle with the distance and class here this week.
Poker Form: Plays poker off +3, golf off +6, chicks off +8 and wine off +10. Possibly the finest incoming credentials of any new Bushranger in the history of Bushranging. If his poker form is anywhere near his other form, the handicap committee will be asking Mr Anderson to play with one hole card, a starting bank of 100 and a blood alcohol level of 0.3. Has been sharpening his form with a bit of online play of late so expect him to figure on the final table.
Ian Crotty (Crocko) – Is over the moon about playing as the Stupie for the first time ever in a two-ball ambrose team. This two-time single figure player with the glittering amateur career has had to labour for years as the senior ambrose partner forced to carry such golfing luminaries as the Super Chicken, the Super Bastros and even the Super Dubs over a variety of courses in events all across Victoria.
Golf Form: Years of back-breaking shoulder rides for his playing partners have taken a toll on this lean mean golfing machine. Has blown a vertebrae coming in here and is unlikely to trouble the engraver wearing a neck-brace. May also get in strife for improving his lie by taking a walking frame on the course. No hope.
Poker Form: Sparked an international furore by actually winning at online poker. The FBI, CIA, KGB and CWA have been scrutinizing every hand he plays recently suspecting that he knows everyone's hole cards. He does, but not in a cheating kind of way. Would have won several major WSOP events by now except for the unfortunate fact that this man has absolutely no luck whatsoever and never will. When Crotman raises all-in with bullets late in the game, call with your 2-7 off and giggle like a school girl when your straight beats his trip aces.

The Point Lonsdale Cavemen – After parting ways with his companions, Buckley moved on to Pt. Lonsdale where he is thought to have sheltered in a cave for a short time. Buckley's Cave is still a popular destination for local history buffs and Bushrangers on the lamb.
Andrew Stolz (Stolzy) – A recent convert to Bushranging, this erudite outlaw is making his first start in a field this shabby. Came off the reserve list at the KGS in July and then was a late scratching, so clearly has problems getting in the barriers. Has quickly made a name for himself as a good-humoured golfing companion and a delightful character to share a round of golf with. Prides himself on shooting a solid 30 stableford points so may not deliver too much value to his team-mate here.
Golf Form: Is expected to save most of his best work for the action on the gaming tables. A lot to like about him but really just making up the numbers here.
Poker Form: The only Bushranger ever to have been a full time professional poker player. Is good mates with Tony Bloom (pro UK poker player) and it appears Mr Bloom has taught him a thing or two. Expect him to finish with a large pile of chips and quite possibly the trophy. Unless of course the lure of his BOUNTY entices some maniac to take him on. Beware though. Andy is also really, really, really…..really good at catching river cards.
John Lazzara (Funky J) – This dashing stallion won the Bushranger Cup first up and is one of the few starters in this field who can make a profoundly amateur golf swing a thing of divine elegance and dapper sophistication. Don't let his appearance of class deceive you though, he is as erratic as the day is long. Is just as likely to spray shots everywhere as he is to spin some magic. Came swooping last year with a blistering back nine and nearly pinched the title, coming up short by a single stroke.
Golf Form: If he gets a good first round under his belt, is a massive threat to add this title to his trophy cabinet.
Poker Form: An absolute gentleman at the poker table, expect Funky J to arrive in a ten gallon hat, an expensive beige suit, polished shoes, holding a cigar and a healthy money clip. He haunts the hallowed halls of Vegas with a knowing look, a friendly Texas drawl and a couple of WSOP titles under his belt for games nobody plays any more like 5-card stud and draw. Expect Funky to be there at the finish, nursing his precious stack while the less reserved among us go on our all-in frenzy.

The Torquay Hookers – Buckley camped on the banks of Spring Creek at Torquay during his solitary march through the district in 1804. It was here he picked up the spear from the grave of Murrangurk that later would be his saviour.
Warwick Stonehouse (Boo) – The runaway leader in the BRG POY early in the year, this outrageous showman is now looking to make up ground after watching his rivals rack up points at the Kelly Gang Shootout at Tocumwal in July. Known for his precocious ability to summon good times for all seemingly out of thin air, this chameleon somehow manages to appear to create the illusion of potentially being all things to all men, everywhere at once, all of the time.
Golf Form: Never, ever rule him out. A huge competitor with the ability to summon what is required on the golf course when it matters most. Always a contender.
Poker Form: This man's quiet religious nature actually kept him from the poker table for many years. Seems to have converted to the devil's game in recent months though, and has gone from praying for our souls to praying Willo doesn't hit his fucking gut-shot straight on the river (again). Undeniably competitive and a medal chance here if his luck holds.
Steve Noa (Zark or Nugget) – As enjoyable a companion as any man here this week – a complete delight to share a round of golf with, a meal, a game of cards or a beer in the clubhouse. This globe-trotter is a man of the world and a man of the people who takes great delight in sampling the simple pleasures that life has to offer. Unfortunately, he has somehow completely forgotten how to play golf and can no longer be relied upon to even hold the correct end of the stick, let alone aim in the right direction.
Golf Form: Flying in from international duties on the Asian tour to make his tee time here. If you see him running to the first tee, still tucking in his shirt, out of breath, shoelaces undone and tees and balls falling out of his pockets, you will know he has had a less than ideal preparation.
Poker Form: The consummate poker professional. Has spent years gambling on everything from cards to futures to U-11 football matches and never for less than $10k. Heard to be murdering the tables in Shanghai at the time of writing, but flying in especially for the inaugural Hold-Em-Up event. A huge chance here unless the jet-lag turns his brain to mush as the tournament enters its third hour.

The Aireys Inlet Slicers – As his situation became more wretched as he trekked alone, Buckley found clear water at Aireys Inlet and much needed food. He built his first dwelling near here, a primitive hut of which Maslow would have been proud.
Ian Pritchard (The Baker) – A regular at the Bushranger Cup and the WBC, he
enters this event with great form under his belt and always looks the goods in the mounting yard. Has played plenty of golf over the journey and has a competitive nature that thrives on winkling best from himself and delivering when it matters most in sport, life and business. Alas, he has not yet conjured any magic on the Bushranger Tour. His handicap has dropped a few shots in the past year and he is playing plenty of golf, so must be given consideration.
Golf Form: A dark horse in this field. He has no big wins on his resume as yet, but boasts the pedigree and ticker of a champion. Don't be surprised if he is thereabouts a the finish.
Poker Form: A regular feature and regular winner at Joe Hachem's home game, he once bluffed Shane Warne out of a $100,000 pot holding nothing more than a bridge score card and a drink coaster. Still, who hasn't. Sure to figure late on the final table here.
Paul Lambe (Lambo) – This knowledgeable purveyor of grape juice is the proud owner of a world-class liver and will look to put his talents to good use again this week. Can also golf his ball a bit as he proved at Eynesbury this past June when he brushed the cobwebs off his clubs and proceeded to spreadeagle the biggest field in BRG Handicap Day history by racking up 41 stableford points. Is rumoured to have not touched a club since so as not to flirt with his form.
Golf Form: Always comes up well after a spell and won well at his last start playing this format. If the finishing post is anywhere near the bar, is a certainty to take home the chocolates.
Poker Form: Don't even bother trying to follow this guy's bets at the poker table. There's evil genius behind it. The only time it all makes sense is when he turns over his hand on the river and you realise he not only had the nuts all along, he got you to call with K high, do his garden for a month and hand over your car keys. The time to call him was one hand earlier when you were sure he had the nuts but he was bluffing all along.

The Coonewarre Revivors – It was near the banks of Lake Coonewarre, a short walk north of the 13th Beach Golf Links, that two local women found the weak and starving Buckley. They thought he was the 'white ghost' of Murrangurk and nursed him back to health.
Neil Hocking (Plonk) – One of the true gentlemen of the field teeing it up this week and arguably completely out of place to be seen consorting with the shabby repertoire of humanity the rest of us represent. This paradigm of erudition takes great delight in strolling the fairways in good company, sharing a few worldly and humorous anecdotes, before repairing to the lounge with a brandy before for supper. Can't really golf his ball at all, but is far too perspicacious to let a detail like that interfere with his leisure.
Golf Form: A WBC regular, he swooped into third in the first year but has shown very little to recommend his chances since. Consider for trifectas.
Poker Form: Took Phil Gordon, Daniel Negreanu and Phil Helmuth to the cleaners in a cash game a couple of years ago and was on the verge of becoming Australia's greatest ever poker player. Then some upstart called Joe Hachem won the much coveted first Australian WSOP main event title and Hock lost interest. We hear a whisper that the old form never left him and that he's planning a late charge at the prestigious Hold-Em-Up event. Be very, very wary of this guy if he stays in the pot.
Gav Doran (The Rose) – The Rose of Doran makes a wonderful contribution to every golf event, but outdid himself at the Bushranger Cup this year with one of the funniest performances ever conjured. On day one, with a gallery of stars and past champions in attendance, he produced an air swing on his first shot. Then another. After settling down he managed to produce a third. After composing himself he flourished without satisfaction for a fourth time. And a fifth. After the sixth, poor Arbeige had wet his pants. Having come this far, Gavvy supplied one more for good measure. Nothing killed with seven blows. By all reports # 8 was a gem.
Golf Form: Can struggle at strokeplay but loves the freedom of stableford to scratch the odd hole. A bit of a roughie but will go down swinging.
Poker Form: a past master at Manilla, Gav has been lurking around the Bushrangers Texas Hold'em poker evenings for many years, acquiring an encyclopaedic knowledge of everyone's playing styles and tells, while insisting that he doesn't understand the game. He's just been waiting for the stakes to go up. Each-way bet here for the title.

The Mount Defiance Alliance – At Mount Defiance just past Lorne, Buckley found a cave with fresh water and food nearby and made it his first permanent home, living there for several months through the autumn of 1804. As winter set in, he began to struggle and decided to make the long trek back to Sorrento.
Matthew Thomas (Thommo) – This quietly spoken dynamo has one of the fastest swing speeds in the field her this week. Learned the game at a young age and crafted a superb set of swing mechanics before giving the caper away in his teens. Has returned to the game in the last year or so and is rebuilding towards his former glory. Has a massive swing although can struggle with the flat stick at the business when it is time to get the pill in the cup.
Golf Form: Turned the golfing world on its head with a win at the Kelly Gang Shootout this year and backed it up with a tie for first at the Handicap Day in August. A very serious contender at this event.
Poker Form: Recently beat Phil Ivey in a private heads-up game for over $1,000,000 but refuses all knowledge of the night and will probably stare at you blankly when you ask him about it. Don't believe it. He's bluffing. Definite chance here and if he chips up early you can expect him to continue cutting a swathe through the field on his merry way to the title.
David Regenspurger (The Hamburglar) – Fronted for his first Bushranger event in February this year at St. Andrews Beach and had a hoot of a time. A very consistent performer, he is also King of the Leave-Pass (or very close to divorce) as he has managed to front for every BRG event on the 2008 calendar. In July, he put it all together tying for first in the Handicap Day and then winning the Kelly Gang Shootout in Tocumwal. These two results catapulted him into the lead in the BRG POY and earned him his moniker. Will be very keen to add to his trophy cabinet here or at the very least advance his cause in the race for the POY title.
Golf Form: Has had a great year but his form has tailed off dramatically in the past few months as business interests have eaten into his golf time and is probably past his best.
Poker Form: A regular fixture at several Bushranger poker evenings to date and a quiet accumulator of chips and cash. Never hurried and coolly unemotional, this man will lie like a wading crocodile ready to launch himself at some poor unsuspecting fool attempting a drink at the river. A definite chance at glory here.

The Sullivan Bay Ginger Bread Men – Buckley and two other convicts escaped from the camp at Sullivan Bay near Sorrento on December 27, 1803. The others turned back after a few days but Buckley pressed ahead and stayed on the run for the next 32 years.
Geoff Harrison (Harro) – A recent convert to the Bushranger way of life, this experienced campaigner has the pedigree of an unscrupulous highwayman and a purveyor of beer so should fit right in. Never settles too long in one place and has racked up memberships at no less than five golf clubs in the last dozen years. His golfing idol is Peter Lonard – a sport-loving, barnsey-yelling, BBQ-frying, golf ball-whalloping, petrolhead-banging, beer-appreciating good-old Aussie bloke. Harro's list of achievements include a hole-in-one, various club championships, pennant victories and numerous runaway wins in ambrose comps. Clearly floats into a club, mops up all the prizes and skedaddles or is run out of town soon afterwards. Don't be surprised to see him celebrating on Sunday after another win.
Golf Form: If he putts anything like his hero, he may struggle on the slick greens of the Schanck & Moonah. Has very strong form on wet tracks, so must be treated with respect, if only for the ability of his powerful liver.
Poker Form: Little is known about this player. Has the perfect poker face, a mathematical mind and damn cool sunglasses so treat with respect.
Rod Lugton (Robbo) – Has to rate as one of the keenest in the field here, having been bitten hard by the golf bug after taking up the game this year. Has a minor problem with consistency but has shown that when paired with the right partner, he can barrel into contention, as was the case when he teamed with the great Pw Jones at the KGS this year and his team finished second and nearly pinched the title. Is just as capable of mustering glimpses of brilliant power hitting as well as long stretches of abject mediocrity.
Golf Form: Has no real chance here so expect to see the stewards all over him if he is anywhere near the podium at the finish. Will require a perfect Bradbury at the finish to have any hope.
Poker Form: A quiet assassin both on the golf course and the poker table. Has become a diligent student of the game ever since the first whispers of a Bushranger tournament were heard in the wind. Loves a tight, trapping, sneaky game and will be lurking quietly in the shadows when his pocket AA finally turns up. If this guy calls you, raises you or even looks at you funny, drop your cards in the muck and run from the room.

The Wild White Man Wildcards – These are some old-school Bushrangers who are not golfing this weekend, but who may or may not show up unannounced to make a splash on the tables between rounds.
Matthew Pitt (Pw Jones) – You can't bluff someone that has no idea what they are doing. Don't try here. His bottom pair is good and he has no idea why.
Richard Thurkle (Lt. Dicko aka The Super CHicken) – Loose nuts. Expect him to play every pot, drink every pot, smoke lots of pot and take a couple of screaming victims down to the felt, possibly in a headlock. Never a man to take a backward step, expect him to call, raise and re-re-re-reraise all the way to the river. Genetically coded never to fold a hand once he has some chips in the pot. Will bluff, but will also call your bluff. Tread carefully.
Nick Honey (The Hominator) – If the Hominator shows up, the trophy engravers will start carving the 'H' at around 9:30PM. An absolute lock to defy his namesake* and win the first ever WSOP Hold-Em-Up title.
*In 1949, at the Horseshoe casino in Vegas, Nick 'The Greek' Dandolos played heads up for five months straight against Johnny Moss and eventually lost between $2 and $4 million ($50 to $100 million in today's money) ending with the first immortal phrase of poker 'Mr Moss, I have to let you go now'. This game, played in a public arena, sparked enormous interest in poker and inspired the owner of the Horseshoe (Benny Binion) to eventually offer an invitation-only world title tournament. A select handful of the best poker players in the world (all Americans and 95% from Texas) competed, and this first WSOP was also won by Johnny Moss (who won it again in 1971 and 1974 and came second in 1972 and is generally regarded as the greatest and one of the highest winning poker players of all time). Nick D never won the WSOP and finished his career playing $5 poker games, coining the second immortal phrase of poker 'it's action isn't it?'. (All absolutely true.)
The modern Nick 'The Greek' Ho is at least a $49,000,000 better player than the original (also true), having decided early in his poker career that $5 cash games were just fine tyvm. Rumoured to be building a stake for the 2009 WSOP, we may or may not see an appearance here.