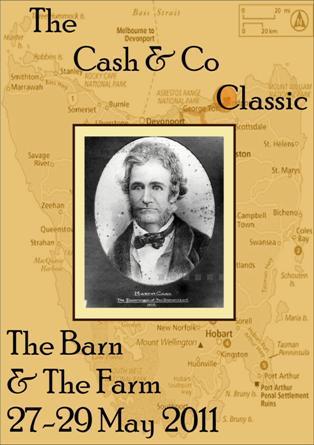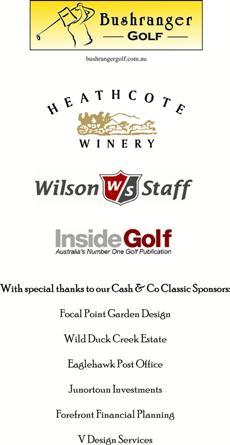 Greetings all and welcome to the 1st annual Cash & Co Classic!
The CCC is a golfing odyssey that honours three golfers for their daring, wits, fortitude, courage, endurance and skill. The CCC is structured with an individual format and we will have a pairs and a singles category to determine the three CCC Champions.
We play a different format each day (Stableford, Par & Stroke) and run an Order of Merit type points format. Each day, player's scores will be ranked from first to last and points will be allocated according to the player's rank. Players tied on the same score will receive the same points. The points for the three rounds are totalled and the player(s) with the greatest points will be declared the winners.
To establish the three winners, we will run a singles and a pairs division. For the pairs division, all players will be paired with a mate and the combined total of their points scored over three days will be their pairs result.

Special Rules for the CCC
The Irish Drop Rule - Barnbougle has a local rule that a ball lost in the deep rough can be regarded as lost in a hazard and the player takes a stroke penalty but not distance, so a ball can be dropped at the point of entry into the rough (as per a lateral water hazard).
The 10 Shot Mercy Rule - For the stroke round we will have a 10 shot mercy rule. This means 10 is the maximum score for any hole, so when a player has had nine shots and they have not holed out, they can pick up and record the score as 10.
The Farmer Mulligan Rule - The Lost Farm Course has 20 holes. We will play all 20 holes and at the end of the round, players eliminate their two worst holes and tally their score for their best 18 holes.

The Boobyalla Break - Barnbougle Dunes has four sets of tees and each of the tees is recommended for players of a particular handicap range. To maximise the fun and help the higher handicappers make the journey, players will have the option of choosing to play some or all of the holes off the Boobyalla tees. Note this is optional - players can take The Boobyalla Break or not at their own discretion and a player may choose to play all holes off The Forrester Tees.

The Golfers
Richard Fellner – Certified golf nut who has played The Farm before. A very solid punter on the poker tables but comes in here with some doubts on the power of his liver.
Warwick Stonehouse – Has just about burst his boiler in anticipation of this event. Can golf his ball and is handy at the après golf activities. Sure to do both well here.

Kevin Paton – First start in a BRG event but has the form to suggest he can probably out-golf, out-drink and out-punt everyone in the field here. Will fit right in.
Brian Davis – One of the finest gents teeing it up in the CCC, he will raise the whole tone of the proceedings here. Is in good form after a solid Club Championships in Heathcote so should give a good account on the links.

Roger Brown – Has been on a hair trigger for about three weeks leading in here. Is so excited he has spilt three pairs of chinos and has not slept a wink this week.
Pete Russell – Has been setting himself for this event for a long time. One of the few actual gentlemen here, which is fitting as Martin Cash was The Gentleman Bushranger.

Rob Lugton – Has set himself for this to complete his matching set of Bushranger Golf titles. Slipped right under a few radars in 2011, but will struggle to do that again here.
David Judge – Hails from a joint where they know a bit about links golf and has proven himself a robust golfer. Given his pedigree, should step up between rounds also.

Shane Morris – Used to play a lot of golf. Is now on the punt and the liquor, but has enough past golfing form to find his way around the dunes of The Barn. One to watch.
Mark Henderson – A top bloke in a field of top blokes. Can golf, punt and imbibe a bit too with high finishes in recent BRG Majors. May make his breakthrough win here.

Matthew Pitt – Arguably in the best form of any here with two recent career-best rounds and a last start win on the SGA Tour and at The Bushranger Cup. Not known for his humility, he likes his chances, so will probably implode.
Liam Anderson – Not a bad golfer, is rather handy on the punt and is rumoured to know a fair bit about the booze. Has played here before so should hold his own.

Ian Crotty – Played The Barn for the first time last year and was in such raptures he has hardly bothered playing any other golf courses since. Is underdone but will more than make up for it with enthusiasm, on and off the course.
Sebastian Shand – Not known as a massive gambler and his golf can run hot and cold, but makes up for that with utterly brilliant consistency at the bar. A real goer.

Matthew Thomas – Is as keen as anyone here and has been practicing all week. This may have backfired as it seems he has over-golfed himself. He may have to balance this by over-drinking on Friday to settle himself down.
Brendan Vanderwerf – The only one here to have played The Farm. Will have blokes buying him drinks and bending his ear all Friday night looking for a few tips.

Day One – 11:30am
Barnbougle Dunes
Stableford


Day Two – 10:00am
The Lost Farm
Par


Day Three – 9:00am
Barnbougle Dunes
Stroke

Richard Fellner
Warwick Stonehouse
Kevin Paton
Brian Davis


Kevin Paton
Mark Henderson
Rob Lugton
Brendan Vanderwerf


Brian Davis
Mark Henderson
Roger Brown
Ian Crotty

Roger Brown
Pete Russell
Rob Lugton
David Judge


Richard Fellner
Liam Anderson
David Judge
Ian Crotty


Warwick Stonehouse
Shane Morris
David Judge
Brendan Vanderwerf

Shane Morris
Mark Henderson
Matthew Pitt
Liam Anderson


Warwick Stonehouse
Matthew Pitt
Roger Brown
Sebastian Shand


Richard Fellner
Matthew Pitt
Rob Lugton
Matthew Thomas

Ian Crotty
Sebastian Shand
Matthew Thomas
Brendan Vanderwerf


Brian Davis
Shane Morris
Pete Russell
Matthew Thomas


Kevin Paton
Liam Anderson
Pete Russell
Sebastian Shand