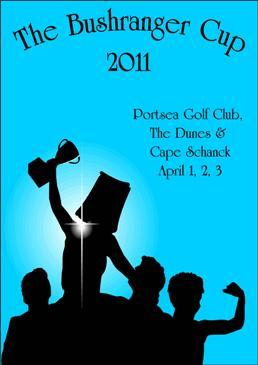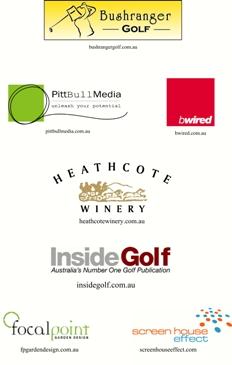 Greetings all and welcome to the 8th Annual Bushranger Cup!
The Round One solo 9 holes commence at 3:30pm on
Friday afternoon on the front 9 at The Portsea Golf Club.
A gourmet Champions Dinner will be held at
The Portsea Golf Club straight after golf on Friday evening.
A team meeting will be held during dinner.
Breakfast options are to cook at home in your apartment
or to go to The Cape Schanck Resort for tucker.
The Round Two & Three 2-ball ambrose rounds will
commence at 12:20 pm Saturday at The Dunes Golf Links.
Details of the pairings and tee times appear below.
A second Champions Dinner will be held at The Dunes
Golf Links straight after golf on Saturday evening.
The Round Four 18 holes of 4-ball ambrose will commence
at 10:00am Sunday at Cape Schanck Golf Course.
The presentation ceremony will be in the Conference
Room at Cape Schanck Resort after golf on Sunday.
Giddy-up & Enjoy!


The organisers of The Bushranger Cup would like to take this opportunity to thank:
Sam, Campbell and the team at bwired online solutions for their partnership
and support with the Bushranger Golf website.
Denise, Steve, Bridget, Bec and all the team at Heathcote Winery for their support
of Bushranger Golf to produce the very popular Bushranger Shiraz.
The team at Cape Schanck Resort for putting up with us.
Richard Fellner from Inside Golf for his help with promotion, publicity and marketing
Bushranger Golf and the events operated by Social Golf Australia.
Padge and Debbie from Murray River Horse Trails for The Bushranger Cup, the bullets and the inspiration.
Roger Brown from Focal Point Garden Design for his meticulous efforts in preparing the Bushranger Cup trophies.
Steve Foxwell and Grant Jones from Screenhouse Effect printing for their
assistance with the Bushranger Cup stubby holders.
Sally Pitt of Pitt-Bull Media. She knows why.


The Kelly Gang - The last and most infamous of all the Bushrangers, Ned's crusade to secede from the colony and start his own republic fell slightly short of the mark. An expert self-promoter, he always knew the importance of snappy dressing for a photo opportunity.
Ian Crotty (Crock Diddy) - After winning the 2005 Cup, had to endure half a decade of cobwebs accumulating in his trophy cabinet before his superb 2010 put an end to his losing streak. With brilliant victories in the Bushranger Cup and the Kelly Gang Shootout he dusted off a couple of his patented victory speeches and let his mouth do the talking. Always happy to discuss his team's chances of victory and will consider his gang a very good bet here this week.
Sebastian Shand (Bastros) - Beware the injured golfer. This rampant shot-making machine is one of a few coming in here under an injury cloud. Has clearly had a spell in a good paddock and seems fresh for this campaign. Is capable of anything and everything with a golf club in his craw – long screaming drives one minute and abject golfing depravity the next are both possible for him. This Jekyll & Hyde act could either be the beacon that leads his team to the Promised Land or the iceberg that sends them all to the deep.
Richard Fellner (Quigley) - Spends more of his time talking and thinking golf than anyone in the field here this week. Has achieved nearly all his golfing goals with victories in the Bushranger Cup, the Kelly Gang Shootout and the Bushranger Golf Player of the Year. Has the rather unfortunate knack of stumbling into injury problems on the eve of major championships and this year is no exception with a dodgy knee, hamstring, back, neck, grip, stance, swing plane & putting stroke.
Rob Lugton (Luggo) - Achieved the unthinkable in 2010 with a Grand Slam of victories in Bushranger Cup Major Championships by taking out the Bushranger Cup, the Kelly Gang Shootout, the William Buckley Classic and the Bushranger Golf Player of the Year. Will certainly draw the attention of the stewards if he continues to win every Major Championship he enters but has struggled to continue that form in 2011. Will be hard pressed to complete any round of this championship without some extreme heckling from opponents.
Form: This mob always looks a treat in the mounting yard and will fancy their chances of back-to-back Cups. History is against them and they seem more likely to contend for the Best Dressed Award here.


The Captain Moonlite Gang - The devious Andrew George Scott, a man with three first names, became the infamous Captain Moonlite when he began robbing banks in the 1870s after throwing in a promising career as a preacher.
Matthew Pitt (Pw Jones) - What is there left to say about this remarkable fellow that has not been said before? As the stories of his accomplishments pass from folklore into myth and back again, one is hard pressed to untangle the real truth from among the legend that surrounds this golfing enigma. He has captivated his legions of fans so many times with his brilliant feats of golf, he is regarded as the father of the modern game. Will certainly win here and his opponents will feel blessed to have been decimated by such a great, humble champion.
Nick Honey (The Hominator) - This spiritual guru and man of the people is famous for his low-key preparations for major Championships. While many of his opponents here this week have been over-preparing themselves on the driving range and getting confused with information overload from their mind coaches and swing doctors, this golfing god has completed all his practice on the fairway of the mind. Like the Dalai Lama, he is a big hitter. Like the Buddha, he knows that the wind cannot shake a mountain – neither praise nor blame can move the wise man. Tink about dat. If the wind gets up this week, expect his wisdom to prevail while others stumble.
Dace Warwick (Diesal) - Like Bjorn Borg, this great sporting champion and international star refused to be distracted by recent advances in equipment technology and was still seen wielding his persimmon driver as late as 2009. Last year he converted to some more contemporary golf bats and has taken his game to another level. He has now transformed from merely an ornament to the game into one of the great champions in the history of golf. Virtually unbeatable.
Mick Van Raay (Da King) - Da hippest cat at da Cup, this large fertile gentleman comes in here this week with a little less golf under his belt than in previous years having increased his parenting load and reduced all his other loads over summer. Of the eight chaps who have attended every Bushranger Cup, he is the only one not to have hoisted the trophy. Expect that to be put right this week as this worthy champion leads his hand-picked team to certain victory.
Form: The classiest team in the classiest field ever assembled at the classiest event in the world. This class act is all class and will clean up.


The Stringybark Creek Freaks - It was at Stringybark Creek in the Wombat Ranges in October 1878 that the brooding confrontation between the Kelly Gang and the police exploded into all-out war. Three police officers lost their lives and the Kelly outbreak lasted for the next 20 months.
Michael David (Mikey Dee) - The self-proclaimed Greatest Ambrose Player in the Universe is usually chock full of confidence and unshakable in his trust in his team, as was the case in 2009 when he lead the stunning Sunday heroics to reel in a six shot deficit and win the Cup. But this year the golfing world has been rocked by speculation that only days before the Cup Dee's team is still uncertain of its two-ball pairings. It seems an atmosphere of self-doubt is hanging over his team and it is up to this great leader to inspire his men to another remarkable come from behind effort.
Steve Foxwell (Foxy) - One of the few units in the field here this week that actually resembles a golfer. This easy-going big hitter has been bitten hard by the golf bug in the last few yeas and has fine-tuned his game at his weekly hit outs with team mate Arbeige. Was a key ingredient in the famous 2009 win and will offer great value to his team mates again this year.
Brett Simpson (Simmo) - Was devastated to miss his Cup defence last year with an unforeseen scheduling oversight. Played brilliantly in 2009, leading from the front on day one and then holding the team together on day two to keep them in contention for Sunday. Did just as well off the course leading a small syndicate to a lazy trifecta and may well be encouraged to suggest some good things for all the Cuppers to syndicate together to add some value to the weekend.
Roger Brown (Arbeige) - Has won this thing twice, although both times he was on the same team as the handicapper which has to call into question the integrity of those wins. Coincidentally has picked up a couple of William Buckley Classics and a matching pair of Kelly Gang Shootout titles, but other than that and a win last start in an SGA Tour event, has shown very little to recommend his chances here this week. Will pack his chinos nicely once again but will struggle with both the distance and the class and is making up the numbers here.
Form: This mob have the pedigree and past form to suggest they should be able to muscle their way into contention this week but look a little underdone to see out the journey in this field bursting with class.

The Moondyne Joe Gang - Joe Johns was convicted of stealing some bread, bacon, cheese and salt in Pentwyn Clydach and transported to Fremantle in 1853. He later settled in Moondyne and was done for stealing a horse. He escaped. Was caught. Escaped again. Caught. Escaped. Was put in an escape proof cell. And escaped again. A slippery customer, he became a folk hero in Western Australia.
Warwick Stonehouse (Boo) – This robust competitor won the first Cup in 2004 and could have had his second title last year but for a few indiscreet holes on the first day and the infamous Zark Bunker Blowout in front of an amused (at first) and then stunned gallery. Has all the tools to manufacture another win at this prestigious event and is at long odds to repeat last year's effort of snatching an unlikely second place from the jaws of victory.
Grant Jones (Jonesie) – Given the quality of the company he is know to keep, this easygoing bushman has the potential to be a Bushranger of the highest order. Picked up a credible third place in his debut Cup last year and has proven himself to be an able competitor with a versatile liver at his two appearances at the William Buckley Classic. Can golf his ball when he settles into a rhythm and will be very keen to upset some of the more fancied chances here this week.
Ivan Jones (Jonesie.2) – This much-travelled and most genial golfer is making his Cup debut, but must be respected as he has plenty form to suggest he is capable of playing his best golf when on Tour. Hails from Perth and swept all before him to win C Grade in the Australian Social Golf Club championships in 2009. As the only national champion in the field this week (golfing or otherwise), he is a big game performer and should easily adapt to the rigours of the Cup.
Adrian Rose (Moondyne Rose) – A newcomer to the Bushranger Cup with plenty to recommend his chances. Given his affinity with his namesake Moondyne Joe, he is certainly an unscrupulous rogue and a worthy Cup competitor. An experienced campaigner on the golf course, he maintains a reputation for good humour and spirits in all conditions. May be overwhelmed by the occasion at his first Cup but having travelled all the way from Perth to compete for this title, has sacrificed more than most to be here and must be given very serious consideration in the betting ring.
Form: No doubting the pedigree here. They have the weapons. The only question mark is form. If they all fire, they will certainly contend.



The Canvas Town Mob - A rare city-based mob of Bushrangers who operated in South Melbourne in the 1850s. They would knock off ships at port and then frivolously drink and gamble away their booty.
Gavan Doran (The Rose of Doran) - Has dramatically altered his pre-tournament routine in 2011 by choosing to include playing golf as a central plank of his preparation. In previous years he adopted a position of indifference towards any golf-related activities prior to the Cup, but since the Tour Championship at Kingston Heath last November, he has dedicated himself to finding his inner golfing mojo. His recent improvement is testament to his efforts and may be the foundation for a surprise win here. Definitely one to watch.
Neil Hocking (Hocks) - This unscrupulous rogue will stop at nothing to achieve his devious ambition. A regular on the SGA Tour and the 2009 Kelly Gang Shootout champion, he has engaged the services of a golf coach and regularly devotes time to practice sessions aimed at improving weaknesses in his game – even the boring bits like bunker play! Outrageous. Will clearly let nothing stand in the way of his base and scurrilous desires. Predictably attempts to disguise his true nature with a friendly and easygoing façade, but do not be fooled – this criminal mastermind is capable of anything and to be left alone.
Matthew Thomas (T-Bag) - A rather casual golfer who takes an easy-going approach to the game that is usually his undoing. Has collected the odd title of late with victories in the KGS, WBC, BRG Player of the Year and the VSGCC, but most of these can be attributed to good fortune and exceptional contributions by team mates. Probably has no designs on the title here this week and has set himself for some fun at the après golf activities with a few reds, a couple of yarns and crashing the odd helicopter inside the apartments.
Brendan Vanderwerf (BV) – First start in a field of this class for the man they call the backing vocalist. Has proven himself a bushranger of great character and dry wit on his starts in SGA Tour. Has been hand-picked as the final piece of the puzzle for this team of experienced bushrangers all looking for their first Bushranger Cup title. Loves the challenge of winkling his best on the golf course and the social aspects after golf, so will fit right in here and make the step up in class comfortably. May surprise a few in his first start at this level.
Form: Impossible to rate. Just as likely to bolt and win from wire-to-wire as they are to get stuck in the gates and not get off the first tee.


The Ben Hall Gang - Originally The Frank Gardiner Gang, it became known as The Gilbert Gang when Gardiner was captured in QLD in 1861. It then morphed into the Gilbert & Hall Gang and later again the Ben Hall Gang. Their revolving door policy remains strong to this day.
Sam Saltis (The Duck) – This relaxed competitor made his Cup debut in 2005 and has one of the best individual records at this event. Not a big hitter off the tee, nor with his irons, nor hybrids, nor fairway metals, it is his refined touch around the greens where he comes into his own. Comes in here somewhat under-golfed with very few starts since the 2010 Cup, but his record in Major Championships suggests he will find a way to get the job done. With a win in the 2006 Kelly Gang Shootout, he is sure to be in contention here.
Ross Mitchell (Rossco) – There is an old golfing adage that you dance with what you brung. Like so many here, this relaxed character can't lay any claims to being the best hitter of a golf ball, but he knows how to manage his game on any given day and rarely fails to deliver. Is making his fourth start at the Cup and is keen to improve on a couple of fourth place finishes and take the next step up onto the podium. If he finds his rhythm early, he can be very difficult to dislodge and is certain to give a good account.
Campbell Wilson (Cambo) – This fertile procreator is making his first Cup start since becoming a parent. However, sleepless nights and pongy nappies are least of his worries as he plays golf at a distinct disadvantage because he stands on the wrong side of the ball. A big hitter with an easygoing nature, it doesn't seem to phase him that he currently holds the title of the best Bushranger leftie never to win a Bushranger Cup. Has the ability to talk himself into and out of all sorts of trouble and will be backing himself to be in contention on Sunday.
Paul Johnston (Johnno) – Making his first appearance in the Bushranger Cup, he may have absolutely no idea of the demands this event places on the character, fortitude, skill, temperament and liver of the competitors. Like so many of the good men here, he is rumoured to be a passionate golf tragic, but very little else is known about this mysterious character except that he can't wait to get among the thick of the action this week.
Form: With multiple line-up changes from year to year, they have had an interrupted preparation and may struggle for consistency.

The Aaron Sherritt Gang - Aaron Sherritt was Joe Byrne's great mate and a trusted lieutenant to the Kelly Gang. Folklore has marked him as a traitor, but he played a delicate game of espionage pretending to be a police informant. He came undone when the cops got wise and spread rumours he had betrayed the gang. In the end, he was murdered by Joe Byrne for his apparent, but unproven, treachery.
Mark Henderson (Hendo) – It was Winston Wolf who said, "Just because you are a character, doesn't mean you have character!" Not many can claim to have both but this big-hitting raconteur has proved himself a competitor of great character on the SGA Tour since playing his first BRG event at the Kelly Gang Shootout in 2010. A ferocious heckler, he saves most of his best work for his team-mates and takes no prisoners in the heckling stakes. If a good-natured war of words breaks out in this team, expect to see Hendo as the last man standing!
Leo Ryan (Rhino) – Has acquitted himself well since debuting at the Kelly Gang Shootout last year and had a recent podium finish in an SGA Tour event, so has come into form at the right time. This unflappable character seems to attract the heckling attention of his team mate Hendo, but is not bothered by it and lets his clubs do the talking as he did in Cobram last year when he led his team to a storming finish on the final day to finish runners-up. Will deliver great value to his backers.
Paul Gray (Paulo) – This relaxed Pom is impervious to the taunts of Hendo and makes a point of enjoying his golf and smashing his pill to all corners of the park. A streaky player, he can tear a course apart when he finds his range. Had a win at the SGA Tour event at Portsea in February this year, which would suggest a liking for links golf, so may be in his element on the Peninsula this week. Is making his first start in a Bushranger Cup, so is an unknown quantity when it comes to going the distance. Don't be surprised if he is thereabouts at the finish.
Aaron Cooper (Frodo) – With starts in the 2010 Kelly Gang Shootout and the William Buckley Classic for top five finishes both times, this man from the land of the long white cloud has shown he has what it takes to contend in BRG Majors. Is renowned for his powerful liver and his enjoyment of refreshments before, during and after golf. Is rumoured to be in fine form coming in here and has shown he has the big game temperament required to contend at Major Championships.
Form: This mob must be considered a huge chance here this week. They have paid their dues with starts at the KGS and WBC and if they can conjure a swooping finish like the one in Cobram, they will contend.