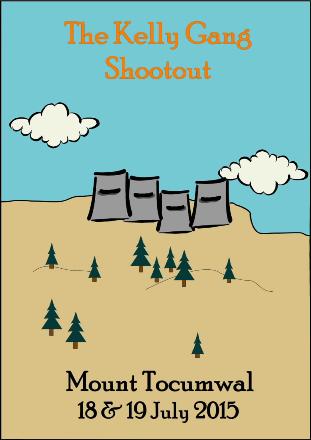 Greetings all and welcome to the 6th Annual Kelly Gang Shootout
Tocumwal 18 & 19 July 2015
A Champions Dinner will be held in the clubhouse bistro of the
Tocumwal Golf Club on Friday evening.
A team meeting will be held in our rooms at 10:30pm on Friday evening, after the stragglers have arrived.
The 2-ball ambrose rounds will commence at 11:00am Saturday. Details of the pairings and tee times will be announced at the team meeting.
The 4-ball ambrose round will commence at 9:00am Sunday. Details of the pairings and tee times will be announced on Saturday evening.

The organisers of The Kelly Gang Shootout would like to take this opportunity to thank:
Denise, Steve, Alex, Mandy and all the team at Heathcote Winery for their support of Bushranger Golf in producing the very popular Bushranger Shiraz.
All the team at bwired for their expertise and support in developing and maintaining the Bushranger Golf website.
Sally Pitt from Social Golf Australia. She knows why.
Richard Fellner from Inside Golf for his help with promotion, publicity and marketing of Bushranger Golf.
The team at Srixon/Cleveland, Golf Clearance Outlet & Good Food Gift Cards for their help with prizes.
Roger Brown from Focal Point Garden Design for creating the mighty Glenrowan Perpetual Trophy and for all his ongoing assistance with the annual champions trophies.
Kally and all the team at The Tocumwal Golf Club.
All the Members of Bushranger Golf; past, present and future.
Giddy-up and enjoy!

The Golf
The Format: Teams of four playing two-ball ambrose best-ball on Saturday and four-ball ambrose best-ball on Sunday.
The Rules: Since slow play is a potential problem for our gangs, these rules are designed to encourage play in the right spirit and at the right pace. Teams play their chosen best ball on each shot and may place their ball half a club length (about 50cms) from where the chosen ball lies, no nearer the hole. Balls must be placed in the same cut as the chosen ball. In the interests of fast play from tee to green, teams are NOT required to mark with a tee and precisely measure from the chosen ball as they play each shot. Team members can play in any order on a shot. Putting: Once on the green, Bushrangers should mark near the chosen best ball so each team member plays from near enough to the exact same position.
Handicapping: Each person will be assigned a handicap by the handicapper based on official handicaps and information supplied by the Bushrangers. The handicapper will be governed by a commitment to rewarding good play according to a player's ability. Team handicaps for the ambrose groupings are calculated from the individual marks.
Playoffs: In the event of a tie, a sudden-death playoff will be conducted. Teams play together as a foursome (taking alternate strokes playing one ball). The order is continuous and carries over from one hole to the next until the playoff is decided.
Nearest-the-Pin & Longest Drive: Will be contested on both days and, in the interests of team gloating and solidarity, any player who wins a LD or NTP wins prizes and glory for his entire team.
The Rodeo Rule: This is minimum drives for each team member and will be enforced. Each team's individual rodeo requirements will appear on their scorecard.

Additional Info
Rounds One & Two: 2-ball ambrose starting at 11:00am on Saturday starting on Captain's 10th Tee. Competitors need to be at the course at least half an hour before hit off. All players have golf carts on both days.
Round Three: 4-ball ambrose from 9:00am on Sunday starting on Captain's 1st Tee. Competitors need to be at the course by 8:30am.
The Presentation: After golf on Sunday, we will collate the scores and have the presentation as quickly as possible. The venue for the presentation will be back in the comfort of the motel.
The Package includes: Two continental breakfasts, a $40 clubhouse meal voucher per person that can be used throughout the weekend and a VIP Golf Package 5% Bar & Bistro discount card.
The History of The Kelly Gang Shootout at Glenrowan
The Kelly Gang arrived in Glenrowan on 27 June 1880 and took about 70 hostages at the Glenrowan Inn. They planned to derail a train of police coming for them and while they waited for the train, they kept the hostages entertained by breaking out the turps and firing up a party that was a rollicking good time. The party lasted for two days. Meanwhile the police avoided the derailment and laid siege to the pub.
The gang members, Ned Kelly, Dan Kelly, Steve Hart and Joe Byrne, donned their now-famous helmets and armour (weighing about 44 kg), and fought a gun battle with the police. Before dawn on Monday June 28, Ned Kelly left the rear of the inn in his armour and circled behind the police. As the dawn broke, Ned cast an eerie figure marching out of the morning fog in his armour and overcoat, firing his revolvers. Police bullets bounced off his armour and it was not until the police shot at his legs that he slowed. He eventually collapsed and was captured beside a large fallen gum tree. He was near death and not expected to survive.
The rest of the gang died in the pub, probably from gun shot wounds, although the police bravely made sure by torching the building and burning Anne Jones' pub to the ground. The police suffered only one minor injury: the senior officer, Superintendent Francis Hare, copped a scratch to his wrist, then fled the battle and was later suspended for his cowardice. Police bullets struck several of the hostages during the siege, at least two fatally. Ned lived and left on the train they tried to derail.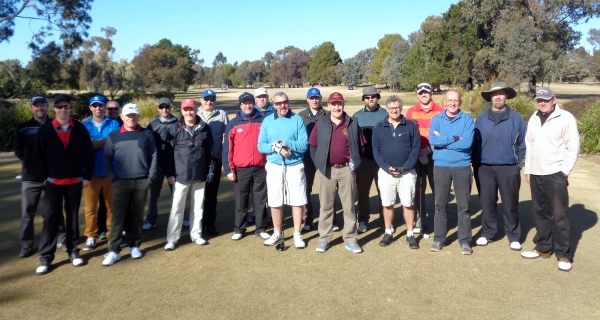 The Form Guide
The Glenrowan Hacks – Steve Hart, Joe Byrne and Dan Kelly all lost their lives at the siege in Glenrowan (June 26–28, 1880) that Ned had hoped would be the catalyst for a new republic. The myth of Ned grew as he somehow survived the ordeal having sustained enough gunshot wounds to bring down a horse. It was the first and last time they wore their iconic armour. In honour of this, the defending champions will play the KGS every year as The Glenrowan Hacks.
Mark Henderson (Hendo) – A brute of a man who can punish a ball on his day. He is on a huge winning streak of late having hoisted this trophy last year as well as the 2015 Bushranger Cup in March. It has been rather a surprise as he is as mentally stable as a bowl of jelly. The question lingers as to whether he leads from the front or was simply very good at choosing team-mates. Either way, the results are in the book and he is here again and will put up a solid, and loud, defence.
Tom Tomlin (Son) – This smooth operator is a class act, but don't let his cool demeanour and laid-back approach fool you – he means business whenever he sets foot on the course. With a wit drier than the Mojave Desert and wins in the 2014 Bushranger Cup and 2014 KGS, he possesses an all-around game and a mind like a vice. With a potent liver capable of absorbing huge punishment, he has it all. A champion.
Brian Davis (Springfield) – They used to call him The Postman because he always delivered the goods. In his BRG debut at this event in 2008 he stormed to victory and looked to be the Jordan Spieth of his time. Alas, he has become one of the great one-hit wonders of BRG and has never looked like another win since which has drawn the inevitable comparison with Rick Springfield. Will be only too happy to hum a few bars of 'Jessie's Girl' for all the music lovers who make the request.
Matthew Pitt (Pw Jones) – The founder, Godfather and benevolent dictator of Bushranger Golf has achieved everything there is in the BRG pantheon. Almost. If there was a BRG Hall of Fame he would certainly be one of the first nominations for induction - not least because he would be conducting the nominations himself. Notwithstanding his obvious greatness (and humility), the KGS has been his undoing and he has never really come close to winning here in a record nine attempts. Like Sam Snead and Phil Mickleson at the US Open, it may be his destiny to never take home a KGS title. Still thinks he can but can he?
Form: As far as BRG glory goes, this mob has tasted plenty, has a big appetite for success and is hungry for more - especially Hendo. Will be around when the whips are cracking on Sunday arvo. A huge chance.

The Beechworth Boys – Ned was gaoled as a teenager for receiving a stolen horse. In January 1873, he was transferred from Pentridge to Beechworth Prison where he spent the next year of his youth learning from hardened criminals how he might become an upstanding member of the community.
Gavan Doran (The Rose) – A BRG legend in his own right and absolutely loves this event having won it in grand style 2009 to notch up his first BRG Major Championship title. Will certainly poll votes in the post-golf party stakes due to his unwavering commitment to good times and ample capacity for appreciation of a fine Beaujolais. Some unscrupulous souls have ventured that The Rose is concerned that the golf can get in the way of the vino here but he would never let that happen and can comfortably combine the two to be enjoyed together.
Pete Russell (Rusty) – A cracker of a fella, this relaxed unit is a long-time BRG favourite and a stalwart of the KGS. Raises the tone of this whole affair with his erudite, well-spoken, eloquent, articulate, classy, stylish and charismatic conversation. Is one of those unfortunate souls that tends to make all his pals look and feel second-rate by comparison. Can also golf his ball a little when conditions are right and is a great team player so will be a valuable asset to his gang. Positively dreamy.
Ian Steer (The Punter) – This Machiavellian unit relies on his considerable wits, intelligence and devious cunning to navigate his way through any scenario. Like Humphrey B. Bear, he leads a very exciting life and is renowned for his broad and deep knowledge of the ancient Australian art of The Punt. Is rumoured to know more about good reds than most Collingwood supporters. Making his debut here and has the pedigree to suggest he can go deep into this weekend. One to watch.
David Tarlinton (The Sponge) – This layabout, good-for-nothing, no-hoper has a reputation for chasing ambulances and other such counter-productive activities that make no meaningful contribution to society or the greater good. Allegedly sponges his way through life, leaching the joy out of everything around him and never giving anything back. Not particularly worldly, he probably thinks 'a renaissance man' is someone good at making multiple trips to the Tocumwal Golf Club breakfast buffet. Expect very little of him and he won't disappoint.
Form: A virile, potent and masculine outfit that has the bloodlines, form, training, competitive drive and pharmaceutical access to take this event by the horns and give it a massive shake. A huge chance.

The Jerilderie Gents – The Kelly Gang popped by Jerilderie in 1879, held up the local bank, jagged a couple of thousand pounds, penned a feisty letter and wandered over to the Telegraph Office to chop down a few telegraph poles.
Darren Nelson (Dazzler) – A cracker of a fellow, the fun machine has forged a reputation as one of the best-liked gents going around on The SGA Tour in Victoria. Always up for a good time and with a passion to enjoy his day, he is an inspiration to all. But don't be fooled by his easy-going style as he loves giving all to his golf and tweaking the best from his game. He's having a super year and is leading all comers on the BRG Player of the Year having won the title in 2014. He also won at his last BRG Major Championship start in the CCC in May. Is the only bloke here with an entourage and, win or lose, will have a lot of fun. All class.
Rob Lugton (Luggo) – Has a rich form line in this event and is a Bushranger Golf legend having won just about everything on the roster of BRG Major Championships. In 2010 he won 'The Luggo Slam' with wins in The Bushranger Cup, the KGS, the WBC and the POY. Alas, the wins have become less frequent as his practice regime has diminished and rumour has it that he may not be as switched on as previous years. Has been the subject of rumours around recent back injuries, off-course distractions, chipping yips and a general lack of glute activation.
Adrian Smithwick (Smithers) – Very little is known about this international man of mystery. Is making his debut in a BRG Major Championship and is rumoured to have no clue as to the scale of the challenge that the KGS represents. A very likeable fellow, some people say that no one can resist him and even he has fallen victim to his own charms and he is not lacking in self belief. Clearly he has not had a long, hard look in the mirror at his golf game lately and will have no worries finding new friends here to help point out the deficiencies in his game.
Lee Dodge (Dodge Man) – This one-time rogue from South of the creek was once better known as one of the infamous 'Summer Brothers', a tart-cutting team of early 21-st century vagabonds with a collective identity crisis. Mitch Summer was well known for his outrageous spin moves and circle work on the dance floor and wore the toe out of more than one set of dancing boots. Has settled down a bit these days but may need to pull out a few vintage moves to contend here this week.
Form: They clearly have the kahunas, bravado, golfing insanity and liver power, so must be considered a huge threat. If they have not blown up on Saturday, expect a barnstorming finish to challenge on Sunday.

The Frosty Beveridges – Ned Kelly was born in Beveridge, at the foot of Fraser's Hill, 40 kms north of Melbourne. It was his first home town and is well known for being at its best when the temperatures are a little on the chilly side.
Shane Morris (The Fridge) – Has spent the last month dreaming of and planning for a return to the golfing wonderland that is Thailand and looks severely underdone as a result. Probably hardly touched a golf club in weeks and has lost the once silky touch that was a feature of his glistening short game. Is surrounded here by his Thai golfing fraternity brothers from the UFA, so will feel very much at home. Not only looks a bit like the Buddha, but can golf his ball nearly as well.
Mark Cullen (Horse) – If you crossed this ball-smashing champion of the central coast in a dark alley, you might mistake him for your Uncle Chop-Chop and find yourself backing away quicker than a vego at a butcher's BBQ. But don't be fooled by first appearances as he is softer on the inside than a toasted marshmallow at a marshmallow toasting convention. After a recent injury setback, he developed quite a knack for effective self-medication utilising amber painkilling fluids. Can seriously drink so think twice before taking him on in any bar game.
Bob Spicer (Bobby) – Another experienced Bushranger who also has some outstanding form at the SGA International in Thailand. This sterling specimen is one of the more consistent golfers getting around this weekend. An experienced campaigner, he always has a good time but has marvellous form for producing the goods on the big occasion. Has yet to open his Bushranger Golf Major Championship account but is knocking on the door with some recent podium finishes suggesting he is very close to his breakthrough win. A massive chance.
Joe Bugeja (Joey) – A big unit with an even bigger heart, if this rambunctious larrikin paid as much attention to his golf game as he does to pickling his liver, he could well be teeing it up at St Andrews this weekend in the Open instead of knocking it around with us. Only has to rise up 70 or 80 million places in the world rankings and he will be joining the PGA Tour. Alas, his commitment to good times and the sheer professionalism that he demonstrates in his hedonistic pursuits may mean he never quite reaches his full golfing potential.
Form: Impossible to draw a line through the form of this rag-tag gang of golfing megastars. They could just as easily rip this field apart or disappear into oblivion. If you see one of them ordering another tray of shots at 3am on Friday, perhaps leave them out of your box trifectas.

The Greta Mob – This group of 30 to 40 'flash' dressing youths from the small town of Greta who frequented dances and horse races, liked to show off their horsemanship, draw attention with red sashes and fashionable clothes, including their boots with 'larrikin heels' and wearing the chin-strap of their hats under their noses. Members of the Greta Mob became Kelly sympathisers and while the gang were in hiding would supply food, keep them informed of police movements and provide misinformation to the authorities to help the Kellys.
Joel Matthews (Matto) – A connoisseur of all things fashion, this doyen of the rag trade (and BRG Majors) will make everyone else on the golf course look shabby by comparison. Is rumoured to be mentoring an up-and-coming golf fashion entrepreneur, so may not have had time to hone his game as he would like. May be relying on his teammates to guide him to the promised land as he did so superbly in his last BRG Major start at the CCC in May this year when he took the bikkies in couture-smashing, trail-blazing, pant-swaggering, swash-buckling style.
Craig Spackman (Spacko) – Don't be fooled by his nickname because this classy gent is the low marker at the KGS this year. Given that the collective golfing skill of his three team mates is altogether depraved, he has got ring-in written all over him. Don't be too surprised if his pals don't even care much for his company - no doubt they will be hanging on his every word for the 4 hours on the golf course, but for the other 20 hours a day over the weekend he will probably be a rather lonely and pathetic figure. Take pity on him - he will appreciate that.
Tony Williamson (Willo) – Yet another Kiwi who has jumped over the ditch. Expect to see him buying everyone a Fosters, calling out 'g'day mate' to total strangers and playing his mixed tape of Khe Sahn, Tenterfield Saddler, Hey True Blue, Walzting Mailda, Land Down Under and I Still Call Australia Home. Can tend to get a bit hasty on his backswing so will need to keep his tempo in check to have a chance.
Roger Templer (Tempo) – Bringing up the rear in the team that is AKA as the ' The Montclair Champions', this rambunctious fellow is the reigning Mont Champ which means he needs to be taken far more seriously by his rivals than his personal hygiene suggests. Has a reputation as a smart cookie and is partial to a G&T so has more class than most of the rest of the field put together. Can golf and a big chance.
Form: A team largely made up of BRG unknowns and reprobates. With international form they cannot be written off here. At very short odds to pick up the 'Best Dressed' award if the golf doesn't work out for them.

The Benalla Burglars – As the major town closest to Ned Kelly's home, Benalla was the epicentre of Kelly's bushranging days and was the police headquarters for the Kelly Gang manhunt. As a lad, Ned famously gave three troopers a hiding one day in the main street.
Brett Nichols (Big Nick) – This big-hitting juggernaut made his BRG Championship debut at this event last year and covered himself in glory and a few other things too. Is the Jim Furyk of Bushranger Golf with his weirdo swing that seems perfectly normal to him but is crazy as hell to everyone watching. For OH&S compliance, BRG will issue safety goggles to all the golfers grouped with him this week lest they suffer some form of ocular trauma for having to eyeball his swing for 18 holes.
Neil Williams (Mr Humility) – This contented Hawks supporter has been living the dream the last few years as his beloved May-poles (or whatever they are called) have swept all before them in recent times. Hawthorn's period of domination may have affected his equanimity as he is rumoured to have developed an over-inflated self-opinion of late based solely on the performance of his football team for which he can claim no credit whatsoever. Will be pumping himself up before the KGS, but will be nowhere to be seen later if things go pear-shaped.
Glen Farren (Pom) – This expatriate globe-trotter has been touting his wares on the world stage of recent years, flitting his way between the European and Australian Tours but featuring on the money list nowhere. Used up all his Tour exemptions and can now only get an invite to play with the likes of us. We told him this was a co-sanctioned event and he couldn't enter fast enough. He still thinks it is a European-Australian PGA Tour event so might get a surprise at the presentation. Needn't worry as on current form he won't be bothering the engraver.
Scott McCormack (The Ewok) – This Collingwood supporter is often described as an Ewok given his minimalist approach to stature and the abounding hirsuteness of his follicles. And that is what his mates say about him. Is rumoured to have more teeth than most Colli-wobblers so has that going for him but has a genetic flaw in his alcohol absorption gene that scientists suggests indicates he can't hold his piss under any circumstances. Will be doing well to recall on Monday any of what happened on the weekend. A roughie that may require blinkers.
Form: This mixed bag of golfing skill and nutcases may not attract too much interest with the bookies, but don't be surprised if they pull off a bit of highway robbery and pinch the title from under the noses of some of the more fancied teams. Should provide great value to their backers.