Home
About Us
Golf Events
The Campfire
Golf Resources
Golf Handicap
Membership
Golfers
2019 WBC
2019 KGS
2019 BC
2018 WBC
2018 KGS
2018 BC
2017 WBC
2017 KGS
2017 BC
2016 WBC
2016 KGS
2016 CCC
2016 BC
2015 WBC
2015 KGS
2015 CCC
2015 BC
2014 WBC
2014 KGS
2014 CCC
2014 BC
2013 WBC
2013 KGS
2013 CCC
2013 BC
2012 WBC
2012 KGS
2012 CCC
2012 BC
2011 WBC
2011 KGS
2011 CCC
2011 BC
2010 WBC
2010 KGS
2010 BC
2009 WBC
2009 KGS
2009 BC
2008 WBC
2008 KGS
2008 BC
2007 WBC
2007 BC
2007 KGS
2006 WBC
2006 BC
2006 KGS
2005 BC
2004 BC
Contact
The 2004 Bushranger Cup Program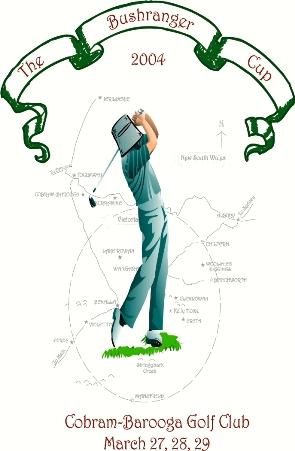 The Captain Moonlite Gang
Roger Brown (Arbeige) – Widely known for his jocularity and good-natured approach to the game although he also has a reputation for getting very friendly at the 19th after a couple of "bourbs and dry". Won the inaugural Duzzo in 2001 and has come very close in consecutive Surf Coast Cup's without saluting. Legend has it he once became so overwhelmed after a particularly fine shot, he offered his leg to his team-mates for which to "dry root" in case they needed to take relief from their own most excited disposition. A prodigious hitter, he possesses arguably the finest hindquarters in the field.
Form: A classy front-runner very difficult to better on his day, especially when saddled up in his favourite chinos.
Michael David (Mikey Dee) – A tournament director in his own right (Shiraz Classic) and promoter without peer, this influential and inspiring raconteur is widely known as an uncompromising competitor who is prepared to back himself no matter the odds. A keen gambler, he also loves a punt. Doesn't mind a bet either, nor a flutter on the ponies, the dish-lickers, trots, cock-fights or anything anyone will take odds on with him. A huge chance on the card tables between rounds and will certainly be plunging on himself in this company as he did before winning the 2003 Goat Lager Classic.
Form: Has been known to believe he performs better under the influence. Can perform miracles on his day. Will be lucky not to be swabbed.
Nick Honey (Ho) – A regular on the Shabby Dot Com Tour, he has been close many times but is still looking for his break-through win. Is widely known for his sense of humour, which has served him well on the many occasions his team-mates have imploded. A runner-up in the '98 Shiraz Classic, this charming gent had taken his game to new levels in recent years and was looking the goods here until the arrival of his first-born. Has not slept in months and is rumoured to be looking at this tournament as an opportunity to catch up on some z's. Will probably end up disappointed. Can drink, punt and procreate.
Form: Has been full of confidence since finding out one of his guys can swim. May be unstoppable.
Matthew Pitt (PW "Bobby" Jones) – Modelled his game on his namesake without success. Loves the contest on the course but has a huge reputation for letting his team down at the 19th. Is looking to finally shake his "World's slowest drinker" tag here with a solid performance. With wins at the 1997 Shiraz Classic and the 2000 Duzzo, certainly knows the way to the post but has not seen the winners circle for some time and may be past his best.
Form: Shares his bed with the tournament director, the handicapper and the copywriter so must be considered a fair chance.
The Wild Colonial Boys
Steve Brown (Browny) – Parlayed his ill-gotten gains into a small empire and then completely lost his way. Can golf when he gets his priorities right.
Form: Fails to show up for the big occasions. Scratched.
Marcus Jones (Mutters) – Is capable of anything and everything on his day, as evidenced by his (now) famous ace at The Launceston Country Club, this fiery lad from the East rarely fails to leave his imprint on any tournament he plays. Won the 1996 Shiraz Classic and was runner up at the inaugural Duzzo. He can drink, punt, golf and crack wise with the best and enjoys nothing more than doing them all simultaneously. Heckle him at your own risk.
Form: One to watch for all the wrong reasons. May require blinkers to perform at his best.
John Lazzara (Funky J) - This stylish gentleman brings a touch of class to an already glamorous field. Having only recently taken up the game, his victory in the 2002 Surf Coast Cup catapulted this erstwhile humble small town boy into the bright lights and celebrity lifestyle that he had dreamt of, or at least heard about. Although his rise has been meteoric and his struggles to manage the expectations thrust upon him by his adoring fans have been well documented, this groovy young bachelor takes it all in his stride. Reports that he has recently settled down and is keeping better company seem unfounded given his grouping here.
Form: Has a smile that can make a triple-bogey seem appealing but may not have the swing to match. Is easy on the eye and has winning form so is definitely one to watch.
James McCusker (Jamo) – A virtual unknown in these parts.
Claims he has a Bradmanesque average on the golf course. Probably not to be trusted given the company he is known to consort with.
Form: A complete wild-card.
Warwick Stonehouse (Boo) – Very difficult to quantify this interesting carbon-based life form. The Hitchhikers Guide to the Galaxy describes being in his company as "like watching a caricature of God on acid performing magic in a cartoon by Escher on a 1,000 foot movie screen, in 3-D, with a 100 piece symphony orchestra shoved in each ear playing Hendrix tunes as a backing track". Is way cool and probably plays golf better than Jesus as he has shown in his many prestigious tournament victories which include the 1996 Shiraz Classic and the 2002 Surf Coast Cup.
Form: Loves a wet track and prefers everyone else running on his track. Has been known to bring his own track. Must be rated a huge chance in this field.
The Canvas Town Mob
Ian Crotty (Crotman) – Child golfing prodigy who enjoyed a stellar college career with Melbin Yewni before losing his way and ending up with the likes of us. With the swing of Sam Snead, the style of Walter Hagen, the self-belief of Arnold Palmer and the physique of Brett Ogle, this boy wonder could have been absolutely anything. Has more recently become known as "Crocko" and loves nothing more than a beer and a laugh after a friendly round and settling down to a card table to take all Willow's coin. Has the killer instinct of a Koala, which may explain the vacancy sign on his trophy shelf.
Form: Can crank it for a skinny little white fella and is due for a big one but will not respond kindly to "Why the long face?" if he doesn't salute.
Richard Thurkle (Lt. Dick) - Had the 2003 Surf Coast Cup in the bag going into the last round until his foolhardy team-mate let them both down by forgetting Dick's well-documented problems with a strain of "John Daly Syndrome". Was last seen happily sharing a bottle and a cheerful anecdote with a seagull three hours before the final round. Can't see that happening again here. Can expect some attention from the stewards if still going well on the back nine on Sunday.
Form: Flighty but can definitely play. His on course performance, and so his chances, depend entirely on his off course antics.
Mick Van Raay (Big Mick) - Was as shocked as anyone when, at his first start, he won the 2002 Duzzo. To his credit, he took this as a sign that he should learn how to play the game and has undertaken a ferocious practice regime in the last 18 months. Is arguably the most amiable gentlemen in the field and any entrant fortunate enough to be in his group will be assured an enjoyable round. Is rumoured to be proportional.
Form: Although he knows more about winning at golf than golf itself, there is a lot about him to like.
Scott Wilson (Willo) – May be blessed with more pure golfing talent than any man in the field. Has the ability to monster the ball huge distances and has prompted a few clubs in Melbourne to make radical changes to their layouts so as to "Willo-proof" them. A most genial character and a regular at The Duzzo and The Surf Coast Cup, he has yet to enter the winners' circle, which may be due to his own battles with a variety of "John Daly Syndrome". Symptoms are a compulsive desire to "hit the tables" in each of the 8 hours preceding his tee time.
Form: If you don't see him urging another ante at around 4 am, expect big things from him on the course the next day
Cash and Company
Ed Borland (Mr. Ed) – Knows a lot more about a lot of things than most of his competition here knows about golf. Knows a lot less about golf than most of the field thinks he knows. May not want to know more or may not want you to think he knows more than he does or that he doesn't not want to know more than he does right now. Definitely has talent but tends not to show much of it on the golf course. Streaky player capable of miracles and may need one here.
Form: Looks well out of his class in this company
Russell Green (Old Silver) – Very experienced and well travelled competitor on the European tour who learnt the game on the historic courses of northern England and Scotland. A veteran of The Duzzo, has never looked liked winning although enjoys the fashions in the field and took out the prestigious "Most Sartorial" award at the 2003 Murray Cup. Known for his sense of style and unflappable nature, expect him to look the part early with some engaging ensembles. Is quite discrete and modest with sharing his golfing wisdom, which suggests he may have none.
Form: Always looks a treat in the mounting yard but has not yet entered the winner's circle.
Sebastian Shand (Bass) - One of the great characters of the circuit, well known for his engaging style and wit. A stalwart of the Surf Coast Cup with a handicap in the mid-20's, he ranks in the top 100,000 or so golfers in Australia. However, this pales in comparison with the skill of his amazing liver. According to the Hooker Laboratories, now based in Minsk, Mr. Shand has consistently ranked in the top 5 drinkers in the Southern hemisphere for the last decade. Could be anything if he worked as hard on the first 18 as he does at the 19th. Can struggle keeping his left elbow straight.
Form: Cannot be not without an opportunity of probably having a pretty decent show of being half a chance. Maybe.
Dominic Wall (Dom) - Won the 2003 Surf Coast Cup with one of the great Bushranging efforts of our time. A come from behind victory that was so ferocious competitors here are advised to hang on to their soap and have rear view mirrors fitted to their bags and balls. Is mostly an unknown quantity in this company which puts him at the very top of the Bushranger suspects list. Don't be surprised to see a warrant out for his arrest before the weekend is out.
Form: An absolute gun. Well out of his class here.
The Ben Hall Gang
Originally The Frank Gardiner Gang, it became known as The Gilbert Gang when Gardiner was captured in Queensland in 1861. Then it became known as the Gilbert & Hall Gang and later again the Ben Hall Gang. Their revolving door policy remains strong to this day. Some more recent departures from the gang include:
Stephen Foxwell (Foxy) – Was in, then out, then sort of in, then briefly out before being back in, then out.
Dave Kidd (Diamond) – Was in for a long time before making a very late charge in the wrong direction for the right reasons. Is presently holed up in Beechworth.
Ray Louey (Emil Zatopek) – Played the European tour for a long time and did very well, particularly in Ireland, before returning home earlier this century to focus on the local tour. A most amiable gentleman he is sometimes known as "The Great Ray Louey", but went a long way to disproving this moniker when he left in late March 2004 to join the Moonah Links Gang.
Scott Webber (Haggler) – Was never in officially but a huge crowd favourite who will be sorely missed.
Adam Finlay (Badum) – A very rhythmic and poetic golfer at the best of times. Easily recognizable on the course these days by his magnificent plumage. Has been compared to David Soul for his golfing ability and Corey Pavin for his acting ability. Looks a treat with a tumbler of bourbon in hand and can punt on his day.
Form: First start in a field of this quality. Looks underdone.
Russell Gruen (Rusty Loin) – A likeable character known for his never say die attitude. Does not show anything like a surgeons' touch with the putter or any of the clubs in his bag. What he lacks in skill he more than makes up for in the quality of his delightful humour and his good companionship on the course. He is known to be charming, intelligent, perspicacious, wise beyond his years, warm, cuddly and generous which means we're struggling to find anything favourable to say about his golf game.
Form: Always produces his best under pressure, however this may not be enough.
Paul Hassing (Feisty) – A completely unknown quantity on the golf course although very keen to prove himself here. May do for golf what The Village People did for hard hats. Keeps his wits about him and is very quick off the mark. Can drink and punt when conditions are right and very hard to dislodge once in a jocular frame of mind. First start here so may be building towards something in the spring of 2006. Has a huge drinking pedigree and is rumoured to have put two days aside especially for this event.
Form: Not the event for a 38 y.o. maiden but is rumoured to be handy with the flat stick so can't be ruled out completely.