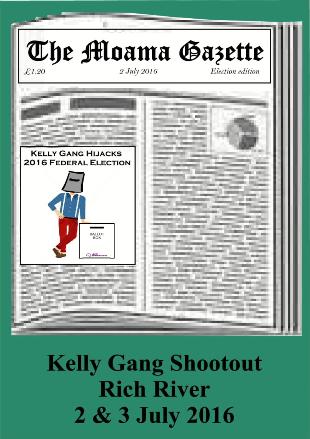 Greetings all and welcome to the 11th Annual Kelly Gang Shootout
Rich River 2 & 3 July 2016

A Champions Dinner will be held in the clubhouse bistro of the
Rich River Golf Club on Friday evening.
The 2-ball ambrose rounds will commence at 11:00am Saturday on The East Course (the New Course).
Details of the pairings and tee times will be announced at the team meeting.
The 4-ball ambrose round will commence at 8:00am Sunday on The West Course (the Old Course).
Details of the pairings and tee times will be announced on Saturday evening.
Acknowledgements
The organisers of The Kelly Gang Shootout, Bushranger Golf, would like to take this opportunity to thank:
Denise, Steve, Bridget, Bec and all the team at Heathcote Winery
for their support of Bushranger Golf in producing the very popular Bushranger Shiraz.
All the team at bwired for their expertise and support in developing and maintaining the Bushranger Golf website.
Sally Pitt from Social Golf Australia. She knows why.
Robbie O'Donnell from SGA for all his efforts with BRG & SGA and for making this event happen this weekend.
Richard Fellner for his help with promotion, publicity and marketing of Bushranger Golf.
The team at Golf Clearance Outlet for all their help.
Roger Brown from Focal Point Garden Design for creating the mighty Glenrowan Perpetual Trophy and for all his ongoing assistance with the annual champion's trophies.
Tracy and all the team at Rich River Golf Club.
All the Members of Bushranger Golf; past, present and future.
The History of The Kelly Gang Shootout at Glenrowan
The Kelly Gang arrived in Glenrowan on 27 June 1880 and took about 70 hostages at the Glenrowan Inn. They planned to derail a train of police coming for them and while they waited for the train, they kept the hostages entertained by breaking out the turps and firing up a party that was a rollicking good time. The party lasted for two days. Meanwhile the police avoided the derailment and laid siege to the pub.
The gang members, Ned Kelly, Dan Kelly, Steve Hart and Joe Byrne, donned their now-famous helmets and armour (weighing about 44 kg), and fought a gun battle with the police. Before dawn on Monday June 28, Ned Kelly left the rear of the inn in his armour and circled behind the police. As the dawn broke, Ned cast an eerie figure marching out of the morning fog in his armour and overcoat, firing his revolvers. Police bullets bounced off his armour and it was not until the police shot at his legs that he slowed. He eventually collapsed and was captured beside a large fallen gum tree. He was near death and not expected to survive.
The rest of the gang died in the pub, probably from gun shot wounds, although the police bravely made sure by torching the building and burning Anne Jones' pub to the ground. The police suffered only one minor injury: the senior officer, Superintendent Francis Hare, copped a scratch to his wrist, then fled the battle and was later suspended for his cowardice. Police bullets struck several of the hostages during the siege, at least two fatally. Ned lived and left on the train they tried to derail.

The Golf
The Format: Teams of four playing two-ball ambrose best-ball on Saturday and four-ball ambrose best-ball on Sunday.
The Rules: Since slow play is a potential problem for our gangs, these rules are designed to encourage play in the right spirit and at the right pace. Teams play their chosen best ball on each shot and may place their ball half a club length (about 50cms) from where the chosen ball lies, no nearer the hole. Balls must be placed in the same cut as the chosen ball. In the interests of fast play from tee to green, teams are NOT required to mark with a tee and precisely measure from the chosen ball as they play each shot. Team members can play in any order on a shot. Putting: Once on the green, Bushrangers should mark near the chosen best ball so each team member plays from near enough to the exact same position.
Handicapping: Each person will be assigned a handicap by the handicapper based on official handicaps and information supplied by the Bushrangers. The handicapper will be governed by a commitment to rewarding good play according to a player's ability. Team handicaps for the ambrose groupings are calculated from the individual marks.
Playoffs: In the event of a tie, a sudden-death playoff will be conducted. Teams play together as a foursome (taking alternate strokes playing one ball). The order is continuous and carries over from one hole to the next until the playoff is decided.
Nearest-the-Pin & Longest Drive: Will be contested on both days and, in the interests of team gloating and solidarity, any player who wins a LD or NTP wins prizes and glory for his entire team.
The Rodeo Rule: This is minimum drives for each team member and will be enforced. Each team's individual rodeo requirements will appear on their scorecard.

Additional Info
Rounds One & Two: 2-ball ambrose starting at 11:00am on Saturday. Competitors need to be at the course at least half an hour before hit off. All competitors have golf carts on both days.
Round Three: 4-ball ambrose from 8:00am on Sunday. Competitors need to be at the course by 7:30am.
The Presentation: After golf on Sunday, we will collate the scores and have the presentation as quickly as possible. The venue for the presentation will be back in the comfort of the motel.
The Package includes:
• A cooked breakfast in the clubhouse bistro both days.
• A $20 clubhouse voucher per person per day that can be used for meals or for drinks.
The Form Guide
The Glenrowan Hacks – Steve Hart, Joe Byrne and Dan Kelly all lost their lives at the siege in Glenrowan (June 26–28, 1880) that Ned had hoped would be the catalyst for a new republic. The myth of Ned grew as he somehow survived the ordeal having sustained enough gunshot wounds to bring down a horse. It was the first and last time they wore their iconic armour. In honour of this, the defending champions will play the KGS every year as The Glenrowan Hacks.
Joel Matthews (Matto) – Coming off a bumper 2015 where he took home two BRG Major Championships, he comes in here as a defending champion and with a massive target on his back. The impresario of the famous Montclair Classic and fashionista of the fairways will be looking to parlay solid form from the start of the year into more success on the Murray. Going back-to-back is not an easy task in a field of this quality, so he might want to spend some quality time with the trophy before the weekend is out. Super-competitive so always gives a good account.
Craig Spackman (Spacko) – This smooth-swinging, birdie-making, drive-thumping, pin-seeking, fist-pumping, putt-draining, booze-loving, nut-busting, ball-crushing specimen of a unit can't wait to step up as one of the defending champs here. Will carry a heavy load as arguably the best golfer in his mob so will be under intense pressure and even more intenser scrutiny. If just one facet of his game is off, then goodnight and he could be looking for some new team-mates next year!
Roger Templer (Tempo) – This learned and somewhat erudite, gin-guzzling supremo loves his golf more than most of the rest of the field combined and could quite possibly bust a boiler before a shot has been struck this weekend. If his teammates can harness his enthusiasm until the whips are cracking on the home straight, he may well be an important cog in the engine-room of title defence bandwagon. Flighty.
John Ashby (Asher the Basher) – Making your BRG debut in a team defending the title is an enormous task. The Basher will need to do something no man has ever done for his mob to prevail here. Making his first start in a field of this quality, this unknown quantity may struggle with the step up in class and will need an iron-clad liver to deal with the post-golf activities. May have no idea what is about to hit him.
Form: It's hard to see this wily bunch being too far from the top at the business end of proceedings, but the pressure of delivering back-to-back titles may be more than they can manage. With a reputation for shirking the après golf festivities last year, they may be overwhelmed by the generous good will from the mob seeking retribution and a fair go.

The Frosty Beveridges – Ned Kelly was born in Beveridge, at the foot of Fraser's Hill, 40 kms north of Melbourne. It was his first home town and is well known for being at its best when the temperatures are a little on the chilly side.
Shane Morris (The Fridge) – A great man of a great many talents, one of which used to be golfing his ball, this man about Thailand is somewhat of an enigma on the fairways these days. A first up winner of this event in 2008, he has comprehensively done bugger all ever since. Loves a good time for a long time, ever time and all the time for all involved, so is sure to be first in line with some form of celebration. Is way overdue to contend in one of these so may settle down & focus on his golf and his desire to lift the KGS trophy again. But probably won't.
Brian Davis (The Postman) – This smooth operator is known for his dry wit and uncompromising nature and he does not suffer fools. He has a huge reputation as a terrific competitor with the capacity to raise his game when it matters most. A tremendous match-player, he has not been in peak form of late and has a touch of the Tiger Woods about him with a few niggling injuries keeping him from producing his best swings. Partnered with The Fridge to win this title in 2008 so knows his way to the winners post. Not one to ever under-estimate.
Brett Nichols (Big Nick) – With a swing that, in the past, has been compared to a mix of Jim Furyk, Bubba Watson & Charles Barkley, this big man will fascinate the rest of the field with his unconventional game and then scare the bollocks off them with his Olympian prowess when he slips on his drinking boots. Is interested in enjoying the journey and will be at the pointy end of the fun when most others have flaked or passed out in the bushes, so near impossible to get a form line on him.
Glen Farren (Pom) – With the stupefying events of the past fortnight in the English political and round-ball worlds, this well-travelled golf connoisseur's eyes will be spinning like poker machine reels so don't expect much quality golf from him. Is at very short odds to finish his round each day and Brexit his way to the bar to drown his sorrows quicker than a mob of loony Poms can depart the EU and Euro 2016.
Form: This patchwork quilt of golfing skill and temperament might not attract much attention in the betting ring, but they may just have the perfect combination of complimentary assets to pull off a highway robbery here and steal the title from some of the more fancied gangs. Will certainly give a superb account of themselves between rounds but may not be equipped to carry that form over to the golf course.

The Corowa Borrowers – Corowa was used by the Kellys to 'trade' horses and cattle they had 'acquired'. In early 1879 the gang was seen back in the region when they crossed the Murray to escape the Victorian Police. Ned knew the river crossings as he had worked at Fairfield Vineyard, danced at Forty's Pub in Wahgunyah and drank in Corowa.
Gavan Doran (The Rose) – Returns to the scene of his glorious 2009 triumph when he led an irresistible charge on Sunday to swoop through the field a claim a famous KGS victory. It was a win of such power, vigour, beauty and grace that the fans were left stunned and the world's media could only marvel as The Rose and his comrades (The Great Hocks, Lambo and Arbeige) artfully and graciously accepted their destiny. Still enjoys celebrating that famous win with the odd nip of rouge vino and the famous The Rose of Doran will certainly make a magnificent appearance in all its glory again this weekend. A legend.
Robert Hocking (Hocko) – Has the bloodlines to suggest that he could be one of the all-time greats at this event. An easy-going dry wit, a brilliant judge of character with superb taste in team-mates, a firm appreciation for quality personages with an interest in good times, a worldly disposition that expresses a wisdom to take everyone and every situation on their and its merit. Shares with his old man a quality that Alistair Cooke so superbly observed of the young Jack Nicklaus - He has an uncalculating Midwestern assumption that everybody in sight, whether a President or a busboy, is his equal until proved otherwise.
Amy Hocking (The Hockette) – This unconscionable rogue is making her first start in a BRG Major Championship and must be considered a huge threat here. Is rumoured to be a serious odds-calculator and will be backing herself in to take home the chocolates in her first start in a field of this quality. She may even be running a book on the whole caper – if you see her at the bar on Friday night with a bookies bag and writing tickets you will know she is a serious threat.
Lucy Rudoph (Loo-Roo) – This all-round sports-woman comes in here on the coat-tails of her connections with the famous Hocking clan and may have to fight hard to shake the inference of nepotism that has been hanging over her selection ever since the world's media was informed of her inclusion in the squad for this team at that famous press conference in Box Hill last May. Is preceded by a reputation as a peerless mixed netball player, so she's got that going for her. A roughie.
Form: Given the quality of the company this mob is known to keep (i.e. each other), they must be considered a genuine threat in this field.

The Benalla Burglars – As the major town closest to Ned Kelly's home, Benalla was the epicentre of Kelly's bushranging days and was the police headquarters for the Kelly Gang manhunt. As a lad, Ned famously gave three troopers a hiding one day in the main street.
Mark Henderson (Hendo) – This quick-witted man-mountain has been featuring at the top of nearly every BRG Major Championship leader-board for the last few years. Had a breakout win at the CCC in 2013 and backed that up at this event in 2014 and then made history with a remarkable come from behind effort at the 2015 Bushranger Cup. Alas, since then has racked up several near misses with a heart-breaking collapse at a WBC and a gut-wrenching playoff loss in the BR Cup in March. Has the golfing cajones to lead his team to victory and is a world-class sledger, however he will be tested with a bit of verbal and, if the recent losses are playing on his mind, he may be vulnerable.
Leon Doyle (Doily) – This apparently affable and easy-going character will maintain a philosophical disposition that he cares less about the result and more about the journey. Alas, we know better that he is hiding the mischievous black heart of a ferocious and bitter competitor who will stop at nothing until all his foes are vanquished and ground into the Moama dust. He is not really much of a golfer so his ambitions may be a little out of kilter with the reality of his abilities.
Wayne Ball (Bally) – A very handy golfer indeed, this champion does his best work with golf club in one hand and a Jim Beam and coke can in the other. A most relaxed character at the best of times, he is fazed by nothing and his unflappable nature always serves him well on the course. Is a top flite golfer with heaps of experience and always performs well on the big stage. Won the 2015 Bushranger Cup in grand style so must be considered a genuine chance. If his team-mates come to party and offer some support, he may be unstoppable.
Darren Nelson (Dazzler) – This legend is fast gaining a reputation as a social media starlet and is finding Facebook followers quicker than a downhill putt at Oakmont. Hasn't had a whole lot of success at BRG Major Championships although did come swooping through the field at the 2015 WBC to finish runner-up. Has paid his dues as a Bushranger and on The SGA Tour so he could be on the cusp of something very special. Always smiling and would be a very popular winner here.
Form: With just a handful of titles between them, this mob won't attract much column space in the media, but certainly have the golfing and drinking capacity to make a solid and very successful tilt at this.

The Jerilderie Gents – The Kelly Gang popped by Jerilderie in 1879, held up the local bank, jagged a couple of thousand pounds, penned a feisty letter and wandered over to the Telegraph Office to chop down a few telegraph poles.
Pete Russell (Rusty) – If this cracking unit can take the headphones off and give the 80's punk a rest for long enough to golf his ball for a few hours, anything is possible. A legend of Bushranger Golf for his very dry wit and his appetite for joviality, he is always great company on and off the golf course. Will need the stars to align (and Triple J to go off air for the weekend) to play a major part in Sunday's business end, but win lose or draw he will be sure to add a few new members to the Rusty Fan Club here as he cruises through the weekend adding a delightful touch of humble rock-star glamour to the proceedings. A deluxe unit.
David Tarlinton (The Sponge) – If you are bringing any niggling injuries into the weekend, you may consider hitting up The Sponge for some free advice. Fortunately for the Tournament Director, his no-win, no-fee policy doesn't apply this weekend. As for his chances, this poor fella hasn't won anything at a BRG Championship except the chook raffle at Cobram-Barooga Golf Club and even then he lost the ticket. Gary Player said of golf, the harder I work, the luckier I get. On the basis of that logic, The Sponge is one of the unluckiest golfers here.
Ian Steer (The Punter) – Will be high on confidence after riding on the coat tails of his teammates en route to a remarkable Bushranger Cup victory earlier this year, but will have had nagging thoughts for months that he was just a sidecar passenger in that glorious victory. Will want to perform here in an effort to redeem himself to himself. May also be handy post-golf with some hot tips on the Saturday night Gloucester Park dish-lickers, so pay attention if he is giving out advice.
Peter Guille (PG) – About as well known in Bushranger Golf circles as the oscillating ball rule is at the USGA rules committee. This dark horse cannot be discounted given the scurrilous company he is known to keep. Is rumoured to be just as useful with golf club in hand as he is with a glass of plonk, so will be in good company this weekend with the group of reprobates that have included him on this team. Very little is known about the quality of his golf game, but as his nick-name clearly indicates, Parental Guidance is recommended for him on the course.
Form: As unlikely as it may seem, this bunch of rag-tag individuals who appear to have so little to recommend their collective characters, may just have the right mix of golfing, drinking, punting and litigating skill to pull off an Iceland-type miracle this weekend. Worth a flutter.

The Beechworth Boys – Ned was gaoled as a teenager for receiving a stolen horse. In January 1873, he was transferred from Pentridge to Beechworth Prison where he spent the next year of his youth learning from hardened criminals how he might become an upstanding member of the community.
Pete Solomou (Solo) – Is rapidly gaining a reputation for being the most well-travelled golfer on the planet – hasn't missed a BRG golf trip since Tiger Woods was winning every US Amateur title the USGA had on offer. His form at the CCC earlier this year was solid, however, it was his post-golf form that attracted the most interest. Is a 100% chance of trying to get his fellow competitors well-oiled over dinner and is at short odds to be seen offering medicinal nips of ouzo, scotch and vodka in the clubhouse as he did regularly at Barnbougle in May.
Paul Himarios (Himma) – A golf tragic of the highest order, he is a man of considerable golfing ability who only needs to hit one good shot early on in the piece and the rest of the field will be playing for second. Has winning form at BRG Major Championships with a peerless and majestic showing at the 2014 WBC for a brilliant debut BRG win there. Proved at the 2015 TMMP that he is very handy on the punt and knows his way around the bar. Is the complete package with the character, good humour, liver-power and golf game to be a KGS champion.
Jimmy Lantides (Jimmy) – Current Vic SGA Order of Merit leader so is in a rich vein of form. Has proven in the past that his form can be volatile and it can go south quicker than the British Pound, so he is another with a form-line that is impossible to pick. Adds a touch of rock-star razzle-dazzle to this event and will certainly be among the leaders in the fashion stakes throughout the weekend. Is rumoured to be handy on the guzzle as well so may sweep all before him here.
Dean Mitchell (Deano) – A quietly spoken and humble gentleman of the fairways, but not one to be underestimated. He is a very popular and rock solid performer on the Vic SGA Tour with multiple trophies to his name and a paragon of sportsmanship. May well be the foundation stone that his brilliant but sometimes erratic team-mates can build their campaign upon. They will need his consistency and steadiness when one too many ouzos threatens to derail this team on the golf course.
Form: A mob of fine gentleman equally capable of golfing brilliance and depravity. Could just as easily be hoisting the trophy on Sunday or bringing up the rear of the field. A bookies and a punters worst nightmare – absolutely impossible to pick but will put on a great show.

The Mansfield Wombats – It was the shooting of three Mansfield policemen at Stringybark Creek that lit the fuse of The Kelly Outbreak and put a huge price on the heads of the gang members. After this, the Kelly's used the nearby Wombat Ranges as a hideout and a base for launching raids. It is well know that the wombat eats, roots and leaves.
Nick Sutherland (Meckiff) – This big-hitting, free-wheeling, fun-loving golf nut has virtually none of the attributes required to win the KGS. Woody Allen says that 80% of success is turning up and Nicko is here, so he has that going for him. But that is about it. He lacks the big tournament experience of most of his rivals, there are question marks over his killer instinct, he has no local course knowledge and he comes up a little short in the putting department. In fact, the whole short game needs an overhaul. Other than that, he looks in reasonable shape.
Lee Dodge (Dodge Man) – A freewheeling agent provocateur who is suspected of being a double agent provocateur as a consequence of his unhinged duality balancing his identification with rampant metrosexual individualism and representing a paradigm of universal collectivism. A cosmopolitan trend-setter both on and off the golf course, this creative genius dances to the beat of his own drum and is willing to take everyone along for the ride who is interested in being a passenger on his freedom trip of perspicacity and existential glory. One of a kind.
Scott Kidman (SK) – First start in a BRG Major Championship and comes in with some significant questions marks over his ability, fitness, endurance, putting stroke, character, swing mechanics, bunker play and the power of his liver. Is also rumoured to consort with unscrupulous rogues, so will probably attract the attention of the stewards over the weekend. Other than all that, he seems in OK shape for his BRG debut.
Adrian Smithwick (Smithers) – It was the great Carl Spackler who said that the Dalai Lama said, "Gunga ga lunga goong goonga lunga long goong ga loonge goo goo alongo goonga". It is this type of athletic cerebral gymnastics that sums up this relaxed competitors approach to the game. His laissez-faire and easy-going style suggests he is not in danger of over-thinking his golf. Is more likely to under-think things which makes him the brains trust of this intellectually challenged outfit.
Form: Although this mob are not the sharpest tools in the shed, the KGS is a big shed with plenty of tools. They are not looking too flash as their main strategy is simply hoping that the sum of their parts is greater than their individual components. Will not fail to disappoint.