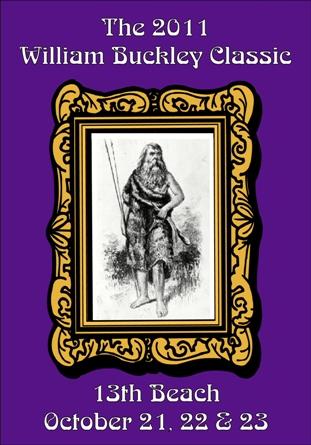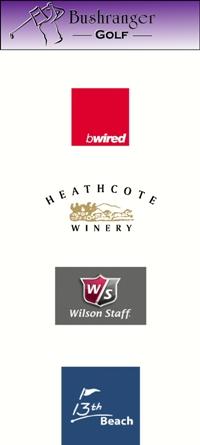 Greetings all and welcome to the 2011 William Buckley Classic
13th Beach Golf Links – October 21, 22 & 23
An event briefing will be held after dinner on Friday even.
Golf on Saturday is on The Creek Course and commence from 11:40am
Dinner on Saturday evening is a Gourmet BBQ in The Faldo Room at the
13th Beach Clubhouse. Doors open at 6:30pm for 7:00 tucker. The meal is
part of your event package and drinks are available at bar prices.
The Sunday rounds commence from 10:28 am on The Beach Course
Longest Drive and Nearest the Pin will be contested each day.

The organisers of The WBC would like to take this opportunity to thank:
Roger Brown from Focal Point Garden Design for the magnificent Murrangurk Perpetual Trophy;
Josh Dance for entertaining the gangs on Saturday night;
Sally Pitt of Pitt-Bull Media for constructing this program;
Sam, Campbell and the team at bwired for their help with the Bushranger Golf website;
Ben and the team at the 13th Beach Golf Links;
Denise, Steve and all the team at Heathcote Winery;
Richard, Sam and the team at Inside Golf magazine for their support;
All the Members of Bushranger Golf; past, present and future.
Giddy-up and enjoy!

The Golf
The Format: Teams playing 36 holes of 2-ball ambrose for stableford points.
The Rules: Since slow play is a potential problem for us, the rules are designed to encourage play in the right spirit and at the right pace. Teams play their chosen best ball on each shot and may place their ball half a club length (about 50cm) from where the chosen ball lies, no nearer the hole. Balls must be placed in the same cut as the chosen ball. In the interests of fast play from tee to green, teams are NOT required to mark with a tee and precisely measure from the chosen ball as they play each shot. Team members can play in any order on a shot. Please have fun, move quickly between shots and keep up with the group in front.
Putting: Once on the green, Bushrangers should mark near the chosen best ball so all team members play from near enough to the exact same position.
Handicapping: Each team will be assigned a handicap based on official Australian handicaps and information supplied by the Bushrangers. The handicapper will be governed by a commitment to rewarding good play according to a player's ability.
Playoffs: In the event of a tie, a sudden-death playoff will be held. Teams play together as a twosome (taking alternate strokes playing one ball). Teams can determine the order as each member takes their first shot. This order is then continuous and carries over from one hole to the next until the playoff is decided.
The Rodeo Rule: This is minimum drives for each team member and will be enforced. Each team's rodeo requirements will appear on their scorecard.

Who was William Buckley?
Born in Cheshire, England in 1780, William Buckley fought as one of the King's Own Regiment against Napoleon's forces in the Netherlands. He was convicted of receiving stolen cloth in 1802 and was sentenced to transportation to Australia for 14 years. He was among 300 prisoners sent out in 1803 to establish the first settlement on Victoria's Port Phillip near what is now Sorrento.
Buckley and two others escaped in December 1803 with the aim of getting to Sydney. Alas, they went the wrong way and circled Port Phillip Bay. Due to the harsh terrain and lack of food, Buckley's companions decided to return to the settlement and give themselves up. But not the determined Buckley. It was the last time any white man would see of him for 32 years.
A powerful man standing over 6'6", Buckley pressed on along the coast to Breamlea, Torquay, Anglesea, Aireys Inlet and beyond. His first permanent resting place was near Mount Defiance where he found an abundance of shellfish, edible vegetation and natural cover. In the winter, Buckley was close to death but was rescued by an Aboriginal tribe.
Fortunately for Buckley, the locals believed that white people were Aborigines who had come back from the dead. They named him Murrangurk and took him in as one of their own. For the next three decades, Buckley travelled extensively throughout the region, mostly around Geelong, Barwon Heads, and the Otway Ranges. On July 7 1835, Buckley wandered into a camp of John Batman's party and reacquainted himself with European society.
He was the first European to walk the bush on both sides of Port Phillip Bay, living off the land and on the run from the law. Given that our determined Bushrangers regularly ingratiate themselves with the locals on our trips and that this tournament is played on courses on both sides of the bay, we think it is fitting that this event is known as The William Buckley Classic.

The Form Guide
The Murrangurk Masters – Early in his travels, William Buckley found a spear by a grave near Torquay. It belonged to the respected warrior Murrangurk. The locals believed Buckley to be Murrangurk returned from the dead as a giant white man. The two-player team format and the name of WBC perpetual trophy reflect the lives of these two men combining under one name and each year the reigning champions will play as The Murrangurk Masters.
Rob Lugton (Luggo) & Chris Stimmel (Stimmo) – One of the reigning champions fronts up here with a debutant making his first start in a field of this quality. Luggo certainly has plenty to recommend his chances after a brilliant solo birdie on the final hole in 2010 to clinch the title in a year when he swept all before him and usually had to do little more than tee off to win. Woody Allan said 80% of success is just showing up and Luggo took this credo to new heights last year. Stimmo is making his first start at a BRG weekend and may have the job in front of him. Has shown some form in a couple of SGA Tour starts but will have no idea of the demands this event makes on one's skill, nous, wits, courage, character and liver.

The Sullivan Bay Ginger Bread Men – Buckley and two other convicts escaped from the camp at Sullivan Bay near Sorrento on December 27, 1803. The others turned back after a few days, but Buckley pressed ahead and stayed on the run for the next 32 years.
Michael Mileo (Seve) & Ian Crotty (Crocko) – This combo are right in their element at this event. They have played every year since its inception in 2006 and have always featured prominently on the leader-board with Seve saluting for wins in 2006 and 2009 and Crocko consistently making the podium. They bring a special flair and style to the tournament with their precocious wardrobes and ebullient choices of garments for the golf course. They are no doubt seeking to compensate for William Buckley's years of dressing in humble possum skins by embracing the opportunities for outstanding golf couture and making a spectacle of themselves both on and off the course. Must be regarded as one of the red hot favourites here this week and will deliver great value to their backers.

The Corio Bay Fugitives – Buckley and his two fellow escapees reached the waterfront on Corio Bay at what is now Geelong a few days after escaping. He came to know this area very well over the next 32 years.
Roger Brown (Arbeige) & Matthew Pitt (Pw Jones) – These two wily old stagers have been slogging away for years on the BRG Tour but come in here this week under a cloud of discombobulation with a bit of a wobble to the wheels on the bandwagon. One of them has won here twice and the other has never threatened in this event but has shown plenty of great form in 2011 with strong campaign in all the major championships. One is an excitement machine capable of lighting up the course with dazzling stroke play and the other is a plodder at best who scores well with steady, boring, mistake-free golf. If they get it together, they could contend, but given their interrupted preparation, they are more likely to stall on the starting line and be chasing up the rear of the field on Sunday.

The Swan Island Hackers – Buckley and his two fellow escapees reached Swan Island at Queenscliff on New Year's Day 1804. It was here that the other two chose to return to Sorrento but Buckley refused to give up and made the momentous decision to press on alone.
Dave Warwick (Diesal) & Phil Peacock (Dust) – This pair of golfing superstars are famous for their majestic, sartorial splendour and splendid metrosexual refinement. Is their first start in a WBC but they have contested numerous BRG Majors and Diesal saluted at his last start with a brilliant victory in the 2011 Bushranger Cup. They raise the entire tone of this event and give the field here a finishing polish and touch of class it so richly deserves. Both have a strong golfing pedigree although appear to be a touch under-golfed of late. Have both recently invested in new bats, which may be their undoing as they mentally relax and wait for the new wands to work their magic while the rest of the field gets on with the job. Definitely one to watch if Diesal can straighten his dodgy putting stroke and Dust gets his wonky swing settled and starts finding a few fairways.

The Barwon Heads Sir Robins – On his first day marching alone, Buckley happened upon a group of Wathaurong people camped peacefully by the Barwon river. Fearing for his life, he silently crossed the river at the heads and bravely ran away.
Gav Doran (The Rose) & Neil Hocking (Hocks) – These two have probably improved their games more this year than any other pairing in the field here. Perennial contenders in BRG Majors, they were both podium finishers at the 2011 Bushranger Cup and Kelly Gang Shootout. They also feature the most comprehensive range of complimentary skill sets of any pairing here. Hocks has proven himself a golfing tragic of the highest order with a ferocious work ethic. He has become a fixture at most every event on the SGA Tour and has been very well performed at that. The Rose has distinguished himself over a long period with his flamboyant commitment to the après-golf activities at many a BRG major Championship. Expect to see him pushing all in for a good time for a long time and then comfortably backing it up on the golf course when it is time to get down to business.

The Bream Creek Freaks – Buckley cruised past 13th Beach and crossed Bream Creek the next day. Later he returned and it was here he built a substantial hut and lived for many years on the abundant supplies of food, including the fish he trapped in the creek.
Bill Shanks (Shanky) & Nick Mouhtaropoulos (Big Nick) – This hard-hitting combo is one of the dark horses in the field here this week. It is the first start for them both in a field of this quality but they come in here with a reputation as big-game players with a thirst for the spotlight. A very easy-going combination, they are rumoured to know how to handle themselves at the between-round festivities and will definitely make a strong impression around the campfire and perhaps at the gaming tables also. With a win to Shanky on the SGA Tour this year and some very steady showings from Big Nick on tour, their backers will rate them as a huge chance to see out the journey here. If they do, they could be right in it at the finish and spring a surprise on some of the more fancied chances.

The Torquay Hookers – Buckley camped on the banks of Spring Creek at Torquay during his solitary march through the district in 1804. It was here he picked up the spear from the grave of Murrangurk that later would be his saviour.
Stuart Wilson (Stu) & Andrew Yates (Drew) – A couple of new players from The SGA Tour who have shown some decent form in the shorter version of the game but have no idea of the demands that will be placed on them at this level of golf. They have the character, the golfing skill and the good humour to match it in this company, but a complete lack of experience at the highest level will surely find them wanting. Will need to jump from the barriers on Saturday morning and clear out to a massive early lead if they are to have any chance of holding off the challenges from their more fancied opponents. Look for a stronger showing at the after-golf activities than anything they can conjure on the course during the day. A long shot here and really just making up the numbers in their maiden run.

The Mount Defiance Alliance – At Mount Defiance just past Lorne, Buckley found a cave with fresh water and food nearby and made it his first permanent home, living there for several months through the autumn of 1804. As winter set in, he began to struggle and decided to make the long trek back to Sorrento.
Chris Hull (The Hullster) & Philip Smith (Cecil) – Two of the regulars on the SGA Tour in 2011, this combo have a great deal to recommend their chances, notwithstanding that one of them stands on the wrong side of the ball. Both ferocious competitors who are driven to get the best out of themselves on the golf course, they should put in a strong showing if they settle into a good rhythm early. Is the first start in a BRG Major for The Hullster, but his mountains of experience should hold him in good stead to see out the journey. Cecil debuted at the KGS this year and made a slow start but built his form over the weekend. Will be far better here for that run and has been finding some form of late in a perfect preparation for this event. Expect to see them in the thick of it on Sunday.

The Coonewarre Revivors – It was near the banks of Lake Coonewarre, a short walk north of the 13th Beach Golf Links, that two local women found the weak and starving Buckley. They thought he was the 'white ghost' of Murrangurk and nursed him back to health.
Cindy Wisseling (The Whistler) & Darren Jones (DJ) – Fronting for their second dip at a BRG Major Championship, this pairing may have an edge on the rest of the field having played more golf together than any other combination here. They know each others games, strengths and weaknesses and proved they can deliver the goods on the same day when they each won their division in the 2011 Hacker Challenge. Have cleared the cobwebs with a credible BRG debut at the KGS earlier this year and will be looking now to parlay that confidence into a strong showing and perhaps a maiden win in a field of this quality. With heaps of links golf experience they are certain to be in contention on Sunday arvo.

The Indented Heads – It was at Indented Head in 1835 that Buckley, after 32 years in the wilderness, decided to return to European society when he walked into the camp of John Batman's exploration party. Standing 6' 6", dressed in possum skins and carrying a spear, a driver, 5-iron, wedge and putter, he made quite a first impression.
Jason Woods (The Hammer) & Nick Brooke (The Anvil) – First start for this combination in a field of this quality and there are huge question marks over whether they will handle the step up in class. Have been plying their trade in a workmanlike fashion in SGA Tour events throughout the year, but fronting for the WBC is an entirely different proposition. The long days toiling on the golf course and the even longer nights around the campfire singing songs, spinning yarns, making merry, telling gags, goofing off and getting involved in general, common or garden-style Bushranger shenanigans can take their toll on even the most battle-weary competitor. They will back themselves and come out swinging early on, but expect them to find them gasping for air by Sunday arvo and requiring some medical attention after having been completely overwhelmed by the intoxicating adventure that is the mighty William Buckley Classic!