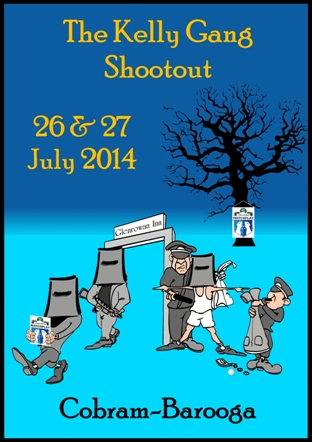 Greetings all and welcome to the 9th Annual Kelly Gang Shootout
Cobram-Barooga 25, 26 & 27 July 2014
A Champions Dinner will be held in the KGS games room of the Cobram-Barooga Golf Club Motel on Friday evening.
The Trans-Murray Match Play will commence at 11:22am Friday on the Old Course. Details of the pairings and tee times are included below.
The 2-ball ambrose rounds will commence at 11:06am Saturday onThe West Course. Details of the pairings and tee times are included below.
The 4-ball ambrose round will commence at 7:46am Sunday on The Old Course. Details of the pairings and tee times will be announced on Saturday evening.


The organisers of The Kelly Gang Shootout would like to take this opportunity to thank:
Denise, Steve, Alex, Mandy and all the team at Heathcote Winery for their support of Bushranger Golf in producing the very popular Bushranger Shiraz.
All the team at bwired for their expertise and support in developing and maintaining the Bushranger Golf website.
Robbie O'Donnell from Social Golf Australia for his terrific efforts composing this program and organising this event.
Richard Fellner from Inside Golf for his help with promotion, publicity and marketing of Bushranger Golf.
Sam and the team at Golf Clearance Outlet for all their help.
Roger Brown from Focal Point Garden Design for creating the mighty Glenrowan Perpetual Trophy and for all his ongoing assistance with the annual champion's trophies.
Alan, Bec and all the team at Cobram Barooga Golf Club.
All the Members of Bushranger Golf; past, present and future.
Giddy-up and enjoy!

The Golf
The Format: Teams of four playing two-ball ambrose best-ball on Saturday and four-ball ambrose best-ball on Sunday.
The Rules: Since slow play is a potential problem for our gangs, these rules are designed to encourage play in the right spirit and at the right pace. Teams play their chosen best ball on each shot and may place their ball half a club length (about 50cms) from where the chosen ball lies, no nearer the hole. Balls must be placed in the same cut as the chosen ball. In the interests of fast play from tee to green, teams are NOT required to mark with a tee and precisely measure from the chosen ball as they play each shot. Team members can play in any order on a shot. Putting: Once on the green, Bushrangers should mark near the chosen best ball so each team member plays from near enough to the exact same position.
Handicapping: Each person will be assigned a handicap by the handicapper based on official handicaps and information supplied by the Bushrangers. The handicapper will be governed by a commitment to rewarding good play according to a player's ability. Team handicaps for the ambrose groupings are calculated from the individual marks.
Playoffs: In the event of a tie, a sudden-death playoff will be conducted. Teams play together as a foursome (taking alternate strokes playing one ball). The order is continuous and carries over from one hole to the next until the playoff is decided.
Nearest-the-Pin & Longest Drive: Will be contested on both days and, in the interests of team gloating and solidarity, any player who wins a LD or NTP wins prizes and glory for his entire team.
The Rodeo Rule: This is minimum drives for each team member and will be enforced. Each team's individual rodeo requirements will appear on their scorecard.

Additional Info
Rounds One & Two: 2-ball ambrose starting at 11:06am on Saturday on the Old Course. Competitors need to be at the course at least half an hour before hit off. All competitors have golf carts on both days.
Round Three: 4-ball ambrose from 9:06am on Sunday on the West Course. Competitors need to be at the course by 9:20am.
The Presentation: After golf on Sunday, we will collate the scores and have the presentation as quickly as possible. The venue for the presentation (probably in the clubhouse) will be announced before golf.
The Package includes:
A continental breakfast served in your room both days.
A $15 clubhouse voucher per person per day that can be used for meals or for drinks.
The History of The Kelly Gang Shootout at Glenrowan
The Kelly Gang arrived in Glenrowan on 27 June 1880 and took about 70 hostages at the Glenrowan Inn. They planned to derail a train of police coming for them and while they waited for the train, they kept the hostages entertained by breaking out the turps and firing up a party that was a rollicking good time. The party lasted for two days. Meanwhile the police avoided the derailment and laid siege to the pub.
The gang members, Ned Kelly, Dan Kelly, Steve Hart and Joe Byrne, donned their now-famous helmets and armour (weighing about 44 kg), and fought a gun battle with the police. Before dawn on Monday June 28, Ned Kelly left the rear of the inn in his armour and circled behind the police. As the dawn broke, Ned cast an eerie figure marching out of the morning fog in his armour and overcoat, firing his revolvers. Police bullets bounced off his armour and it was not until the police shot at his legs that he slowed. He eventually collapsed and was captured beside a large fallen gum tree. He was near death and not expected to survive.
The rest of the gang died in the pub, probably from gun shot wounds, although the police bravely made sure by torching the building and burning Anne Jones' pub to the ground. The police suffered only one minor injury: the senior officer, Superintendent Francis Hare, copped a scratch to his wrist, then fled the battle and was later suspended for his cowardice. Police bullets struck several of the hostages during the siege, at least two fatally. Ned lived and left on the train they tried to derail.
The Form Guide
The Glenrowan Hacks – Steve Hart, Joe Byrne and Dan Kelly all lost their lives at the siege in Glenrowan (June 26–28, 1880) that Ned had hoped would be the catalyst for a new republic. The myth of Ned grew as he somehow survived the ordeal having sustained enough gunshot wounds to bring down a horse. It was the first and last time they wore their iconic armour. In honour of this, the defending champions will play the KGS every year as The Glenrowan Hacks.
Matthew Thomas (T-bag) – This competitive unit will have a target on his back after being part of the winning team for the past 4 years in a row and 5 of the last 6 years. His efforts have drawn comparisons with Young Tom Morris who took home the Open Championships Belt after winning three in a row in the 1860's. Luckily we are making him bring the trophy back to (hopefully) give someone else a crack this year.
John Smith (007) –This financial wizard is one of the many genuinely top blokes in the field and is a Victorian SGA Tour veteran. Has tagged on to T-Bag's winning team the past 2 years and is looking to repeat the dose here for a third. Has a reputation as a bit of a chopper, but with 2 KGS trophies to his name, won't mind too much.
Pete Solomou (Solo) – Despite building a development empire to rival that of Cheops in ancient Egypt, still has time to feed an unhealthy golf addiction, to the point that he has played nearly every Victorian SGA Tour event this year. Made his BRG Major Championship debut at the Cash and Co Classic in Tassie this yea and acquitted himself admirably. Can't get enough of golf, and by the end of the weekend, the field will undoubtedly not be able to get enough of him. One of the tru gentlemen of the field and a quality unit.
Paul Himarios (Himma) – Like his good mate Solo, Himma is a certified golf nut who has taken his addiction to new levels this year. Loves his golf and already has an SGA victory to his name after his recent win at Gardiners Run. Plays every event and is great value on and off the course. Comes into this event in form and his showing at the CCC proved that he may just have what it takes to clinch a Major. Also rumoured to consider himself the best looking tradie in Victoria.
Form: With half of the defending champs joining forces with two in-form golf addicts, this mob is starting as unbackable favourites here this week. Expect the rest of the field to chip in with some liquid handicapping between rounds to try and bring them back to the pack. If they launch an attack, the peloton need to check them early lest they set an unbeatable pace and leave the field in their wake. A monster.

The Stringybark Creek Freaks – The infamous shootout between police and the Kelly Gang at Stringybark Creek took place on October 26, 1878. The Gang surprised the police at their camp and the ensuing gun battle was the spark that ignited the Kelly outbreak.
Ian Crotty (The Crock-Diddy-Meister) – Cultured. Witty. Sharp as a tack. Classy. Just a few things that Crocko aspires to be, and so far is doing a reasonable job. Also knows a thing or two about how to golf his ball and is a master of this format with a couple of stirring Bushranger Cup wins under his belt. There is also the small matter of being a past winner of this event at the last start at this venue in 2010. After a few stumbles in recent years, has decided to put more effort into improving his game and has done what all the greats do - gone straight for old the hip pocket repair job and lashed out in new bats. No hope.
Richard Fellner (Quigs) – A golfing tragic in the truest sense of the word, this Yankee ex-pat possesses a golf game as solid as the San Andreas Fault, none too far from where he hails. A BRG veteran and winner of the inaugural KGS, he has somewhat of a golfing pedigree through his minor role at one of the many over-blown Australian golf publications. May be in a sub-optimal condition having foregone his usual pre-tournament practice regime thanks to an un-named colleague (Mr. Lobbie) who drove him spare in the recent deadline period. Avoid.
James Farrar (Jimmy) – When he first joined the SGA Tour, he endured a form slump that would have driven a lesser man mental. To his credit, he battled on and persevered to the point where nothing happened. He persisted at his golf with dogged determination and unwavering commitment and after what seemed like an eternity clawed his way belligerently back to a position of utter mediocrity. Against all the odds has unexpectedly stumbled on some good form recently and may be very hard to dislodge. Quietly spoken with a pure, dry wit, is one of the very best units here and raises the tone of the field with his class.
Stefan Diekmann (Stevie D) – Displayed his ample abilities around the bar at the 2014 CCC, but the jury is still out on his golfing prowess. Won many fans with firm grasp of 20th century European history and creative revisionist imagination. Has been overheard of late discussing the similarities in skill between himself and compatriot Martin Kaymer, one can only assume this relates to capacity to down a line up of Jagermeister shots and managing to put his shoes on the correct feet.
Form: With the perfect mixture of unrealistic expectations, youthful experience and veteran exuberance, they could be a massive chance.

The Frosty Beveridges – Ned Kelly was born in Beveridge, at the foot of Fraser's Hill, 40 kms north of Melbourne. It was his first home town and is well known for being at its best when the temperatures are a little on the chilly side.
Shane Morris (Mr Shaaan) – This former child prodigy, compulsive and humble eagle-maker, love-machine, punter extraordinaire and connoisseur of all things Thai has seen plenty of sunrises since his triumph in the 2008 KGS and his form of late suggests at least another 365 will pass until he tastes the sweet nectar of victory again. What he lacks in sobriety he makes up for in his ability on the heckle, so look out for a stunning performance in the clubhouse and on the golf course with his balls-out approach to all action on offer here this weekend.
Mark Cullen (Mr Myagi) – This spiritual guru takes great delight in defying all the known laws of physics and smashing golf balls prodigious distances down fairways the world over. The possessor of arguably the most powerful liver in the field here, although making his first start in a BRG Major, he has all the trademarks of a future KGS champion. Comes in here after a minor injury layoff, but has shrugged that off with trademark aplomb and will draw on all his big match experience to get the job done. A monster in a field of behemoths, certainly one to watch.
Bob Spicer (Bobby) – Super-relaxed and an unassuming character, this golfing globe-trotter is something of an enigma when it comes to performing on the track, but off it, is the shortest-priced favourite in KGS history to drink his weight in amber goodness before his tee time. Is a proven big match performer who knows how to extract his best when it matters most and his recent exploits in Thailand were a flawless preparation for this event and is sure not to disappoint after dark.
Joe Bugeja (Joey) – The man with the moustache and liver none too dissimilar to David Boon's is one of the dark horses for this prestigious event if he remembers to pack his A-game in with his margarita machine. The other half of The Bob & Joe Show, he is as volatile on the golf course as his beloved Collingwood on the G, but with a hell of a lot more ticker. Will be in the thick of the post-golf action and with a staying power and self-belief that is second to none, he is very difficult to dislodge when he gets up a head of steam.
Form: This mixed bag of golfing skill, wits, courage, zany antics and temperament might not attract too much attention in the betting ring, but they may just have the perfect combination of craziness and bravado to pull this thing off. Sure to give their backers great value.

The Benalla Burglars – As the major town closest to Ned Kelly's home, Benalla was the epicentre of Kelly's bushranging days and was the police headquarters for the Kelly Gang manhunt. As a lad, Ned famously gave three troopers a hiding one day in the main street.
Mark Henderson (Hendo) – If this quick-witted gentleman had a golf swing to match his sledging ability, he would be a certain World No. 1. This BRG legend has the unique ability to reduce his competitors and playing partners to tears with dead pan one-liners (and talk of a Magpie premiership this decade) but when he is on-song, is one of the great ball strikers. After his Jean Van De Velde-like collapse at the 2014 William Buckley Classic, will surely have a few demons if his motley crew are in the hunt on Sunday. One for the punters to leave alone.
Mick McCombe(The Procreator) – It was the Hip-hop-Apotamus who wrote the song about Mick that went, "My rhymes are so potent that in this small segment, I made all of the ladies in the area pregnant". This rough-as-guts publican is regarded as the greatest procreator in the history of humanity. Just one look at his wife and she is with child, so opponents and teammates alike beware. Is very confident in his ability at the golf, but sources close to this love machine advise his golfing talents are "shithouse at best".
Tom Tomlin (Tom Tom) – This well-travelled golfer brings great form into this event with a stunning win at the 2014 Bushranger Cup. If anyone has a right to be excessively confident here, it is this man from the Motherland after his dismantled a high-quality field in February for his fir BRG Major Championship victory. With a wit as dry as sandpaper, can be an acquired taste, but one suspects that is the way he likes it. A gentleman of the highest quality and a great raconteur around the campfire he brings another dimension to every event he plays.
Shane Lawlor (Jacques Cousteau) – This poor bloke is not entirely happy with his lot, being a Richmond fan, but finds meaning in life by running a drop-in centre for Tigers fans...er....the less fortunate. This country boy has a solid golf game, and his ample capacity to take in the amber fluids is legendary. Will be one of the best performed in the evenings and a complete wildcard on the course. Totally unpredictable.
Form: This mob appears a little short of a gallop and certainly a couple of stubbies short of a six-pack. With very little to recommend their chances in terms of form, pedigree, fitness, culture, teamwork and skill, they will be lucky to make it out of the starting gates, let alone cross the finish line. Out of their class and just making up the numbers here.

The Mansfield Wombats – It was the shooting of three Mansfield policemen at Stringybark Creek that lit the fuse of The Kelly Outbreak and put a huge price on the heads of the gang members. After this, the Kelly's used the nearby Wombat Ranges as a hideout and a base for launching raids. It is well know that the wombat eats, roots and leaves.
Matthew Pitt (PW Jones) – This doyen of Bushranger Golf has an Arnold Palmer-like record in all the BRG Major Championships except this one. Unfortunately for his team-mates, he also possesses a circa-2014 Arnold-Palmer-like swing. Dubs has won an incredible 8 BRG titles but the only trophy that has not adorned his considerable mantelpiece is the mighty Glenrowan Trophy of the KGS. Will stop at nothing to try and break his KGS duck and has inserted himself into a team of debutant Sydney-siders here, a move that reeks of desperation.
Craig O'Donnell (Ducky) – Made his BRG Major debut at the 2014 CCC and performed much more admirably in the Lost Farm clubhouse than on the links. He is currently mired in the slump of a lifetime and will be hoping for a miracle performance from his team-mates to carry him to glory here. Is rumoured to be hindered by extremely slippery grips on his clubs and has lost his purchase once or twice lately. What he lacks in skill, he more than makes up for in character. A top unit.
Chris Johnston (Gopher) – The low-marker of the event, this talented young sprite hails from Twin Creeks, the former stomping ground of notorious Bushranger William (Jackey Jackey) Westwood. Much like Westwood, this blue-pants-wearing man about town has a reputation for being an absolute gentleman on and off the course, but when the chips are down, has the ability to turn into a Hulk-like beast with an arsenal of golfing weaponry that is the envy of all. The key to the chances of this bunch of unscrupulous rascals.
Andrew Cunneen(Furyk) – Bearing an uncanny resemblance to PGA Tour great, Jim Furyk (but with hair), this classy lothario from the Hills district is very much an unknown quantity on the golf course. A former NSW SGA Tour regular, has been absent without leave for much of this season, distracted by the bright lights of the city and some of the distracting attractions that frequent the bars and nightspots of Sydney. May require blinkers, but with a little less on offer in Cobram, this pants-man may find it easier to remain focussed on his golf and make a valuable contribution to his team.
Form: Will look unbeatable in the mounting yard but may struggle to stay the distance over the journey here. Consider for trifectas.

The Beechworth Boys – Ned was gaoled as a teenager for receiving a stolen horse. In January 1873, he was transferred from Pentridge to Beechworth Prison where he spent the next year of his youth learning from hardened criminals how he might become an upstanding member of the community.
Darren Nelson (Dazzler) – This effervescent ever-smiling gentleman of considerable golfing ability is an SGA Tour veteran, having played almost every event for the past few years. Is one of the more relaxed characters getting around and may be the most easy-going gent to ever strap on a helmet and saddle up for a Bushranger Golf event. Has made a few starts in BRG Majors and has not come close to bothering the engraver yet. Time will tell if he can get the job done here, but whether he takes the trophy or not, he will have a lot of fun on the ride. All class.
Wayne Ball (Bally) – A very handy golfer indeed, this champion does his best work with golf club in one hand and a Jim Beam and coke can in the other. A most relaxed character at the best of times, he is fazed by nothing and his unflappable nature always serves him well on the course. Always performs well and has come within a shot of the Bushranger Cup, so must be considered a genuine chance. If his team-mates come to party and offer some support, he may be unstoppable.
Brett Nichols (Nicko) – his brute is known for his outrageous ability to smash the golf ball a long, long way - but it usually that same distance off line. The only golfer alive who consistently has more second shots further away from the green than where his first shot started. Is closely related to teammate Paul McMahon, but with a family tree resembling a cactus, that's not all that hard to do. Proudly originates from the shallow end of the gene pool and has an unfortunate predilection for looking for love in all the wrong places.
Paul McMahon (Macca) – Macca, as he is not unaffectionately known by his so-called mates, is regarded by those who know him best as a man of refined opinion with the uncanny ability to identify and elucidate on the varying strengths and weaknesses of any given situation, circumstance, person, place, environment or thing. With his glass-half-something approach, if carrying on like a pork chop was an Olympic sport, he would be wearing the green and gold. Said to be the possible owner of a man-gina. Other than that, is a top class bloke.
Form: Impossible to draw a line through the form of this rag-tag gang. They could just as easily rip this field apart or disappear into oblivion.

The Euroa Removalists – Euroa was the scene of the Kelly Gang's first bank hold-up in 1878. They were most gentlemanly and polite throughout, as they calmly made off with £2000 in cash and gold.
Pete Jensen (PJ) – The proud owner of a piercing mind and a great joy de vie, this erudite antipodean man of letters could well be the most articulate golfer in our field. But don't be taken by the charms of this comely gent. His friendly, self-assured nature belies a tough competitive streak and a stern capacity to extract the best from himself. Like many here, is a certified, card-carrying golf nut and it will be no surprise if his team there or thereabouts on Sunday arvo.
Michael Wilcox (Coxy) – This chap from the Old Dart is rarely seen without a smile on his face, which is a testament to the quality of his character given some of the rubbish he has to put up with from his unreliable golf game. A real Jekyll and Hyde, he is equally capable of golfing majesty and flogging depravity. Great mate of PJ who somehow seems to come off 2nd best too often in their frequent golfing battles. Implored the tournament organisers to be in PJ's team so he had at least half a chance so is a lot smarter than he looks.
John Walkington (Johnny Walker) – Now a BRG veteran making his third start in a Major, when not shaping the minds of the youth of the youth of the world, is out on the fairways making others look ordinary. Was desperately unlucky in last year's William Buckley Classic, coming second to Gavin Doran and the great Neil Hocking by a single shot. Will be looking to improve on that here, and could be in a worse team to do so. Made a name for himself at the 2014 CCC with his relaxed style and easy-going approach, has the pedigree and the game to be a massive contender here this week.
Grant Gains (GG) – Partnered with his great mate Johnny Walker in their stirring second placed at the 2013 WBC. Leaves everything on the golf course and enjoy the argy-bargy of the post-round activities as much as anyone here. Has the form, breeding, staying power and the type of redoubtable liver that will stand him in good stead here. Has channelled his anguish from the WBC into a laser beam of focus. Definitely one to watch in his KGS debut.
Form: Although they will be the first to acknowledge that collectively they are not the sharpest tools in the shed, they know enough to not fail to recognise that the KGS is a big shed with plenty of tools. In spite of the fact they are all KGS debutantes, they don't lack confidence and will be backing themselves to be a massive show here even if nobody else is.

The Greta Mob – This group of 30 to 40 'flash' dressing youths from the small town of Greta who frequented dances and horse races, liked to show off their horsemanship, draw attention with red sashes and fashionable clothes, including their boots with 'larrikin heels' and wearing the chin-strap of their hats under their noses. Members of the Greta Mob became Kelly sympathisers and while the gang were in hiding would supply food, keep them informed of police movements and provide misinformation to the authorities to help the Kellys.
Robbie O'Donnell (The Anchor / The Retardinator / Roo) – Has been a gross underperformer in his two BRG starts, but is hoping that a recent swing rebuild and a shiny new set of bats will take his game to a new level. Alas, a man can hide from his character and ignore his flaws, but no man can escape his destiny. With his swing prone to failure under pressure and his fragile mind susceptible to even the smallest distraction, he will struggle to deal with the occasion once again and is even money to fall to pieces when the whips are cracking.
Shaoyu Xue (Jimmy) – This BRG debutant comes here on the back of sensational SGA Tour form where he is yet to put in a bad round. Has worked himself into a veritable frenzy of anticipation at the thought of playing in this legendary event and will need a cold shower before every tee shot if he is any chance of contributing to the team's chances of victory. This flighty colt has power but may lack the stamina required.
Paul Volck (The Volckano) – This former South African junior champion (possibly of the golfing variety) is an avid student of the teachings of Sun Tzu and the Dalai Lama. An unshakable temperament and with a mind like a vice, his knowledge of the Art of War combined with a golf swing for the ages makes him a force to be reckoned with.
Linda Lea (Leathal) – Another of our South African imports, don't let her sweet, softly-spoken nature fool you. Beneath that shiny exterior is a battle-hardened warrior with a golf game to match. Her NSW SGA Tour win at The Coast GC in Armaggedon-like conditions in April was a victory for the ages. A golfer of great skill and temperament, she has been compared with the great 'Babe' Didrikson Zaharias. The X-Factor.
Form: It is no coincidence the town this team is named after is an anagram of great. The form line of this team though is somewhat of a Gordian Knot, featuring a mixed bag of white hot form courtesy of the internationals and a NSW SGA Tour veteran hitting them like a steaming turd. If the ex-pats can carry the dead weight for the weekend, they may possibly be somewhat of perhaps half a chance. Or not.

The Corowa Borrowers – Corowa was used by the Kellys to 'trade' horses and cattle they had 'acquired'. In early 1879 the gang was seen back in the region when they crossed the Murray to escape the Victorian Police. Ned knew the river crossings as he had worked at Fairfield Vineyard, danced at Forty's Pub in Wahgunyah and drank in Corowa.
Mark Eagleston (Eagle) – This BMW driving, bourbon drinking, tailored suit wearing, Justin Bieber-looking, Tiger Woods / Rickie Fowler wannabe is a walking oxy-moron, although it can be argued that he is more moron than oxy. Possesses a golf game that can only be described as boring and uninteresting, but is also the owner of a liver harder than Chuck Norris on ice. Couldn't hit the side of a barn with his driver, so those looking for an advantage could do worse than to steal his 3-wood.
Nathan Smith (Bold Jack) – This humble gent plays his weekly golf in Windsor, a region terrorised by 'Bold' Jack Donohoe in the mid-1820's. Donohoe was one of the last 'Robin Hood' style bushrangers, stealing from the rich and fencing his booty through the poor, much like his fellow Collingwood supporters. Has been altogether overcome with anticipation and utterly useless at work since learning of this great event and may well have run his race before he sets foot on the course.
Geoff Flowers (Nude) – As close to a perfect gentleman as one is likely to meet, this lover of French literature, box kites and Bichon Frise dogs is zero chance of being overwhelmed by the occasion, despite making his BRG Major debut here. The 1974 Wallerawang Primary School Spelling Bee Champion, he knows a lot about performing under pressure, and is a sure bet to deliver the goods this weekend.
Scott Williams (Errol) – Apart from making Errol Flynn look like a choirboy, this giant of the game's favourite past times include hitting balls at the driving range, playing putt-putt with his elderly next door neighbour and chipping sugar cubes into his cup of tea from across the room. Also doesn't mind a round of golf here and there. Claims to be a sure thing on debut due to his moniker being a combo of the surnames of the No.1 golfer in the world and his caddy.
Form: This crew of golfing megastars could be the most remarkable and greatest super-group ever assembled in the history of the KGS or, indeed, any golf event ever played anywhere. Ever. They seem to have all the bases covered with class, style, skill, form, grit, spit, polish, turds, nerds and class. The sum of the parts are greater than the individual components AND vice-versa. Simply unbeatable.

The Jerilderie Gents – The Kelly Gang popped by Jerilderie in 1879, held up the local bank, jagged a few pounds, penned a feisty letter and wandered over to the Telegraph Office to chop down a few poles.
Rodney Lumsden (Hot Rod) – The raucous unit is the closest thing to a human cartoon character that exists. A merchant of fun, he is up for a good time for a long time and is happy to take everyone along with him for the ride. Expect the totally unpredictable when he is around and starting to find his range – both on an off the golf course. He always goes in hard and when he hits form he can explode in the most unpredictable ways. A complete maverick, he is capable of anything and is just as likely to comprehensively dominate or implode into oblivion.
Albert Nasralla (Benson) – This stylish gent and man-about-town from the Shire of Sutherland leads a double life akin to that of Austin Powers – a double agent jet-setting around the world romancing women while selling his magical crystal meth machine to FBI and KGB agents to pay for his 14 cats. Also knows a thing or two about getting his golf ball from tee to green and is very much one to watch this weekend.
Glen McGowan (7-wood) – The only man in BRG history to submit his own profile in hard and soft cover, complete with autograph. Will be available for free all weekend, but you must first listen to a complete recount of the statistical analysis of his last 148 rounds of golf and blow-by-blow description of his 3 birdies in that time. Recently spent the GDP of Eritrea on a new set of clubs and is easily recognised due to rainbow coloured shafts and mimicking Tour golfers before and after every shot. Unfortunately for him he is the only male golfer on the planet to carry a 7-wood so he may be better suited to the LPGA Tour.
Todd Williams (No.2 Williams) – Rocking a nickname provided by his brother Scott and a golf swing as sweet as candy, this utter professional will leave no stone unturned in his quest for a victory on debut. Will be spotted listening to Jordan Belfort's audio book for inspiration, followed by a fistful of peyote and a deep and meaningful conversation with his golf towel about the virtues of mixing mustard with tomato sauce to create the ultimate dipping sauce for shoestring fries. May be in danger of over-thinking things just a little but will be satisfied when he comes up doughnuts that he left no stone unturned, no thought unthunk, no trip untravelled and no doughnut unloved.
Form: This mob appears short of a gallop and will be lucky to make it out of the gates, let alone cross the finish line. Making up the numbers.

The Avenel Gang – Ned Kelly forged a reputation as a stand-up citizen when growing up in Avenel. As a 12 year old, he saved the life of a drowning Richard Shelton near the bridge over Hughes Creek. As a reward for his bravery and courage, Kelly was gifted a green silk sash, which he was wearing under his armour at the siege of Glenrowan.
Peter Rowe (Normy) – This golfing thrill-seeker started life as a rock-climber and daredevil, but his lesser-known talents as a jazz pianist are what brings a splash of class to this team. Unfortunately, he is not known for his golfing ability, although a recounting of the eagle Normy made at the 14th at The Dunes will have you thinking otherwise. A card-carrying pisshead, he may become a little over-distracted by the post-golf festivities to be of much assistance to his teammates.
Denis Turner (DT) – A recent convert to the great game of golf, he will be among the more excitable players on the first tee on Friday. Is a good chance to bust a valve or blow a gasket (or both) before a shot is played and will be relying on his experience as a former Olympic gymnast to settle the nerves. Will see every part of the golf course, but will do so with a smile and a hip flask and will have a cracking time.
Stuart Read (Tiny) – May not make the first tee in time due to a burning desire to collect a ball marker from every golf course on the planet, but has promised to make it back from Broken Hill in the nick of time. A lover of photography and golf courses and golf course photography, will be spotted with a camera in hand at all times to capture the raw beauty of 44 golfers having a rollicking good time.
Bill Read (Senior) – Sharing event elder-statesman status with Glen McGowan but heading the pack in golfing quality, is rumoured to have given his son, Stuart, a 15-0 flogging on a golfing road trip on the way to this event, so is the form golfer of the tournament. Currently holds the Guinness Book of World Records title for the most Chiko Rolls eaten while handcuffed, so is accustomed to a challenge, but will the KGS on debut be a stretch too far? If experience counts for anything, he is a massive chance. Unfortunately for him, it doesn't, and any golfer living in the past at the KGS is a certainty to be left behind in a hurry and without a second look in the rear view mirror from a single one of the raucous crazy KGS reprobates as they disappear over the horizon.
Form: This patchwork quilt of golfing skill and temperament might not attract much attention in the betting ring, but they may just have the perfect combination of complimentary assets to pull off a highway robbery here and steal the title from some of the more fancied gangs.