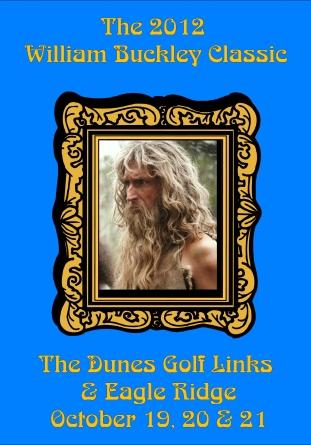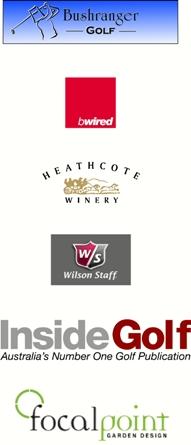 Greetings all and welcome to the 2012 William Buckley Classic

October 19, 20 & 21

An event briefing will be held on Friday Evening.

The Saturday rounds commence from 12:16 am at The Dunes.

The Sunday rounds commence from 9:38 am at Eagle Ridge.

The presentation will be held at Moonah Links Golf Academy.

Longest Drive and Nearest the Pin will be contested each day.



The organisers of The WBC would like to take this opportunity to thank:

Roger Brown from Focal Point Garden Design for the magnificent Murrangurk Perpetual Trophy;

Sally Pitt of Pitt-Bull Media for constructing this program;

Sam, Campbell and the team at bwired for their help with the Bushranger Golf website;

Denise, Steve and all the team at Heathcote Winery;

Richard, Sam and the team at Inside Golf magazine for their support;

All the Members of Bushranger Golf; past, present and future.

Giddy-up and enjoy!



The Golf

The Format: 36 holes of 2-ball ambrose over two days for stableford points. Longest Drive and Nearest the Pin will be contested each day.

The Rules: Since slow play is a potential problem for us, these rules are designed to encourage play in the right spirit and at the right pace. Teams play their chosen best ball on each shot and may place their ball half a club length (about 50cm) from where the chosen ball lies, no nearer the hole. Balls must be placed in the same cut as the chosen ball. In the interests of fast play from tee to green, teams are NOT required to mark with a tee and precisely measure from the chosen ball as they play each shot. Team members can play in any order on a shot. Please have fun, move quickly between shots, keep up with the group in front and pick up your ball when you have scratched on the hole.

Putting: Once on the green, Bushrangers should mark near the chosen best ball so all team members play from near enough to the exact same position.

Handicapping: Each team will be assigned a handicap based on official Australian handicaps and information supplied by the Bushrangers. The handicapper will be governed by a commitment to rewarding good play according to a player's ability.

Playoffs: In the event of a tie, a sudden-death playoff will be held. Teams play together as a twosome (taking alternate strokes playing one ball). Teams can determine the order as each member takes their first shot. This order is then continuous and carries over from one hole to the next until the playoff is decided.

The Rodeo Rule: This is minimum drives for each team member and will be enforced. Each team's rodeo requirements will appear on their scorecard.


Who was William Buckley?

Born in Cheshire, England in 1780, William Buckley fought as one of the King's Own Regiment against Napoleon's forces in the Netherlands. He was convicted of receiving stolen cloth in 1802 and was sentenced to transportation to Australia for 14 years. He was among 300 prisoners sent out in 1803 to establish the first settlement on Victoria's Port Phillip near what is now Sorrento.

Buckley and two others escaped in December 1803 with the aim of getting to Sydney. Alas, they went the wrong way and circled Port Phillip Bay. Due to the harsh terrain and lack of food, Buckley's companions decided to return to the settlement and give themselves up. But not the determined Buckley. It was the last time any white man would see of him for 32 years.

A powerful man standing over 6'6", Buckley pressed on along the coast to Breamlea, Torquay, Anglesea, Aireys Inlet and beyond. His first permanent resting place was near Mount Defiance where he found an abundance of shellfish, edible vegetation and natural cover. In the winter, Buckley was close to death but was rescued by an Aboriginal tribe.

Fortunately for Buckley, the locals believed that white people were Aborigines who had come back from the dead. They named him Murrangurk and took him in as one of their own. For the next three decades, Buckley travelled extensively throughout the region, mostly around Geelong, Barwon Heads, and the Otway Ranges. On July 7 1835, Buckley wandered into a camp of John Batman's party and reacquainted himself with European society.

He was the first European to walk the bush on both sides of Port Phillip Bay, living off the land and on the run from the law. Given that our determined Bushrangers regularly ingratiate themselves with the locals on our trips and that this tournament is played on courses on both sides of the bay, we think it is fitting that this event is known as The William Buckley Classic.


The Form Guide

The Murrangurk Masters – Early in his travels, William Buckley found a spear by a grave near Torquay. It belonged to the respected warrior Murrangurk. The locals believed Buckley to be Murrangurk returned from the dead as a giant white man. The two-player team format and the name of WBC perpetual trophy reflect the lives of these two men combining under one name and each year the reigning champions will play as The Murrangurk Masters.

Dave Warwick (Diesal) & Matthew Pitt (Pw Jones) – These two robust units have been all over the podiums in recent BRG Majors but half the team comes in here under a cloud of discombobulation with a crazy week in the IT department and very little time on the practice range. One of them won here in ripping fashion last year when he carried his partner all the way to title and the other has never threatened in this event despite a sublime record in the Bushranger Cup. One is an excitement machine capable of lighting up the course with dazzling stroke play and the other is a plodder at best who does his best work when grinding away. If they get it together, they could tear this field apart, but given their interrupted preparation, they will need to produce something very special to contend.


The Sullivan Bay Ginger Bread Men – Buckley and two other convicts escaped from the camp at Sullivan Bay near Sorrento on December 27, 1803. The others turned back after a few days, but Buckley pressed ahead and stayed on the run for the next 32 years.

Rob Lugton (Luggo) & Chris Stimmel (Stimmo) – One of the 2010 champions fronts up here with a mate who made his BRG Championship debut at this event last year. They finished in a creditable tie for fourth, in spite of the fact that Luggo was in the middle of his 2011 slump when he struggled to recapture his stunning form of 2010. Stimmo looks much better for the gallop last year and his easy-going style and relaxed demeanour may be the perfect foil for the often unflappable but occasionally volatile Luggo. Most importantly, they are devotees of golfing couture and bring a special flair and style to the tournament with their precocious wardrobes and ebullient choices of garments de la fairway.




The Corio Bay Fugitives – Buckley and his two fellow escapees reached the waterfront on Corio Bay at what is now Geelong a few days after escaping. He came to know this area very well over the next 32 years.

Matthew Thomas (T-bag) & Chris Hull (Hully) – This combo has a great deal to recommend their chances and must be regarded as one of the red hot favourites here this week. Both are ferocious competitors who are driven to get the best out of themselves on the golf course, so they should put in a strong showing if they settle into a good rhythm early. They have never teamed up before, so they may have some challenges sorting out their strategy, but as two of the low-markers here, they should find some complimentary yin and yang in their games. With mountains of combined experience, they will be right in their element here. T-bag won this event in 2010 and his last start at the KGS in July, so they are sure to see out the journey and will deliver great value to their backers.


The Mount Defiance Alliance – At Mount Defiance just past Lorne, Buckley found a cave with fresh water and food nearby and made it his first permanent home, living there for several months through the autumn of 1804. As winter set in, he began to struggle and decided to make the long trek back to Sorrento.

John Lazzara (Funk J) & Ryan Vine (Rhino) – This pair of iconic golfing superstars are right in their element here. Famous for their majestic, sartorial splendour and splendid metrosexual refinement, one loves this event and over-performs every time he fronts and the other is making his debut but has magnificent bloodlines to do well here. Funky has the remarkable record of three WBC starts for three runnings-up, so he is racking up a Great White Funky mystique at the WBC. Rhino is debuting at the WBC but did captain his 'D' grade school golf team to a pants-ing from the local girls school. Has dealt with that early career setback by hitting the bottle and he augments his self-medication with some dabbling in home-brewing and procreation. Sure to do well here.


The Barwon Heads Sir Robins – On his first day marching alone, Buckley happened upon a group of Wathaurong people camped peacefully by the Barwon river. Fearing for his life, he silently crossed the river at the heads and bravely ran away.

Neil Hocking (Hocks) & Nick Mouhtaropoulos (Moota) – These two
rabid golfaholics have improved their games over the last two years more than any other pairing in the field here. One has a short game that verges on wizardry when it is on and the other can play every shot in the book although has a few demons lurking under his driver head-cover. His big dog is unreliable right now. When he drives straight he can light up the course, but when the driver is off, this Jeckyll and Hyde can serve up some golfing depravity. If Hocks gets his short game going and Moota drives it in the short stuff, they could go mental here and live up to the predictions they are sure to be making on Friday evening. Neither has a WBC to his name and both are hungry, so expect them to be in contention on Sunday.


The Indented Heads – It was at Indented Head in 1835 that Buckley, after 32 years in the wilderness, decided to return to European society when he walked into the camp of John Batman's exploration party. Standing 6' 6", dressed in possum skins and carrying a spear, a driver, 5-iron, wedge and putter, he made quite a first impression.

Jason Woods (Woodsy) & Kevin Brew (Brewsky) – Woodsy made his BRG Major Championship debut at this event in 2011 and acquitted himself well with a glorious fourth place finish. The very easygoing and relaxed Brewsky is making his debut this year and may have the job in front of him. Has shown some form in a couple of SGA Tour starts but will have no idea of the demands this event makes on one's skill, nous, wits, courage, character and liver. There is no doubt he has the pedigree to handle this step up in class, but he may not have the ideal preparation coming in here to find his best form. They can both give the pill a decent whack and will back themselves to do some damage but they really seem to be a long shot here and probably just making up the numbers. May provide value for trifectas but they are at very chunky odds to be challenging at the finish.