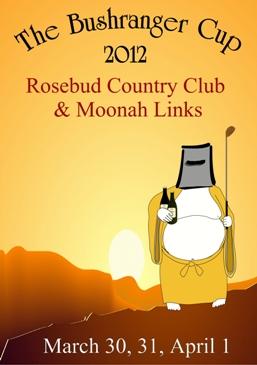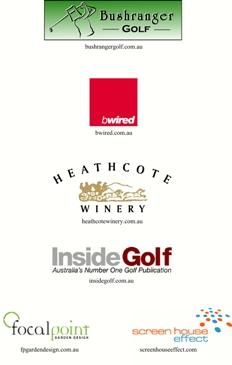 Greetings all and welcome to the 9th Annual Bushranger Cup!

The Round One solo 9 holes commence at 3:15pm on
Friday afternoon at Rosebud Country Club.

A gourmet Champions BBQ Dinner will be held at
The Moonah links Golf Academy on Friday evening.

A team meeting will be held during dinner.

Breakfast options are to cook at home at
MLGA or to go to Moonah Links for tucker.

Round Two & Three 2-ball ambrose rounds will commence
at 11:30 am Saturday at Moonah Links Legends Course.
Details of the pairings and tee times appear below.

The Round Four 18 holes of 4-ball ambrose will commence
at 8:50am Sunday at Moonah Links Open Course.

The presentation ceremony will be at the Moonah
Links Golf Academy after golf on Sunday.


Giddy-up & Enjoy!


The organisers of The Bushranger Cup would like to take this opportunity to thank:

Sam, Campbell and the team at bwired online solutions for their partnership
and support with the Bushranger Golf website.

Denise, Steve, Bridget and all the team at Heathcote Winery for their support
of Bushranger Golf to produce the very popular Bushranger Shiraz.

Kai and all the team at Moonah Links for putting up with us.

Richard Fellner from Inside Golf for his help with this program and the promotion, publicity
and marketing of Bushranger Golf and the events operated by Social Golf Australia.

Padge and Debbie from Murray River Horse Trails for The Bushranger Cup, the bullets and the inspiration.

Roger Brown from Focal Point Garden Design for his meticulous efforts in preparing the Bushranger Cup trophies.

Steve Foxwell and Grant Jones from Screenhouse Effect printing for their
assistance with the Bushranger Cup stubby holders.

Sally Pitt of Pitt-Bull Media for being 37 weeks pregnant and not once complaining that I've just been to Thailand for a week and now I'm off having a blast with the Bushrangers. How's how lucky I am!


The Kelly Gang - The last and most infamous of all the Bushrangers, Ned's crusade to secede from the colony and start his own republic fell slightly short of the mark. An expert self-promoter, he always knew the importance of snappy dressing for a photo opportunity.

Matthew Pitt (Pw Jones) - Has just stepped off the plane from Thailand having hosted the inaugural SGA International last week. Is waddling around now mumbling dislocated pearls of irrelevant eastern wisdom and claiming that a fat round belly does not reflect a lack of conditioning, but is a profound homage to the Buddha. Has become accustomed to having a caddie to pull his clubs and clean his balls, so will surely struggle here to adjust to the rigours of self-management that the Bushranger Cup demands. A long shot here.

Nick Honey (The Hominator) - Comes in here as the defending champion for the third time, so has plenty to recommend his chances. Has always favoured a low-key approach to winning championships, preferring to let his team-mates bask in the glory of making the match-winning putt or the freakish chip-in to steal victory from the jaws of defeat. May have to step out of the shadows this year and assume a higher-profile if he is to lead his team to victory again.

Dace Warwick (Diesal) - Comes into this event in a rich vein of form with brilliant victories in his last two Major Championship starts. Was superb at the 2011 Cup and then backed that up with an unbelievable display of ball-striking to take out the 2011 WBC. Is as keen as any man here and has put together a perfect preparation, so must be considered a massive chance one again. Given the doubtful form (and pedigree) of his team-mates, will need to produce his very best if he is to drag his shabby comrades into contention once again.

Richard Mitchell (Saddam) - The 2005 Champion makes a welcome reappearance at the Cup after a couple of years away. This larger than life raconteur has kept audiences entertained at golf courses around the world and can be relied on to do the same again here this week. Will have his golf ball singing and his bears dancing and the Bushrangers rolling in the aisles for all the weekend as he gives his all to everyone all weekend. Is a big-hitting wildcard and, if he is on song, could lift his team to another famous victory here. One to watch.

Form: The defending champions have all the weapons to put on a stellar defence. Last year they got better as the weekend wore on. Expect to see the same class, character and skill again here this week.



The Captain Melvilles - Captain Melville was a shabby small-time thief who narrowly escaped capture several times. He was finally apprehended by police on Christmas Eve 1852 in a drunken stupor at a Geelong brothel after arousing suspicion among the local sex-workers by boasting to them about his illegal exploits. A real class act.

Ian Crotty (Crock Diddy) - Golf and good humour have been intricately linked throughout history. Bob Hope, Bill Murray, David Feherty, Lee Trevino and more all love the game and a good gag on the course. Alas, for every clever golf jokester, there must be, according to Marx's Law of Opposites, a dark side – golfers whose "razor-sharp wit" couldn't slice through runny Camembert. To his credit, he backs himself in and will never quit. Has played every Cup with two wins and has the pity of the handicapper, so is well-placed for another tilt here.

Sebastian Shand (Bastros) - With a handicap as high as Whitney Houston at a Farrah Fawcett funeral, this big-hitting and fast-talking raconteur is one of the real wildcards here this weekend. One of only six Bushrangers to have played in every Cup, he has a remarkable fashion sense, a flair for conversation and a pair of Bushranger Cup trophies on his mantelpiece. With a heart of gold, a liver of titanium and a swing of tarnished copper, he must be considered a genuine chance to do some damage here this week. Always one to watch.

Simon Whyte (Whytey) - This smooth operator from over the Nullarbor is rumoured to love his golf as much as a good bucks turn. Has an unquenchable thirst to be in on all the action all the time as evidenced by his choice this week to trek back to town on Friday night to see his beloved Hawks. Alas, as the good book says, a man cannot serve two masters. Playing in his first Cup here, has no idea of the staying power required. Is to be commended for trying to do it all, but may require oxygen by Sunday arvo to get over the line.

Andrew Yates (Yatesamania) - Made his Bushranger Golf Major Championship debut at the 2011 WBC and acquitted himself admirably with a noble and dignified 10th place finish. Notwithstanding that the field only contained 10 teams, he may have been hampered by a team-mate who gave him the support of an anvil. Appears to have made a far more discerning choice of partners here and will be better placed to cope with the rigours of this event after his WBC campaign.

Form: A genuine contender. Call your bookie and bet the farm.


The Stringybark Creek Freaks - It was at Stringybark Creek in the Wombat Ranges in October 1878 that the brooding confrontation between the Kelly Gang and the police exploded into all-out war. Three police officers lost their lives and the Kelly outbreak lasted for the next 20 months.

Michael David (Mikey Dee) - It was Bill Shakespeare who said some men are born to greatness, some achieve greatness and some have greatness thrust upon them. And some men thrust greatness upon others. Magic Johnson was famous for making his team-mates better players and last year Dee took this to another level – by carefully managing his own game, he demanded that his mates raise their performance to new heights. Alas, he set the bar a bit too high for them. He may need to reel it in a bit this year if his mob is to contend.

Brett Simpson (Simmo) - This punting machine is truly in his element here. A stalwart of the Bushranger Cup, he achieved his breakthrough victory in 2009 and has maintained a very high level of play throughout his career with one of the lowest stroke averages of any Cup player. Combines his fine play with a ferocious appetite for fun between rounds and looks to take as many blokes along with him as he can. A true legend of the Bushranger Cup and one of the best blokes to have around on a golf weekend and/or in a TAB.

Greg Cousins (The Geesh) - A long, long time ago on a fairway far, far away, a cry was heard to ring out that spread great joy across the land. After a mighty crunch of persimmon on balata, a ball sailed straight and true through the air and a lone page was heard to cry, "Unleash the Geesh!!!" After many years in hibernation, the Geesh is back, his woods traded in for titanium but his heart still strong and pure. This very likable champion will deliver a good time for all this week, even if his rusty game promises to deliver very little for his team.

Tim Holroyd (The Heesh) - In the words of his team captain, this mathematical genius is dry as a wooden tit. Although he is renowned for his laid-back sense of humour don't be fooled by his relaxed exterior. An inscrutable odds-calculator, he has the analytic skills of Deep Blue and the ethical depth of Woody Allan. Expect to see him pounding away at his abacus as he navigates his way around the fairways and the gaming tables. A big man for the big occasion.

Form: These rogues have the pedigree and past form to suggest they can muscle their way into contention here. A massive chance.


The Ben Hall Gang - Originally The Frank Gardiner Gang, it became known as The Gilbert Gang when Gardiner was captured in QLD in 1861. It then morphed into the Gilbert & Hall Gang and later again the Ben Hall Gang. Their revolving door policy remains strong to this day.

Richard Fellner (Quigley) - Had a golfing epiphany of epic proportions and discovered "the secret to golf" on September 28th 2011, leading to pure, straight, awe-inspiring ball-striking that would make Moe Norman blush. Unfortunately, not more than one day after this moment of enlightenment, he went under the knife on September 29 to repair the ACL he tore in a freak dancehall mishap. The injury has dashed all hopes of a career of professional golf. Or dancing. First start after a long, long spell. Absolutely no chance. This crippled pony is at shorter odds to cop the green screen than to bother the engraver.

Michael Mileo (Seve) – Renowned for his graceful swing, impeccable attire and nearly empty trophy case, Seve brings some much needed class and style to this event. But that's about it. He hasn't tasted victory since his partner carried him to the podium in the 2009 William Buckley Classic. With a handicap that goes up and down faster than the cast of "Debbie Does Dallas", will likely need divine intervention for any hopes of a podium appearance. That said, if the prize pool includes a box of ProV1s or a signed poster of Amanda Balionis in a bikini, then the other teams may not stand a chance.

Rob Lugton (Luggo) - In 1913, a young horse named Donnerail won the Kentucky Derby with the longest odds in history, a tidy 91-1. In more recent times, the young stallion known as Luggo has had the bookies scratching their heads. With the long game of John Daly and the short game of Tyne Daly, he is impossible to rate. After stuffing his trophy case with FOUR major trophies in 2010, he fell from grace in 2011 faster than Tiger Woods. A complete wildcard here this week, back him at your peril to finish first or last or somewhere in-between.

Chris Stimmel (Stimmo) – First start in a field of this quality and is at very short odds to be completely overwhelmed by the scale and journey of the Bushranger Cup. Has shown glimpses of good humour, an easy-going style and some fine form with high finishes on the SGA Tour early in 2012, but neither his game nor his liver have ever had to cope with anything as wild as this weekend. A long shot.

Form: Impossible to rate. Probably just making up the numbers.


The Canvas Town Mob - A rare city-based mob of Bushrangers who operated in South Melbourne in the 1850s. They would knock off ships at port and then frivolously drink and gamble away their booty.

Neil Hocking (Hocks) - This silver fox has made a habit of winning just about everything on offer except this event. A great student of golf and a gentleman on and off the golf course, he has made great strides with his game over the past two years. He is the current BRG Player of the Year and the reigning SGA Tour Order of Merit Champion. Won the WBC in 2009 and the Tour 4BBB Championship in 2010. Has done it all except salute here. Desperately wants to add this title to his CV and will have his deluxe short-game on show this week in another desperate attempt to claim the Bushranger Cup.

Gavan Doran (The Rose of Doran) - May well be the pre-eminent purveyor of fine wines here this week if not the pre-eminent golfer. Does not lack the desire and the will but as a relative newcomer to golf, is still honing some of the finer points of the game. More than makes up for this with the elegant gusto with which he approaches the après-golf activities. Expect to see him in top form between rounds engaging in some sporting repartee with a fine bottle of red in his craw and The Rose of Doran creeping into view.

Nick Mouhtaropoulos (Big Nick) - The term Golf Addict is one that tends to get thrown around a little too loosely these days. Some blokes think that getting the odd leave pass qualifies them for this glorious title. While for others, keeping the clubs in the boot of the car (just in case) is a badge of honour. One bloke I know even keeps a change of clothes in the car so he can sneak in some golf on the way home from work without telling missus. What a nutter. Not our Big Nick though. This ball crunching monster is almost entirely indifferent to golf. Yes siree Bob. He can take it or leave it. Golf schmolf.

Nick Sutherland (Great Suther Land) – This big-hitting behemoth is making his first start in a BRG Major Championship but appears to have the pedigree, skills and character and mental toughness required to make a big impression first up. Is nuts about golf, loves the peninsula courses, is a great team player and displays a mental toughness that suggests he will be very hard to dislodge with even the most ferocious heckling. Looks after himself better than most here so may have serious question marks over the power of his liver.

Form: This combo has it all and must be rated a huge favourite here.



The Friends of Mad Dog Morgan

- Mad Dog Morgan was an entirely unpleasant, undignified, bloodthirsty and unconscionable character who gave Bushrangers rather a bad reputation. On April 11th, 1865, he was shot dead near Wangaratta after which his head was cut off and tobacco pouches were made from his scrotum.

Warwick Stonehouse (Boo) - This one man party-machine and golfing maniac is such an institution at the Cup that some would argue he might need to be put in an institution. He holds the record for the lowest scoring average across all Bushranger Cups as well as the dubious record for receiving the most comments about his unique taste in couture. Given his penchant for the pink shirt, the odd tipple and playing the game loud, look out for Boo to out-drink, out-pink, out-wink and under-think the field here all weekend.

John Lazzara (Funky J) -

After cruising to victory in the inaugural Bushranger Cup in 2005, it's all been downhill for Funky J. Like many people who struggle with fame, this metrosexual golfing machine may have let some of his early success seep into his scone. His suave and charismatic approach that serves him so well off the golf course may be his undoing. His attempts to sweet-talk his golf ball into submission with lines like "Hey good lookin', hows about serving up Funky J a little sugar" reflect his unorthodox approach to the game.

Andy MacFeate (Macca) – This snap-happy chappy embodies the essence of modern Bushranging. He worships the Bushranger Holy Trinity, namely: A) Drink, B) Gamble, C) What was the first thing again? Expect to find him curled up in a foetal position, under the poker table, a golf club in one hand and tumbler of nectar in the other, mumbling something about somehow to someone somewhere. And that is just on Friday afternoon. Could be a long weekend.

Amit Shah (The Shah) – This nuggetty golfing aficionado is making his first start in a field of this quality. According to his team-mates, he has been drafted into this combination because he is crazy as a cut snake on a hot day. He is rumoured to play unconscionably sensible golf - not hitting the longest ball, but consistently straight. Watch out for him on the poker table at night as this smiling assassin knows a few moves and is well accustomed to having the last laugh.

Form: This mob is arguably the greatest collection of nutters here. With the yawning gulf between their ambition and their skill, they will fancy their chances. Early favourites for the most-deluded gang award.


The Aaron Sherritt Gang - Aaron Sherritt was Joe Byrne's great mate and a trusted lieutenant to the Kelly Gang. Folklore has marked him as a traitor, but he played a delicate game of espionage pretending to be a police informant. He came undone when the cops got wise and spread rumours he had betrayed the gang. In the end, he was murdered by Joe Byrne for his apparent, but unproven, treachery.

Mark Henderson (Hendo) – This big-hitting raconteur led his team to within a whisker of forcing a play-off last year and will be looking to go one better here. Is rapidly making friends on BRG weekends with his habit of bringing breakfast tucker along for all to enjoy and is doing the same again here. It is a safe bet that this big-hitting unit will probably be first in line for brekky every morning. Is known for his snappy one-liners and heckling skill, although he usually saves his best work for his team-mates. When he settles into a rhythm is very hard to dislodge and is sure to have a great weekend and take a few along for the ride.

Leo Ryan (Rhino) – This unflappable character is one of the few Bushrangers here this week who travel the world as a weight lifting and wrestling judge. Expect to see him counting out a few blokes this week as the regular sessions of Greco-roman, WWF and jelly wrestling break out over the weekend. Can rack up a score on the golf course on his day and is always good for a laugh. Seems to attract a fair bit of the heckling, especially from his team-mates (Hendo), but is never fazed. Good value.

Paul Gray (Paulo) – This easy-going Pom makes a point of always enjoying his golf and good company on and off the golf course. Always has a smile on his face and is heavily focussed on a good time. Can smash his ball all around the place and sometimes it even goes where he is aiming. Has been under an injury cloud this year but seems to have shaken that off and will be primed for a strong showing here after going so close in 2011. Will certainly figure in the finish.

Wayne Ball (Ballo) – A very handy golfer with one of the lowest marks of any player here. Has been drafted into this team after his comrades went within a whisker last year and may be the final piece to the puzzle for them. Loves a Jim Beam or 10 and is rumoured to have one of the most powerful livers in the field here this week. Is making his Bushranger Cup debut but has prior form with a couple of KGS starts under his belt so knows what to expect. Always gives a good account.

Form: This mob is a huge chance here this week. They work their way into contention every time and have proved their pedigree with a barnstorming finish in 2011. Call your bookie and take any odds.


The Moondyne Joe Gang - Joe Johns was convicted of stealing some bread, bacon, cheese and salt in Pentwyn Clydach and transported to Fremantle in 1853. He later settled in Moondyne and was done for stealing a horse. He escaped. Was caught. Escaped again. Caught. Escaped. Was put in an escape proof cell. And escaped again. A slippery customer, he became a folk hero in Western Australia.

Ivan Jones (Joneso) – This gentleman of the fairways has travelled further (much further) than most to be here this week. He hails from Perth and brings the legend of Moondyne Joe with him, being an equally slippery and well-travelled customer. Left WA a fortnight ago to play the SGA International in Thailand, then made his way to the Mornington peninsula where he has settled in this week. Has great form winning C Grade at the 2009 ASGCC and made his Bushranger Cup debut last year. Has all the weapons to contend here.

Phil Smith (Smitho) – This feisty character is making his first start in a field of this quality and is looking to make history as the first ever left-hander to raise the mighty Bushranger Cup. Has great form over the last 12 months with wins in the 2011 VSGCC and is the reigning SGA Tour 4BBB Champion, so is clearly handy in team play. One can only marvel at how he plays so well, despite standing on the wrong side of the ball. A ferocious competitor and sometimes his own harshest critic, he is sure to give a good account and be thereabouts at the finish.

Tom Tomlin (Thommo) – Making his first start in a BRG weekend event having made a name for himself on the SGA Tour in 2011. A big unit with a big swing, he can give the ball a mighty whack and is capable of taking a course to pieces. Can be razor sharp on the self-deprecation, especially after hitting a bad shot. Not really worth heckling as he will take care of it himself if his swing goes off. An honourable gentleman who is known to consort with rogues, his dry wit and leisurely humour will be most welcome this week.

Paul Richards (Richo) – One of the low-markers here this week so has played plenty of golf and should adapt nicely to the demands of the Cup in his first appearance. Describes himself as…an inconsiderate arsehole who has a blatant disregard for etiquette and goes by the name "idiotboy", he clearly has a way with words and has no worries keeping his ego in check. Otherwise very little is known about this enigma other than he clearly keeps questionable company.

Form: This rag-tag crew is an unknown quantity. Could surprise.


The Captain Moonlite Gang - The devious Andrew George Scott, a man with three first names, became the infamous Captain Moonlite when he began robbing banks in the 1870s after throwing in a promising career as a preacher.

Paul White (Whitey) – The leader of the Sunraysia crew, this golfing reprobate has set himself for a good time this weekend at his Bushranger Cup debut. If you look out the window early Sunday morning, and see a figure stumbling through a hazy, thick fog outside, it's probably just Whitey, trying to find his way back to the room. With a love for beer that is only matched by his love for another beer, this bloke may not even be aware there is golf tournament on this weekend.

Dennis Williams (Dizzy) – This good-humoured big man hits a long ball and has golfed his way to all corners of Australia in search of the golf course that suits his game – one with mile-wide fairways and cups the size of a fireman's bucket. Alas it has been an unfruitful pilgrimage so far, but here he is again, on the road without a buck on his personal quest for his golfing grail. As his nickname suggests, he can easily become discombobulated, especially when he finds himself at the top of the leaderboard which induces an immediate case of vertigo and invariably sees him crashing back to earth.

Gary Fumberger (Fummy) – Loves a hit of golf with his mates and making sure every one is well-oiled all the way round. Is rumoured to be a big fan of all forms of punting. Legend has it that he has bet on so many nags, he is the first person in history to have horses actually bet on HIM. Is at longs odds here this week, not to win or place, but just to finish. No doubt has the liver power to make the journey and if the finishing post is anywhere near the bar, he may still be half a chance to sneak a spot on the podium.

Jason Hartley (Knackers) – This Casanova of the fairways should clean up here this week as he has fewer issues than most obtaining a leave pass. His only obstacle is whether he is over-golfed. Is rumoured to have one minor Achilles Heel that may hold him back: he can't play for money on the golf course. Make any sort of bet and he goes to water. If he gets away to a fast start at the Cup, expect to see a few Bushrangers chasing him down the fairway with wads of cash and offering some juicy odds for a small wager on the side.

Form: Definitely a team of goers, but one to watch for all the wrong reasons. Not without a chance but probably consider for trifectas.