Home
About Us
Golf Events
The Campfire
Golf Resources
Golf Handicap
Membership
Golfers
2019 WBC
2019 KGS
2019 BC
2018 WBC
2018 KGS
2018 BC
2017 WBC
2017 KGS
2017 BC
2016 WBC
2016 KGS
2016 CCC
2016 BC
2015 WBC
2015 KGS
2015 CCC
2015 BC
2014 WBC
2014 KGS
2014 CCC
2014 BC
2013 WBC
2013 KGS
2013 CCC
2013 BC
2012 WBC
2012 KGS
2012 CCC
2012 BC
2011 WBC
2011 KGS
2011 CCC
2011 BC
2010 WBC
2010 KGS
2010 BC
2009 WBC
2009 KGS
2009 BC
2008 WBC
2008 KGS
2008 BC
2007 WBC
2007 BC
2007 KGS
2006 WBC
2006 BC
2006 KGS
2005 BC
2004 BC
Contact

The 2006 William Buckley Classic Program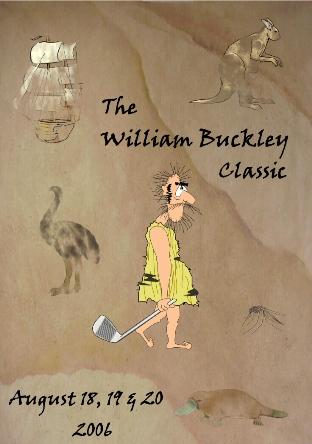 Greetings and welcome to the 2006 William Buckley Classic at
Moonah Links, Eagle Ridge & The Nepean CC, August 18,19 & 20
A team meeting will be held Friday after dinner from 9:30 pm.
The tee times are:
Saturday from 11.00 a.m. at The Open Course, Moonah Links
Sunday from 11.06 a.m. at The Eagle Ridge Golf Course
The Format: Ambrose best-ball played between teams of two.
Longest Drive and Nearest The Pin will be contested each day.

The organisers would like to take this opportunity to thank Roger Brown of Focal Point Garden Design for the magnificent William Buckley Classic Perpetual Trophy, Sally Pitt from Pitt-Bull Media for constructing this program, Andy Rogers from Eagle Ridge, Irene Day from Moonah Links and Anne Roberts-Nissen & Emma Rose from Nepean CC for all their help organising the event.
The Rules: Since slow play is a potential problem for our gangs, these rules are designed to encourage play in the right spirit and at the right pace. Teams play their chosen best ball on each shot and may place their ball half a club length (about 50cms) from where the chosen ball lies, no nearer the hole. Balls must be placed in the same cut as the chosen ball. In the interests of fast play from tee to green, teams are NOT required to mark with a tee and precisely measure from the chosen ball as they play each shot. Team members can play in any order on a shot. Putting: Once on the green, Bushrangers should mark near the chosen best ball so all team members play from near enough to the exact same position.
Handicapping: Each team will be assigned a handicap by the organisers on the basis of official AGU handicaps and information supplied by the Bushrangers. The handicapper will be governed by a commitment to rewarding good play according to a player's ability.
Playoffs: In the event of a tie, a sudden-death playoff will be conducted. Teams play together as a twosome (taking alternate strokes playing one ball). Teams can determine the order as each member takes their first shot. This order is then continuous and carries over from one hole to the next until the playoff is decided.
The Rodeo Rule: This is minimum drives for each team member and will be enforced. Each team's rodeo requirements will appear on their scorecard.

Gav Doran (The Rose of Doran) - This erudite raconteur and ferocious competitor is well known for his jocular disposition and his refined palate. A massive lover of red wine, he takes his nick name from the red wine crust which begins to form around his gills after a couple of goblets of the heavenly red nectar. Possessing a sharp wit and a sturdy liver, he is at very short odds to make a huge impact between rounds and has a massive capacity for going the distance. His form on the course is an entirely different matter and he can't be expected to threaten the engravers on Sunday with much more than a friendly offer to top up with some more Bobbie Burns Shiraz coupled with a cheerful anecdote of warm regard.
Form: Can't really golf at all but can talk and charm his way into and out of anything. Must be rated a fair chance to heckle his way somewhere near the podium on Sunday.
Neil Hocking (Plonk) – This enigmatic chap is a largely unknown quantity in these parts. Given the quality of the company he is known to keep, he could well be one to watch this week for all the wrong reasons. Rumoured to be a master tactician around the links and a wily competitor, he is also known for his profound ability to optimise his participation in the between-round relaxation action. A devout worshipper at the altar of the Beaujolais, he is understood to possess a robust and versatile constitution. Has had a tumultuous on-again-off-again affair with the game for many years and, on his day, is capable of putting on an absolute exhibition of ball-striking and a glistening display with the flat stick. Is looking sharper on the course now than he has for yonks and certainly adds another dimension of class to this already handsome field.
Form: First start in a field of this standard, but has shown strong form on wet tracks in the past so must be treated with respect. Consider for trifectas.

Campbell Wilson (The Big 'C') – This erstwhile humble, small town golfer is widely known to intimidate opponents with his big dog and his even bigger mouth. He was a child prodigy who burst onto the international scene with his stunning win at The Sale Golf Club Junior Classic as a pre-pubescent. However, his penchant for beer, fun and dancing girls has seen his ranking plummet and today he is a shadow of his former self and a sad sight to behold when he makes his rare guest appearances at charity golf days. This easy-going raconteur is unaffected by his fall from grace and is known to carry on as if he's still on top of the world. A gregarious character and an artful people collector, he is a good bet to win many friends by the end of the week, which is fortunate as he looks like he has bugger all hope of winning any trophies.
Form: Like a lot of weirdo lefties, he can give the pill a total caning as long as he doesn't freak out when he realises he's standing on the wrong side of it. Making up the numbers.
Joel Thorson (Strasbourg) – It is golfing legend that Jack Nicklaus says the more he practices, the luckier he gets. With this in mind, 'Stras' is shaping up to have a most unfortunate weekend on the course, chock full of bad breaks and unlucky bounces. The reality is that if he wasn't with us here, he wouldn't be playing any golf at all. What he does have in his favour is that he hails from the bush and regularly inhabits the Surf Coast around where William Buckley built one of his first permanent shelters near Sugarloaf, not far from Lorne. With the very best nickname in the field, expect to see this massive unit in the thick of the action for the whole weekend. Since he still has a lot to learn about the mysteries of our ancient game, his pedigree looks much better suited to the rigorous challenges of the 19th hole where his natural ability with any shaped vessel will hold him in good stead.
Form: Has done as much, if not more, preparation this week than ever before and so is at very long odds to be in contention on Sunday afternoon.

Ian Crotty (Crottman) – What a roller-coaster ride it has been for this marvel of the modern game. A most urbane man-about-town and a sophisticated metro-sexual long before it was fashionable, this exquisite ball striker has had a love affair with golf that must rate as one of the great romances of the 20th century, and is shaping up as one of the massive tragedies of the third millennium. A child prodigy, there once seemed no limit to what this dapper chap could achieve. From the 'right' side of the tracks and with the all the advantages that only privilege can provide, it seemed the sky was the limit. And then, nothing. Had a brief flirtation with success a couple of years back with fortunate wins in the 2005 Bushranger Cup and the 2005 Surf Coast Cup but the rest of his form has a strong aroma of the Duval about it. Seems happy these days to rest on his laurels and play up between rounds, frivolously womanising, drinking and gambling away his inheritance.
Form: At short odds to be chewing a few ears off at the bar again with stories about himself winning something or other way back when. No chance here. Will have the stewards all over him if he is anywhere near the podium at the finish.
Sebastian Shand (Bastros) – A ferocious competitor who, after years of average and below average performances on golf courses the world over, finally realised a tipple of his potential with forgettable victories in the 2004 Murray River Golf Challenge and the 2005 Bushranger Cup. This gregarious gentleman has long been widely known for his skittish wit, commanding liver and uncanny ability to optimise the social opportunities between rounds. However, since the recent arrival of his first born, his well documented practice regime has fallen right away and his priorities have shifted dramatically. It may appear that he is still 'talking the talk', but doubts linger as to whether he wants it badly enough. After a hollow, flaccid and limp defence of his Bushranger Cup crown recently in Corowa, it appears his best is well behind him and it is time to hang up the clubs and retire now with his dignity intact. As much as his fans would love to see him come back, they all realise he is too far gone. It is not good for the game that we have to see him like this: a crumbling, pathetic shadow of his former self.
Form: Well past his best. Although he won't admit it, deep down he knows he is just making up the numbers here.

Matthew Pitt (Pw "Bobby" Jones) – An absolute certainty to take out this championship. On form, preparation, looks, strength, pedigree, character, ambition and experience, he has no serious challengers in this field. His wins in the 1998 Shiraz Classic, the 2000 Duzzo World Invitational, the 2005 Jack the Hack and 2006 Bushranger Cup indicate that he knows his way to the post and will do almost anything to win. Consider also that he designed the format here, is very close to the tournament handicapper, has selected all the pin placements, makes up the rules as he goes along, wrote the program form guide, is the tournament engraver, is in sparkling form coming off a win at his last start and possesses an unscrupulous nature with no principles nor ethical values whatsoever. A thoroughly un-likeable fellow, he doesn't care what others think; he only cares about winning. A class act who stands out head and shoulders above this shabby field. An absolute certainty.
Form: Competing at a level well below his mighty standards here, is an un-backable favourite and will win here by the length of the straight and going away from the field.
Richard Thurkle (Lt. Dick) - It was Winston Wolf who said, "Just because you are a character, doesn't mean you have character". There is no doubt LT is a massive character. This human-highlight-film combines a solid all-round game with a fanatical attention to detail that leaves nothing to chance. He loves winning majors so much he is rumoured to sprinkle them on his cornflakes and munch them for brekkie. Occasionally, he does struggle to stay focussed on the job at hand and has been known to fall victim to the many temptations and distractions that cross the path of a star of his calibre. A superb and individual swinger of the club and a very intuitive putter, he can run hot and cold very quickly, sometimes in the middle of the same shot. With a reputation for devoting an equal amount of effort to his golfing and his partying, look for this marvel of humanity to put something back into the game, both on and off the course.
Form: A streaky genius who usually plays like crap but can turn it on at short notice and comes in here with some strong recent form. Not without a chance.

Roger Brown (Arbeige) – Without question the keenest man here this week. Will probably have all his wheels fall off on Sunday arvo and will go down swinging. Absolutely LOVES his golf and can't get enough. Will have been here playing and practicing all day Friday and will be out playing extra holes on Saturday and probably on Sunday after the presentation ceremony. Also has a bit of a soft spot for Bourbon. And laughing with mates. And winning. Isn't quite so fond of Frisbees. He is a smiling assassin and he can monster the ball when he gets onto it. Has crafted a very neat reputation with his exploits during the après-thwack activities over the years. With wins in the 2000 Duzzo and the 2006 Bushranger Cup, he knows where the post is and should be in contention again.
Form: With some new chinos in his kit bag, is a fair chance to leave a very strong impression here both on and off the course.
Joe Di Masi (Mighty Joe) – A relative unknown in these parts, he comes highly credentialed and is known to consort with the kind of rogues who have made Bushranger Golf what it is today. Although it is the first start for him in a field of this quality, the word on the street is he loves his golf, so should be able to hold his own in this glittering field. The even bigger whisper is he loves his red so much he has taken to mixing up his own batches of the stuff. A mind altering substance, he uses it to get his competitors smashed and then cleans them up on the course. Will be playing at a huge disadvantage here as he is staying at his own estate near the tournament, so the entire event is effectively an 'away' game as compared with the rest of the field who are staying 'on-course'.
Form: Loves a wet track. If the winning post is anywhere near the bar, he's a fair chance to be in it at the finish.

Michael Mileo (Seve) – Comes into this week under a massive injury cloud. Has been doing it hard in the medical room since tweaking a couple of vertebrae during one of his many practice sessions. A sturdy veteran with a mountain of experience on tour, this most charming and likeable gent has the ability to launch his ball huge distances when he is on-song and is not afraid to take on any golf course in any conditions. He plays the game on his terms, never backs off, defies the odds, attacks at all costs and consistently ignores that fine line between courage and stupidity. This may explain the vacancy sign hanging in his trophy cabinet. He will definitely give his backers plenty of value over the weekend and looks a certainty to continue his strong form in the bar between rounds with a more than affable showing. Loves the green felt activities and may be looking to focus his energy there if his crippling injuries put an end to his chances on the course.
Form: Beware the injured golfer! Must be considered a massive chance of doing some serious damage this week.
Mick Van Raay (Da King) – A very large and fertile competitor who was once a well known pants-man about town, this stylish chap has settled down and opted for a more retiring lifestyle in recent years. His game has taken great strides forward of late as his love affair with golf has grown, helped along in no small part by his stunning victory in the 2001 Duzzo World Invitational 2-ball Ambrose Championship. Without doubt, one of the most amiable contenders here, his form between rounds will be sparkling as always. He can gamble and drink with the best and he is also regularly one of the most handsomely presented, always looking a treat in the mounting yard and very popular with the fillies. Alas, his golf should be easily the weakest part of his effort here this weekend and he shouldn't bother any of the more serious contenders when things hot up on Sunday arvo.
Form: May be a rough chance on a slow track but, if the pace is on, the trip looks beyond him at this distance. Has had a bit of practice and has done well so it may be time for him to be retired to stud permanently.

Scott Wilson (Hungry Hungry Willo) – What is there left to say about this enigma except, "It's time". This delightful character has been a regular at Shabby Dot Com Tour events all over the world for many years and has looked set to clinch a title every time he has stepped into the mounting yard. He possesses a powerful and technically sound swing, a sweet putting stroke, is super competitive and yet, he has won nothing. There is no doubt he is the owner of the "best golfer never to win a major" tag. Rumours are beginning to circulate that this massive punter may be investing in some side action on his competitors and then tanking and cleaning up with the bookies. How else can we explain the cobwebs in his trophy cabinet? Then again, perhaps his obsession with Texas Hold 'Em has affected his focus on the golf course. No doubt he will be coming in here with an eye on the green felt and a strong desire to convert a few more to the game he loves.
Form: If he leaves the card table before 2 a.m., you'll know he is totally focussed on the golf. Ring your bookie and back him to the hilt.
Richard Fellner (Quigley) – After appearing to be rapidly developing into one of the many journeymen of the Shabby Dot Com Tour, he broke through for a sterling victory at the inaugural Kelly Gang Shootout earlier this year. Was comprehensively swabbed by the stewards afterwards as he had shown no form whatsoever coming in to the event. Traditionally, he had only ever shown a remarkable capacity to pull a Chuck Norris and go Missing in Action at the business end of tournaments. Was back to his old self at the Bushranger Cup this year with another resounding first round blow-out to scratch his team from contention early in the running. With a massive pedigree and a silky swing, he will do a lot of damage on the practice fairway, but expect to see him battling home mid-field at the line.
Form: If he can make it into the barrier, get out the gates, settle into a rhythm and position himself perfectly at the home turn, he might be half a chance to pull some sort of Bradbury out of the hat right on the line. Maybe.

Who was William Buckley?
William Buckley was born in Cheshire, England, in 1780 and fought as one of the King's Own Regiment, against Napoleon's forces in the Netherlands. He was convicted of receiving stolen cloth in 1802, was sentenced to transportation to Australia for 14 years and was among 300 prisoners sent out in 1803 to establish the first settlement on Victoria's Port Phillip near what is now Sorrento.
Buckley and five others escaped in late December 1803 with the aim of getting to Sydney. Alas, they went the wrong way, almost circled Port Phillip Bay and ended up at Clifton Springs on the Bellarine Peninsula. Due to the harsh terrain and lack of food, Buckley's companions decided to return to the settlement and give themselves up. But not the determined Buckley.
It was the last time any white man would see of him for 32 years.
A powerful man standing nearly 6'6" (200 cm), Buckley pressed on along the coast to Breamlea, Torquay, Anglesea and Aireys Inlet. His first permanent resting place was near Mount Defiance (between Lorne & Apollo Bay) where he found an abundance of shellfish, edible vegetation and natural cover. It was here that his contact with the Aborigines began. Fortunately for Buckley, it is thought the tribe that he encountered believed at the time that white people were Aborigines who had come back from the dead.
For the next three decades, Buckley wandered extensively throughout the region, living much of the time with locals who took him in as one of their own and taught him to hunt and live as they did. Most of his years on the run were spent around what is now Geelong, through the Otway Ranges and along the coast. On July 7 1835, Buckley wandered into a camp of John Batman's party and reacquainted himself with European society.
The man who became known as "The Wild White Man" was the first European to walk the bush on both sides of Port Phillip Bay, living off the land and on the run from the law. Some places around the Geelong region now carry Buckley's name, including Buckley Falls on the Barwon River and a small settlement about 30km out of Geelong. Given that our determined Bushrangers regularly ingratiate themselves with the locals on our trips and that this tournament will be played on courses on both sides of the bay, we think it is fitting that the event be named after the classically enigmatic outlaw, William Buckley.