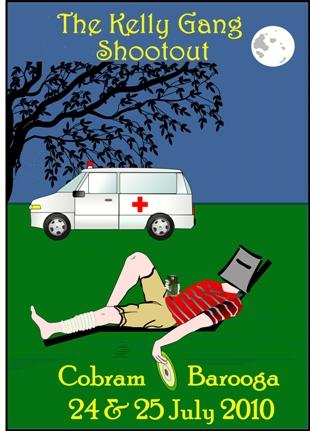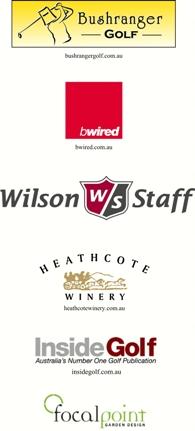 Greetings all and welcome to the 5th Annual Kelly Gang Shootout

Cobram-Barooga 24 & 25 July 2010

A Champions Dinner will be held in the KGS games room of the Cobram-Barooga Golf Club Motel on Friday evening.

A team meeting will be held in the motel rooms at 10:30pm on Friday evening, after the stragglers have arrived.

The 2-ball ambrose rounds will commence at 11:06am Saturday on The Old Course. Details of the pairings and tee times will be announced at the team meeting.

The 4-ball ambrose round will commence at 9:06am Sunday on The West Course. Details of the pairings and tee times will be announced on Saturday evening.


The organisers of The Kelly Gang Shootout would like to take this opportunity to thank:

Denise, Steve, Bridget, Bec and all the team at Heathcote Winery for their support of Bushranger Golf in producing the very popular Bushranger Shiraz.

All the team at bwired for their expertise and support in developing and maintaining the Bushranger Golf website.

Sally Pitt from Social Golf Australia. She knows why.

Richard Fellner from Inside Golf for his help with promotion, publicity and marketing of Bushranger Golf.

Jeremy and the team at Wilson Staff for their help with prizes.

Roger Brown from Focal Point Garden Design for creating the mighty Glenrowan Perpetual Trophy and for all his ongoing assistance with the annual champion's trophies.

All the team at Cobram Barooga Golf Club.

All the Members of Bushranger Golf; past, present and future.

Giddy-up and enjoy!


The Golf

The Format: Teams of four playing two-ball ambrose best-ball on Saturday and four-ball ambrose best-ball on Sunday.

The Rules: Since slow play is a potential problem for our gangs, these rules are designed to encourage play in the right spirit and at the right pace. Teams play their chosen best ball on each shot and may place their ball half a club length (about 50cms) from where the chosen ball lies, no nearer the hole. Balls must be placed in the same cut as the chosen ball. In the interests of fast play from tee to green, teams are NOT required to mark with a tee and precisely measure from the chosen ball as they play each shot. Team members can play in any order on a shot. Putting: Once on the green, Bushrangers should mark near the chosen best ball so each team member plays from near enough to the exact same position.

Handicapping: Each person will be assigned a handicap by the handicapper based on official handicaps and information supplied by the Bushrangers. The handicapper will be governed by a commitment to rewarding good play according to a player's ability. Team handicaps for the ambrose groupings are calculated from the individual marks.

Playoffs: In the event of a tie, a sudden-death playoff will be conducted. Teams play together as a foursome (taking alternate strokes playing one ball). The order is continuous and carries over from one hole to the next until the playoff is decided.

Nearest-the-Pin & Longest Drive: Will be contested on both days and, in the interests of team gloating and solidarity, any player who wins a LD or NTP wins prizes and glory for his entire team.

The Rodeo Rule: This is minimum drives for each team member and will be enforced. Each team's individual rodeo requirements will appear on their scorecard.


Additional Info

Rounds One & Two: 2-ball ambrose starting at 11:06am on Saturday on the Old Course. Competitors need to be at the course at least half an hour before hit off. All competitors have golf carts on both days.

Round Three: 4-ball ambrose from 9:06am on Sunday on the West Course. Competitors need to be at the course by 9:20am.

The Presentation: After golf on Sunday, we will collate the scores and have the presentation as quickly as possible. The venue for the presentation (probably in the clubhouse) will be announced before golf.

The Package includes:
• A cooked breakfast in the clubhouse bistro both days.
• A $15 clubhouse voucher per person per day that can be used for meals or for drinks.

The History of The Kelly Gang Shootout at Glenrowan

The Kelly Gang arrived in Glenrowan on 27 June 1880 and took about 70 hostages at the Glenrowan Inn. They planned to derail a train of police coming for them and while they waited for the train, they kept the hostages entertained by breaking out the turps and firing up a party that was a rollicking good time. The party lasted for two days. Meanwhile the police avoided the derailment and laid siege to the pub.

The gang members, Ned Kelly, Dan Kelly, Steve Hart and Joe Byrne, donned their now-famous helmets and armour (weighing about 44 kg), and fought a gun battle with the police. Before dawn on Monday June 28, Ned Kelly left the rear of the inn in his armour and circled behind the police. As the dawn broke, Ned cast an eerie figure marching out of the morning fog in his armour and overcoat, firing his revolvers. Police bullets bounced off his armour and it was not until the police shot at his legs that he slowed. He eventually collapsed and was captured beside a large fallen gum tree. He was near death and not expected to survive.

The rest of the gang died in the pub, probably from gun shot wounds, although the police bravely made sure by torching the building and burning Anne Jones' pub to the ground. The police suffered only one minor injury: the senior officer, Superintendent Francis Hare, copped a scratch to his wrist, then fled the battle and was later suspended for his cowardice. Police bullets struck several of the hostages during the siege, at least two fatally. Ned lived and left on the train they tried to derail.

The Form Guide

The Glenrowan Hacks – Steve Hart, Joe Byrne and Dan Kelly all lost their lives at the siege in Glenrowan (June 26–28, 1880) that Ned had hoped would be the catalyst for a new republic. The myth of Ned grew as he somehow survived the ordeal having sustained enough gunshot wounds to bring down a horse. It was the first and last time they wore their iconic armour. In honour of this, the defending champions will play the KGS every year as The Glenrowan Hacks.

Roger Brown (Arbeige) – Returns to the scene of his famous frisbee mishap at the 2004 Bushranger Cup, the 1st ever Bushranger Golf event. He took a small tumble on Friday night that required a midnight ambulance ride to the Cobram and then Shepparton Hospitals. Was rumoured to have smuggled bourbon and smokes aboard for the trip. Narrowly avoided a flight to Melbourne for a bum-to-shin skin graft and, after a $200 cab fare back from Shep at 6am, heroically teed up on one leg. Don't expect a repeat performance from this local folk hero.

Gavan Doran (The Rose) – Came into this event last year with very little to recommend his chances and then helped his team to a come-from-behind victory on the Sunday at Rich River to notch up his first ever Major Tournament victory with Bushranger Golf. Commenced his preparation by foregoing any golf practice on Friday arvo and retired to the patio to tune up his liver for the weekend. Looked unlikely to trouble the engraver at 6pm Friday as he gave a concert featuring The Rose of Doran from the comfort of the spa at Rich River Golf Club Motel. Miraculously came good by Sunday arvo to get the job done.

Neil Hocking (Hocks) – Just about the only true gentleman teeing it here this week, he is making a name for himself as the Jekyll and Hyde of the fairways with performances ranging from utter golfing perfection to abject depravity that are an insult to the game and then not much in-between. If he is on, then look out, because he can rip this field apart, but if he stumbles, things get shabby very fast and it is good night Irene.

Pete Russell (Pee Aaauugh!) – This all-round sportsman is making his first start in a field of this quality. Has an outstanding pedigree with exquisite form on the footy field and the tennis court although his golf game still has plenty of room for improvement. An enigma, very little is know of this mysterious athlete although some people say that when he girds his loins and applies himself, it can be reminiscent of a baby's arm holding an apple. Lets hope we don't see any of that here this week.

Form: The defending champs fancy themselves, but look unlikely to repeat their remarkable final round of 2009. Making up the numbers.



The Benalla Burglars – As the major town closest to Ned Kelly's home, Benalla was the epicentre of Kelly's bushranging days and was the police headquarters for the Kelly Gang manhunt. As a lad, Ned famously gave three troopers a hiding one day in the main street.

David Regenspurger (Hamburglar) – Backed up his brilliant 2008 that included a victory in this event with a win in the Bushranger Golf Player of the Year last year. Has arguably worked harder on his game than any in the field here and thrives on the challenge of the big occasion. This big man hits the ball hard and is always in contention. Will be no different this time with a hand-picked team of recalcitrants, ruffians and scallywags all set to smash up the joint here this week.

Wade Jones (Mr Odds & Ends) – Has terrible form at this event with a bizarre sleep-walking escapade getting his 2008 campaign off to a weird start from which he never fully recovered. Has recently pulled up stumps and left the city to return to his country roots (so to speak) and taken up residence in Benalla – a town famous for its part in the folklore of the Kelly Gang and where young Ned had his punch-on with Constable Fitzpatrick and his pals on his way to the court house. Expect to see a bit more of that in Cobram if this flighty stallion tries to repeat his late night antics of 2008. One to watch for all the wrong reasons.

Dave Amos (The Swinger) – Made a classy start to his Bushranging career in Echuca last year with a superb display both on and off the course. A man of good humour and easygoing style, he made the step up in class at his debut Shootout with no problems and distinguished himself on the golf course, the card tables, in the betting ring, at the bar and just about everywhere else. An old-school raconteur, he is up for a good time and is happy to take passengers along for the ride.

Adam Rudd (Ruddo) – Made his Major Bushranger Championship debut at the 2009 William Buckley Classic and took a while to settle into the rhythm of the weekend. Will be much better here this week for that run and has made great strides with his game that has seen him produce some super results in 2010 that have him at the pointy end of both the Bushranger Golf POY and the SGA Tour Order of Merit. Was head-hunted for this team and may be the final piece of the puzzle that launches this ominous combination to glory on Sunday.

Form: A virile, potent and masculine outfit that has the bloodlines, form and competitive drive to take this event by the horns and give it a massive shake. But if they can't all not stay in the incorrect beds between rounds, things could get very tight for them at the finish.




The Beechworth Boys – Ned was gaoled as a teenager for receiving a stolen horse. In January 1873, he was transferred from Pentridge to Beechworth Prison where he spent the next year of his youth learning from hardened criminals how he might become an upstanding member of the community.

Mick Van Raay (Da King) – It was Winston Wolf who famously said, "Just because you are a character, doesn't mean you have character!" Some people both are and have. This large fertile man with a penchant for procreation is always a delight with his relaxed, avant-garde style and big city sophistication. Has plenty to recommend his chances here with high finishes in the last two Bushranger POYs, a superb effort here last year to finish as runner-up and two brilliant wins (in 2006 & 2009) in the mighty William Buckley Classic. A big man, with a big heart and a big….er.…heart.…oh, I said that.…er.…bit embarrassing. Anyway…big.

Ian Crotty (Crocko) – On a high after his brilliant win in the 2010 Bushranger Cup, which delivered a much needed backhanded bitch slap to his many erudite, perspicacious and articulate critics who had rightly pointed out that his massive drought since his 2005 Bushranger Cup win was becoming a bit embarrassing for all concerned and had forced many people, including the man himself, to question his ability to perform for the big enchiladas, on the big stage, for the big bucks when the chips are down, the cards are flopped and the bums are to the wall.

Matthew Thomas (T-Bag) – Won this event handsomely as part of his stellar 2008 campaign in his debut year with Bushranger Golf where he also succeeded in winning the inaugural POY title. Has quickly established himself as a regular with Bushranger Golf and on the SGA Tour and has many high placings this year that are a testament to his ability to rise to the big occasion. Has won many friends with his good natured approach and will certainly figure in the finish here.

Rob Lugton (Luggo) – A man in high demand, he has won just about every team event played this year. Has picked up a few VSGCC qualifying events and some SGA Tour 4BBB scalps, but the big news was his breakthrough Major Championship win with a super performance in the 2010 Bushranger Cup. Can smash the ball a mile and heaven help us all when he gets his putting stroke organised. Could tear the field apart and will certainly be the target of some good-natured encouragement from opponents as they try to unsettle his equilibrium.

Form: One of the big contenders here this week with a couple of rock-solid performers and two wildcards who could rips this event apart.


The Stringybark Creek Freaks

– The infamous shootout between police and the Kelly Gang at Stringybark Creek took place on October 26, 1878. The Gang surprised the police at their camp and the ensuing gun battle was the spark that ignited the Kelly outbreak.

Matthew Pitt (Pw Jones) – This is his fourth attempt at Major Championship glory at this venue. He came up short in the 1996 Shiraz Classic, failed to salute here in the 2000 Murray River Golf Challenge and, once again, didn't bother the engraver in the inaugural Bushranger Cup in 2004 at this venue. Has some form elsewhere, although wins are becoming more scarce these days as he focuses more of his energy on his business interests and less on his golf game. Is rumoured to have set himself for this event at a venue he knows very well, so could surprise.

Shane Morris (The Fridge) – Won this event at his first attempt in 2008 and returned to defend last year although came in under-golfed with an interrupted preparation. It is no secret that he has devoted far more of his energies to the poker tables than the golf course of late and is at short odds to clean up between rounds and at very long odds to parlay his poker form into a KGS win. Is arguably bringing far more poker equipment here than golf gear as he has hooked up the trailer to ship in his personal Texas Hold 'Em table for the event. Don't be surprised if he forgets to even throw in his golf clubs. Will probably be seen in the pro shop before tee-off arranging a hire set.

Adam Buxton (B 1) – Is rumoured to be related to Pw Jones via a distant lineage dating back to the late 19th century. Is making his first start in a field of this quality, but appears to have the pedigree to hold his own in this company. Has settled in well on the SGA Tour this year and his form line suggests a big win is just around the corner. Already known as a good fella and courageous golfer, it will be his liver and his punting skill that will be put under the microscope here this week.

Greg Buxton (B 2) – Is rumoured to be related to B1 via a distant lineage dating back to the late 20th century. Exploded onto the SGA Tour with a cracking win in the Tour event at Sandhurst in May and has sustained great form since. The question remains whether he has the all-round game to manage this step up in class. Can he handle the rigorous physical, mental, emotional and spiritual demands required to deliver the goods on a Bushranger Golf Major Championship weekend?

Form: A real dark horse in the field here this week. Their perfect mix of experience, skill, form, nous and rugged good looks could see this gang spring something special to produce an upset. A massive chance.


The Frosty Beveridges – Ned Kelly was born in Beveridge, at the foot of Fraser's Hill, 40 kms north of Melbourne. It was his first home town and is well known for being at its best when the temperatures are a little on the chilly side.

Mark Henderson (Hendo) – This big-hitting monster is the ring-leader and mother superior of this team. He is their self-appointed and self-anointed custodian and is known to harbour an uncanny resemblance to a Friar of the Franciscan Order. Loves a beer and a laugh with his mates, but will probably have his hands full managing his teammates to have much impact on the golf course. Is looking for an armchair ride and may have brought just the manpower required.

Leo Ryan (Rhino) – Is rumoured to have had a bat on the wrong side of the law so Bushrangers here had better be on the lookout as he may be working undercover. Unfortunately, he is parading as a golfer but relies a lot on luck and lacks the shot-making skill to back up his cover story. Is believed to be a much better bloke than any of his comrades here, which immediately raises suspicions. Then again, if he associates with rogues of this calibre, undercover or not, he can't be all bad.

Wayne Ball (Ballo) – The low marker in the field here this week so certainly one to watch. Is renowned as a terminally boring golfer – he does the same thing every time: hits the fairway, hits the green and then holes out. Won't win too many friends here with that sort of behaviour. Despite his golf game, he is rumoured to be a good bloke – he will need to be to avoid problems if he has torn Cobram to shreds on Saturday. Loves a Jim Beam and may be required to dish out a few cans of placation on Saturday night to an angry mob of hackers.


Aaron Cooper (Frodo) – This man from the land of the long white cloud loves a beer and, like a few before him in Bushranger events, genuinely believes that he plays better between cans 7 and 18 than he did between cans one and six. He averages 10 – 12 cans a round and his golfing ambition is thought to be a round of golf where he puts away an even 18 cans – one for every hole. Is a good bloke, but will really make a name for himself if he tries to achieve that gaol here this weekend.

Form: This entire gang is from the Sink Another SGC and are making their first start in a BRG field. As they have no BRG starts between them, let alone victories, it is hard to see them figuring in the Sunday action, but who knows what dastardly form they have in Sink Another SGC events. They clearly do not lack for kahunas, bravado, golfing insanity and liver power, so must be considered a huge threat.