The Cash & Co Classic
The CCC is a weekend social golf event founded by Bushranger Golf. It is an opportunity for dedicated golfers to get away and test themselves on some great golf courses. In a break from Bushranger Golf tradition, this is the first weekend social event where players have to golf their own ball exclusively for the whole journey. No ambrose. No 4BBB. No chop out. We play three formats over three days - Par, Stableford and Stroke and run an order of merit points system for the placings on each day.
As Martin Cash was the most famous Bushranger in Tasmania, it was fitting that we kicked off the inaugural CCC on the most famous golf courses in Tasmania: Barnbougle Dunes and The Lost Farm. In the first two years of the CCC, we played two rounds at Barnbougle (Friday & Sunday) and one round at The Lost Farm on Saturday. It was a deluxe golf trip with chartering private planes from Vortex Air to take us directly from Moorabbin Airport to the golf courses. As players lose an average of 6 - 9 balls per round at Barnbougle, we included 14 Wilson Staff C25 golf balls per person in the package. Below is the superb par four 4th hole at Barnbougle Dunes.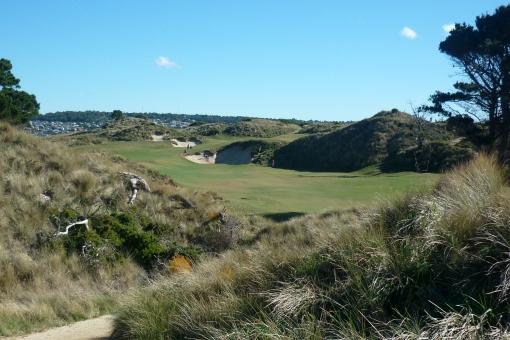 Since an annual trip to Tasmania is a stretch for some of our golfers, the CCC will be played at a variety of locations with regular returns to Bridport in Tasmania for a feast of golf at the Barnbougle golfing smorgasbord. The event will be booked in may at a variety of superb golfing locations year by year, with the plan to return to Barnbougle Dunes and Lost Farm every two or three years.
The 2013 Cash & Co Classic
When: May 3, 4 & 5
Where: Curlewis GC, Anglesea GC & The Sands Torquay
What: 54 holes of mayhem over three days
How: Staying in twin-share rooms at Peppers Resort Torquay
Who: 28 places are available and the event is open to all golfers.
Why: For loads of fun with mates on super golf courses
Payment: Full payment is required a month prior to secure your place.
Entry: $375 per person
Info: CCC 2013 preparations page
The 2012 Cash & Co Classic
When: May 25, 26 & 27 2012
Where: Barnbougle Dunes & The Lost Farm
What: 54 holes of mayhem over three days
How: Staying in quad-share cottages at Barnbougle Dunes
Who: 20 places are available and the event is open to all golfers.
Why: For loads of fun with mates on super golf courses
Travel: Private charter flights from Moorabbin with Vortex Air
Extras: 14 Wilson Staff C25 golf balls per person
Deposit: A $300 non-refundable deposit is required to secure your place.
Entry: $880 pp (full payments due one month prior to the event)
2012 CCC Event Itinerary
Day

Time

Action

Friday May 25

7:15am
8:00am
9:15 – 9:30am
10:00am
11:30am

Players arrive at Moorabbin Airport
Depart Moorabbin Airport
Arrive Barnbougle Dunes
Check in at on-course accommodation
Tee off at Barnbougle Dunes - Stroke

Saturday May 26

10:00am

Tee off at The Lost Farm - Par

Sunday May 27

9:00am
4:00pm
5:00 – 5:15pm

Tee off at Barnbougle Dunes - Stableford
Depart Barnbougle Dunes
Arrive at Moorabbin Airport
The Event Format
Given the story of Cash & Co (see below), the CCC is a golfing odyssey that intends to honour three golfers for their their daring, wits, fortitude, courage, endurance and skill. Rather than construct a format for teams of three (which is a difficult number in golf), the CCC is structured with an individual format and we will have a pairs and a singles category to determine who the three CCC Champions are each year.
We play a different format each day (Stableford, Par & Stroke) and run an Order of Merit points system: each day, player's scores are ranked from first to last and points will be allocated according to the player's rank. The points for the three rounds are totalled and the player(s) with the greatest points are declared the winners. In the inaugural year (2011), we had16 players. Each day, the first placed player received 16 points and the last placed player received one point. Players tied on the same score receive the same points.
To establish the three winners, we run a singles and a pairs division. For the pairs division, all players are paired with a mate and the combined total of their points scored over three days are their pairs result. In the event that the individual winner is also one of the winning pairs team, only two winners will be declared champions for that year. There are no countbacks or playoffs, so if there is a tie in either the pairs or the singles event, all tied players are declared the champions for that year. This means we can have anything from two to sixteen CCC Champions in any given year. The CCC will count for points in the BRG Player of the Year (POY) title with POY points allocated for finishing positions in the individual CCC event.
Special Rules for the CCC
The Irish Drop Rule - Barnbougle has as a local rule that a ball lost in the deep rough can be regarded as lost in a hazard and the player takes a stroke penalty but not distance, so a ball can be dropped at the point of entry into the rough (as per a lateral water hazard).
The 10 Shot Mercy Rule - For the stroke round we will have a 10 shot mercy rule. This means 10 is the maximum score for any hole so when a player has had nine shots and they have not holed out, they can pick up and record the score as 10. This will avoid any unnecessarily embarrassing numbers and help keep up the pace of play.
The Farmer Mulligan Rule - The Lost Farm Course has 20 holes - two extra (betting) holes are included on the scorecard as 13A & 18A. As we will want to play all 20 holes, we will include these two extra holes in our comp and players get two Mulligan holes. 13A is index 19 and 18A is index 20. At the end of the round at The Lost Farm, players eliminate their two worst holes and tally their score for their best 18 holes for the day. Note that The Lost Farm has suggested we play off The Terracotta Tees, which are their Blue or Member Tees. If players wish to play some or all holes off the back tees, that is up to them.
The Boobyalla Break - Barnbougle Dunes has four sets of tees and each of the tees are recommended for players of a particular handicap range which we abide with. The four sets of tees are:
The Forrester Tees (0 – 4 Handicaps)
The Boobyalla Tees (5 – 17 Handicaps)
The Melaleuca Tees (18 – 27 Handicaps)
The Marram Tees (28 – 36 Handicaps)
Most of our players are in the 5 - 17 handicap range and we so suggest play from The Boobyalla Tees. The CCC rules are that players cannot move to a closer tee than their handicap dictates, but they can move back to a longer tee at any time if they wish. Hence, any players who wish to play some or all of the holes off any of the longer tees than they are required to play from are welcome to do so at their leisure.
The Joy of Golf: This trip to this superb, secluded and spectacular golfing destination is a privilege and delight for every golf aficionado. The competition we run is secondary to enjoying the experience of playing these golf courses in good company and enjoying a super golfing adventure. The comp is for some lightweight bragging rights in the bar after golf, but the intention of the trip is to enjoy this unique golfing experience. Hence, the rules regarding the tees are intended to be flexible and based upon creating the opportunity for each golfer, at their own level, to enjoy playing these wonderful and challenging golf courses.
Cash & Co Classic Champions
| | | | |
| --- | --- | --- | --- |
| 2011 | Brendan Vanderwerf | Liam Anderson | Matthew Pitt |
| 2012 | Mark Morgan | Craig Smith | |
Click here for the 2011 CCC Results page.
Click here to check out all the CCC photos at the BRG Picasa Galleries.
Who was Martin Cash?
Martin Cash (1808–1877) was a notorious convict bushranger known for escaping twice from the reputedly escape-proof Port Arthur prison in Van Diemen's Land. Born in Ireland, Cash was brought up in a wealthy family and was sentenced to seven years penal transportation for shooting a man. When Cash happened upon a fella trying to tune his girlfriend, he flew into a jealous rage and shot the bloke for trying to steal the girl of his fancy.
In NSW, the convict Cash received his ticket of leave after several years and worked as a stockman. After he was suspected of stealing cattle, he relocated to Tasmania where he was accused of stealing again and sentenced to another seven-year stretch in Hobart. He briefly escaped and 18 months was added to his time. He escaped again and almost made it across the Bass Strait but was caught and faced 10 years at Port Arthur, the so-called escape-proof colony.
His first attempt at escape from Port Arthur failed. However, on Boxing Day 1842, Martin Cash, George Jones and Lawrence Kavenagh absconded from a work party and hid in dense scrub-land. With little food, they made their way 15 km to the shark-infested Eaglehawk Neck. Swimming with their clothes tied in bundles above their heads, they made the other side. All three lost their clothes in the swim, so the naked trio robbed a road gang's hut for clothing, and began a twenty-month spree of bushranging.

The three became known as Cash & Company and their reputation grew as they pursued a bushranging career on foot. They robbed inns and the houses of well-to-do settlers with seeming impunity, and without the use of unnecessary violence, thus earning them the reputation of 'gentlemen bushrangers'.

However, in August 1843 Cash heard a rumour that his better half, Bessie, was with another man in Hobart. Enraged, Cash swore to kill them both and set off for the city immediately. He was quickly spotted in Hobart and a gunfight ensued in which a police constable was shot and killed by Cash.
Cash was found guilty of murder and sentenced to death by hanging, but a last minute reprieve saw him sent to Norfolk Island. There he eventually became a trustee, and later a constable. He married in 1854 and had a daughter named Monique. Between 1854 and 1856, he was an overseer in the Royal Hobart Botanical Gardens. He subsequently he travelled to Christchurch, New Zealand where he kept several brothels.
Cash's Irish charm and cheerfulness, and the chivalry and enterprise of his rebelliousness, made him a popular scoundrel. In his later years he was well known and enjoyed the goodwill of all. Before his death, Cash made the acquaintance of James Lester Burke, an Irish expiree and able writer, who induced him to narrate his career. His 1870 autobiography The Adventures of Martin Cash, ghost-written by Burke became a best seller in Australia.