Welcome to the home of The Surf Coast Cup
The Surf Coast Cup is one of the most historic events on the Shabby Dot Com Golf Tour. It originated in the zinc-cream-and-grommet-fuelled heartland of Torquay and has spread across the entire southwest coast of Victoria in the decade since its inception. The SCC tournament format is two player Ambrose and the Rodeo Rule is invoked (see more detail below). There have been many great champions and others of varying degrees of worthiness.

Surf Coast Cup Champions
1998 – P. Bremner & C. Robinson
1999 – P. Bremner & C. Robinson
2000 – J.Docking & D. Robertson
2001 – P. Bremner & D. Robertson
2002 – W. Stonehouse & J. Lazzara (Anglesea GC & Torquay GC)
2003 – B. Collins & D.Wall (Anglesea GC & The 13th Beach Course)
2004 – Not played due to the war
2005 – I. Crotty & P. Ashby (13th Beach Creek Course & The Sands)
2006 – J. Docking & B. Collins (13th Beach Creek & Beach Courses)
2007 – C. Battershill & P. Bremner (13th Beach Beach & Creek Courses)
The 2007 Surf Coast Cup
This year, the ninth Surf Coast Cup returned to the scene of last year's adventures at the 13th Beach Golf Links in Barwon Heads (about 80 minutes from Melbourne) on the weekend of December 1 & 2. The field who turned out are seen below in all their glory by the first tee on The Beach Course on day one.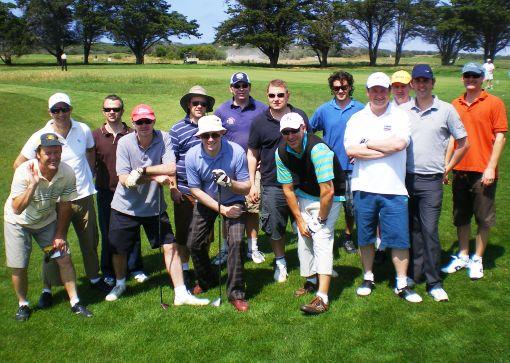 Accommodation
Players stayed on-course at the luscious four and a half star Hawthorn Suites Apartments . Check in was from 1pm on Friday November 30th and the luxury two-bedroom quad-share apartments are fully self-contained. This means SC Cuppers are welcome to bring along their own pies and Big Ms and cook at home if they have any special dietary needs. Most will venture into Barwon Heads (5 mins in a cab) for dinner on Friday and Saturday nights and the clubhouse has a cafe where players can get cooked breakfasts before golf.
Dress Requirements
Competitors should note that 13th Beach requires neat casual dress on the golf course. This means shirts with a collar, slacks and tailored shorts. Alas, no denim is permitted on course. So don't bring ripped clothing, rock'n'roll gear, board shorts or generally shabby attire to wear while golfing your ball. What you do in your own room is up to you. Golf shoes must have soft spikes.
Date:

November 30 and December 1 & 2, 2007

Venue:

13th Beach Golf Club, (near Barwon Heads) Melways map 496 D4

Format:

The age-old two-man ambrose and participants are welcome to lobby for handicaps/partners

Cost:

$260 (covers everything but grog, food & gambling losses)

Package:

Two nights' accommodation on-course at the Hawthorn Suites Apartments

Two rounds of golf (Beach Course 11am Saturday, Creek Course 9:56am Sunday)

Golf cart hire both days (we are all getting old, after all)

Each team gets a bucket of range balls each day

Longest Drive & Nearest the Pin will be contested both days

A dazzling array of prizes and the chance to take home 'Ben'

Tournament Director Bern Collins will allocate handicaps and tee times.

A team meeting will be held on the Friday immediately prior to the after-dinner drinks.
To read up on the front 9 of The Beach Course, click here.
To read up on the back 9 of The Beach Course, click here.
To read up on The Creek Course, click here.

The SCC Event Format
In case you've never played ambrose, the SCC format goes something like this:
Each player plays a tee shot and the best ball is chosen.

Each player places his ball within 30 centimetres (about a foot) of where the selected ball lies, in the same cut and no nearer the hole, and plays the next shot.

In the interest of fast play and best practice, players may hit in any order and this procedure is carried out until the hole is completed.

On the green, all putts have to be taken from the marked position.

The Standard SCC Rodeo Rule is each player's tee shot must be used at least two times during each nine holes.

The 2006 Surf Coast Cup
To read the thrilling, unbiased and journalistically ethical summary of the 2006 SCC penned by newly crowned champion (and occasional event handicapper) Bernard Collins, strap yourself in and click here.
The 8th Surf Coast Cup was held on the first weekend in December at the mighty 13th Beach Golf Links. Above we see the proud new Champions, Jon Docking and Bern Collins. The final results were:
2006 SCC

H/Cap

Gross

R1 Net

H/Cap

Gross

R2 Net

Total

Jon Docking
Bernard Collins

12

79

67

12

80

68

135

Peter Bremner
Craig Battershill

11

80

69

11

81

70

139

Ian Crotty
Justin Gay

12

81

69

12

84

72

141

Neil Barnard
Johnny Barnard

13

83

70

13

87

74

144

Scott Wilson
Matt Thompson

14

86

72

14

87

73

145

The 2005 Surf Coast Cup
To read the form guide from the 2005 Surf Coast Cup Progam, click here.
The 2005 SCC was played on the first weekend in December at The 13th Beach Golf Links Creek Course and The Sands at Torquay. Below we can see the 2005 champions, Ian Crotty & Paul Asby (aka The Torquay Hookers), showing the excited delight they felt shortly after their victory. The Sands at Torquay Clubhouse may never be the same. If you feel a sense of déjà vu when you look at this, take no notice; it's probably just an unfashionably optical illusion.