4th BRG Handicap Day - September 8 2007 - Gallery & Results
The 4th Bushranger Golf Handicap Day was held at The Sandringham Golf Links in perfect springtime conditions and glorious sunshine. In what was nearly a tight contest (until Pw Jones imploded on the final three holes), The Boominator, aka Warwick Stonehouse, spreadeagled the field with a tearaway six stroke win. Although well known for his spreadeagling abilities, he was still pursued by the local authorities after the round and asked to help them with their inquiries. In the end the stewards were not called in, although the vet nearly made an appearance to asssit Andy Macca who was suffering with equine flu-like symptoms and put up a great showing on the day despite coming into the event under a severe influenza cloud. Below are the results and final placings.
| | | | |
| --- | --- | --- | --- |
| Placings | Players | Nett Score | To Par |
| 1st | Warwick Stonehouse | 62 | - 8 |
| 2nd | Matthew Pitt | 68 | - 2 |
| 3rd | Ian Crotty | 73 | + 3 |
| = 4th | Ben Otter | 74 | + 4 |
| = 4th | Andy MacFeate | 74 | + 4 |
| 6th | Roger Brown | 75 | + 5 |
| 7th | Richard Fellner | 76 | + 6 |
| 8th | Mick Van Raay | 77 | + 7 |
| | |
| --- | --- |
| Longest Drive: 9th hole | Ben Otter |
| Nearest the Pin: 10th hole | Richard Fellner |
1st Place Prizes:
The Handicap Day winners trophy
A bottle of Bushranger Shiraz
A Bushranger Golf ball
A Golf Clearance Outlet voucher
2nd Place Prizes:
Three Bushranger Golf balls
A Golf Clearance Outlet voucher
3rd Place Prizes:
A Bushranger Golf ball
A Golf Clearance Outlet voucher
Nearest the Pin & Longest Drive Prizes:
A Bushranger Golf ball
A Golf Clearance Outlet voucher
We were pleased to welcome one player sporting a new BRG Handicap (the winner - D'oh!) and one new member, Ben Otter, joining us for his first Bushranger Golf event. The next BRG event is the 5th Handicap Day on November 17 at the famous Yarra Bend Public Golf Course in Fairfield. Below is a special gallery of some of the photographic evidence from the day that the local authorities have been examining.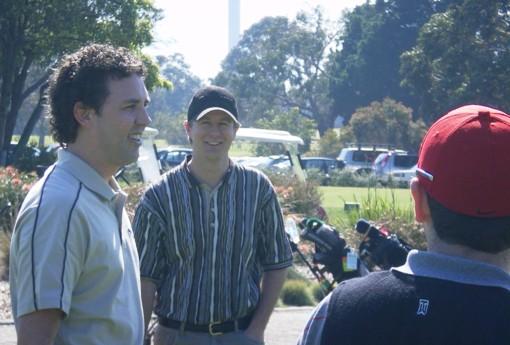 Old hack Crocko, newbie Ben the Otter and Macca get psyched for the hit-off at Sandy.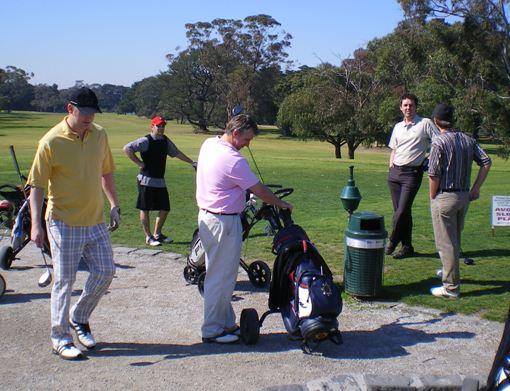 Bushrangers King, Macca, Boo, Crocko & 'Ring of Bright Water' stumbling around the place and getting ready to hit off.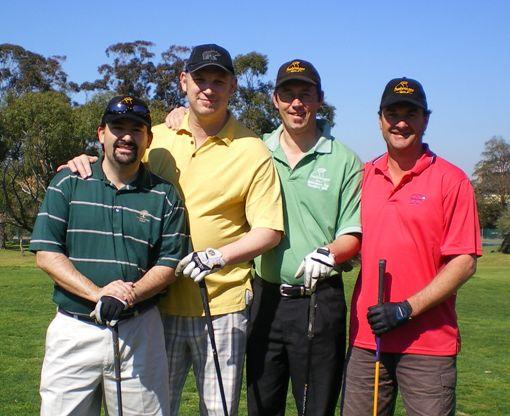 Quigley, Kingo, Pw Jones and Arbeige displaying every colour of the rainbow on the 1st tee.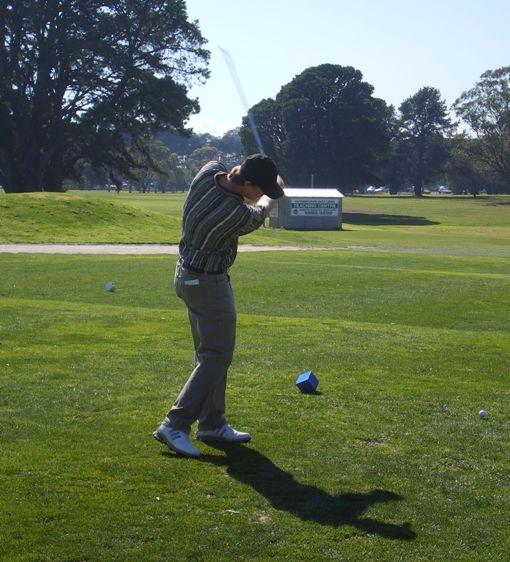 Ben warms up before his Bushranger Golf debut. He didn't show any outward signs of nerves whatsoever, but must certainly have been desperately trying to keep a maelstrom of intense emotions in check at this point.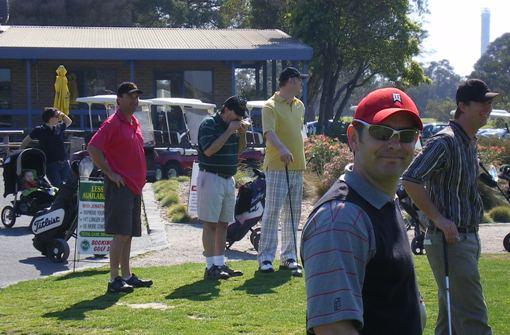 Harry, Sally, Rog, Q, King, Macca & Ben looking in seven different directions....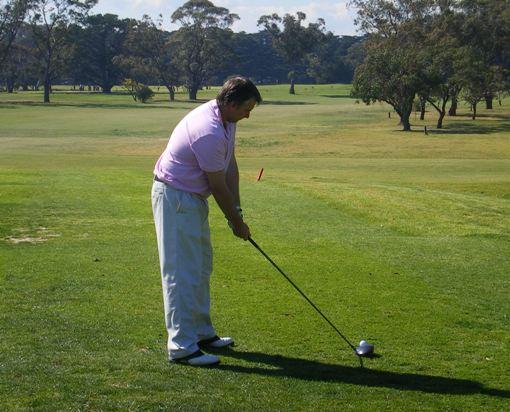 ....as they wait for Boo to complete his pre-round address. Alas, he laughed loudest and longest (again) as it all ended up going pretty well for the man in pink by the end of the day.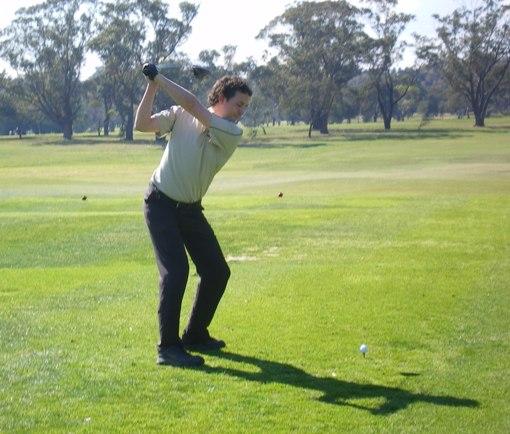 Crocko striking a nice pose although he might be looking at this wondering whether he is 'on plane' at the top.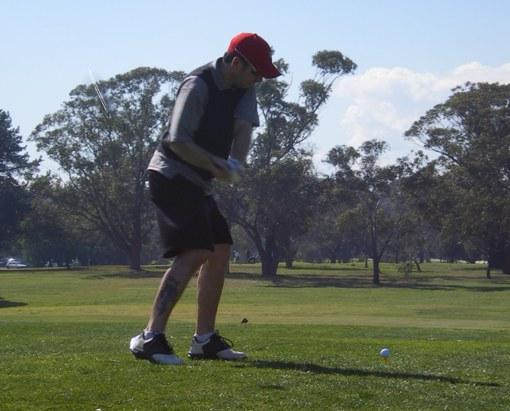 Macca showing a bit of springtime fashion flair as he gives it everything on the first tee.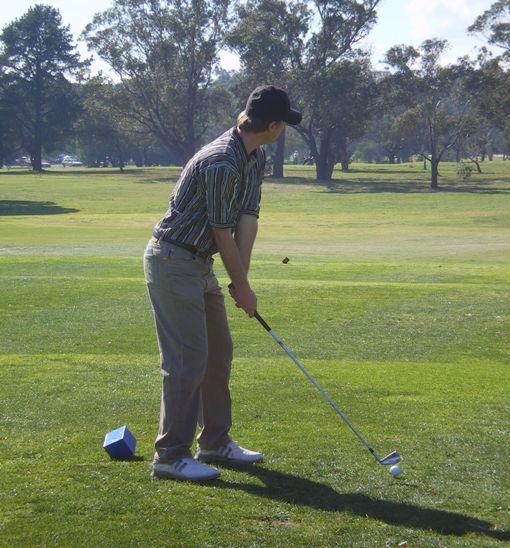 The 'Ring of Bright Water' shows off his course management skills by taking an iron for position on the first hole. Sensible golf is not really part of the Bushranger idiom, so a few concerns did creep in early about his ability to perform at this level. However, a raft of three putts on the front nine laid any doubts to rest.
Quigley shows the sort of form on the 1st tee that put him in the centre of fairways all day long. He was in perfect position throughout his round and was able to capitalise on the opprtunities he created for himself and parlay a string of fairways hit into an impressive collection of nonchelant bogies.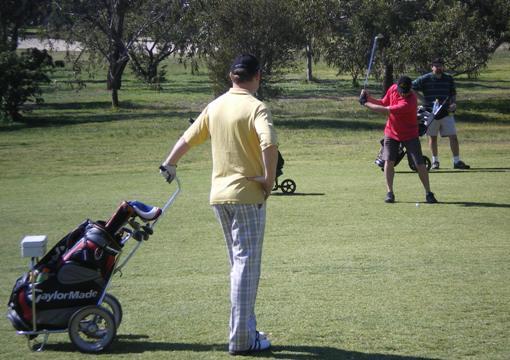 Arbeige about to launch into that trademark Greg Norman Slide as he hits his approach shot on the par 4 sixth hole.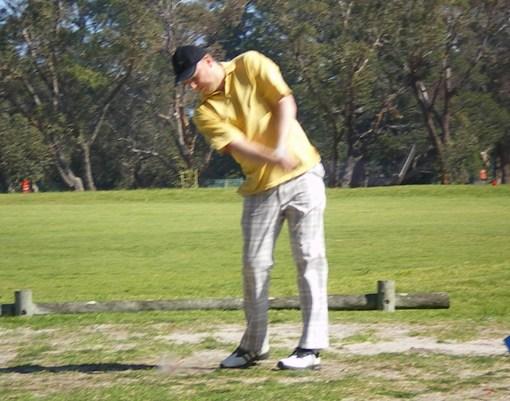 The mighty King unloads on the seventh tee and notches another impressive green in regulation.
Click here for the second gallery.