3rd BRG Handicap Day - August 10 2007 - Gallery & Results
The third Bushranger Golf Handicap Day was held at The Creek Course at 13th Beach Golf Links in Barwon Heads as a prelude to the 2007 William Buckley Classic. In a tight contest, Michael Mileo won the event with 38 hard earned stableford points in tough conditions. His main challenge came from Roger Brown and Ash Brown (no relation), who both finished one point back on 37 points, a tight and perhaps fortunate result, especially considering that Arbeige took four to get down from just short of the testing 18th green. On a count back, Ash took out second place, relegating Roger to third.
In a tight contest, 10 players finished within 6 points of the winner. Three players were tied on 36 points, just out of the podium positions. They were new member and first time BRG entrant, Jean-Max Joly from Geelong, experienced campaigner Paul Lambe, and tournament host, Pw Jones. Below are the results and final placings.
| | | |
| --- | --- | --- |
| Placings | Players | Stableford Points |
| 1st | Michael Mileo | 38 |
| 2nd | Ash Brown | 37 |
| 3rd | Roger Brown | 37 |
| = 4th | Jean-Max Joly | 36 |
| = 4th | Paul Lambe | 36 |
| = 4th | Matthew Pitt | 36 |
| 7th | Scott Wilson | 35 |
| 8th | Ian Pritchard | 34 |
| 9th | Dave Elliot | 33 |
| 10th | Mick Van Raay | 32 |
| 11th | Mark Keeble | 29 |
| 12th | Andrew Jennings | 26 |
| = 13th | Michael Nolan | 25 |
| = 13th | Michael David | 25 |
| 15th | Nick Honey | 23 |
| 16th | Richard Fellner | 22 |
| | |
| --- | --- |
| Nearest the Pin: 6th hole | Scott Wilson |
| Longest Drive: 10th hole | Ash Brown |
The field and
tee times were:

11:00am
Ash Brown
Dave Elliot
Michael Nolan
Mark Keeble

11:08am
Matthew Pitt
Roger Brown
Nick Honey
Michael David

11:16am
Jean-Max Joly
Andrew Jennings
Ian Pritchard
Paul Lambe

11:24am
Michael Mileo
Richard Fellner
Mick Van Raay
Scott Wilson
1st Place Prizes:
The Handicap Day winners trophy
A bottle of Bushranger Shiraz
Two Bushranger Golf balls
A Golf Clearance Outlet voucher
2nd Place Prizes:
A bottle of Bushranger Shiraz
A Bushranger Golf ball
A Golf Clearance Outlet voucher
3rd Place Prizes:
A Bushranger Golf ball
A Golf Clearance Outlet voucher
Nearest the Pin & Longest Drive Prizes:
A Bushranger Golf ball
A Golf Clearance Outlet voucher
We were pleased to welcome several players with new BRG Handicaps and a number more who are in the process and will have their handicaps finalised in time for our next event. The next BRG event is the 4th Handicap Day on September 8th at the Sandringham Golf Links. This event will revert back to a strokeplay format after the stableford bonanza of the William Buckley Classic weekend.
Beow is a small gallery of images with some of the special highlights of the day.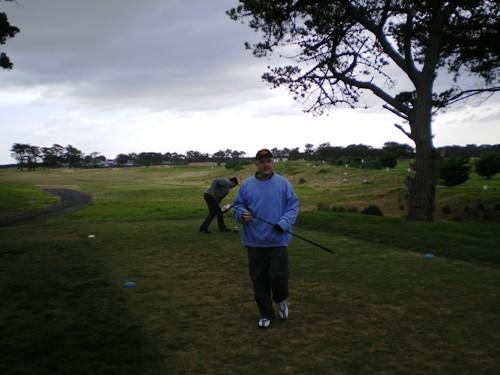 The Hominator retires from the first tee.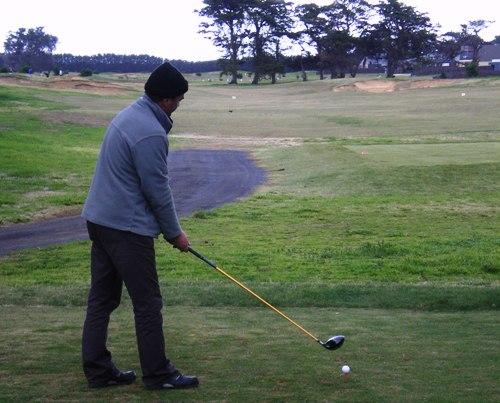 Arbeige lines up his opening drive of his 2nd 18 for the day. He was there at 7am for a practice 18.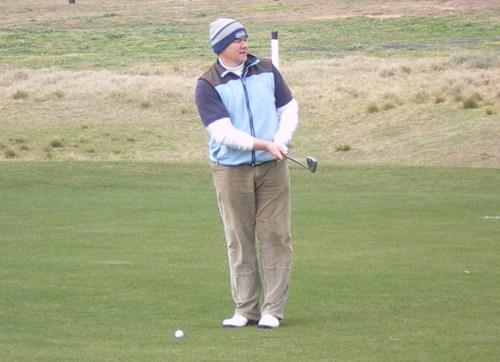 Dee admires the possibilities that confront his approach shot on the first.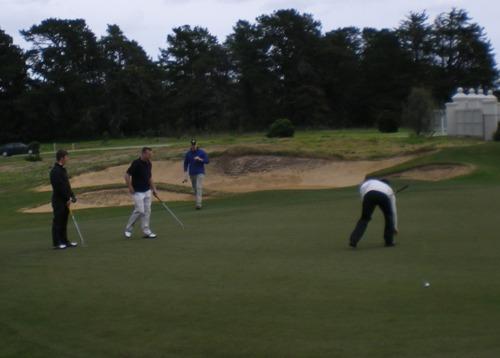 Ash, Keebs, Gaso taking time out to admire Davo's offering.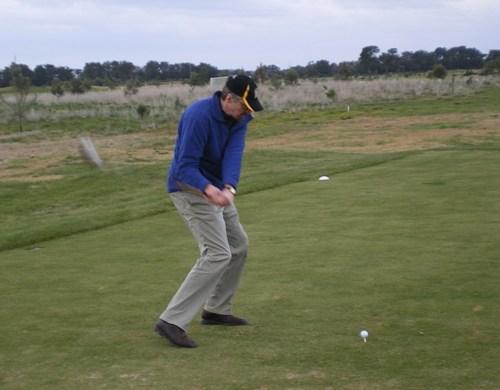 The Gasometer doing some galloping on the tee with the heavy artillery.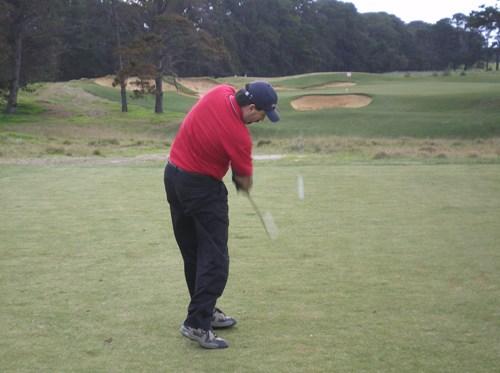 Quigley catches one flush at the short par 3 sixth hole.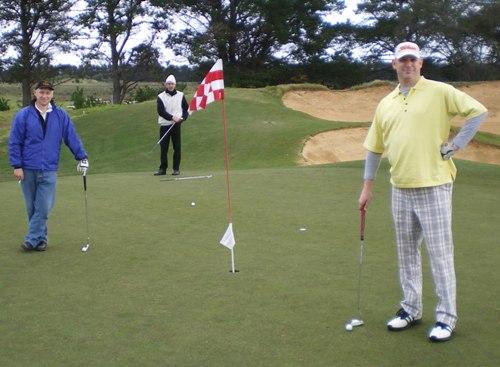 Willo, Seve and Da King looking a treat as they admire Willo's effort with the NTP.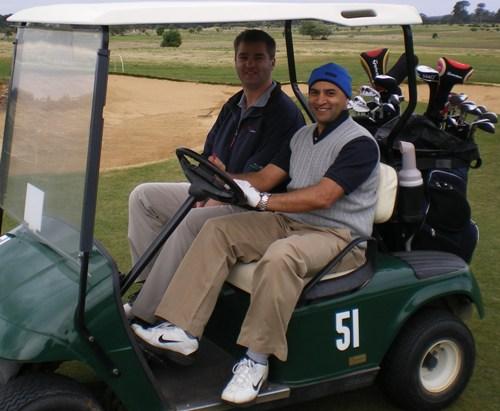 Andrew and Jean-Max taking a moment to admire their scorecard and appease the paparazzi.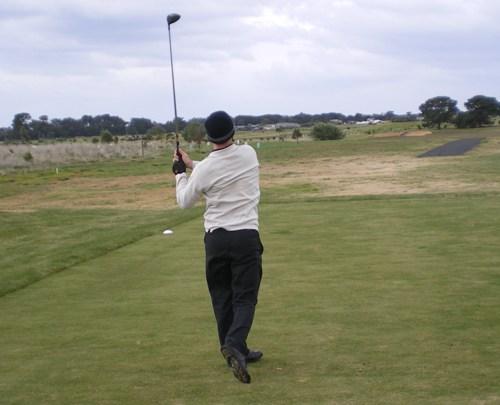 Dave has a crack with the big dog.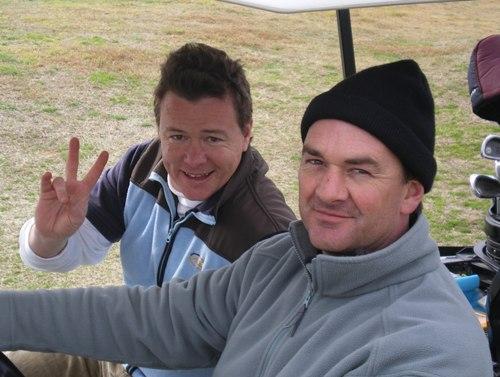 Dee and Arbeige. This is about as serious as they got for the whole weekend.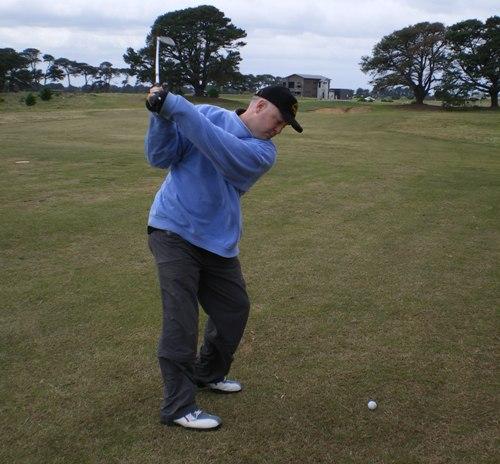 The Hominator coiled on number 5 and about to start minating.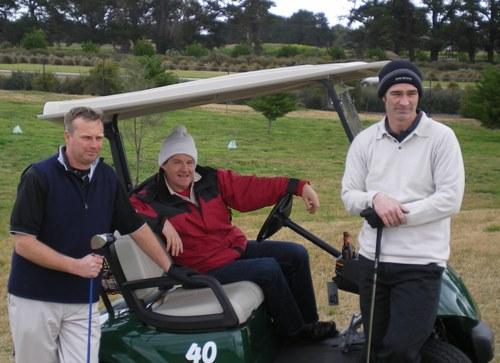 Keebs, Gavvy and Davo taking a well earned rest.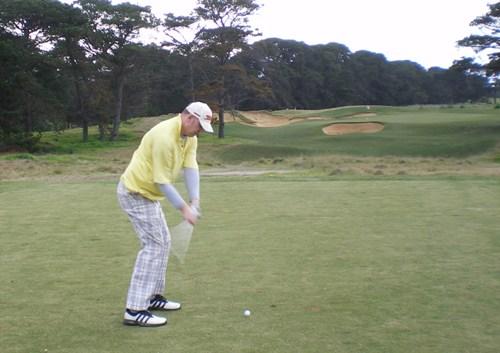 Da Kingo brings a regal bearing to his drive on number 6.
Click here for the second gallery.