The 2018 William Buckley Classic Results
When: Saturday & Sunday October 27 & 28
Where we stay: Moonah Links Golf Academy.
Where we play: Moonah Links Open & Legends Courses
Who: You and a mate playing two-ball ambrose
Entry coin: The package is $440 & includes:

Two nights at The Moonah Links Golf Academy

18 holes of golf on Saturday at Moonah Links (Open Course)

18 holes of golf on Sunday at Moonah Links (Legends Course)

Golf carts for both rounds

A Tournament Program including player profiles

Tournament welcome gifts (balls, beers & more)

Event entry & management, trophies and prizes

The 13th William Buckley Classic was held over the weekend of Saturday 27th and Sunday 28th of October 2018. The venues were Moonah Links Open and Legends Courses on the Mornington Peninsula. The accommodation was on-course at Moonah Links Golf Academy and the format was 2-ball Ambrose Stableford for 36 holes.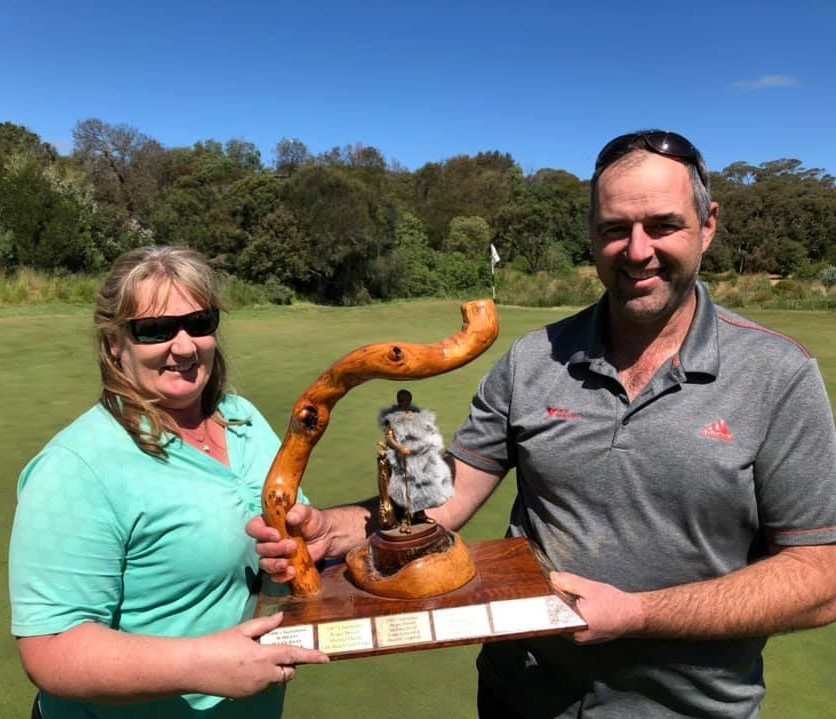 Above we see the 2018 WBC Champs Yvonne Grant & Andrew Grant
proudly celebrating after the event with the The Murrangurk Perpetual Trophy.
Click here to read the 2018 WBC Program & Form Guide.
Click here for the Bushranger Golf Facebook Photo Albums for all the 2018 WBC pictures.
Click here for the Bushranger Golf Facebook Page.
The tournament was contested in good spirit and was once again an awesome test of golf on two super golf courses. On the first day, conditions were good for scoring and some brilliant golf by Andrew Grant and Yvonne Grant saw them post a superb score in very windy conditions. Tate Baillie and Jack Francis were four back on 39 with a big group a few more shots further back. On the second day the conidtions were tougher and, although the swoopers challenged, the Grants hung on for a great win. The final 2018WBC results were:
Place

Golfers

Teams

Day One

Day Two

Total

Score

1st

Andrew Grant
Yvonne Grant

The Swan Island Hackers

43 points

38 points

81 points

- 9

2nd

Tate Baillie
Jack Francis

The Torquay Hookers
39 points
38 points
77 points
- 5

3rd

Charlie Amenta
Joe Amenta

The Bream Creek Freaks

36 points

36 points

72 points

-Even

4th

Gavan Doran
Ian Steer

The Murrangurk Masters

30 points

41 points

71 points

+ 1

= 5

Dean Connell
Darren Nelson

The Indented Heads

30 points

40 points

70 points

+ 2

= 5

Richard Fellner
Richard Mitchell

Sullivan Bay Ginger Bread Men

33 points

37 points

70 points

+ 2

= 7

Mark Henderson
Aaron Henderson

The Corio Bay Fugitives

32 points
37points
69 points
+ 3
= 7

Jason Pratt
Sal Amenta

The Coonewarre Revivors
33 points
36 points
69 points
+ 3
= 7

Jamie Phillips
Shane Russell

The Aireys Inlet Slicers
31 points
36 points
67 points
+ 5
= 10

Steven Jurisic
Kirk Hayward

The Barwon Heads Sir Robins
36 points
31 points
67 points
+ 5
= 10

Pete Jensen
Mark Cavill

The Point Lonsdale Cavemen
35 points
31 points
66 points
+ 6
12th

Corey Kelly
Peter Calverley

The Mount Defiance Alliance
29 points
35 points
64 points
+ 8