The 2017 William Buckley Classic Results
When: Saturday & Sunday October 21 & 22
Where we stay: On course at The Barwon Heads Resort
Where we play: 13th Beach Golf Links
Round One: Beach Course – 11:30am Saturday
Round Two: Creek Course – 8:30am Sunday
Who: You and your mates playing in two-ball ambrose teams
How much loot: $460 per person for the package.
How to enter: Email matt (at) bushrangergolf.com.au

The 12th William Buckley Classic was held over the weekend of Saturday 21st and Sunday 22nd of October 2017. The venue was the superb 36-hole 13th Beach Golf Links playing The Beach Course on Saturday and The Creek Course on Sunday. Both golf courses are just a spear chuck away from one of Buckley's regular homes on the banks of Bream Creek near Barwon Heads.

The accommodation was on-course at the luxurious Barwon Heads Resort and the format was 2-ball ambrose stableford over 36 challenging holes of golf. Below we see the 2017 William Buckley Classic champions, Paul Benson & John Coleman, posing down at 13th Beach with The Murrangurk Perpetual Trophy after the presentation ceremony.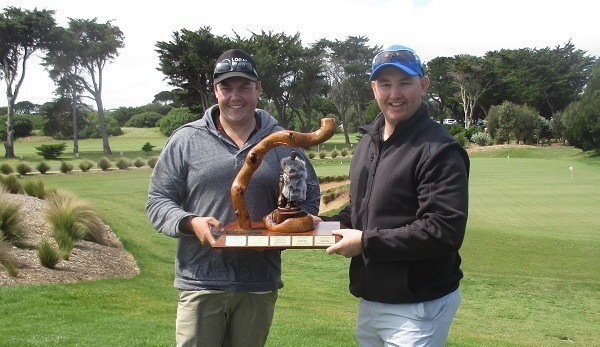 Click here to read the 2017 WBC Program & Form Guide.
Click here for the Bushranger Golf Facebook Photo Albums for all the 2017 WBC pictures.
Click here to check out all the Old-School BRG Picasa Galleries (up to 2014).
Click here for the Bushranger Golf Facebook Page.
The tournament was contested in great spirit and was once again an awesome test of golf on some super courses. On the first day, Paul Benson & John Coleman tore the Beach Course to pieces with a brilliant display of ball-striking and great scoring to jump out to a huge lead. On the second day the swoopers came with 13 of the 16 teams scoring under par. The leaders, however, held on grimly early and then scored well over the closing holes to post 41 and cruise over the line for a four-shot victory. The final placings were:
Place

Teams

Day One

Day Two

Total

Score

1st

Paul Benson
John Coleman

45 points

41 points

86 points

- 14

2nd

Yvonne Grant
Andrew Grant

36 points

46 points

82 points

- 10

3rd

Simon Lovett
Nathan Smith

36 points

43 points

79 points

- 7

4th

Corey Kelly
Peter Calverley

36 points

42 points

78 points

- 6

= 5

Steven Jurisic
Kirk Hayward

37 points

40 points

77 points

- 5

= 5

Jason Pratt
Sal Amenta

34 points

43 points

77 points

- 5

= 7

Darren Nelson
Dean Connell

40 points

36 points

76 points

- 4

= 7

Sharon Morrell
Steve Morrell

34 points

42 points

76 points

- 4

= 9

Gavan Doran
Dave Warwick

34 points

41 points

75 points

- 3

= 9

Joel Matthews
Roger Templer

37 points

38 points

75 points

- 3

= 11

Richard Fellner
Pete Jensen

37 points
37 points
74 points

- 2

= 11

Brain Davis
Dave Morris

37 points
37 points
74 points

- 2

13

Ian Steer
Peter Guille

32 points
40 points
72 points
Even
14

Adam McCaw
Steven Humphries

33 points
38 points
71 points
+ 1
15

Jodene Tuau
Dennis Williams

31 points
36 points
67 points
+ 5
16

Nick Mouhtaropoulos
Pete Solomou

29 points
31 points
60 points
+ 12
| | |
| --- | --- |
| Nearest the Pin: Day 1: | Pete Calverley |
| Longest Drive: Day 1: | Dave Warwick |
| Nearest the Pin: Day 2: | John Coleman |
| Longest Drive: Day 2: | Pete Calverley |
| Best Dressed: | Richard Fellner |