The 2016 William Buckley Classic Results
When: Saturday & Sunday October 22 & 23
Where we stay: Moonah Links Golf Academy.
Where we play: Cape Schanck & Moonah Links (Open)
Who: You and a mate playing two-ball ambrose
Entry coin: The package is $400 & includes:

Two nights at The Moonah Links Golf Academy

18 holes of golf on Saturday at Cape Schanck Golf Course

18 holes of golf on Sunday at Moonah Links (Legends Course)

Golf carts for both rounds

A Tournament Program including player profiles

Tournament welcome gifts (balls, beers & more)

Event entry & management, trophies and prizes

The eleventh William Buckley Classic was held over the weekend of Saturday 22nd and Sunday 23rd of October 2016. The venues were Cape Schanck on Saturday and Moonah Links (Open Course) on Sunday on the Mornington Peninsula. The accommodation was on-course at Moonah Links Golf Academy and the format was 2-ball Ambrose Stableford for 36 holes.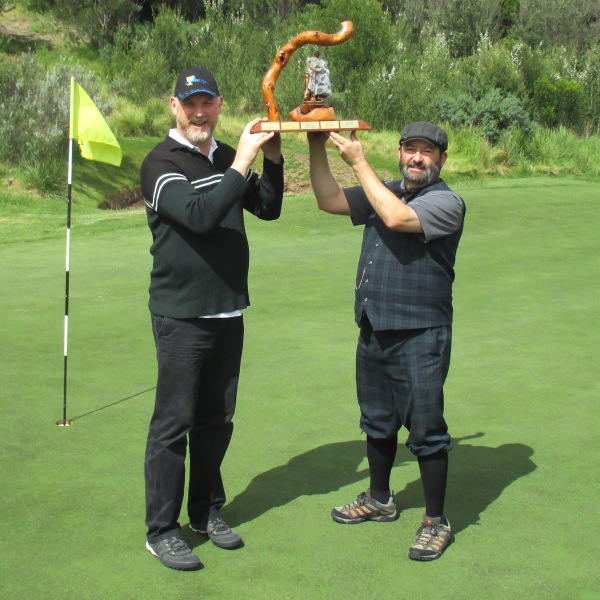 Above we see the 2016 WBC Champs Richard Fellner and Mick Van Raay
proudly celebrating after the event with the The Murrangurk Perpetual Trophy.
Click here to read the 2016 WBC Program & Form Guide.
Click here for the Bushranger Golf Facebook Photo Albums for all the 2016 WBC pictures.
Click here to check out all the Old-School BRG Picasa Galleries (up to 2014).
Click here for the Bushranger Golf Facebook Page.
The tournament was contested in good spirit and was once again an awesome test of golf on two super golf courses. On the first day, conditions were tough and a brilliant putting display by Mick Van Raay on the front nine and some super ball-striking from Richard Fellner saw them post a superb score in very windy conditions. Corey Kelly & Peter Calverley were two back on 37 with Gavan Doran & Pete Russell and Adam McCaw & Paul Benson another shot further back on 36..
On the second day the swoopers never really challenged and in slightly softer conditions on a very tough golf golf course, we had a very even spread of scores with all teams scoring between 33 & 38 points. There was drama early in the round with a knee injury to Richard Fellner looking serious and raising doubts about whether he could finish the round. SOmehow he kept hitting on one leg, his mate stepped up hitting some huge drives for the team. It has long been said to beware the injured golfer and this was hte case with the leaders posting a great second round to hold off the challengers post another 39 for the win.
It was a historic win in the history of Bushranger Golf with Richard Fellner becoming the first person to win all five of the Bushranger Golf Major titles: The Kelly Gang Shootout (2006), The Player of the Year (2009), The Bushranger Cup (2010), The Cash & Co Classic (2013) and now the WBC (2016). This was the 11th WBC and Rich's 8th crack at the title and collecting all five trophies has taken a lazy 12 years. He has copped plenty of near misses, heart-breaking finishes and bad breaks along the way but he has persevered. More importantly, he and his mates have had a lot of fun doing it and, win, lose or draw, the fun will go on at the next one and the one after that. The final 2016 WBC placings were:
Place

Teams

Day One

Day Two

Total

Score

1st

Mick Van Raay
Richard Fellner

39 points

39 points

78 points

- 6

2nd

Adam McCaw
Paul Benson

36 points
38 points
74 points
- 2

3rd

Corey Kelly
Peter Calverley

37 points

36 points

73 points

- 1

4th

Matthew Pitt
Carole Little

34 points

38 points

72 points

Even

= 5

Steven Humphries
John Coleman

34 points

36 points

70 points

+ 2

= 5

Nick Sutherland
Stuart Wilson

35 points

35 points

70 points

+ 2

= 7

Gavan Doran
Pete Russell

36 points
33 points
69 points
+ 3
= 7

Darren Nelson
Lino Polo

35 points
34 points
69 points
+ 3
= 7

Richard Mitchell
Wayne Ball

32 points
37 points
69 points
+ 3
= 10

Dean Mitchell
Kirk Hayward

33 points
33 points
66 points
+ 6
= 10

Lee Dodge
Scott Kidman

31 points
35 points
66 points
+ 6
12th

Ian Steer
Peter Guille

27 points
36 points
63 points
+ 9
| | |
| --- | --- |
| Longest Drive: Day 1: | Steven Humphries |
| Nearest the Pin: Day 1: | Corey Kelly |
| Longest Drive: Day 2: | Steven Humphries |
| Nearest the Pin: Day 2: | Nick Sutherland |
| Best Dressed: | Carole Little |