The 2012 William Buckley Classic Results
When: Saturday & Sunday October 20 & 21
Where we stay: Moonah Links Golf Academy.
Where we play: The Dunes & Eagle Ridge Golf Course
Who: You and a mate playing two-ball ambrose (day 1) & 4BBB (day 2)
Entry coin: The package is $370 & includes:

Two nights at The Moonah Links Golf Academy

18 holes of golf on Saturday at The Dunes Golf Links

18 holes of golf on Sunday at Eagle Ridge Golf Course

Golf carts for both rounds

A Tournament Program including player profiles

Tournament welcome gifts (balls, beers & more)

Event entry & management, trophies and prizes

The seventh William Buckley Classic was held over the weekend of Saturday 20th and Sunday 21st of October 2012. The venues were The Dunes Golf Links on Saturday and Eagle Ridge Golf Course on Sunday on the Mornington Peninsula. The accommodation was on-course at Moonah Links Golf Academy and the format was 2-ball Ambrose Stableford for 36 holes.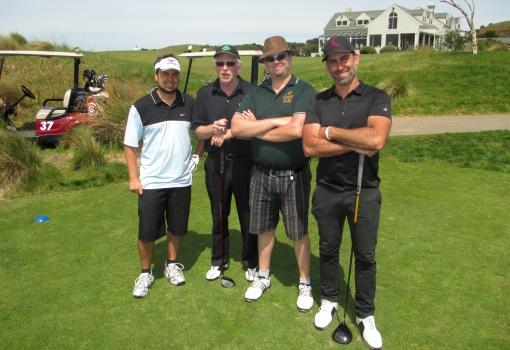 Above we see Chris Stimmel, Neil Hocking , 2010 WBC Champion Rob Lugton and Nick Mouhtaropoulos posing down by the first tee at the Dunes Golf Links before tee off on the first day of the 2012 WBC. Below we see Ryan Vine and John Lazzara looking on as two-time WBC Champion 'Diesal' Dave Warwick watches another crushing a drive down the middle of the superb par four 12th hole at The Dunes.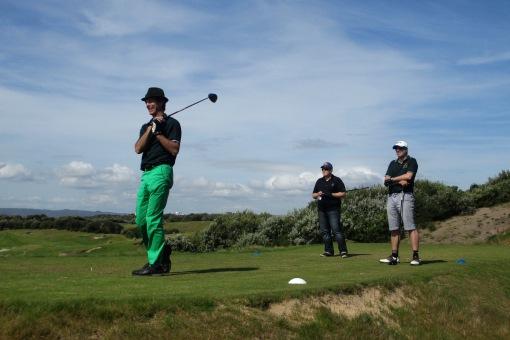 Click here to check out all the Old-School BRG Picasa Galleries (up to 2014).
The tournament was contested in good spirit and was once again an awesome test of golf on some super courses. On the first day, 2011 WBC Champion Dave Warwick and partner Pw Jones, who had played many but never contended in the WBC, skipped out to a two-shot lead over 2010 Champion Rob Lugton and partner Chris Stimmel. On the second day the swoopers came with 2010 Champion Matty Thomas and partner Chris Hull posting the best round, but it was not enough to catch the leaders as they grafted out a gutsy round of one over par in tough conditions. When the scorer had set down his abacus, Diesal and Pw were declared the winners by three shots in what was another great tournament. The final placings were:
Place

Teams

Day One

Day Two

Total

Score

1st

Dave Warwick
Matthew Pitt

42 points

35 points

77 points

- 5

2nd

Matthew Thomas
Chris Hull

35 points

39 points

74 points

- 2

3rd

Neil Hocking
Nick Mouhtaropoulos

36 points

35 points

71 points

+ 1

4th

Rob Lugton
Chris Stimmel

40 points

30 points

70 points

+ 2

5th

John Lazzara
Ryan Vine

31 points

37 points

68 points

+ 4

6th

Jason Woods
Kevin Brew

37 points

27 points

64 points

+ 8
| | |
| --- | --- |
| Longest Drive: Day 1: | Chris Hull |
| Nearest the Pin: Day 1: | Matthew Thomas |
| Longest Drive: Day 2: | Matthew Thomas |
| Nearest the Pin: Day 2: | David Warwick |
| Best Dressed: | Rob Lugton |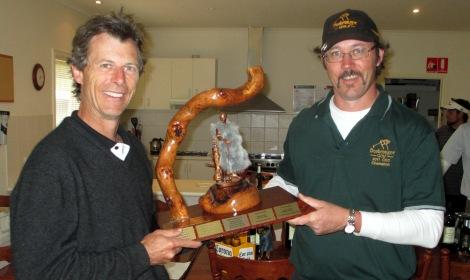 Above we see the 2012 William Buckley Classic champions, David Warwick (Diesal) & Matthew Pitt (Pw Jones), posing down with The Murrangurk Perpetual Trophy after the presentation ceremony.

Click here to read the 2012 WBC Program & Form Guide.
Click here for all the Bushranger Golf Picasa Photo Galleries.