Murray River Horse Trails
Morgans Mill Road, Strathmerton, Vic, 3641
(see map below)
Phone: (03) 5868 2221
Fax: (03) 5868 2259
Email: wackobluey (at) gmail.com
Days & Hours of Operation: seven days most weeks. Bookings are essential.
Click here for PDF of Assumption of Risk form.

Associated Venues: Barmah State Park

"The Bushranger Cup"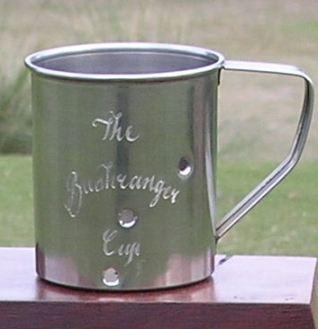 The bullet holes that decorate The Bushranger Cup (above) were arranged and inserted by Pw Jones one autumn arvo in 2004 with a little assistance from Padge and his 222. The cup was placed on horse dung in a paddock at Murray River Horse Trails and Pw casually fired off a few shots from a range of about 50 metres.