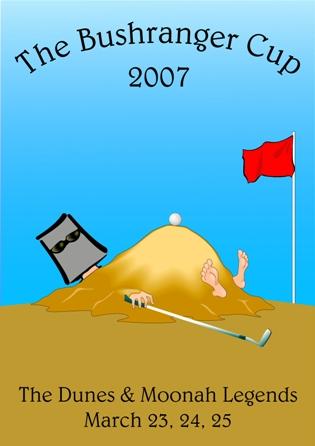 The organisers of The Bushranger Cup would like to take this opportunity to thank:
Sam, Campbell and the team at bwired online solutions fortheir partnership and support with the Bushranger Golf website.
Sam, Jason and all the team from The Golf Clearance Outlet for their generous sponsorship of The Bushranger Cup and contribution to the prize pool.
Roger Brown from Focal Point Garden Design for his meticulous efforts in preparing the Bushranger Cup trophies.
Denise, Steve and all the team at Heathcote Winery for their help with the wine prizes for the Bushranger Cup and the soon-to-be-released Bushranger Shiraz.
Steve Foxwell from Screenhouse Effect for his help with the stubby holders.
Richard Fellner from Southwest Greens for his help with promotion, publicity & marketing Bushranger Golf.
Padge & Debbie from Murray River Horse Trails for The Bushranger Cup, the bullets and the inspiration.
Sally Pitt of Pitt-Bull Media for her time and skill in creating this program and for her consideration in putting up with a very excited tournament director.

Greetings all and welcome to the 4th Annual Bushranger Cup!
The Round One solo 9 holes commence at 2:44pm on Friday afternoon on The Cups course at The Dunes Golf Links.
A Champions' Dinner will be held from 7:30pm Friday evening in the dining room at The Nepean Country Club.
A team meeting will be held in the gaming room on Friday evening at 10:30pm.
The Round Two & Three 2-ball ambrose rounds will commence at
12:16pm Saturday on The Dunes Golf Links.
Details of the pairings and tee times will be announced
at the team meeting.

The Kelly Gang - The last and most infamous of all the Bushrangers, Ned's crusade to secede from the colony and start his own republic fell slightly short of the mark. An expert self-promoter, he always knew the importance of snappy dressing for a photo opportunity.
Roger Brown (Arbeige) - This cosmopolitan competitor is arguably the most excited in a flighty field here this weekend. Always the first to arrive and last to leave, the great chino-packer of the eastern suburbs loves all the fun of The Bushranger Cup and just can't get enough golf. Ever. His long list of accomplishments includes winning The 2000 Duzzo, The 2006 Bushranger Cup and The 2007 Kelly Gang Shootout. Has always been thereabouts with podium finishes at '02 & '03 Surf Coast Cup, the '04 & '05 Bushranger Cup and the 2006 KGS. As the defending champion here and a winner at his last start, he will be very difficult to front, particularly if he settles into a nice rhythm early with the bourbon he loves so dearly.
Form: The man with the golden liver, the lungs of steel and the buns of love will be unstoppable if he jumps out well. Enjoys nothing more than leading from the front and showing off his magnificent hind-quarters to the rest of the field.
Adam Finlay (Larry) - Was the sensation of 2006 in Corowa with his legendary chip-in for birdie on the 18th on Saturday evening in front of a packed house that set up the win for his team. Has undertaken a ferocious practice regime in the off-season to ensure a successful defence of his crown and has made good with some subtle pre-tournament publicity advertising his nostradamic prediction of a back-to-back win for the Kelly Gang in 2007. Although he is making his third start in a Bushranger Cup, the fact that this week he is playing all these courses for the first time may stretch him. However, his heckling ability and magnificent plumage should lead him to a second victory even more comfortable than last year.
Form: A confidence player, he is still riding the wave of euphoria of his victory in Corowa and looks a certainty to be reminding all within earshot just where they can go to read the engravings on the Bushranger Cup.
Nick Honey (The HO-minator) - This legendary man of the people started his march to glory in 2005 when he holed a perfect 7-iron for eagle in the 4-ball at Tocumwal. That one shot transformed him into The Hominator, a larger-than-life figure capable of destroying any golf course, in any conditions, whenever it suits him. Having fulfilled his destiny with a storming Bushranger Cup win in Corowa last year, he has all but racked his cue and rarely plays the game at all these days. You may find him teeing it up in an occasional exhibition match, or perhaps a celebrity skins shootout or even giving something back to the game by putting on a clinic to help disadvantaged kids. Having semi-retired from serious competition, he is only returning here this year for the sake of his adoring fans, to give them one last chance to show their appreciation for how much meaning he has brought into their lives.
Form: Truly an inspiration to so many, for so much, for so long. He is a philanthropist, a benefactor, a drinker, a gambler, a golfer, a Hominator. May be past his best but will always deliver great value to his backers.
Matthew Pitt (Pw Jones) - There is nothing too flash about this large, hairy, fertile procreator as he shambles about the course just trying to keep his pill out of the rough. When on song, he has a short game that Walter Hagen would be proud of but he somehow gives the impression he is a lot more arse than class. Comes in here as one of the defending champions after playing a minor role in last year's victory, spearheaded by his three magnificent comrades. Was also fortunate to snare a Shiraz Classic in '98 on the back of a mighty flat-stick performance from partner 'Ole Frankie. Was equally blessed with a virtuoso effort from Arbeige carrying him to the 2000 Duzzo World Invitational and was just flat out lucky in the 2005 Jack the Hack when the rest of the field obligingly backed up to gift him the title. Recently caused quite a splash in Heathcote getting more than his share of propitious breaks and bounces in jagging the midweek members' stroke event at his first attempt.
Form: This jammy bastard just can't stop getting into contention and somehow manages to snare the bikkies more often than he deserves from right under the noses of his better credentialed competitors. Will probably do so again here. Massive favourite.

The Aaron Sherritt Gang - Aaron Sherritt was the Kelly-sympathiser-turned-double agent who was later murdered by his old mate Joe Byrne for his apparent, but unproven, treachery.
Peter Bingeman (Binga) - This one-time man-mountain is a newcomer to big-time sport and may find he is completely out of his depth in this dazzling field of sprightly athletic specimens. Has a little bit of form to recommend his chances with a win in the White Wash Cup off a generously strategic handicap of 36. This certainly vaults him into serious Bushranger contention; however, his recent performances suggest he'd have more chance in the Washed-Up Cup. Has a taste for the high life and loves nothing more than sharing a belly laugh with team mates, before, during and after a hard day's golf. Will probably be found propping up the bar between rounds, goblet of vino in hand, telling tall stories of his glory days and bragging about his vineyard and how good this year's vintage will be. Is rumoured to have a somewhat obliging pallet and a touch of the white-line fever when the competition heats up.
Form: It may be easier to bring the mountain to Mohammed than to get this unit over the line here as he appears to be fighting well out of his weight class in this company. Given his fiery nature, will be lucky not to be ejected from the stadium at some point over the three days.
Brett Simpson (Simmo) - Otherwise known as 'Chuck Norris' for his ability to go Missing in Action after his disappearing act on the final day at the 2006 Championship in Corowa. It was as if he wasn't even there on the front 9, leaving partner Mikey Dee to carry the 2-ball team virtually by himself on the outward half. Made a miraculous recovery to contribute some shots on the homeward 9 but it was too little, too late. Making his third consecutive Bushranger Cup appearance here, he has never come close to bothering the engraver and his limited preparation again this year suggests not much has changed. Loves seeing all involved having a laugh and enjoying themselves and tries to make certain of this by keeping everyone's glass full all the time.
Form: A massive punter, expert in all forms of the gambling arts, he can be trusted to put up a massive showing off the course. Can't really play golf to save himself and doesn't seem to care so will need a superhuman effort from his team mates to figure in the finish.
Michael David (Mikey Dee) - This human highlight film is a massive drinker, punter and entertainer and is so remarkable he has a personal biographer travelling with him everywhere to document his extraordinary adventures. Is coming off a win last start in The Kelly Gang Shootout and has past form with back-to-back Goat Lager Classics in '02 & '03. However, his Bushranger Cup history is another story. Earns his team the Sherritt tag here for being the unlucky 5th member of last year's winning combo. He carried that team to back-to-back second-place finishes in 2004 and 2005 before departing on amicable terms to bring some of his own shabby acquaintances along to the 2006 Cup. Tragically watched as his old team stormed home to take the bikkies, leaving his new team in equal second place. Perhaps he agrees with Tom Weiskopf , the man who jagged one British Open and 5 second-place finishes in majors, when he said, "I am absolutely delighted to have come second. Who cares about winning when you can be second? I love being runner-up."
Form: After a hat-trick of being the bridesmaid here, he is just about an absolute certainty this year…to come second. Again.
Murray Noble (The Phant) - This party animal gets the name Phant from his pacadermic qualities and individual manner of comportment. A very powerful unit, he is capable of really pinning back his ears and blowing his balls huge distances. Has a massive baseball pedigree and super throwing arm so must be carefully scrutinised in the bunkers lest he employs his mighty arm-wedge, with which he can chuck a golf ball 100 metres. Strangely, he favours the classical 'Vardon' or overlapping grip on the golf course, rather than the unconventional 'baseball' or ten finger grip. This may account for his erratic form in both games and he would be well advised to begin experimenting with a new grip on the first tee here on Friday and keep changing things around on every shot all weekend.
Form: A late ring-in for the stricken Chriddo, he does have a bold personality so will certainly attract the attention of the stewards. Keep an eye out for a crappy dye job on his fetlocks and Hayden Haitana skulking around the Nepean Country Club.

Cash & Company - Martin Cash was known as the polite, gentleman Bushranger. His gang dominated in the 1840s and allegedly escaped Port Arthur in Tasmania by swimming naked to the mainland.
Ian Crotty (Crock Diddy) - Came in here last year as the reigning Surf Coast Cup and Bushranger Cup champion. Returns in 2007 with no wins in the last 16 months and little to recommend another change in his fortunes. A spectacular ball striker and peerless heckler, this genius of wit loves unleashing his famous comedy gold. His audience can be unfortunate golfers in his group, comrades at the gaming table or just some deaf pensioner he has cornered on a tram. Crocko doesn't play favourites. He enjoys nothing more than regaling one and all with his witty asides, erudite repartee and hilarious stories about superannuation tricks and traps. Some people have required medical attention as they have literally split their sides after he has delighted them with his uncouth "member recontribution" joke.
Form: Can crank it for a skinny, gambling, joke-telling, alcohol drinking, has-been, washed up, former champion but is probably now well past his best. Biggest recontribution here will most likely be to the wallet of the winner at the gaming tables.
Richard Mitchell (Saddam) - Saddam (and his dancing bears) was a super hit at his debut Cup in 2005, lighting up the fairways of Tocumwal with his ribald antics and outrageous observations. He was drafted into this team of under-performers and carried all before him as he joked, danced, pranced, hugged, smiled, laughed and loved his way around Toke and all the way to the winners' podium on Sunday afternoon. A tournament director in his own right, he is one of the co-founders and a two-time winner of the illustrious Jack the Hack, which has been sorting the hacks from the duffers for more than a decade. Despite his uncanny ability to disguise his ability, he is coming off an injury-plagued preparation and must be considered below his best and therefore off the pace in this classy field.
Form: Certainly won't disappoint with his winning smile and lovable capacity for getting in all manner of strife, but looks short of a gallop to trouble the engraver this week.
Sebastian Shand (Bastros Bastros Ghali) - A wonderful gentleman of the Shabby Dot Com Tour and a more interesting partner you could not find to share a round of golf with. His yarns sometimes seem as though they have no end. Always ready to share a drink with anyone who has a drop, this articulate and artful perambulator of the fairways has a great deal to recommend his character. A networker beyond compare, his marvellous collection of friends and acquaintances the world over is a testament to the generosity of his heart, the scope of his inquiring mind and the versatility of his remarkable liver. With a drinking arm classified by the national trust, he is sure to make another strong contribution to activities by the time the dust has settled on Sunday.
Form: Has a rather odd monkey fetish and is not much of a golfer, but makes up for this with his fine choice of excellent team mates so should be thereabouts at the finish if they give him another good ride.
Dominic Wall (Dom) - One of the golden dozen here who has played in every Bushranger Cup, which is no great surprise as he has played in and won just about everything on offer. After taking out the prestigious ACT Player of the Year in 1982, he went on to wins in Jack the Hack, The Surf Coast Cup and The Bushranger Cup as well as a range of other lesser titles. Probably knows more about the game than any Bushranger here, has played more courses, met more legends and hustled more Scotsmen than the rest of us put together. Can certainly drink, punt, party and procreate with the best here and will probably be attracting the stewards attention at some point in the journey.
Form: The low marker here and certainly one to watch. If he wins, he'll be signing copies of his book in the foyer after the show.

The Wild Colonial Boys - Emerging in the turbulent 1850s, these were a new breed of Bushrangers. They were not escaped convicts but the sons of immigrants or colonial born youths with a contempt for authority and a desire for quick riches and adventure.
Dean Craig (Deano) - A newcomer to these parts but certainly a big danger in this field if the company he keeps is any indication of the quality of his character. A creative and articulate competitor, he knows how to get his ball in the hole and has good winning form with his tearaway victory at the famous DWAC Golf Classic in 2000. A keen self-manager on the golf course and a svelte ball striker, his one weakness is the occasional bout of the yips. With this year's Cup being contested on some of the biggest and most challenging dance floors in the land, expect some fragile moments from Deano on the greens this week and a few sleepless nights to interfere with his mental and emotional preparation.
Form: The great golf writer Henry Longhurst once said of the yips, "Once you've had 'em, you've got 'em." This is not the event for anyone shaky with the flat-stick. Expect to see him at the pro shop every evening trying out the latest broomstick in a valiant but vain effort to buy a solution to his cursed affliction.
Steve Noa (Nugget) - After years of trying to claim a place in the exclusive and illustrious Bushranger Cup field, the man some call Zark has finally cracked the big time and this week he gets to tee it up with his heroes for the first time. We hear the words fairytale finish, child prodigy and drinking problem intervention just bandied about the place so often they can begin to lose their meaning. But not here. A genuine 27 handicapper, the Nugget's only claim to golfing fame was taking out a longest drive (downhill & downwind) at the 2006 Kelly Gang Shootout. He can drink, punt and spin outrageous yarns so is looking the goods to make a strong impression at his debut Cup.
Form: His namesake took two of everything but this version usually takes about 10 of everything, especially at the bar or when he is writing his score after a long par 5. Can be very flighty when excited so may require blinkers to perform at his best.
Warwick Stonehouse (Boo) - What is there left to say about this ornament to the game. Won the inaugural Bushranger Cup in style and has done for golf weekends what Dr. Oppenheimer did for town planning. Has won events all over the place and tamed every course in the state with a career highlight of 76 at Royal Melbourne including an ace. A heavy hitter on the course and an even bigger force at the between-round relaxation activities, this worldly raconteur has a masters degree in shenanigans from the University of Mateship and has more runs on the board than you and both your grandmothers combined. Loves a good time and seeing his friends having a ball. He is sure to leave his mark on this event and is a good chance to become the first ever repeat winner.
Form: Larger than life on and off the course. Knows his way to the post and will almost certainly be in the mix on Sunday arvo. Is a massive chance to be swabbed.
Paul Toll (Tolly) - This newcomer to the Bushranger ranks enjoys combining his two favourite pastimes: golfing and beerage. He should fit right in around the campfire at the Nepean Country Club. Like some others in this field, he has conducted a long-term study into the effects of alcohol on a golfer's capacity to negotiate 18 holes. He has courageously volunteered himself as the control subject and has spent many years compiling a significant quantity of meaningful scientific data on the subject. With a handicap that rates him well inside the top 150,000 amateurs in the country and with only one win to his name (in the prestigious mid-week par event at the Elsternwick GC) he looks a little short of a gallop and is probably just making up the numbers here.
Form: Can't see him going the distance in this field but consider him for trifectas in the Nobel prize for scientific excellence in the fields of golf and alcohol when he finally publishes his findings on the subject sometime later this century.

The Harry Power Gang - Harry Power was the wily old lawbreaker who mentored the young Ned Kelly in the refined bush arts of horse stealing and hiding from the law in the scrub.
Richard Fellner (Quigley) - A child prodigy who grew up golfing the chilly fairways around Lake Tahoe on the border between California and Nevada and whose greatest claim to fame from a promising college career was jagging a round in the company of famous golf tragic Bob Hope. Since migrating down under to pick up his Quigley tag, he has carved himself a golf career as a podium specialist, with second and third place finishes all over the place including being the Bushranger Cup runner-up on debut in 2005. He also winkled out a glorious second place in the inaugural William Buckley Classic in 2006 and managed to go one worse earlier this year with a strong showing for third in the Kelly Gang Shootout, the one event he has managed to win with a streaky triumph there back in '06. Is a complete nut case on the gaming tables and one to be taken very seriously when the Texas Hold 'Em ball gets rolling.
Form: Worth backing for a place or boxing into your trifectas. Could surprise but hasn't really shown enough form to suggest he can trouble the best in this field in a gunfight down the home straight.
Michael Mileo (Seve) - Won the inaugural William Buckley Classic in fine style at his last start. This sometimes erratic Bushranger was able to shake his loose cannon tag and play rock solid scoring golf for 36 holes, without so much as a speed wobble on the home turn. A suave and sophisticated competitor, his sleek styling, European lines, timeless refinement and luxury appointments raise the whole tone of this tournament and add a glistening sheen of elegance and eloquence to what can so often and so easily deteriorate into an unbridled ecstasy of shabbiness. The proud owner of a crisp, dry wit and a thirst for good times, his keen mind enjoys the finer points of strategic game play. Like his namesake, Mr Ballesteros, he will look into your eyes, shake your hand, pat your back, and wish you luck, but he will be thinking, "I am going to bury you."
Form: A definite player, this erudite and articulate gentleman is not to be underestimated on the course or at the gaming table.
Mick Van Raay (Da King) - An evil an unscrupulous competitor who will stop at nothing to get himself into a winning position. Pays little or no heed to the social aspects of the Bushranger Cup and loves nothing more than humiliating and belittling his competition at every opportunity to pump up his own tyres and advance whatever petty cause he is peddling to suit his selfish and inconsiderate interests. A sharp wit, he can scythe through his opponents both on the course and around the card table with his brutal repartee and scathing personal observations. Is well known to play the man and not the issue and is rumoured to sometimes be less than diligent with his personal hygiene. In a field of scurrilous rogues, he is easily one of the best blokes here and among the most pleasurable of these Bushrangers to share a round of golf with.
Form: Is coming off a powerful win at his last start in The William Buckley Classic so must be considered one of the serious threats here and a great chance to break his Bushranger Cup drought.
Scott Wilson (Willo) - Arguably the smoothest swinger of a club in this field, this big man can make his golf ball sing when he gets the big dog moving. He is one of the special 12 men who have been to every Bushranger Cup and is arguably the biggest supporter of the Shabby Dot Com Tour with an attendance record that is second to none. With starts in the Duzzo World Invitational, The Surf Coast Cup, The Murray River Golf Challenge, The William Buckley Classic and The very exclusive Kelly Gang Shootout, he never fails to turn up for the big occasions. A massive gambler who never makes a move without knowing the odds, he has a superb Bushranging pedigree as a very solid drinker and a State Texas Hold 'Em champion. He loves his golf, procreating and sharing good times with mates and is totally committed to making every event his top priority.
Form: Is winless. Nada. Nothing. Nuttin'. Zero. Zilch. Zip. Nil. Doughnuts. Bup-Bong. He is so freakin' due for a win, even the spiders spinning the cobwebs in his trophy cabinet must be getting nervous this time.

The Canvas Town Mob - A rare city-based mob of Bushrangers who operated in South Melbourne in the 1850s. They would knock off ships at port and then frivolously drink and gamble away their booty.
Paul Davies (Prez) - The Bushanger Cup doesn't hand out NAGA awards as the competition would be too great, so with his NAGA win in the 2001 Brumby's Spikes Club National Championship at Cypress Lakes, he is one of the very few competitors here to have ever taken out one of these terrible awards. Completely unfazed by this minor hiccup, the Prez completely re-tooled his swing and managed to perform a reverse IBF. He very quickly turned things around and picked up back-to-back wins in the same event in 2003 and 2004. Confesses to be an inconsistent golfer with the potential to transform a seemingly normal and purposeful round into a shambolic disaster with a few quick wafts of a wedge or putter. This tendency to lose focus doesn't bode well here with the journey from the starting line to the podium at The Bushranger Cup being longer than most.
Form: A complete novice in company of this calibre, expect him to come out blazing and lead the field early before fading into the pack when the pace comes on at the home turn.
Paul Lambe (Lambo) - Made a huge splash last year at his first Bushranger Cup with a powerful showing at some of the local wineries. Expect to see a few of the vintners on the Mornington Peninsula battening down their hatches as our Lambo prepares to make raids on the cellar doors throughout the district. Is partial to most forms of alcohol, which he claims are his performance enhancing substance of choice on the golf course. Judging by his form, he isn't drinking nearly enough. Has the capacity to play with any size hangover, a skill he will certainly be putting on display again this weekend. He claims his patented strategy is if you can see three or more balls dancing around on the grass in front of you, just make sure to hit the one in the middle.
Form: Is backing himself here to take out the championship, as he desperately wants to drink from the Bushranger Cup. Obviously hasn't noticed the bullet holes which may make his task an awkward one.
Ian Pritchard (The Baker) - This gregarious golf nut is shaping up as a big threat on an off the course after a sturdy showing in his maiden Bushranger Cup in 2006. A wily and experienced campaigner, he certainly knows how to golf his ball and can definitely handle himself between rounds. Besides aspiring to get hammered during the après thwack activities, he has claims to being one of the most creative sledgers in the field with his almost indecent ability to combine his AGB brews and his great affection for heckling. He is the man with the golden sphincter and, as uncivilised as it sounds, claims to be capable of farting on cue in the middle of an opponent's backswing. Given the table manners and decadent upbringing of many of his competitors here, it is a pretty sure bet The Baker will be asked to put on an exhibition, or at the very least, a demonstration, of his unique skill.
Form: A flatulent heckler par excellence. For this reason alone he must be considered a serious threat here this week. Will be hoping he can keep his powder dry.
Ash Brown (Casha) - Came a very creditable second last year in his maiden Bushranger Cup, which isn't too bad considering his last career win was in the 1995 Templestowe Football Club golf day. Having come out of a lengthy semi-retirement only a couple of years back, he copped a dose of the golf bug and his progress since has been nothing short of remarkable. Can give the pill a real caning and his laser-like precision with his irons has become legendary. Is a dab hand with the putter on his day and his short game has been coming along nicely. All he needs to do now is get rid of the occasional slice and the odd hook, learn how to play bunker shots, remove all his duffs, skulls, skinnies, fats and shanks, study the principles of course management, learn the fundamentals of grip, stance, alignment, swing arc, plane & mechanics, understand the ballistic qualities of golf balls and work out which end of the tee peg to stick in the ground. Otherwise he is the complete package.
Form: Knows a lot more about the game than most of his competition here and is coming into form at the right time so is very much in the frame.

The Captain Moonlite Gang - The devious Andrew George Scott, a man with three first names, became the infamous Captain Moonlite when he began robbing banks in the 1870s after throwing in a promising career as a preacher.
Mikey Lane (Frankie) - What a massive pleasure it is to have this enigmatic and popular character join us once again. After making the 6-hour road trip to Tocumwal in 2005, he and Charlie are travelling the furthest again this year, flying into Tullamarine on Thursday night to take part in the Cup. Delightful company on and off the course, his dry wit and keen eye for detail add a touch of class to an already handsome and articulate field. Knows how to manage his nerves and keep himself in a perfect balance of meditative stillness and keen anticipation for any eventuality. Is a great man to have around in a crisis, which is handy as his fickle swing can derail itself at any moment. With a classy win in the '98 Shiraz Classic, he has shown he knows his way to the post and can threaten here if he finds his range with his magic putter.
Form: The competitive fire is not obvious on the surface, but it burns deeply in this wily soul. Not one to be underestimated and is capable of blowing this field apart if he finds his range with the flat stick.
Sam Saltis (Sammy The Duck) - This Hellenic tyro is a superb strategist, a dour competitor and cool thinker between shots as he maps the most erudite course to the hole. He stormed through his first Bushranger Cup in 2005 with a stellar performance that helped lift his team to a podium finish and backed up that effort up with a commanding win in the 2006 Kelly Gang Shootout. Alas, his contribution was mostly a result of his expert cart piloting, for which he holds an instructors licence, and his nerveless display with the flat stick. Tee to green he can start spraying things all over the shop and he is known as The Duck because of his uncanny ability to find the water on any golf course. He always looks a treat right up until he steps onto the first tee. His problems tend to start on the back swing and often get worse from there.
Form: Leaves nothing to chance in his meticulous preparation between rounds and if his putter starts to sizzle, he could drag his team right into contention come Sunday arvo.
Graeme Uhd (Charlie) - The great golf coach Harvey Penick is credited with saying "A good putter is a match for anyone." Lucky for Charlie as he hasn't got much else going for him. Let's check a few details: never won anything; hails from Syd-en-ee; is the freakiest of all the Lord's golf creatures, a leftie, and, well that's about it really but you get the picture. Lucky for him he is the man with the golden putter and the proud owner of a stroke as smooth as a Puerto Rican dance instructor. But don't be fooled when he grubs his opening drive off the first tee. He well knows it is on the dance floor (no, not the one he goes to with feisty Puerto Rican chicks as he lambadas with Pina Coladas in both hands and his shirt open to the waste with his shiny bling on show) where the championship will be decided, so he doesn't care in the slightest about the rest of the junk in his bag.
Form: Was comfortably last in Tocumwal in '05 after a massively forgettable effort in the 2-ball. Has learnt his lesson from that and is just coming for the party this year.
Campbell Wilson (Big C) - He is a big man with a big mouth who loves swinging his big dog. Doesn't give a damn about any of the subtleties of course management, which is really brought into focus by the fact that he stands on the wrong side of the ball. Made his debut Bushranger Cup appearance last year after winning the inaugural Kelly Gang Shootout in 2006. Is a little streaky and can really struggle on hilly courses, such as Lorne, but if he gets on a roll he is capable of special things. A huge hitter of the ball, if he finds his range he could tear this field apart. Is also a massive threat between rounds, with an extreme fondness for beer, a love of good times, a great affection for the punt and a sixth sense for finding out where the action is.
Form: With three partners who can light it up with the putter, the pressure is on him to get the team to the green. If he gets into a rhythm early will be very hard to dislodge but is easily distracted so may need blinkers to maintain focus throughout the journey.

The Ben Hall Gang - Originally The Frank Gardiner Gang, it became known as The Gilbert Gang when Gardiner was captured in QLD in 1861. It then morphed into the Gilbert & Hall Gang and later again the Ben Hall Gang. Their revolving door policy remains strong to this day.
Andrew Collins (Ace) - Since making an impressive debut at the 2005 Bushranger Cup, this big hitter has kept a very low profile but is back this year and looks certain to make a lasting impression. His mighty effort in Tocumwal has him at the top of the BC scoring averages and since we last saw him he has applied himself diligently to the three Gs of Bushranging: Golfing, Gambling & Guzzling. He has joined a golf club, engaged a professional coach and hammered his handicap down; he has been swept up in the global euphoria of Texas Hold 'Em and become a very serious pokerman; and lastly, he has indulged in a nuptial celebration and commenced on the happy road of married life which has really given his drinking form a lift. With a clear mastery of the holy Bushranger trinity and a competitive nature that drives him to unleash his best when it matters the most, this axe-wielding space maniac may be unstoppable as he marches on to become a 2007 man.
Form: Is the complete package in a field of great packages.
Michael Nolan (The Gasometer) - This unpredictable and volatile competitor is prone to massive shifts in temperament as his fortunes fluctuate through the course of his round. One minute he is blowing his cool and the next he goes to the well and comes back contemplating inner peace, zennish contentment and a self-actualised approach to life and golf that reveals an equanimity only found in the most tranquil and satisfied of souls. However, an explosion may only be a duff or a skull away. Can certainly golf his ball when the planets come into alignment, however the crickets chirping in his trophy cabinet suggest the interplanetary assistance he requires is not as frequent as he might like. As long as he struggles with the yin & yang within his own tortured soul, he will fail to string enough good holes together to get himself into contention.
Form: May be in breach of rule 19 for receiving help from an outside agency if above-mentioned planetary assistance is forthcoming, so looks in a heap of bother before he even tees it up.
James Peters (JP) - A virtual unknown in these parts, he arrives here this week with a reputation for consorting with the unsavoury types of Bushranger who are so popular at the Cup. Loves his golf and is rumoured to be sharp as a tack around the greens with a short-game to die for but with the vacancy sign still hanging outside his trophy cabinet, he is making his Bushranger Cup debut still searching for his breakthrough win. Although he isn't on the shortest handicap here, is probably more of a Bushranger in his daily life than most of the contenders in this field so cannot be ruled out completely. Is thought to have parlayed a small highway robbery enterprise into a dubious cash borrowing and lending concern to finance his golfing skulduggery throughout the colonies. Comes well recommended as being one of the most robust and versatile drinkers here, due to his iron liver that never quits and the capacity to absorb and process very large quantities of any sort of liquor in any conditions.
From: With not much else to recommend his chances, he had better run hot with his wedge and the flat stick or things could get very ugly, very fast for this first-timer.
Richard Thurkle (Lt Dick) - Not so much an enigma wrapped in a riddle as a loose cannon stuffed into a bomb shelter. The man also known as The Shabby Lieutenant is capable of absolutely anything on and off the course. His recent penchant for fine wines seems to have done little to quell his enthusiasm for the unusual. Is just as likely to wallop the longest drive as he is to lose his golf cart in the middle of the fairway. Has a big reputation as a Saturday specialist, blitzing the field with an uncanny level of golfing ridiculosity in the early rounds. Alas, he don't like Sundays. Check for that familiar vacant look in his faraway eyes on the tee on Sunday morning and give thanks that he is someone else's problem. May contend here if he continues this form line and his comrades can carry him to the line in the four-ball on Sunday.
Form: The quicker his team mates get to church on Sunday morning and start praying, the better off they'll be. A comfy straight jacket for the lieutenant on Saturday night and a nice lie down might be their best chance of victory.