Home
About Us
Golf Events
The Campfire
Golf Resources
Golf Handicap
Membership
Golfers
2019 WBC
2019 KGS
2019 BC
2018 WBC
2018 KGS
2018 BC
2017 WBC
2017 KGS
2017 BC
2016 WBC
2016 KGS
2016 CCC
2016 BC
2015 WBC
2015 KGS
2015 CCC
2015 BC
2014 WBC
2014 KGS
2014 CCC
2014 BC
2013 WBC
2013 KGS
2013 CCC
2013 BC
2012 WBC
2012 KGS
2012 CCC
2012 BC
2011 WBC
2011 KGS
2011 CCC
2011 BC
2010 WBC
2010 KGS
2010 BC
2009 WBC
2009 KGS
2009 BC
2008 WBC
2008 KGS
2008 BC
2007 WBC
2007 BC
2007 KGS
2006 WBC
2006 BC
2006 KGS
2005 BC
2004 BC
Contact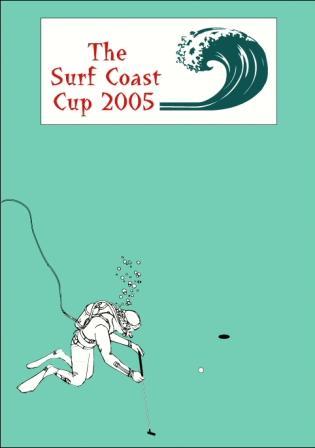 Greetings and welcome to the 2005 Surf Coast Cup
A team meeting will be held during dinner from 7:30 pm at the Torquay pub.
The tee times are:
Saturday from 12.00 pm at The Creek Course, 13th Beach.
Sunday from 11.00 am at The Sands, Torquay.
The organisers would like to take this opportunity to thank Dominic Wall for securing the
gig at The Sands and Pitt-Bull Media for scratching together this memento of the event.
Longest drive and nearest the pin will be contested each day.
Saturday at 13th Beach: NTP 129m 6th hole and LD 526m 10th hole
Sunday at The Sands: NTP 162m 7th hole and LD 400m 14th hole
The Anglesea Slicers
Tony Barnard (TB/Barney/B2) – Jack Nicklaus claims the more he practices, the luckier he gets. With this in mind, we can expect B2 to have a most unfortunate showing here, chock full of bad breaks and unlucky bounces. Although he has a solid grounding in the now defunct Trans Yarra Trophy, is a co-founder of this event and a regular on the Barnard Dot Com Tour, the fact remains that if he failed to show for this event, he wouldn't be playing any golf at all. Whilst he is a gregarious and engaging companion on the course and a versatile and resourceful competitor, it is well worth noting that he is still searching for his breakthrough win in a major. His pedigree looks much better suited to rigorous challenges of the 19th hole where his natural ability with any shaped vessel verily comes to the fore.
Form: Has done as much, if not more preparation this week than ever before and so is at very long odds to be troubling the engraver on Sunday afternoon.
Craig Battershill (Batters) – Another sturdy veteran of the illustrious Trans Yarra Trophy with a mountain of experience on The Surf Coast Tour including a creditable 2nd here in 2003. This most charming and likeable gent has the ability to launch his ball huge distances when he is on song and is not afraid to take on any golf course in any conditions. He plays the game on his terms, never backs off, defies the odds, attacks at all costs and consistently ignores that fine line between courage and stupidity. This may explain the vacancy sign hanging in his trophy cabinet. He will definitely give his backers plenty of value over the weekend and looks a certainty to continue his strong form in the bar between rounds with a more than affable showing.
Form: With no winning form at all, he may need to take his mountain to Mohammed to have any chance here.
The Torquay Hookers
Paul Ashby (The Asha) – A superb natural swinger of the club, he learned his trade on the local Barnard Dot Com Tour. After he broke through for his maiden win at the Murray River Golf Challenge in 2000, he wasted no time abandoning his mates and promptly shot through to prostitute himself on the far more lucrative European Tour. He has spent the last few years living in England, honing his skills on traditional links courses and cashing in big time. This is his prodigal reappearance since he 'went international' and last week he, along with some other has-been, justifiably copped an absolute barrage from Mark Hensby for not doing more to support Australian golf. With a reputation for devoting an equal amount of effort to his golfing and his drinking, look for this globe-trotter to put something back into the game, both on and off the course.
Form: If his game is on, it could be goodnight nurse and thanks for coming to the more deserving and patriotic non ex-patriot competitors in the field.
Ian Crotty (Crotman) – A child prodigy, there once seemed no limit to what this brilliant natural ball striker could achieve. He joined the Shabby Dot Com Tour full of promise but could never translate his potential into wins and so, for a long time, he carried that gruesome burden of the 'best never to win a major' tag. Beneath his dry wit and engaging style, the pain of failure has been lingering with him like a misty fog settling on the links on a crisp morn in St Andrews and imbuing his every move with the unmistakably foul stench of defeat. Finally, he broke through for his maiden win this year at the Bushranger Cup. And so, the big question becomes: what now? Names like Duval and Baker-Finch quickly come to mind. After bombing out big time at last months Jack the Hack, no one is holding out much hope for what appears a bleak future for this one time golden boy.
Form: Overexposed and commercialised, he is no longer a golfer; he is a faded and jaded corporate logo, with no life, colour, substance or hope. Look for him to be drowning his sorrows between rounds and going backwards on Sunday arvo.
The Aireys Inlet Dick Togs
Neil Barnard (Skills/Barney/B1) – This fertile competitor has been living up to his moniker as the #1 Barnard in Pyjamas having shown some fine boudoir form of late. Once a well known pants-man about town, this stylish chap has settled down and opted for a more retiring lifestyle in recent years. He was feared lost to the game but since the arrival of his first born, he has declared himself 'back in town!' and returns here for his first 'Cup' since 2002. Only time will tell whether his blossoming paternal instincts have dampened his appetite for golf or his thirst for an après-round frosty pop. Is a certainty to be seen handing out some friendly fatherly advice to all, but don't underestimate this smiling assassin: he has a bullet-proof swing, silky skills and a finely tuned golfing temperament which make him a serious threat in any field.
Form: Can drink, golf and procreate with the very best so must be considered a red hot favourite here.
Sebastian Shand (Bass) – For so many years the bridesmaid of the tour, he never once looked like hoisting the silverware in his many starts on tour. This gregarious and well liked gentleman has long been widely known for his individual style, quick wit and uncanny ability to save his very best work for the social engagements between rounds. Some suggest his liver almost single-handedly carried the tour in its formative years. And then from nowhere he birdied the 18th at Barooga's 'Old' course in 2004 to win the Murray River Golf Challenge. At his next start, his drinking arm still in a sling after an alleged skiing accident, he stormed away with the 2005 Bushranger Cup with a stellar display of power golf. Now fully healed he may be unstoppable in his quest for a 3rd straight major.
Form: Loves a wet track although is known to struggle these days keeping his elbows straight. If the winning post is anywhere near the bar, he's a fair chance to be in it at the finish.
The Jan Juckers
Bernard Collins (Bernie) – After a long and undistinguished career on the Barnard Dot Com Tour, this inspiring raconteur finally let his clubs do some talking at the 2003 Surf Coast Cup where he produced his most outstanding performance and broke through for his first major championship victory. In spite of the rumours that he was carried to the line by his partner and the long shadows cast by his blatant conflict of interest as the handicapper, this robust competitor is believed to be taking his title defence very seriously. He knows better than most exactly what's required to take home 'Ben' and returning with an unchanged line-up and a safely gerrymandered seat at the handicappers' table won't do him any harm.
Form: Should probably be swabbed after this event but this looks unlikely as he is also the chief steward. Could be the target for some ferocious heckling both on and off the course.
Dominic Wall (Dom) – If it walks, talks and swings like a golfer, then it probably is a golfer. If it also plays, dresses, putts, drives, chips, approaches, sand-saves, prepares, manages the course, looks, feels, tastes, sneezes, smells, farts, smiles, prances, dances, glances, swaggers, chokes, cracks wise, preens, parties, gets up and down, bullshits, celebrates, laughs, eats, roots and leaves like a golfer then you can be just about almost absolutely completely positively certain it probably is not a lot unlike something, if not perfectly resembling, then arguably the closest next best thing to an actual, bona fide, died-in-the-wool, dinky die, true blue, fair dinkum real friggin' golfer. With form all over the globe and celebrated wins at the 2002 Jack the Hack, at his last start here in 2003 and the 2005 Bushrangers Cup, he must be taken very seriously in a field of this quality.
Form: As the reigning champion, he'll be looking to put up a good defence but his recent form suggests he may struggle with the pin placements on day two.
The Point Impossible Optimists
Johnny Barnard (Barney/B3) – There's no mistaking the erudite wit, slightly shabby comportment, strong sense of direction and intellectual gravity of this stalwart of the Surf Coast Tour. The Bobby Brady of the Barnards in Pyjamas, this co-founder of the 'Cup' is capable of the occasional touch of magic on the course but was always thought better suited to the more subtle challenges of the sport of post-round analysis where his analytical style, keen eye for detail and most capable liver have produced many magic moments at 19th holes across the land. This all changed however, at the 2004 Murray River Golf Challenge where his spectacular birdie, birdie finish saw him break through for his first major championship victory. Has since shown signs success may have gone to his head so may be staring at a massive premiership hangover here.
Form: Is very strong at moving the pill from left to right so his chances depend entirely on the generosity of the course designer's choice of dog-legs.
Matthew Pitt (Pw "Bobby" Jones) – Led this tournament at the half way mark two years back but after unsuccessfully lobbying the handicapper on the Saturday night for a hatful more strokes, fell away badly at the business end of things on the final nine. Managed a similar trick at the Murray River Golf Challenge in '04 and with his recent win in the 18 hole Jack the Hack, is gaining a reputation as a one day specialist who goes Chuck Norris (Missing in Action) in the longer form of the game. His wins in the 1998 Shiraz Classic and 2000 Duzzo World Invitational demonstrate that, when sober, he is capable of matching mashie-niblicks with anyone on his day, but another Sunday blow-out here would suggest his best is well and truly behind him.
Form: May be a rough chance on a slow track but, if the pace is on, the trip looks beyond him at this distance. May be time for him to be retired to stud.
The Bells Beach Budgie Smugglers
Andrew Conacher (Bob) – Bob makes a welcome reappearance on the surf coast after some years away and adds another dimension of class to an already charismatic field. This once hirsute connoisseur of fine sporting clubs has had a love/hate affair with the game of golf for the past decade and his fortunes over that time have followed a similar trajectory to those of his beloved Mighty Blues. He won The Murray River Golf Challenge in 2001, the same year Carlton last appeared in the finals, with a sparkling exhibition of precision ball-striking and a glistening display with the flat stick. Alas, since Silvagni's retirement in that year, things have been a struggle but with some shrewd drafting last weekend and some strong leadership from Guus Pagan, the word on the street is that Bob is feeling good about 2006 and so is looking sharper on the course now than he has for years.
Form: A tasteful and perspicacious competitor with a proud history and a bright future. Should win going away here before backing-up for another Wizard Cup in March.
David Robertson (Robbo) – Early in the 21st century, this bloke dominated the Barnard Dot Com Tour with plenty of showy golf and gutsy wins at the Millennium and 2001 Surf Coast Cups and the 2002 Murray River Golf Challenge. This human-highlight-film combines a solid all round game with a fanatical attention to detail that leaves nothing to chance and loves winning majors so much, he is rumoured to sprinkle them on his cornflakes and munch them for brekkie. However, he has not shown up here since his last win in '01 and he may get a rude surprise when he re-enters the fray. The game has evolved during his time away and unless he is able to adapt very quickly, this 'former' champion will most likely find that he has been 'left behind'.
Form: Although history suggests this ferocious course manager should contend, he may find the road back is a lot longer than he anticipated after such a lengthy spell. Perhaps consider for trifectas.
The Urquhart Bluffers
Richard Fellner (Yankee Dick) - One of the few mugs here who has actually played some golf at or near the highest level with experience on the U.S. College Tour. In some ways, he is reminiscent of the young Jack Nicklaus who determinedly laboured to improve himself by travelling the globe to discover how the game is played on every continent. Our Dick followed in his compatriot's footsteps by coming to Australia to learn the subtle nuances of golfing in the antipodes. He focused all his powers on every aspect of the game with razor sharp precision in the hope of becoming a truly international competitor capable of managing any course, anywhere in any conditions, a master of his own destiny, a rewriter of record books, a colossus of the game, a creator of history, a paragon of mankind and, as it happened, a shaper of pears.

Form: Between them, he and Nicklaus have won six Australian Opens, two US amateur titles and 18 major championships, and yet Dick still looks a little underdone in this field.
Scott Wilson (Willo) – This delightful character is a marvellous companion for a round of golf and has been a regular at Shabby Dot Com Tour events all over the state for many years. Not surprisingly, he is shaping up here as a serious contender for the John Daly Medal; not because of his precocious ability to monster the ball massive distances, nor his shabby antics and drunken conduct unbecoming between rounds, nor even because of his familiar comportment to the great man, but because of his insatiable desire to "hit the tables" as soon as the last putt is holed. His obsessive penchant to turn every tournament he attends into a life-support mechanism for a game of Texas Hold'Em has been a capital gain for his competitors as he invariably has no juice left in the tank for golf and is nowhere to be seen when the heat is turned up on Sunday afternoon.
Form: Won't be in contention but probably won't care as he is a recently crowned state poker champ and will probably be leaving with all your money.
The Indented Heads
John Fraser (Dogga) – Has to be given some serious consideration for a little kudos at this event considering that, unlike most of us, he actually surfs on the Surf Coast as opposed to golfing on it. However, he is rumoured to also golf on the Gulf Coast which suggests he can be easily confused. This is reinforced by the fact that he is a goofy-footer on the golf course which is a severely disorienting experience for all concerned. With this in mind, it is safe to say the man they call Dogga still has a lot to learn about the mysteries of this ancient Scottish art form. Like a lot of weirdo lefties, he can give the pill a total caning as long as he doesn't freak out when he realises he's standing on the wrong side of it. As long as he remembers which sport is happening this weekend and he packs his plus fours and not his wetsuit, he could give this one a decent shake.
Form: Returning here for the first time since 2002, he has no winning form to recommend him but these two longish courses may well bring this big hitter into the frame.
Justin Gay (Jubba) – A Surf Coast Cup regular and a repeat offender on the Barnard Dot Com Tour. He loves nothing more than trying to hit golf balls into the next parish and then enjoys taking a very Moe Norman approach to wielding the flat stick. Although he has never won a tournament, he has crafted a very neat reputation with his exploits during the après-thwack activities over the years. He is a former winner of the John Daly Medal for drink-fuelled conduct unbecoming and is one of many strong contenders keen to put in a good showing for this event in 2005. He is allegedly still proud of the patch of dead grass on the 12th at Anglesea which expired after reacting with Jubba's returned abdominal contents. Ask him about this; he enjoys discussing it.
Form: Can plonk a big ball in play when on song and would love nothing more than to take 'Ben' home for a rub with the tarn-off and a few yarns about the good old days but looks short of a gallop to seriously threaten in this field.