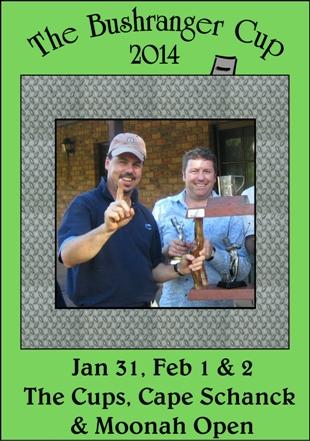 Greetings all and welcome to the 11th Annual Bushranger Cup!
The Round One solo 9 holes commence at 3:30pm on
Friday afternoon at The Dunes Golf Links.
A gourmet Champions BBQ Dinner will be held at
The Moonah links Golf Academy on Friday evening.
A team meeting will be held during dinner.
Breakfast options are to cook at home at
MLGA or to go to Moonah Links for tucker.
Round Two & Three 2-ball ambrose rounds will commence
at 11:00 am Saturday at Cape Schanck Golf Course.
Details of the pairings and tee times appear below.
The Round Four 18 holes of 4-ball ambrose will commence
at 8:50am Sunday at Moonah Links Open Course.
The presentation ceremony will be at the Moonah
Links Golf Academy after golf on Sunday.

Giddy-up & Enjoy!

The organisers of The Bushranger Cup would like to take this opportunity to thank:
All Bushranger Cup golfers past and present who have helped make
this event the glorious festival of joyous indulgence it has become.
The front cover shows two of our past Champions, Sebastian Shand (Bastros – 2005 & 2010 Champion)
and Richard Mitchell (Saddam – 2005 & 2012 Champion), who cannot be with us in 2014 but who have
cast their spells of joy for many years at the Cup to help make it the heart-warming, gut-wrenching,
mind-bending, rib-tickling, throat-parching, nut-busting, knee-buckling, thigh-slapping
fiesta of good times, mateship and camaraderie over the past decade.
Sam, Campbell and the team at bwired online solutions for their partnership
and support with the Bushranger Golf website.
Denise, Steve, Bridget and all the team at Heathcote Winery for their support
of Bushranger Golf to produce the very popular Bushranger Shiraz.
All the team at Moonah Links for putting up with us.
Richard Fellner from Inside Golf for his help with this program and the promotion, publicity
and marketing of Bushranger Golf and the events operated by Social Golf Australia.
Padge and Debbie from Murray River Horse Trails for The Bushranger Cup, the bullets and the inspiration.
Roger Brown from Focal Point Garden Design for his meticulous efforts in preparing the Bushranger Cup trophies.
Steve Foxwell and Grant Jones from Screenhouse Effect printing for their
assistance with the Bushranger Cup stubby holders.
Mrs Pitt, the Tournament Director's Director for all her efforts with the Tournament program
and her patience putting up with an excited Bushranger prior to the Cup each year.

The Event
The Format: Teams of four playing single stroke Friday, two-ball ambrose strokeplay on Saturday and four-ball ambrose strokeplay on Sunday.
The Rules: Since slow play is a potential problem for our gangs, these rules are designed to encourage play in the right spirit and at the right pace. Teams play their chosen best ball on each shot and play preferred lies – you may place your ball half a club length (about 50cms) from where the chosen ball lies, no nearer the hole. Balls must be placed in the same cut as the chosen ball.
In the interests of fast play from tee to green, teams are NOT required to mark balls and precisely measure from the chosen ball as they play each shot. Pace of play is important so do not waste time unnecessarily. Team members can play in any order on a shot. Once on the putting green, Bushrangers should mark near the chosen best ball so each team member putts from near enough to the exact same position.
No Gimmes: Some nutter once gave someone a short putt in a Cup. This is not on under any circumstances. We are here for fun, but the golf is (slightly) serious. The Bushranger Cup is a strokeplay event (not match-play) and every ball must be holed out. You can concede putts in one-on-one matchplay, but strokeplay is the field vs the field so no gimmes.
Handicapping: Each person is assigned a handicap by the handicapper based on official handicaps and/or info supplied by the Bushrangers. The handicapper will be governed by a commitment to rewarding good play according to a player's ability. Team handicaps for the ambrose groupings are calculated from the individual handicaps.
Playoffs: In the event of a tie, a sudden-death playoff will be conducted. Teams play together as a foursome (taking alternate strokes playing one ball). Once established on the first hole, the order is continuous and carries over from one hole to the next until the playoff is decided.
Nearest-the-Pin & Longest Drive: Will be contested on all days and, in the interests of team gloating and solidarity, any player who wins a LD or NTP wins prizes and glory for his entire team.
The Rodeo Rule: This is minimum drives for each team member and will be enforced. Each team's individual rodeo requirements will appear on their scorecard.

A Brief History of The Bushranger Cup
The Bushranger Cup was founded in 2004 with intention of bringing a group of pals together for a weekend of golf and fun. Gents who had accumulated other commitments in their lives, were playing less golf and mates were not getting together so often. The intention of the Cup was to address this work/life/golf imbalance by establishing an event so chock full of fun and drama that it could fulfil a fellows golfing, emotional and spiritual needs for a full 12 months if necessary.
The four-man team format is intended to be a vehicle for mates to enjoy the camaraderie and fun of teaming together. Since most of the original participants did not have official handicaps, the perennial challenge of managing Bushrangers became the guiding principle for the development of the handicapping system and format of the event.
Although it has been the catalyst for the formation of Bushranger Golf and Social Golf Australia, the Bushranger Cup remains a private invitational event. The Cup has forged a reputation for remarkable moments, great drama and hilarious fun and is now, some people say, arguably the most sought after prize in the golfing universe.

The Kelly Gang - The last and most infamous of all the Bushrangers, Ned's crusade to secede from the colony and start his own republic fell slightly short of the mark. An expert self-promoter, he always knew the importance of snappy dressing for a photo opportunity.
Michael David (Mikey Dee) – This two-time Cup Champion led from the front last year with a gung-ho, all out, knees-up, down-trou, balls-deep, eyes-wide-shut, driver-off-the-deck, shot-smashing, fun-loving, song-singing, break-dancing, air-guitaring philosophy that has served him well for 10 Cups in a row. Expect nothing less for Cup # 11.
Greg Cousins (The Geesh) – Saddling up for his third Cup this year and has set the bar high with brilliant performances both on and off the course. Entertained the heck out of all and sundry between rounds and backed that up with a barn-storming maiden Cup win last year.
Brett Simpson (Simmo) – The pure joy oozing from every pour of this man sums up what the Bushranger Cup is all about. He is all-in for all the time for a good time for everyone. A legend of the Cup, he has helped make it a magical and memorable event for yonks. Respec.
Tim Holroyd (The Hatman) – This magician of the fairways is well known for his ability to work a little magic and produce rabbits, birdies, eagles and a wide variety of barnyard animals out of thin air at the drop of a hat. Man is he good. A quality unit with a liver of gold.

The Captain Melvilles - Captain Melville was a shabby small-time thief who was apprehended by police on Christmas Eve 1852 when, in a drunken stupor, he fell off his horse outside a Geelong brothel. He had aroused suspicion (and little else) among the local sex-workers by boasting to them about his illegal exploits. A real class act.
Ian Crotty (Crock Diddy) – "Just because you are a character, doesn't mean you have character" – Winston Wolfe. Some people have both. And others have neither. You be the judge. His dry wit has been a feature at 10 Cups and his wet wit (after 4+ reds) is pure delight. Enjoy.
Mick Van Raay (Da King) – This legend of the Cup has taken a break from his international touring commitments to return to defend the title he so gloriously won in 2011. Adds a whole lot of booty-shakin, finger-lickin, razzle-dazzle with a side order of fun to this event.
Richard Fellner (Quigley) – This legend has proven form having won every BRG Major but one. Joins an elite group playing his 10th Cup and but for a crumbling form line, wonky putting stroke, fragile psyche and shambolic swing, he is really looking the goods this week.
Nick Honey (The Hominator) – A four time winner, this legendary man of the people has nothing left to prove and contents himself with taking great delight in the amusement, frivolity and zany characters on offer here all weekend. Will deliver his backers super value. Again.
The Canvas Town Mob - A rare city-based mob of Bushrangers who operated in South Melbourne in the 1850s. They would knock off ships at port and then frivolously drink and gamble away their booty.
Gav Doran (The Rose) – As tough as old boots and just about as pretty, this BRG legend always lets his Cup runneth over with his brilliant merry-making. This is his 8th Cup and he has proven form with WBC & KGS wins and a superb cellar. A massive contender.
Neil Hocking (Hocks) – Champion bloke who won at his last start with imposing form at the 2013 WBC, he has a KGS and a POY title but wants this one more than any other. A consummate team player and a short game wizard, he looks to have assembled a winning crew here.
Roger Brown (Arbeige) – The prodigal son returns! The creator of the Bushranger Cup comes romping in here with a revamped game, a new collection of scoundrels in tow and a thirst to add to his already imposing record of two Cups, two WBCs and a couple of lazy KGS wins.
Pete Russell (Rusty) – This magnificent unit has served up some brilliant form in the KGS and is saddling up for his first Cup. A treat to share a round of golf with and a bevvy afterwards, he consorts with certifiable reprobates so looks a great chance to salute here on debut.

The Captain Moonlite Gang - The devious Andrew George Scott, a man with three first names, became the infamous Captain Moonlite when he began robbing banks in the 1870s after throwing in a promising career as a preacher.
Matthew Pitt (Pw Jones) – Quietly spoken, humble, enigmatic and self-effacing, this mysterious character is shy wallflower who shuns the spotlight and prefers the anonymity of the shadows. Which is a real bummer when you have won this event four times. Always a chance.
Robbie O'Donnell (Roo) – Has come down from Sydney to make his Bushranger Cup debut. Is as excited as any bloke ever was to be at the Cup and looks a fair bet to blow head gasket before he even tees off. Will need blinkers and quite probably some heavy liquid sedation.
Bob Spicer (Bobby) – This relaxed unit comes in here with some super form of late with a couple of SGA Tour Course Records set last year at Woodlands & The Nash. A big game performer, he has the temperament, powerful liver and jocularity to do very well here indeed.
Joe Bugeja (Joey) – Has a huge appetite for fun and ensures he is never undernourished. Nor does he lack in confidence and is certain it is his birthright to accept the trophy on Sunday afternoon. Could work harder on his game but instead surrounds himself with champions.

The Ben Hall Gang - Originally the Frank Gardiner Gang, it became the Gilbert Gang when Gardiner was captured in Queensland in 1861. Then it morphed into the Gilbert & Hall Gang and later, the Ben Hall Gang. Their revolving-door policy remains strong to this day.
Rob Lugton (Luggo) – The 2010 Champ has struggled to rediscover his winning form after creating history a few years ago. Loves a good red and usually raids his cellar on the way to the Cup. When his ball-striking is on he can run hot so if he putts well he is a massive chance.
James Farrar (Fawcett) – Can turn his form on and off like a tap. Unfortunately the tap is knackered, the washers need replacing and the plumbing is altogether rooted. After a run of shabby form had a superb SGA Tour round last start so may be about to open the golfing floodgates. A champion bloke and a great addition to the Cup field.
Ivan Jones (Moondyne Jones) – This happy-go-lucky golf nut has made the trip from Perth for the 4th year running for this event. Made a stop along the way this year to catch up with King Kong so is into the yartz. Raises the tone of the whole event with his easy-going style.
Darren Nelson (Dazza) – A real treat to have this legend of the SGA Tour making his Bushranger Cup debut. Cracking good company on and off the golf course, has a heart of gold and is always smiling. Will have no problems making the step up in class to the Bushranger Cup.

The Aaron Sherritt Gang - Aaron Sherritt was Joe Byrne's great mate and a trusted lieutenant to the Kelly Gang. Folklore has marked him as a traitor, but he played a delicate game of espionage pretending to be a police informant. He came undone when the cops got wise and spread rumours he had betrayed the gang. In the end, he was murdered by Joe Byrne for his apparent, but unproven, treachery.
Dave Warwick (Diesal) – This bloke is our Simon the Likeable. He is such a top unit that he makes the rest of us look bad by comparison. Turd. It just makes you want to whack him. And he is such a good golfer you want to whack him again. This two-time champ is all class.
Dave Pollock (Toto) – Made Cup history last year with his magical, spontaneous late night car-park disco featuring Toto's greatest hits. While others preferred the gravity of over-intellectualising the history of 20th century rock-blues music, Dave followed his heart to Africa.
Tom Tomlin (Sergeant Steele) – The driest of wits and a keen mind with a thirst for adventure and good times. Loves the cut and thrust of a robust intellectual joust and doesn't mind pressing a few buttons for his own amusement. A high quality unit in a field of gems.
Phil Peacock (Phillo) – This golfing Jekyll & Hyde is equally capable on the golf course of manufacturing the most sublime beauty and the most hideously repugnant, gruesome & grotesquely repulsive depravity. Great bloke & the Cup is enriched with the variety he brings.

Friends of Mad Dog Morgan - Mad Dog Morgan was an entirely unpleasant, undignified, bloodthirsty and unconscionable character who gave Bushrangers rather a bad reputation. On April 11th, 1865, he was shot dead near Wangaratta after which his head was cut off and tobacco pouches were made from his scrotum.
Warwick Stonehouse (Boo) – This excitement machine has played every Cup and won in swashbuckling style in 2004 but is now well overdue to repeat the dose. Are his best days behind him? Has traded up to a new gang this year in the hope they can drag him over the line.
Martin Gray (The Martinator) – Fronted for his debut Cup last year and was right in his element with a very credible 3rd place. His genial approach & relaxed style serve him well so may be one to watch.
Steven Combes (Combesy) – First Cup run but has more form and class on the golf course than the rest of the field put together. A fertile procreator, once held the course record at the Nash Moonah course and if his trusty old Ping Anser gets rolling he will be very hard to stop.
Andrew Borthwick (Borth) – Making his Cup debut and has very little to recommend his golfing chances. A refined liver accustomed to processing quality reds will be a huge asset. Has some charity golf day form but may need some charity from his gang to get him home.

The Stringybark Creek Freaks - At Stringybark Creek in the Wombat Ranges in October 1878, the brooding confrontation between the Kelly Gang and the police exploded into all-out war. Three police officers lost their lives and the Kelly outbreak had begun.
John Lazzara (Funky) – This suave metrosexual gent adds a touch of class here. Won first up at the inaugural 2004 Cup before stringing together a sequence of near misses at the WBC. His unflappable nature and composed approach make up for what he lacks in skill. Top shelf.
Andy MacFeate (Macka) – After a string of great WBC efforts he made his Cup debut in 2012 and handled the step up in class well. Has a relaxed disposition, a keen eye and a creative imagination, so should do very well on the challenging greens this week. Expect a photo finish.
Steve Noa (Zark) – Is a living legend of the Cup with his incredible Five Adolf Hitler's (10 shots in a bunker) in front of a packed gallery on the final hole on Friday in 2010. In the finish, his team was 2nd by two shots. Won't want to repeat that but it would be funny as hell if he did.
Nick Groeneveld (Dutchy) – This all round sportsman is making his Cup debut. His surname translates as Green Field, so he should have a natural gift for hitting the short stuff but as his greatest golfing talent is finding balls in the scrub, he may not see many fairways here.

The Harry Power Gang - Harry Power was the wily old lawbreaker who mentored the young Ned Kelly in the refined bush arts of horse stealing and bravely hiding from the law in the scrub.
Mark Henderson (Hendo) – Since debuting at the 2010 KGS, has made a massive name for himself with his exquisite skill on the lip. Adds another dimension to the Cup with his magical heckling and dead-pan one liners. Makes sure there are no egos interfering at the Cup as he leaves them all in tatters. Take him on your own risk then run for cover.
Brendan Davis (Brendo) – Came from the clouds with his mate Hallo at the 2013 KGS to fly home for a photo finish and force the first ever sudden-death playoff in Bushranger Golf history. Could not take the bikkies but covered himself in glory with his class & sportsmanship.
Wayne Ball (Ballo) – One of the most relaxed, unflappable and easy-going units here. A low-key but highly skilled golfer, he was 2nd at the 2010 KGS and has a 4th & 3rd in his two Cup starts. With an iron clad liver on board, he has future Cup Champion written all over him.
Chris Hall (Hallo) – Is rumoured to be in an intense training phase and may be the fittest man here. Heads up the only team here without a Bushranger Cup Champ on board but his men have the pedigree, the form lines, the skill, fortitude and liver power to go all the way here.